Abstract
Documenting multi-decadal typhoon and storm-rain variability is useful to prevent future typhoon and flood disasters. We present the history of typhoon and storm-rain activity in East Asia inferred from multi-proxy analyses of Lagoon Hwajin-po sediments along the eastern coast of Korea. Anthropogenic effects were enhanced in Lagoon Hwajin-po since ca. AD 1900, by increasing farming in the catchment. To avoid these human-induced effects, we reconstructed the history of typhoon and storm-rain activity only for the interval AD 1400–1900. The record indicates that typhoon frequency throughout the Korean Peninsula varied in response to the state of the El Niño/Southern Oscillation. Typhoon variability was likely modulated further by the state of the East Asia summer monsoon (EASM) pattern, associated with variation in the magnitude of solar irradiance. During periods of minimum solar activity, such as the early Maunder Minimum (AD 1650–1675), typhoons struck the east China coast and Korean Peninsula more frequently because of a strengthened EASM.
Access options
Buy single article
Instant access to the full article PDF.
USD 39.95
Price excludes VAT (USA)
Tax calculation will be finalised during checkout.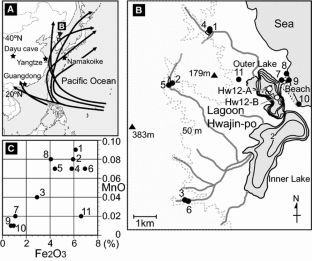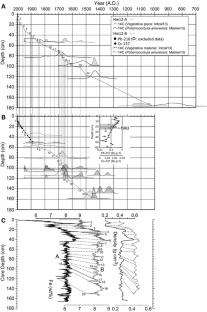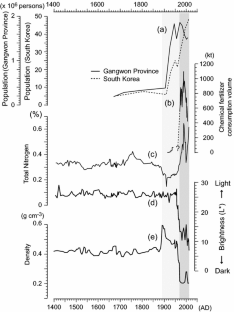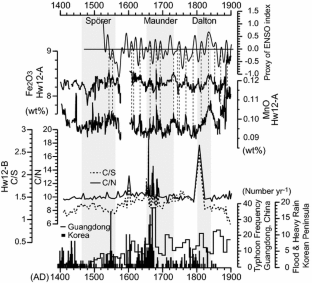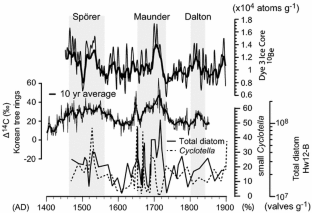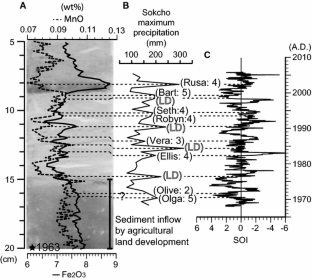 References
Anderson NJ, Rippey B (1988) Diagenesis of magnetic minerals in the recent sediments of a eutrophic lake. Limnol Oceanogr 33:1476–1492

Beer J (2000) Long-term indirect indices of solar variability. Space Sci Rev 94:53–66

Braganza K, Gergis JL, Power SB, Risbey JS, Fowler AM (2009) A multi proxy index of the El Niño-Southern Oscillation, A.D. 1525–1982. J Geophys Res 114:D05106. doi:10.1029/2008JD010896

Camargo SJ, Robertson AW, Gaffney SJ, Smyth P, Ghil M (2007) Cluster analysis of typhoon tracks. Part I: general properties. J Clim 20:3635–3653

Cho D-Y, Hong SH, Chawe U, Lee B-J, Choi PY (1998) Geological map of Korea. Scale 1:50,000 Goseong-Ganseong: Korean Institute of Geology, Mining and materials, Daejeon (in Korean)

Donnelly JP, Woodruff JD (2007) Intense hurricane activity over the past 5,000 years controlled by El Niño and the West African monsoon. Nature 447:465–468. doi:10.1038/nature05834

Ha KJ, Yoon SJ, Yun KS, Kug JS, Jang YS, Chan JCL (2012) Dependency of typhoon intensity and genesis locations on El Niño phase and SST shift over the western North Pacific. Theor Appl Climatol 109:383–395

Hennekam R, de Lange G (2012) X-ray fluorescence core scanning of wet marine sediments: methods to improve quality and reproducibility of high-resolution paleoenvironmental records. Limnol Oceanogr Methods 10:991–1003

Heo W-M, Kwon S, Lee J, Kim D, Kim B (2004) The limnological survey of a coastal lagoon in Korea (3): Lake Hwajinpo. Korean J Limnol 37:12–25 (in Korean with English abstract)

Hong W, Park JH, Sung KS, Woo HJ, Kim JK, Choi HW, Khim GD (2010a) A new 1MV AMS facility at KIGAM. Radiocarbon 52:243–251

Hong W, Park JH, Kim KJ, Woo HJ, Kim JK, Choi HW, Khim GD (2010b) Establishment of chemical preparation methods and development of an automated reduction system for AMS sample preparation at KIGAM. Radiocarbon 52:1277–1287

Hong W, Park JH, Park G, Sung KS, Park WK, Lee JG (2013a) Regional offset of radiocarbon concentration and its variation in the Korean atmosphere from AD 1650–1850. Radiocarbon 55:753–762

Hong W, Park JH, Park WK, Sung KS, Lee KH, Park G, Kim YE, Kim JK, Choi HW, Kim GD, Woo HJ, Nam TG (2013b) Calibration curve from AD 1250 to 1650 by measurements of tree-rings grown on the Korean Peninsula. Nucl Instrum Methods B 294:435–439

Kim H (1999) Research of flood records during the Joseon era. Annual Reports of Korean Institute of Construction Technology, Seoul

Kim B, Park J-H, Hwang G, Jun M-S, Choi K (2001) Eutrophication of reservoirs in South Korea. Limnology 2:223–229

Kim J-H, Ho C-H, Lee M-H, Jeong J-H, Chen D (2006) Large increase in heavy rainfall associated with tropical cyclone landfalls in Korea after the late 1970s. Geophys Res Lett 33:L18706. doi:10.1029/2006GL027430

Kiss K, Klee R, Ector L, Acs E (2012) Centric diatoms of large rivers and tributaries in Hungary: morphology and biogeographic distribution. Acta Bot Croat 71:311–363

Kong GS, Lee CW (2005) Marine reservoir corrections (delta R) for southern coastal waters of Korea. J Korean Soc Oceanogr 10:124–128

Kong GS, Kim K-O, Kim S-P (2013) Characteristics of the East Asian summer monsoon in the South Sea of Korea during the Little Ice Age. Quat Int 286:36–44

Korea Rural Economics Institute (2010) Major statistics of Korean agriculture, forestry, and food. http://www.농촌경제연구원.kr/kor/statistics/submenu/sub_menu_01_04.php?stat_cd=010314

Kuzmin YV, Burr GS, Jull AJT (2001) Radiocarbon reservoir correction ages in the Peter the Great Gulf, Sea of Japan, and eastern coast of the Kunashir, Southern Kuriles (Northwestern Pacific). Radiocarbon 43:477–481

Lee S (1988) Derived demand analysis for fertilizer in Korean agriculture. Rev Soc Agric Econ 44:115–150 (in Japanese)

Liu KS, Chan JCL (2008) Interdecadal variability of western North Pacific tropical cyclone tracks. J Clim 21:4464–4476

Liu K-B, Shen C, Louie K-S (2001) A 1,000-year history of typhoon landfalls in Guangdong, southern China, reconstructed from Chinese historical documentary records. Ann Assoc Am Geogr 91:453–464

Man W, Zhou T, Jungclaus JH (2012) Simulation of the East Asian summer monsoon during the last millennium with the MPI earth system model. J Clim 25:7852–7866

Mayer LM, Liotta FP, Norton SA (1982) Hypolimnetic redox and phosphorus cycling in hypereutrophic Lake Sebasticook, Maine. Water Res 16:1189–1196

National Geographic Information Institute (2006) Historical geography of Korea. Ministry of Land Infrastructure and Transport, Sejeon

Oppo DW, Rosenthal Y, Linsley BK (2009) 2,000-year-long temperature and hydrology reconstructions from the Indo-Pacific warm pool. Nature 460:1113–1116. doi:10.1038/nature08233

Pakhomova SV, Hall POJ, Kononets MY, Rozanov AG, Tengberg A, Vershinin AV (2007) Fluxes of iron and manganese across the sediment–water interface under various redox conditions. Mar Chem 107:319–331

Reimer PJ, Bard E, Bayliss A, Beck JW, Blackwell PG, Ramsey CB, Buck CE, Cheng H, Edwards RL, Friedrich M, Grootes PM, Guilderson TP, Haflidason H, Hajdas I, Hatté C, Heaton TJ, Hoffmann DL, Hogg AG, Hughen KA, Kaiser KF, Kromer B, Manning SW, Niu M, Reimer RW, Richards DA, Scott EM, Southon JR, Staff RA, Turney CSM, van der Plicht J (2013) IntCal13 and Marine13 radiocarbon age calibration curves, 0–50,000 years cal BP. Radiocarbon 55:1869–1887

Sampei Y, Matsumoto E, Kamei T, Tokuoka T (1997) Sulfur and organic carbon relationship in sediments from coastal brackish lakes in the Shimane peninsula district, southwest Japan. Geochem J 31:245–262

Sasaki T, Sugai T, Ogami T, Yanagida M, Yasue K (2010) Validity of estimating the organic carbon content of basin sediment using color measurements. J Geogr 119:562–567 (in Japanese with English abstract)

Stuiver M, Braziunas TF (1993) Modeling atmospheric 14C influences and 14C ages of marine samples to 10,000 BC. Radiocarbon 35:137–189

Tan L, Cai Y, Cheng H, Edwards RL (2005) Summer monsoon precipitation variations in central China over the past 750 years derived from a high-resolution absolute-dated stalagmite. Palaeogeogr Palaeoclimatol Palaeoecol 280:432–439

Wang B, Chan JCL (2002) How strong ENSO events affect tropical storm activity over the western North Pacific. J Clim 15:1643–1658

Wang LC, Behling H, Lee TQ, Li HC, Huh CA, Shiau LJ, Chen SH, Wu JT (2013) Increased precipitation during the Little Ice Age in northern Taiwan inferred from diatoms and geochemistry in a sediment core from a subalpine lake. J Paleolimnol 49:619–631

Woodruff JD, Donnelly JP, Okusu A (2009) Exploring typhoon variability over the mid-to-late Holocene: evidence of extreme coastal flooding from Kamikoshiki, Japan. Quat Sci Rev 28:1774–1785

Woodruff JD, Kanamaru K, Kundu S, Cook TL (2015) Depositional evidence for the Kamikaze typhoons and links to changes in typhoon climatology. Geology 43:91–94

Yoon S-O, Hwang S, Park C-S, Kim HS, Moon YR (2008) Landscape changes of coastal lagoons during the 20th century in the Middle East coast, South Korea. J Korean Geogr Soc 43:449–465

Yu J-Y, Kao H-Y (2007) Decadal changes of ENSO persistence barrier in SST and ocean heat content indices: 1958–2001. J Geophys Res 112:D13106. doi:10.1029/2006JD007654

Yu K-F, Zhao J-X, Shi Q, Meng Q-S (2009) Reconstruction of storm/tsunami records over the last 4000 years using transported coral blocks and lagoon sediments in the southern South China Sea. Quat Int 195:128–137

Zhang X, Ye Y, Fang X (2012) Reconstruction of typhoons in the Yangtze River Delta during 1644–1949AD based on historical chorographies. J Geogr Sci 22:810–824
Acknowledgments
This research was supported by the research grant from the Korean Ministry of Oceans and Fisheries (PJT200538). We thank Dr. Thomas Cronin for his comments on an earlier draft and assistance with English. We are grateful to the constructive reviews provided by reviewers and the editor in charge.
About this article
Cite this article
Katsuki, K., Yang, DY., Seto, K. et al. Factors controlling typhoons and storm rain on the Korean Peninsula during the Little Ice Age. J Paleolimnol 55, 35–48 (2016). https://doi.org/10.1007/s10933-015-9861-3
Received:

Accepted:

Published:

Issue Date:

DOI: https://doi.org/10.1007/s10933-015-9861-3
Keywords
Historical typhoon

East Asia

El Niño/Southern Oscillation

Sediment core

Lagoon Hwajin-po

Little Ice Age