Abstract
In order to better constrain the limnological impacts from recent climate change relative to those of the Holocene, we developed a high-resolution multi-proxy paleoenvironmental record from a small lake on eastern Baffin Island, Arctic Canada. Carbon and nitrogen elemental and isotopic compositions from sediment organic matter, algal pigments, and diatom assemblages are integrated to provide robust indices of paleoclimatic variability. In particular, the ratio between individual carotenoid pigments (lutein:diatoxanthin) reveals a shift in dominant primary production from 'green' taxa (chlorophytes, higher plants, and bryophytes) during the Holocene Thermal Maximum (HTM) to 'brown' taxa (diatoms and chrysophytes) over the mid- to late Holocene. Green pigment abundance appears most sensitive to mean summer temperatures, and their increased relative abundance in the past serves as an indicator of warm times. Regionally, the HTM occurred shortly after local deglaciation (10 ka), persisting until ~7 ka. This timing agrees with that revealed by chironomid assemblages and ice-core records elsewhere in the Canadian Arctic, but is significantly earlier than suggestions from palynology on Baffin Island. This study provides additional evidence that this discrepancy represents the ecesis for higher plant dispersal and colonization on distal, freshly deglaciated landscapes. Pigment and diatom data indicate that mid Holocene cooling began between 7 and 6 ka, intensifying after 3 ka. All proxies show pronounced change after 1.5 ka, with the greatest divergence from average Holocene values occurring during the Little Ice Age (LIA), supporting the growing consensus that the LIA was the coldest multi-centennial interval of the Holocene. In the twentieth century, most proxies, including sedimentary carotenoid ratios, abruptly returned to a similar state as the Holocene Thermal Maximum, while diatom species assemblages present a more muted response. This underscores that anthropogenic alteration of the Earth system has created conditions with no exact analog in the past 10,000 years. Collectively, these results add new information on the dimensions of Arctic lake responses to Holocene climate change, which in turn can be used to reconcile paleoclimate reconstructions from diverse proxies.
Access options
Buy single article
Instant access to the full article PDF.
USD 39.95
Price includes VAT (USA)
Tax calculation will be finalised during checkout.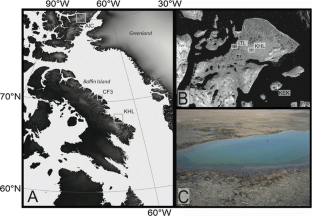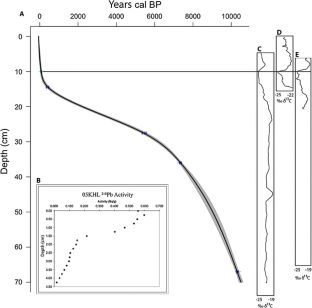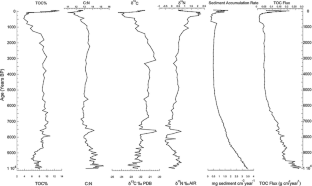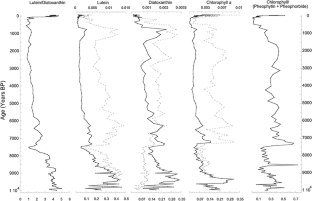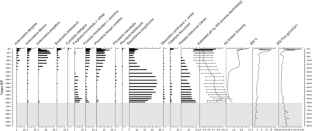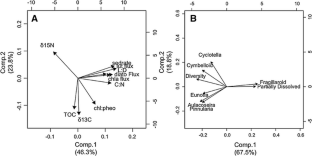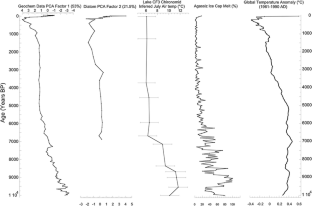 References
Abbott MB, Stafford TW Jr (1996) Radiocarbon geochemistry of modern and ancient Arctic lake systems, Baffin Island, Canada. Quat Res 45:300–311

Andrews JT, Barry RG, Bradley RS, Miller GH, Williams LD (1972) Past and present glaciological responses to climate in eastern Baffin Island. Quat Res 2:303–314

Antoniades D, Douglas MSV, Smol JP (2005) Quantitative estimates of recent environmental changes in the Canadian High Arctic inferred from diatoms in lake and pond sediments. J Paleolimnol 33:349–360

Appleby PG, Oldfield F (1978) The calculation of lead-210 dates assuming a constant rate of supply of unsupported 210Pb to the sediment. Catena 5:1–8

Axford Y, Briner JP, Cooke CA, Francis DR, Michelutti N, Miller GH, Smol JP, Thomas EK, Wilson CR, Wolfe AP (2009) Recent changes in a remote Arctic lake are unique within the past 200,000 years. Proc Nat Acad Sci USA 106:18443–18446

Besonen MR, Patridge W, Bradley RS, Francus P, Stoner JS, Abbott MB (2008) A record of climate over the last millennium based on varved lake sediments from the Canadian High Arctic. The Holocene 18:169–180

Bianchi TS, Dibb JE, Findlay S (1993) Early diagenesis of plant pigments in Hudson River sediments. Estuar Coast Shelf Sci 36:517–527

Blaauw M (2010) Methods and code for "classical" age-modelling of radiocarbon sequences. Quat Geochronol 5:512–518

Briner JP, Michelutti N, Francis DR, Miller GH, Axford Y, Wooller MJ, Wolfe AP (2006) A multi-proxy lacustrine record of Holocene climate change on northeastern Baffin Island, Arctic Canada. Quat Res 65:431–442

Briner JP, Overeem I, Miller G, Finkel R (2007) The deglaciation of Clyde Inlet, northeastern Baffin Island, Arctic Canada. J Quat Sci 22:223–232

Drtil M, Nemeth P, Kucman K, Bodik I, Kasperek V (1995) Acidobasic balances in the course of heterotrophic denitrification. Water Res 29:1353–1360

Dyke AS, Andrews JT, Clark PU, England JH, Miller GH, Shaw J, Veillette JJ (2002) The Laurentide and Innuitian ice sheets during the last glacial maximum. Quat Sci Rev 21:9–31

Fisher D, Zheng J, Burgess D, Zdanowicz C, Kinnard C, Sharp M, Bourgeois J (2012) Recent melt rates of Canadian arctic ice caps are the highest in four millennia. Global Planet Change 84–85:3–7

Hede MU, Rasmussen P, Noe-Nygaard N, Clarke AL, Vinebrooke RD, Olsen J (2010) Multiproxy evidence for terrestrial and aquatic ecosystem responses during the 8.2 ka cold event as recorded at Højby Sø, Denmark. Quat Res 37:485–496

Hodgson D, Vyverman W, Verleyen E, Sabbe K, Leavitt P, Taton A, Squier A, Keely B (2004) Environmental factors influencing the pigment composition of in situ benthic microbial communities in east Antarctic lakes. Aquat Microb Ecol 37:247–263

Holtgrieve GW, Schindler DE, Hobbs WO, Leavitt PR, Ward EJ, Bunting L, Chen G, Finney BP, Gregory-Eaves I, Holmgren S, Lisac MJ, Lisi PJ, Nydick K, Rogers LA, Saros JE, Selbie DT, Shapley MD, Walsh PB, Wolfe AP (2011) A coherent signature of anthropogenic nitrogen deposition to remote watersheds of the Northern Hemisphere. Science 334:1545–1548

Hughen KA, Overpeck JT, Anderson RF (2000) Recent warming in a 500-year palaeotemperature record from varved sediments, Upper Soper lake, Baffin Island, Canada. The Holocene 10:9–19

Joynt EH III, Wolfe AP (2001) Paleoenvironmental inference models from sediment diatom assemblages in Baffin Island lakes (Nunavut, Canada) and reconstruction of summer water temperature. Can J Fish Aquat Sci 58:1222–1243

Juggins S (2011) C2 Version 1.7: software for ecological and paleoecological data analysis and visualisation. University of Newcastle, Newcastle upon Tyne

Kaufman D, Ager TA, Anderson NJ, Anderson PM, Andrews JT, Bartlein PJ, Brubraker LB, Coats LL, Cwynar LC, Duvall ML, Dyke AA, Edwards ME, Eisner WR, Gajewski K, Geirsdóttir Á, Hu FS, Jennings AE, Kaplan MR, Kerwin MW, Lozhkin GM, MacDonald GM, Miller GH, Mock CJ, Oswald WW, Otto-Bliesner BL, Porinchu DF, Ruhland K, Smol JP, Steig EJ, Wolfe BB (2004) Holocene thermal maximum in the western Arctic (0–180°W). Quat Sci Rev 23:529–560

Leavitt PR, Hodgson DA (2001) Sedimentary pigments. In: Smol JP, Birks HJB, Last WM (eds) Tracking environmental change using lake sediments volume 3: terrestrial, algal and siliceous indicators. Kluwer Academic Publishers, Dordrcht, pp 295–325

Leavitt PR, Vinebrooke RD, Donald DB, Smol JP, Schindler DW (1997) Past ultraviolet radiation environments in lakes derived from fossil pigments. Nature 338:457–459

Leavitt PR, Hodgson DA, Pienitz R (2003) Past UVR environments and impacts in lakes. In: Helbling EW, Zagarese H (eds) UV effects in aquatic organisms and ecosystems. Royal Society of Chemistry, Cambridge, pp 509–545

Lewin JC (1961) The dissolution of silica from diatom walls. Geochim Cosmochim Acta 21:182–198

Marcott SA, Shakun JD, Clark PU, Mix AC (2013) A reconstruction of regional and global temperature for the past 11,300 years. Science 339:1198–1201

Meyers PA, Teranes JL (2001) Sediment organic matter. In: Last WM, Smol JP (eds) Tracking environmental change using lake sediments, vol 2., Physical and geochemical methodsKluwer Academic Publishers, Dordrcht, pp 239–269

Michelutti N, Wolfe AP, Vinebrooke RD, Rivard B, Briner JP (2005) Recent primary production increases in arctic lakes. Geophys Res Lett 32:L19715

Michelutti N, Wolfe AP, Briner JP, Miller GH (2007) Climatically controlled chemical and biological development in Arctic lakes. J Geophys Res 112:G03002

Miller GH, Mode WN, Wolfe AP, Sauer PE, Bennike O, Forman SL, Short SK, Stafford TW (1999) Stratified interglacial lacustrine sediments from Baffin Island, Arctic Canada: chronology and paleoenvironmental implications. Quat Sci Rev 18:789–810

Miller GH, Wolfe AP, Briner JP, Sauer PE, Nesje A (2005) Holocene glaciation and climate evolution of Baffin Island, Arctic Canada. Quat Sci Rev 24:1703–1721

Miller GH, Brigham-Grette J, Alley RB, Anderson L, Bauch HA, Douglas MSV, Edwards ME, Elias SA, Finney BP, Fitzpatrick JJ, Funder SV, Herbert TD, Hinzman LD, Kaufman DS, MacDonald GM, Polyak L, Robock A, Serreze MC, Smol JP, Spielhagen R, White JWC, Wolfe AP, Wolff EW (2010) Temperature and precipitation history of the Arctic. Quat Sci Rev 29:1679–1715

Miller GH, Geirsdóttir Á, Zhong Y, Larsen DJ, Otto-Bliesner BL, Holland MM, Bailey DA, Refsnider KA, Lehman SJ, Southon JR, Anderson C, Björnsson H, Thordarson T (2012) Abrupt onset of the Little Ice Age triggered by volcanism and sustained by sea-ice/ocean feedbacks. Geophys Res Lett 39:L02708

Miller GH, Lehman SJ, Refsnider KA, Southon JR, Zhong Y (2013) Unprecedented recent summer warmth in Arctic Canada. Geophys Res Lett 40:5745–5751

Moore JJ, Hughen KA, Miller GH, Overpeck JT (2001) Little ice age recorded in summer temperature reconstruction from varved sediments of Donard Lake, Baffin Island, Canada. J Paleolimnol 25:503–517

Podritske B, Gajewski K (2007) Diatom community response to multiple scales of Holocene climate variability in a small lake on Victoria Island, NWT, Canada. Quat Sci Rev 26:3179–3196

Prach K, Rachlewicz G (2012) Succession of vascular plants in front of retreating glaciers. Pol Polar Res 33:319–328

R Development Core Team (2010) R: a language and environment for statistical computing. R foundation for statistical computing, Vienna, Austria. http://www.R-project.org

Reimer PJ, Baille MGL, Bard E, Bayliss A, Beck JW, Blackwell PG, Bronk Ramsey C, Buck CE, Burr GS, Edwards RL, Fredrich M, Grootes PM, Guilderson TP, Hajdas I, Heaton TJ, Hogg AG, Hughen KA, Kaiser KF, Kromer B, McCormac FG, Manning SW, Reimer RW, Richards DA, Southon JR, Talamo S, Turney CSM, van der Plicht J, Weyhenmeyer CE (2009) INTCAL09 and MARINE09 radiocarbon age calibration curves, 0–50,000 years cal BP. Radiocarbon 51:1111–1150

Ryves DB, Juggins S, Fritz SC, Battarbee RW (2001) Experimental diatom dissolution and the quantification of microfossil preservation in sediments. Palaeogeogr Palaeoclimatol Palaeoecol 172:99–113

Serreze MC, Francis JA (2006) The Arctic amplification debate. Clim Change 76:241–264

Smol JP (2008) Pollution of lakes and rivers: a paleoenvironmental perspective, 2nd edn. Wiley, Oxford

Smol JP, Cumming BF (2000) Tracking long-term changes in climate using algal indicators in lake sediments. J Phycol 1011:986–1011

Smol JP, Wolfe AP, Birks HJB, Douglas MSV, Jones VJ, Korhola A, Pienitz R, Rühland K, Sorvari S, Antoniades D, Brooks SJ, Fallu M-A, Hughes M, Keatley BE, Laing TE, Michelutti N, Nazarova L, Nyman M, Paterson AM, Perren B, Quinlan R, Rautio M, Saulnier-Talbot E, Siitonen S, Solovieva N, Weckström J (2005) Climate-driven regime shifts in the biological communities of arctic lakes. Proc Nat Acad Sci USA 102:4397–4402

Tani Y, Matsumoto GI, Soma M, Soma Y, Hashimoto S, Kawai T (2009) Photosynthetic pigments in sediment core HDP-04 from Lake Hovsgol, Mongolia, and their implication for changes in algal productivity and lake environment for the last 1Ma. Quat Int 205:74–83

Thomas EK, Briner JP (2008) Climate of the past millennium inferred from varved proglacial lake sediments on northeast Baffin Island, Arctic Canada. J Paleolimnol 41:209–224

Thomas EK, Briner JP, Axford Y, Francis DR, Miller GH, Walker IR (2011) A 2000-yr-long multi-proxy lacustrine record from eastern Baffin Island, Arctic Canada reveals first millennium AD cold period. Quat Res 75:491–500

Wang Y, Wooller MJ (2006) The stable isotopic (C and N) composition of modern plants and lichens from northern Iceland: with ecological and paleoenvironmental implications. Jokull 56:27–37

Warthmann R, Van Lith Y, Mckenzie JA (2000) Bacterially induced dolomite precipitation in anoxic culture experiments. Geology 28:1091–1094

Wilson CR, Michelutti N, Cooke CA, Briner JP, Wolfe AP, Smol JP (2012) Arctic lake ontogeny across multiple interglaciations. Quat Sci Rev 31:112–126

Wolfe AP (1994) Late Wisconsinan and Holocene diatom stratigraphy from Amarok lake, Baffin Island, NWT, Canada. J Paleolimnol 10:129–139

Wolfe AP, Hartling JW (1996) The late quaternary development of three ancient tarns on southwestern Cumberland Peninsula, Baffin Island, Arctic Canada: paleolimnological evidence from diatoms and sediment chemistry. J Paleolimnol 15:1–18

Wolfe AP (2002) Climate modulates the acidity of Arctic lakes on millennial time scales. Geology 30:215–218

Wolfe AP (2003) Diatom community responses to late-Holocene climatic variability, Baffin Island, Canada: a comparison of numerical approaches. The Holocene 13:29–37

Wolfe AP, Miller GH, Olsen CA, Forman SL, Doran PT, Holmgren SU (2004) Geochronology of high latitude lake sediments. Long-term environmental change in Arctic and Antarctic lakes. Springer, The Netherlands, pp 19–52

Wolfe AP, Hobbs WO, Birks HH, Briner JP, Holmgren SU, Ingólfsson Ó, Kaushal SS, Miller GH, Pagani M, Saros JE, Vinebrooke RD (2013) Stratigraphic expressions of the Holocene–Anthropocene transition revealed in sediments from remote lakes. Earth Sci Rev 116:17–34
Acknowledgments
Funding for this study was provided by the U.S. National Science Foundation ARCSS 8k project, Nonlinearities in the Arctic climate system during the Holocene (ARC-0909347). Algal pigment analyses received additional funding from a grant awarded to Áslaug Geirsdóttir from the University of Iceland Research Fund. Salary for C. Florian provided by the Doctoral Grant of the University of Iceland. We thank the Inuit of Qikiqtarjuaq as well as the Nunavut Research Institute for field work logistical support and assistance; Kurt Refsnider, Kate Zalzal and Alexis Ault for their help in recovering the cores; Steve DeVogel and Roxane Bowden for excellent laboratory management and assistance with all things HPLC and IRMS related; Mark Graham for sharing algal pigment expertise and helping design the pigment lab at the University of Colorado; Amy Steiker, Sarah Crump and Darren Larsen for insightful discusssion and reading drafts of the manuscript; the Limnological Research Center (LacCore) at the University of Minnesota for archiving sediments; and the Natural Sciences and Engineering Research Council of Canada (NSERC). This manuscript has been strengthened by the work of two anonymous reviewers who both provided diligent and detailed comments.
About this article
Cite this article
Florian, C.R., Miller, G.H., Fogel, M.L. et al. Algal pigments in Arctic lake sediments record biogeochemical changes due to Holocene climate variability and anthropogenic global change. J Paleolimnol 54, 53–69 (2015). https://doi.org/10.1007/s10933-015-9835-5
Received:

Accepted:

Published:

Issue Date:
Keywords
Arctic climate

Holocene

Paleolimnology

Algal pigments

Stable isotopes

Diatoms