Abstract
In recent decades, softwater lakes across Canada have experienced a wide array of anthropogenic influences, with acidification and climate warming of particular concern. Here, we compare modern and pre-industrial sedimentary diatom assemblages from 36 softwater lakes located on the Canadian Shield in south-central Ontario to determine whether lake acidification or reduced calcium availability was the main stressor responsible for recent declines in Ca-sensitive cladoceran taxa. Regional surveys of south-central Ontario water chemistry have identified the pH recovery of many formerly acidified lakes, and our fossil diatom-inferred pH analyses indicate that modern lakewater pH in the 36 study lakes is similar to (or higher than) pre-industrial levels, with diatom assemblages from both time periods dominated by taxa with similar pH preferences. In addition, modern diatom assemblages compared to pre-industrial assemblages contained higher relative abundances of planktonic diatom taxa (e.g. Asterionella formosa and the Discostella stelligera complex) and lower relative abundances of heavily silicified diatoms (e.g. Aulacoseira taxa) and benthic fragilarioid taxa. These taxonomic shifts are consistent with warming-induced changes in lake properties including a longer ice-free period, decreased wind speed and/or increased thermal stability. We conclude that recent changes observed within the cladoceran assemblages of these lakes are not a response to acidification, but are likely a consequence of Ca declines. In addition, our data suggest that regional climate warming is now responsible for the diatom changes observed in this region.
Access options
Buy single article
Instant access to the full article PDF.
US$ 39.95
Tax calculation will be finalised during checkout.
Subscribe to journal
Immediate online access to all issues from 2019. Subscription will auto renew annually.
US$ 119
Tax calculation will be finalised during checkout.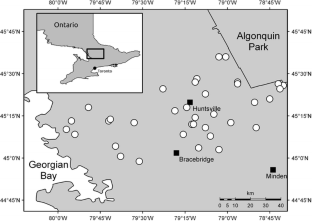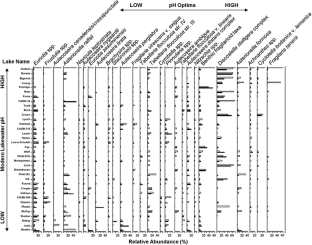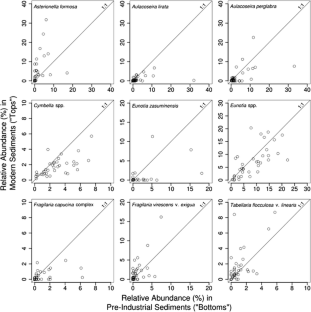 References
Ashforth D, Yan ND (2008) The interactive effects of calcium concentration and temperature on the survival and reproduction of Daphnia pulex at high and low food concentrations. Limnol Oceanogr 53:420–432

Battarbee RW, Charles DF, Bigler C, Cumming BF, Renberg I (2010) Diatoms as indicators of lake-water acidity. In: Smol JP, Stoermer EF (eds) The diatoms: applications for the environmental and earth sciences. Cambridge University Press, Cambridge, pp 98–121

Battarbee RW, Jones VJ, Flower RJ, Cameron NG, Bennion H, Carvalho L, Juggins S (2001) Diatoms. In: Smol JP, Birks HJB, Last WM (eds) Tracking environmental change using lake sediments, vol 3., Terrestrial, algal, and siliceous indicatorsKluwer, Dordrecht, pp 155–190

Brooks JL, Dodson SI (1965) Predation, body size, and composition of plankton. Science 150:28–35

Cairns A, Elliott M, Yan ND, Weisz E (2006) Operationalizing CAISN project 1.V, Technical report no. 1: lake selection. Technical report prepared for the Canadian Aquatic Invasive Species Network. Dorset Environmental Science Centre, Dorset, Ontario

Camburn KE, Charles DF (2000) Diatoms of low-alkalinity lakes in the Northeastern United States. The Academy of Natural Sciences of Philadelphia, Philadelphia

Charles DF, Binford MW, Furlong ET, Hites RA, Mitchell MJ, Norton SA, Oldfield F, Paterson MJ, Smol JP, Uutala AJ, White JR, Whitehead DR, Wise RJ (1990) Paleoecological investigation of recent lake acidification in the Adirondack Mountains, NY. J Paleolimnol 3:195–241

Clarke KR (1993) Non-parametric multivariate analyses of changes in community structure. Aust J Ecol 18:117–143

Dillon PJ, Reid RA, De Grosbois E (1987) The rate of acidification of aquatic ecosystems in Ontario, Canada. Nature 329:45–48

Enache MD, Paterson AM, Cumming BF (2011) Changes in diatom assemblages since pre-industrial times in 40 reference lakes from the Experimental Lakes Area (northwestern Ontario, Canada). J Paleolimnol 46:1–15

Fallu M, Allaire N, Pienitz R (2000) Freshwater diatoms from northern Québec and Labrador (Canada): species-environment relationships in lakes of boreal forest, forest-tundra and tundra regions, vol 45. J Cramer, Berlin

Faulkenham SE, Hall RI, Dillon PJ, Karst-Riddoch T (2003) Effects of drought-induced acidification on diatom communities in acid-sensitive Ontario lakes. Limnol Oceanogr 48:1662–1673

Flower RJ, Juggins S, Battarbee RW (1997) Matching diatom assemblages in lake sediment cores and modern surface sediment samples: the implications for lake conservation and restoration with special reference to acidified systems. Hydrobiologia 344:27–40

Futter MN (2003) Patterns and trends in Southern Ontario lake ice phenology. Environ Monit Assess 88:431–444

Gibson CE, Anderson NJ, Haworth EY (2003) Aulacoseira subarctica: taxonomy, physiology, ecology and palaeoecology. Eur J Phycol 38:83–101

Gilwicz Z (1990) Food thresholds and body size in cladocerans. Nature 343:638–640

Ginn BK (2006) Assessment of surface-water acidification using diatoms as paleoecological indicators in low alkalinity lakes in Nova Scotia (Canada) with a focus on lakes in Kejimkujik and Cape Breton Highlands National Parks. Ph. D. Thesis, Queen's University, Canada

Ginn BK, Cumming BF, Smol JP (2007) Assessing pH changes since pre-industrial times in 51 low-alkalinity lakes in Nova Scotia, Canada. Can J Fish Aquat Sci 64:1043–1054

Glew JR (1988) A portable extruding device for close interval sectioning of unconsolidated core samples. J Paleolimnol 1:235–239

Glew JR (1989) A new trigger mechanism for sediment samplers. J Paleolimnol 2:241–243

Greenaway P (1985) Calcium balance and molting in the Crustacea. Biol Rev 60:425–454

Hadley KR, Paterson AM, Hall RI, Smol JP (2013) Effects of multiple stressors on lakes in south-central Ontario: 15 years of change in lakewater chemistry and sedimentary diatom assemblages. Aquat Sci 75:349–360

Hadley KR, Paterson AM, Stainsby EA, Michelutti N, Yao H, Rusak JA, Ingram R, McConnell C, Smol JP (2014) Climate warming alters thermal stability but not stratification phenology in a small north-temperate lake. Hydrol Process. doi:10.1002/hyp.10120

Hall RI, Smol JP (1996) Paleolimnological assessment of long-term water-quality changes in south-central Ontario lakes affected by cottage development and acidification. Can J Fish Aquat Sci 53:1–17

Hill MO (1973) Diversity and evenness: a unifying notation and its consequences. Ecology 54:427–432

Holt CA, Yan ND, Somers KM (2003) pH 6 as the threshold to use in critical load modeling for zooplankton community change with acidification in lakes of south-central Ontario: accounting for morphometry and geography. Can J Fish Aquat Sci 60:151–158

Jeffries DS, Clair TA, Couture S, Dillon PJ, Dupont J, Keller W, McNicol DK, Turner MA, Vet R, Weeber R (2003) Assessing the recovery of lakes in southeastern Canada from the effects of acidic deposition. Ambio 32:176–182

Jeziorski A, Yan ND, Paterson AM, DeSellas AM, Turner MA, Jeffries DS, Keller B, Weeber RC, McNicol DK, Palmer ME, McIver K, Arseneau K, Ginn BK, Cumming BF, Smol JP (2008) The widespread threat of calcium decline in fresh waters. Science 322:1374–1377

Jeziorski A, Paterson AM, Smol JP (2012a) Changes since the onset of acid deposition among calcium-sensitive cladoceran taxa within softwater lakes of Ontario, Canada. J Paleolimnol 48:323–337

Jeziorski A, Paterson AM, Smol JP (2012b) Crustacean zooplankton sedimentary remains from calcium-poor lakes: complex responses to threshold concentrations. Aquat Sci 74:121–131

Keller W, Dixit SS, Heneberry J (2001) Calcium declines in northeastern Ontario lakes. Can J Fish Aquat Sci 58:2011–2020

Kirchner JW, Lydersen E (1995) Base cation depletion and potential long-term acidification of Norwegian catchments. Environ Sci Technol 29:1953–1960

Koppen JD (1975) A morphological and taxonomic consideration of Tabellaria (Bacillariophyceae) from the Northcentral United-States. J Phycol 11:236–244

Krammer K, Lange-Bertalot H (1986-1991) Bacillariophyceae. Süßwasserflora von Mitteleuropa Band 2 (1–4). Gustav Fischer Verlag, Stuttgart vols 1–4 Teil 1 (1986, p 876) 2 (1988, p 596) 3 (1991, p 576) 4 (1991, p 437)

Lotter AF (1998) The recent eutrophication of Balderggersee (Switzerland) as assessed by fossil diatom assemblages. Holocene 8:395–405

Lotter AF, Bigler C (2000) Do diatoms in the Swiss Alps reflect the length of ice-cover? Aquat Sci 62:125–141

MacRae PSD, Jackson DA (2001) The influence of smallmouth bass (Micropterus dolomieu) predation and habitat complexity on the structure of littoral zone fish assemblages. Can J Fish Aquat Sci 58:342–351

Molot LA, Dillon PJ (2008) Long-term trends in catchment export and lake concentrations of base cations in the Dorset study area, central Ontario. Can J Fish Aquat Sci 65:809–820

Oksanen J, Blanchet FG, Kindt R, Legendre P, O'Hara RB, Simpson GL, Solymos P, Stevens MHH, Wagner H (2010) Vegan: community ecology package. R package version 1.17-4. http://CRAN.R-project.org/package=vegan

Palmer ME, Yan ND, Paterson AM, Girard RE (2011) Water quality changes in south-central Ontario lakes and the role of local factors in regulating lake response to regional stressors. Can J Fish Aquat Sci 68:1038–1050

R Development Core Team (2010) R: a language and environment for statistical computing. R Foundation for Statistical Computing, Vienna, Austria. ISBN 3-900051-07-0. http://www.R-project.org/

Reynolds CS, Huszar V, Kruk C, Naselli-Flores L, Melo S (2002) Toward a functional classification of the freshwater phytoplankton. J Plankton Res 24:417–428

Riessen HP, Linley RD, Altshuler I, Rabus M, Söllradi T, Clausen-Schaumann H, Laforsch C, Yan ND (2012) Changes in water chemistry can disable plankton prey defenses. Proc Natl Acad Sci USA 109:15377–15382

Rimet F, Druart JC, Anneville O (2009) Exploring the dynamics of plankton diatom communities in Lake Geneva using emergent self-organizing maps (1974–2007). Ecol Inform 4:99–110

Rühland K, Paterson AM, Smol JP (2008) Hemispheric-scale patterns of climate-related shifts in planktonic diatoms from North American and European lakes. Glob Change Biol 14:2740–2754

Rühland KM, Paterson AM, Hargan K, Jenkin A, Clark BJ, Smol JP (2010) Reorganization of algal communities in the Lake of the Woods (Ontario, Canada) in response to turn-of-the-century damming and recent warming. Limnol Oceanogr 55:2433–2451

Saros JE, Michel TJ, Interlandi SJ, Wolfe AP (2005) Resource requirements of Asterionella formosa and Fragilaria crotonensis in oligotrophic alpine lakes: implications for recent phytoplankton community reorganizations. Can J Fish Aquat Sci 62:1681–1689

Shapiera M, Jeziorski A, Paterson AM, Smol JP (2012) Cladoceran response to calcium decline and the subsequent inadvertent liming of a softwater Canadian lake. Water Air Soil Pollut 223:2437–2446

Shaw DM, Reilly GA, Muysson JR, Pattenden GE, Campbell FE (1967) An estimate of the chemical composition of the Canadian Precambrian Shield. Can J Earth Sci 4:829–853

Simpson GL (2007) Analogue methods in palaeoecology: using the analogue package. J Stat Softw 22:1–29

Siver P, Kling H (1997) Morphological observations of Aulacoseira using scanning electron microscopy. Can J Bot 75:1807–1835

Smol JP (2008) Pollution of lakes and rivers: a paleoenvironmental perspective, 2nd edn. Blackwell, Oxford

Smol JP, Douglas MSV (2007) From controversy to consensus: making the case for recent climate change in the Arctic using lake sediments. Front Ecol Environ 5:466–474

Sorvari S, Korhola A (1998) Recent diatom assemblage changes in subarctic Lake Saanajärvi, NW Finnish Lapland, and their paleoenvironmental implications. J Paleolimnol 20:205–215

Spaulding S, Edlund M (2009) Asterionella. In: Diatoms of the United States. Retrieved October 16, 2013, from http://westerndiatoms.colorado.edu/taxa/genus/Asterionella

Stainsby EA, Winter JG, Jarjanazi H, Paterson AM, Evans DO, Young JD (2011) Changes in the thermal stability of Lake Simcoe from 1980 to 2008. J Great Lakes Res 37:55–62

Stoddard JL, Jeffries DS, Lukewille A, Clair TA, Dillon PJ, Driscoll CT, Forsius M, Johnannessen M, Kahl JS, Kellogg JH, Kemp A, Mannio J, Monteith DT, Murdoch PS, Patrick S, Rebsdorf A, Skjelkvale BL, Stainton MP, Traaen T, van Dam H, Webster KE, Wieting J, Wilander A (1999) Regional trends in aquatic recovery from lake acidification in North America and Europe. Nature 401:575–578

Tan Q, Wang W (2010) Interspecies differences in calcium content and requirement in four freshwater cladocerans explained by biokinetic parameters. Limnol Oceanogr 55:1426–1434

Watmough SA, Aherne J (2008) Estimating calcium weathering rates and future lake calcium concentrations in the Muskoka–Haliburton region of Ontario. Can J Fish Aquat Sci 65:821–833

Watmough SA, Dillon PJ (2003) Calcium losses from a forested catchment in south-central Ontario, Canada. Environ Sci Technol 37:3085–3089

Winder M, Hunter DA (2008) Temporal organization of phytoplankton communities linked to physical forcing. Oecologia 156:179–192

Winder M, Reuter JE, Schladow SG (2009) Lake warming favours small-sized planktonic diatom species. Proc R Soc B 276:427–435

Yan ND, Somers KM, Girard RE, Paterson AM, Keller B, Ramcharan CW, Rusak JA, Ingram R, Morgan GE, Gunn J (2008) Long-term trends in zooplankton of Dorset, Ontario lakes: the probable interactive effects of changes in pH, TP, DOC and predators. Can J Fish Aquat Sci 65:862–877

Yao H, Rusak JA, Paterson AM, Somers KM, Mackay M, Girard R, Ingram R, McConnell C (2013) The interplay of local and regional factors in generating temporal changes in the ice phenology of Dickie Lake, south-central Ontario, Canada. Inland Waters 3:1–14
Acknowledgments
This research was funded by grants from Natural Sciences and Engineering Research Council awarded to John P. Smol. We would like to thank two anonymous reviewers for their helpful comments and insights that have strengthened this manuscript.
About this article
Cite this article
Barrow, J.L., Jeziorski, A., Rühland, K.M. et al. Diatoms indicate that calcium decline, not acidification, explains recent cladoceran assemblage changes in south-central Ontario softwater lakes. J Paleolimnol 52, 61–75 (2014). https://doi.org/10.1007/s10933-014-9778-2
Received:

Accepted:

Published:

Issue Date:
Keywords
Diatoms

Paleolimnology

Climate warming

Acidification

Calcium decline

South-central Ontario