Abstract
We report δ18O and δ13C values of 21 fossil shells from the aquatic gastropod Radix from a sediment core taken in the eastern basin of Lake Karakul, Tajikistan (38.86–39.16°N, 73.26–73.56°E, 3,928 m above sea level) and covering the last 4,200 cal yr BP. The lake is surrounded by many palaeoshorelines evidencing former lake-level changes, most likely triggered by changes in meltwater flux. This hypothesis was tested by interpreting the isotope ratios of Radix shells together with δ18O values of Ostracoda and of authigenic aragonite. The mean δ18O values of Radix and Ostracoda fall along the same long-term trend indicating a change in the isotopic composition of precipitation, which contributed to the glaciers in the catchment as snow and finally as melt water to the lake. The sclerochronological δ18O and δ13C patterns in Radix shells provide seasonal weather information, which is discussed in context with previously proposed climatic changes during the last 4,200 cal yr BP. The period between ~4,200 and 3,000 cal yr BP was characterized by stepwise glacier advance in the catchment most likely due to a precipitation surplus. Subsequently the climate remained relatively cold but the lake level fluctuated, as indicated by ostracod shell isotope data. From ~1,800 cal yr BP the sclerochronological patterns provide evidence for increasing melt water flux and transport of allochthonous carbon into the lake, most likely due to an accelerated glacier retreat. The period around 1,500 cal yr BP was characterized by strong warming, increasing meltwater flux, glacier retreat and an increasing lake level. Warm conditions continued until ~500 cal yr ΒP probably representing the end of the Medieval Warm Period. A short relatively cold (dry?) period and a lower lake level are assumed for ~350 cal yr BP, possibly an analogue to the Maunder Minimum cooling in the North Atlantic region. Our results show that the lake system is complex, and that changes were triggered by external forcing and feedbacks. The similarity of δ18O values in Radix and ostracod shells demonstrates that both archives provide complementary information.
Access options
Buy single article
Instant access to the full article PDF.
USD 39.95
Price includes VAT (USA)
Tax calculation will be finalised during checkout.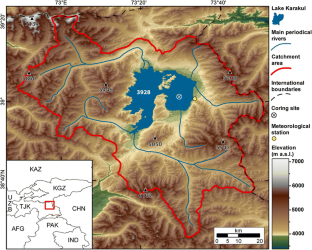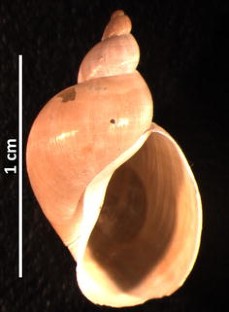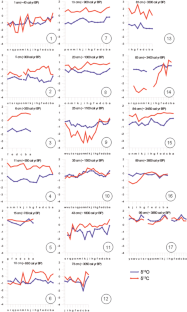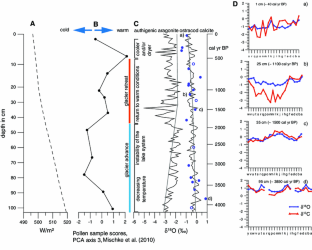 References
Abell PI, Williams MAJ (1989) Oxygen and carbon isotope ratios in gastropod shells as indicators of paleoenvironments in the Afar Region of Ethiopia. Palaeogeogr Palaeoclimatol Palaeoecol 74:265–278

Bolch T (2007) Climate change and glacier retreat in northern Tien Shan (Kazakhstan/Kyrgyzstan) using remote sensing data. Glob Planet Change 56:1–12

Boomer I, Aladin N, Plotnikov I, Whatley R (2000) The palaeolimnology of the Aral sea: a review. Quat Sci Rev 19:1259–1278

ESRI (2011) ArcGIS desktop: release 10. Environmental Systems Research Institute, Redlands

Filippov A, Riedel F (2009) The late Holocene mollusk fauna of the Aral Sea and its biogeographical and ecological interpretation. Limnologica 39:67–85

Fontes JCh, Mélières F, Gibert E, Liu Q, Gasse F (1993) Stable isotope and radiocarbon balances of two Tibetan lakes (Sumxi Co, Longmu Co) from 13,000 BP. Quat Sci Rev 12:875–887

Goehring BM, Vacco DA, Alley RB, Schaefer JM (2012) Holocene dynamics of the Rhone Glacier, Switzerland, deduced from ice flow models and cosmogenic nuclides. Earth Planet Sci Lett 351–352:27–35

Gopal B, Ghosh D (2010) Lakes and reservoirs of Asia. Encyclopedia of inland waters, lake ecosystem ecology. In: Likens GE (ed) Academic Press, New York

Grossman EL, Ku TL (1986) Oxygen and carbon fractionation in biogenic aragonite: temperature effects. Chem Geol 59:59–74

Gupta AK, Anderson DM, Overpeck JT (2003) Abrupt changes in the Asian southwest monsoon during the Holocene and their links to the North Atlantic Ocean. Nature 421:354–356

Gurov EP, Gurova HP, Rakitskaya RB, Yamnichenko AY (1993) The Karakul depression in Pamirs: the first impact structure in Central Asia. Abstract Volume of the 24th Lunar and planetary science conference, Lunar and Planetary Institute, Lyndon B. Johnson Space Center Houston, pp 591–592

Hammer UT (1986) Saline lake ecosystems of the world. Monographiae Biologicae 59. Kluwer Academic Publication, Dordrecht

Hedrick KA, Seong YB, Owen LA, Caffee MW, Dietsch C (2011) Towards defining the transition in style and timing of Quaternary glaciations between the monsoon-influenced Greater Himalaya and the semi-arid Transhimalaya of Northern India. Quat Int 236:21–33

Henderson ACG, Holmes JA, Zhang J, Leng MJ, Carvalho LR (2003) A carbon- and oxygen-isotope record of recent environmental change from Qinghai Lake, NE Tibetan Plateau. Chin Sci Bull 48:1463–1468

Intergovernmental Panel on Climate Change IPCC (2007) Contribution of working group I to the fourth assessment report of the intergovernmental panel on climate change. In: Solomon SD, Qin M, Manning Z, Chen M, Marquis KB, Averyt M, Tignor MMB, Miller HL (eds) Cambridge University Press, Cambridge

Khromova TE, Osipova GB, Tsvetkov DG, Dyurgerov MB, Barry RG (2006) Changes in glacier extent in the eastern Pamir, Central Asia, determined from historical data and ASTA imagery. Remote Sens Environ 102:24–32

Komatsu T (2009) Field photographs of geomorphic features in the lake Karakul region, eastern Pamirs. Geogr Stud 84:44–50

Komatsu T, Watanabe T, Hirakawa K (2010) A framework for late Quaternary lake-level fluctuations in lake Karakul, eastern Pamir, focusing on lake–glacier landform interaction. Geomorphology 119:198–211

Kutuzov S, Shahgedanova M (2009) Glacier retreat and climatic variability in the eastern Terskey-Alatoo, inner Tien Shan between the middle of the 19th century and beginning of the 21st century. Glob Planet Change 69:59–70

Laskar J, Robutel P, Joutel F, Gastineau M, Correia ACM, Levrard B (2004) A long term numerical solution for the insolation quantities of the Earth. Astron Astrophys 428: 261–285, online data file http://www.imcce.fr/Equipes/ASD/insola/earth/online/index.php

Lehner B, Döll P (2004) Development and validation of a global database of lakes, reservoirs and wetlands. J Hydrol 296:1–22

Lehner B, Verdin K, Jarvis A (2006) HydroSHEDS technical documentation. World Wildlife Fund US, Washington, DC. http://hydrosheds.cr.usgs.gov

Leng MJ, Marshall JD (2004) Palaeoclimate interpretation of stable isotope data from lake sediment archives. Quat Sci Rev 23:811–831

Liu WG, Li XZ, Zhang L, An ZS, Xu LM (2009) Evaluation of oxygen isotopes in carbonate as an indicator of lake evolution in arid areas: the modern Qinghai Lake, Qinghai-Tibet Plateau. Chem Geol 268:126–136

Melack JM (1983) Large, deep salt lakes: a comparative limnological analysis. Hydrobiologia 105:223–230

Mischke S, Zhang CJ (2010) Holocene cold events on the Tibetan Plateau. Glob Planet Change 72:155–163

Mischke S, Rajabov I, Mustaeva N, Zhang C, Herzschuh U, Boomer I, Brown E, Andersen N, Myrbo A, Ito E, Schudack ME (2010) Modern hydrology and late Holocene history of Lake Karakul, eastern Pamirs (Tajikistan): a reconnaissance study. Palaeogeogr Palaeoclimatol Palaeoecol 289:10–24

Molchanov LA (1929) Lakes of Central Asia. Trudy Sredneaziat. Gos. Univ., Geografiya 3, pp. 26–31. Tashkent. (in Russian)

Narama C (2002) Late Holocene variation of the Raigorodskogo Glacier and climate change in the Pamir-Altai, central Asia. Catena 48:21–37

Narama C, Kääb A, Duishonakunov M, Abdrakhmatov K (2010) Spatial variability of recent glacier area changes in the Tien Shan Mountains, Central Asia, using Corona (~1970), Landsat (~2000), and ALOS (~2007) satellite data. Glob Planet Change 71:42–54

Ni A, Nurtayev B, Petrov M, Tikhanovskaya A, Tomashevskaya I (2004) The share of glacial feeding in water balance of Aral Sea and Karakul Lake. J Marine Syst 47:143–146

Osipov EY, Khlystov OM (2010) Glaciers and meltwater flux to Lake Baikal during the Last Glacial Maximum. Palaeogeogr Palaeoclimatol Palaeoecol 294:4–15

Owen LA, Kamp U, Spencer JQ, Haserodt K (2002) Timing and style of Late Quaternary glaciation in the eastern Hindu Kush, Chitral, northern Pakistan: a review and revision of the glacial chronology based on new optically stimulated luminescence dating. Quat Int 97–98:41–55

Peel MC, Finlayson BL, McMahon TA (2007) Updated world map of the Köppen-Geiger climate classification. Hydrol Earth Syst Sci 11:1633–1644

Ricketts RD, Johnson TC, Brown ET, Rasmussen KA, Romanovsky VV (2001) The Holocene paleolimnology of Lake Issyk-Kul, Kyrgyzstan: trace element and stable isotope composition of ostracods. Palaeogeogr Palaeoclimatol Palaeoecol 176:207–227

Safarov NM (2006) Republic of Tajikistan. National Environmental Action Plan. www.unpei.org/PDF/National_Environmental_Action_Plan_eng.pdf

Sarikaya MA, Zreda M, Çiner A (2009) Glaciations and paleoclimate of Mount Erciyes, central Turkey, since the Last Glacial Maximum, inferred from 36Cl cosmogenic dating and glacier modeling. Quat Sci Rev 28:2326–2341

Scherler D, Bookhagen B, Strecker MR (2011) Spatially variable response of Himalayan glaciers to climate change affected by debris cover. Nat Geosci 4:156–159. doi:10.1038/ngeo1068

Seong YB, Owen LA, Bishop MP, Bush A, Clendon P, Copland L, Finkel R, Kamp U, Shroder JF (2007) Quaternary glacial history of the Central Karakoram. Quat Sci Rev 26:3384–3405

Seong YB, Owen LA, Yi C, Finkel RC (2009) Quaternary glaciations of Muztag Ata and Kongur Shan: evidence for glacier response to rapid climate changes throughout the Late Glacial and Holocene in westernmost Tibet. Geol Soc Am Bull 121:348–365

Solomina O, Barry R, Bodnya M (2004) The retreat of Tien Shan glaciers (Kyrgyzstan) since the Little Ice Age estimated from aerial photographs, lichenometric and historical data. Geogr Ann 86:205–215

Sorrel P, Popescu SM, Head MJ, Suc JP, Klotz S, Oberhänsli H (2006) Hydrographic development of the Aral Sea during the last 2000 years based on a quantitative analysis of dinoflagellate cysts. Palaeogeogr Palaeoclimatol Palaeoecol 234:304–327

Taft L, Wiechert U, Riedel F, Weynell M, Zhang HC (2012) Sub-seasonal oxygen and carbon isotope variations in shells of modern Radix sp. (Gastropoda) from the Tibetan Plateau: potential of a new archive for palaeoclimatic studies. Quat Sci Rev 34:44–56

Taft L, Wiechert U, Zhang HC, Lei GL, Mischke S, Plessen B, Weynell M, Winkler A, Riedel F (2013) Oxygen and carbon isotope patterns archived in shells of the aquatic gastropod Radix: hydrologic and climatic signals across the Tibetan Plateau in sub-monthly resolution. Quat Int 290–291:282–298

Thompson LG, Davis ME, Mosley-Thompson E, Lin P, Henderson KA, Mashiotta TA (2005) Tropical ice core records: evidence for asynchronous glaciation on Milankovitch timescales. J Quat Sci 20:723–733

Unger-Shayesteh K, Vorogushyn S, Farinotti D, Gafurov A, Duethmann D, Mandychey A, Merz B (2013) What do we know about past changes in the water cycle of Central Asian headwaters? A review. Glob Planet Change. doi: 10.1016/j.gloplacha.2013.02.004

Vasskog K, Paasche Ø, Nesje A, Boyle JF, Birks HJB (2012) A new approach for reconstructing glacier variability based on lake sediments recording input from more than one glacier. Quat Res 77:192–204

von Oheimb PV, Albrecht C, Riedel F, Du L, Yang JX, Aldridge DC, Bößneck U, Zhang HC, Wilke T (2011) Freshwater biogeography and limnological evolution of the Tibetan Plateau—Insights from a plateau-wide distributed gastropod taxon (Radix spp.). PLoS ONE 6:e26307. doi:10.1371/journal.pone.0026307

World Glacier Monitoring Service WGMS (2012) Global Glacier Changes: facts and figures. http://www.grid.unep.ch/glaciers/pdfs/glaciers.pdf

Wünnemann B, Mischke S, Chen FH (2006) A Holocene sedimentary record from Bosten Lake, China. Palaeogeogr Palaeoclimatol Palaeoecol 234:223–238

Zhang Y, Kong ZC, Yan S, Yang ZJ, Ni J (2009) "Medieval Warm Period" on the northern slope of central Tienshan Mountains, Xinjiang, NW China. Geophys Res Lett 36:L11702. doi:10.1029/2009GL037375
Acknowledgments
We are grateful to Maike Glos and Matthias Friebel (both FU Berlin) for the sample processing and to Nailya Mustaeva for logistical support during the fieldwork. Funding was provided by the Research Commission of the FUB, the Center for International Cooperation (FUB), the German Academic Exchange Service (DAAD) and the German Science Foundation (DFG). The comments of T.J. Whitmore and two anonymous reviewers greatly improved the manuscript.
About this article
Cite this article
Taft, L., Mischke, S., Wiechert, U. et al. Sclerochronological oxygen and carbon isotope ratios in Radix (Gastropoda) shells indicate changes of glacial meltwater flux and temperature since 4,200 cal yr BP at Lake Karakul, eastern Pamirs (Tajikistan). J Paleolimnol 52, 27–41 (2014). https://doi.org/10.1007/s10933-014-9776-4
Received:

Accepted:

Published:

Issue Date:
Keywords
Palaeolimnology

Stable isotopes

Gastropods

Sclerochronology

Late Holocene

Central Asia