Abstract
A 95-cm-thick peat sequence obtained from Daping Swamp in the western Nanling Mountains provides evidence for climate variability in the past ~3,000 year. Multi-proxy records (including organic carbon isotopes, humification degree, organic matter content, and dry bulk density) revealed three intensified Asian summer monsoon (ASM) intervals (i.e.~2900–2700, 2500–1700 and 1000–600 cal. yr BP) and three weakened ASM intervals (i.e.~2800–2500, 1700–1000 and 600–200 cal. yr BP). Our δ13C record shows a possible correlation with the sunspot number and residual atmospheric 14C records on multi-centennial scale, especially for the period between 2960 and 2200 cal. yr BP. A spectral analysis of δ13C record reveals three significant cycles (i.e., 396, 110 and 102 yr) and all these cycles could be related to solar activity, suggesting that solar output may have influenced the late Holocene climate variability in the study region.
Access options
Buy single article
Instant access to the full article PDF.
USD 39.95
Price includes VAT (USA)
Tax calculation will be finalised during checkout.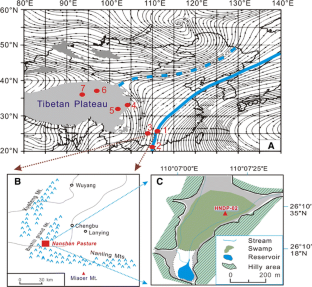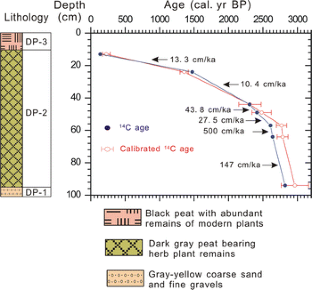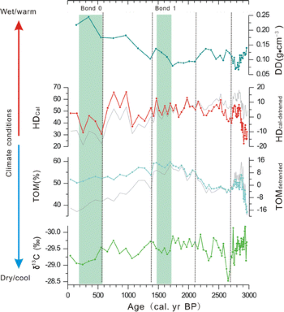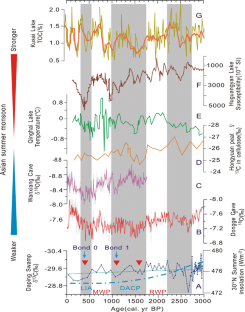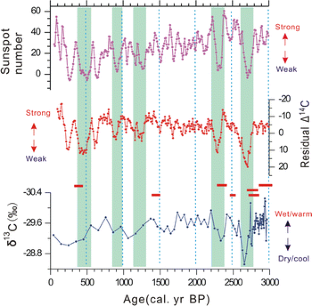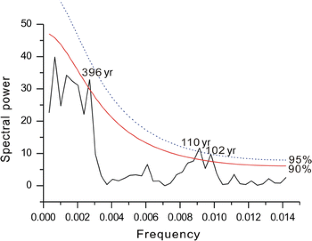 References
Aaby B (1976) Cyclic climatic variations in climate over the last 5500 years reflected in raised bog. Nature 263:281–284

Agnihotri R, Dutta K, Bhushan R, Somayajulu BLK (2002) Evidence for solar forcing on the Indian monsoon during the last millennium. Earth Planet Sci Lett 198:521–527

An ZS, Kutzbach JE, Prell WL, Porter SC (2001) Evolution of Asian monsoon s and phased uplift of the Himalaya-Tibetan plateau since Late Miocene times. Nature 411:62–66

Berger A, Loutre MF (1991) Insolation values for the climate of the last 10 million years. Quat Sci Rev 10:297–317

Blaauw M (2010) Out of tune: the dangers of aligning proxy archives. Quat Sci Rev 36:38–49

Bond G, Kromer B, Beer J, Muscheler R, Evans M, Showers W, Hoffmann S, Lotti-Bond R, Hajdas I, Bonani G (2001) Persistent solar in fluence on North Atlantic climate during the Holocene. Science 294:2130–2136

Cai YJ, Tan LC, Cheng H, An ZS, Edwards RL, Kelly MJ, Kong XG, Wang XF (2010) The variation of summer monsoon precipitation in central China since the last deglaciation. Earth Planet Sci Lett 291:21–31

Chai X (1990) Peatland. Geological Publishing House, Beijing, pp 139–140

Chambers FM, Barber KE, Maddy D, Brew J (1997) A 5500-year proxy-climate and vegetation record from blanket mire at Talla Moss, Borders, Scotland. Holocene 7:391–399

Charman DJ, Caseldine C, Barker A, Gearey B, Hatton J, Proctor C (2001) Paleohydrological records from peat profiles and speleothems in Sutherland, North-west Scotland. Quat Res 55:223–234

Chen FH, Rao ZG, Zhang JW, Jin M, Ma JY (2006) Variations of organic carbon isotopic composition and its environmental significance during the last glacial on western Chinese Loess Plateau. Chin Sci Bull 51:1593–1602

Christopher JE, John H (2000) Climatic control of blanket mire development at Kentra Moss, North-west Scotland. J Ecol 88:869–889

Desprat S, Sánchez-Goñi MF, Loutre MF (2003) Revealing climatic variability of the last three millennia in northwestern Iberia using pollen influx data. Earth Planet Sci Lett 213:63–78

Dykoski CA, Edwards RL, Cheng H, Yuan DX, Cai YJ, Lin YS (2005) A high-resolution, absolute-dated Holocene and deglacial Asian monsoon record from Dongge Cave, China. Earth Planet Sci Lett 233:71–86

Farquhar GD, Ehleringer JR, Hubick KT (1989) Carbon isotope discrimination and photosythesis. Annu Rev Plant Biol 40:503–537

Feng X, Epstein S (1995) Carbon isotopes of trees from arid environments and implications for reconstructing atmospheric CO2 concentration. Geochim Cosmochim AC 59:2599–2608

Fleitmann D, Burns SJ, Mudelsee M, Neff U, Kramers J, Mangini A, Matter A (2003) Holocene forcing of the Indian Monsoon recorded in a stalagmite from Southern Oman. Science 300:1737–1739

Gao YX, Xu SY, Guo QY (1962) Monsoon region and regional climate in China. In: Gao YX, Xu SY (eds) Some problems of East Asian Monsoon. Science Press, Beijing, pp 49–63 (in Chinese)

Hatté C, Antoine P, Fontugne M, Lang A, Rousseau D, Zöller L (2001) δ13C of loess organic matter as a potential proxy for paleoprecipitation. Quat Res 55:33–38

Hong YT, Wang ZG, Jiang HB, Lin QH, Hong B, Zhu YX (2001) A 6000-year record of changes in drought and precipitation in northeastern China based on a δ13C time series from peat cellulose. Earth Planet Sci Lett 185:111–119

Hong YT, Hong B, Lin QH, Shibata Y, Hirota M, Zhu YX, Leng XT, Wang Y, Wang H, Yi L (2005) Inverse phase oscillations between the East Asian and Indian Ocean summer monsoons during the last 12000 years and paleo-El Niño. Earth Planet Sci Lett 231:337–346

Hong B, Hong YT, Lin QH, Shibata Y, Uchida M, Zhu YX, Leng XT, Wang Y, Cai CC (2010) Anti-phase oscillation of Asian monsoons during the Younger Dryas period: evidence from peat cellulose δ13C of Hani, Northeast China. Palaeogeogr Palaeoclimatol Palaeoecol 297:214–222

Janssens JA (1983) A quantitative method for stratigraphic analysis of bryophytes in Holocene peat. J Ecol 171:189–196

Kohn MJ (2010) Carbon isotope composition of terrestrial C3 plants as indicator of (plaeo)ecology and (paleo)climate. PNAS 107:19691–19695

Lean J, Beer J, Bradley R (1995) Reconstruction of solar irradiance since 1610: implications for climate change. Geophys Res Lett 22:3195–3198

Liu ZH, Henderson ACG, Huang YS (2006) Alkenone-based reconstruction of late-Holocene surface temperature and salinity changes in Lake Qinghai. China Geophys Res Lett 33:L09707. doi:10.1029/2006GL026151

Liu XQ, Dong HL, Yang XD, Herzschuh U, Zhang EL, Stuut JBW, Wang YB (2009) Late Holocene forcing of the Asian winter and summer monsoon as evidenced by proxy records from the northern Qinghai-Tibetan Plateau. Earth Planet Sci Lett 280:276–284

Ljungqvist FC (2010) A new reconstruction of temperature variability in the extra-tropical northern Hemisphere during the last two millennia. Geografiska Ann: Ser A Phys Geogr 92:339–351

Neff U, Burns SJ, Mangini A, Mudelsee M, Fleitmann D, Matter A (2001) Strong coherence between solar variability and the monsoon in Oman between 9 and 6 kyr ago. Nature 411:290–293

Qian W, Lin X, Zhu Y, Xu Y, Fu J (2007) Climatic regime shift and decadal anomalous events in China. Clim Chang 84:167–189

Reimer PJ, Baillie MGL, Bard E, Bayliss A, Beck JW, Blackwell PG, Ramsey CB, Buck CE, Burr GS, Edwards RL, Friedrich M, Grootes PM, Guilderson TP, Hajdas I, Heaton TJ, Hogg AG, Hughen KA, Kaiser KF, Kromer B, McCormac FG, Manning SW, Reimer RW, Richards DA, Southon JR, Talamo S, Turney CSM, van der Plicht J, Weyhenmeyer CE (2009) IntCal09 and Marine09 radiocarbon age calibration curves, 0–50,000 years cal BP. Radiocarbon 51:1111–1150

Schulz M, Mudelsee M (2002) REDFIT: estimating red-noise spectra directly from unevenly spaced paleoclimatic time series. Comput Geosci 28:421–426

Selvaraj K, Wei KY, Liu KK, Kao SJ (2012) Late Holocene monsoon climate of northeastern Taiwan inferred from elemental (C, N) and isotopic (δ13C, δ15N) data in lake sediments. Quat Sci Rev 37:48–60

Solanki SK, Usoskin IG, Kromer B, Schussler M, Beer J (2004) An unusually active Sun during recent decades compared to the previous 11,000 years. Nature 431:1084–1087

Sonnett CP, Suess HE (1984) Correlation of bridtlecone pine ring width with atmospheric 14C variations: a climate-sun relation. Nature 307:141–143

Stebich M, Mingram J, Moschen R, Thiele A, Schröder C (2011) Comments on Anti-phase oscillation of Asian monsoons during the Younger Dryas period: evidence from peat cellulose delta 13C of Hani, Northeast China by B. Hong et al. [Palaeogeogr, Palaeoclimatol, Palaeoecol 297(2010) 214–222]. Palaeogeog Palaeoclimatol Palaeoecol 310: 464–470

Stuiver M, Reimer PJ, Braziunas TF (1998) High-precision radiocarbon age calibration for terrestrial and marine samples. Radiocarbon 40:1127–1151

Sun SY, Zhang JE (1984) Pollen combination of the Daping peat deposit in Hunan and its formation environment. J Nanjing Nor Uni 4:86–92 (in Chinese)

Wang GA, Han JM, Zhou LP (2002) The annual average temperature in northern China. Chin J Geol 29:55–57 (in Chinese)

Wang GA, Han JM, Liu TS (2003) The carbon isotope composition of C3 herbaceous plants in loess area of northern China. Sci China (Ser D: Earth Sci) 46: 1067–1076

Wang YJ, Cheng H, Edwards RL, He Y, Kong X, An ZS, Wu J, Kelly MJ, Dykoski CA, Li X (2005) The Holocene Asian Monsoon: links to solar changes and North Atlantic climate. Science 308:854–857

Wang H, Hong YT, Lin QH, Hong B, Zhu YX, Wang Y, Xu H (2010) Response of humification degree to monsoon climate during the Holocene from the Hongyuan peat bog, eastern Tibetan Plateau. Palaeogeogr Palaeoclimatol Palaeoecol 286:171–177

Weber SL, Crowley TJ, van der Schrier G (2004) Solar irradiance forcing of centennial climate variability during the Holocene. Clim Dynam 22:539–553

White JWC, Ciais P, Figge RA, Kenny R, Markgraf V (1994) A high-resolution record of atmospheric CO2 content from carbon isotopes in peat. Nature 367:153–156

Xiao YT, Cao TR, Pen ZH (1986) Mapping the vegetation (1:50000) of the Nanshan Mountain of Chengbu county, Hunan Province. J Cent South Forest Coll 6:34–40 (in Chinese)

Yancheva G, Nowaczyk NR, Mingram J, Dulski P, Schettler G, Negendank JFW, Liu JQ, Sigman DM, Peterson LC, Haug GH (2007) Influence of the intertropical convergence zone on the East Asian monsoon. Nature 445:74–77

Yang B, Bräuning A, Dong ZB, Zhang ZY, Jiao KQ (2008) Late Holocene monsoonal temperate glacier fluctuations on the Tibetan Plateau. Global Planet Chang 60:126–140

Zhang PZ, Cheng H, Edwards RL, Chen FH, Wang YJ, Yang XL, Liu J, Tan M, Wang XF, Liu JH, An CL, Dai ZB, Zhou J, Zhang DZ, Jia JH, Jin LY, Johnson KR (2008) A test of climate, sun, and culture relationships from an 1810-Year Chinese cave record. Science 322:940–942

Zhang JW, Chen FH, Holmes JA, Li H, Guo XY, Wang JL, Li S, Lü YB, Zha Y, Qiang MR (2011) Holocene monsoon climate documented by oxygen and carbon isotopes from lake sediments and peat bogs in China: a review and synthesis. Quat Sci Rev 30:1973–1987

Zhong W, Ma QH, Xue JB, Zheng YM, Cai Y, Ouyang J (2010) Humification degrees of a lacustrine sedimentary sequence as an indicator of past climatic changes in the last c 49000 years in South China. Boreas 39:286–295

Zhou WJ, Yu XF, Timothy JAJ, Burr G, Xiao JY, Lu XF, Xian F (2004) High-resolution evidence from southern China of an early Holocene optimum and a mid-Holocene dry event during the past 18000 years. Quat Res 62:39–48
Acknowledgments
Radiocarbon dates were measured in the Key Lab. of Western China's Environmental Systems (Ministry of Education of China), Lanzhou University. Organic carbon isotopes were analyzed in State Key Lab. of Gas Geochemistry, Lanzhou Institute of Geology, CAS. We feel grateful to Mr. Cao Jixiu and Prof. Zhang Chengjun in Lanzhou University and Dr. Yang Hui in Lanzhou Institute of Geology (CAS) for their help in laboratory analyses. We sincerely thank Prof. Steffen Mischke (the Associate Editor of this Journal) and two anonymous reviewers, for their thorough comments and constructive suggestions which significantly improved the manuscript. This work was supported by the Natural Science Foundation of China (Nos. 41071137 and 40671189), the Research Program of Institution of High Education in Guangdong Province for High-level Talents, and the Natural Science Foundation of Guangdong Province (Nos. S2011010003413 and 8151063101000044).
About this article
Cite this article
Zhong, W., Xue, J., Ouyang, J. et al. Evidence of late Holocene climate variability in the western Nanling Mountains, South China. J Paleolimnol 52, 1–10 (2014). https://doi.org/10.1007/s10933-014-9774-6
Received:

Accepted:

Published:

Issue Date:
Keywords
Late Holocene

Asian monsoon

Solar forcing

Peat

Western Nanling Mountains