Abstract
The new Future Earth Framework and International Council of Science Grand Challenges highlight the need to combine environmental and complexity sciences. An improved understanding of trajectories, interactions, fast and slow processes, alternate steady states and thresholds in key natural and social phenomena are vital to the design of sustainable management strategies. Lake sediment records can provide highly resolved time-series of data that give essential long term perspectives for complex socio-ecological systems, especially at regional scales. This means that these records have important roles in addressing the Future Earth agenda, especially for Forecasting, Observing and Confining environmental change within the proposed interdisciplinary themes of Dynamic Planet and Global Development.
Access options
Buy single article
Instant access to the full article PDF.
US$ 39.95
Tax calculation will be finalised during checkout.
Subscribe to journal
Immediate online access to all issues from 2019. Subscription will auto renew annually.
US$ 119
Tax calculation will be finalised during checkout.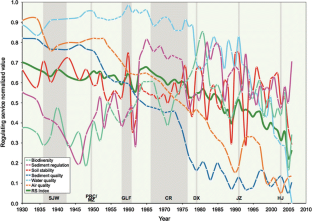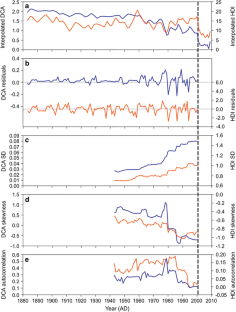 Notes
1.

Based on the inaugural lecture given by the author in the 'Rick Battarbee Annual Lecture Series' entitled 'Sediments, Systems and Sustainability' at University College London, 2012.
References
Anderson NJ, Bugmann H, Dearing JA, Gaillard-Lemdahl M-J (2006) Linking palaeoenvironmental data and models to understand the past and to predict the future. Trends Ecol Evol 21:696–704

Battarbee RW, Flower RJ, Stevenson AC, Rippey B (1985) Lake acidification in Galloway: a palaeoecological test of competing hypotheses. Nature 314:350–352

Bennion H, Battarbee RW (2007) The European Union Water Framework Directive: opportunities for palaeolimnology. J Paleolimnol 38:285–295

Carpenter SR, Mooney HA, Agard J, Capistrano D, DeFries RS, Díaz S, Dietz T, Duraiappah AK, Oteng-Yeboah A, Pereira HM, Perrings C, Reid WV, Sarukhan J, Scholes RJ, Whyte A (2009) Science for managing ecosystem services: beyond the Millennium Ecosystem Assessment. Proc Natl Acad Sci USA 106:1305–1312

Cowling SA, Sykes MT, Bradshaw RHW (2001) Palaeovegetation model comparisons, climate change and tree succession in Scandinavia over the past 1500 years. J Ecol 89:227–236

Crook DS, Chiverrell RC, Dearing JA, Jones RT, Welsh KE (2011) Spatial and temporal controls on hydro-geomorphic processes in the French Prealps. In: Dearing J, Dotterweich M, Foster T, Newman L, von Gunten L (eds) Integrative paleoscience for sustainable management. Pages News 19(2):47–49

da Silveira Lobo Sternberg L (2001) Savanna–forest hysteresis in the tropics. Glob Ecol Biogeogr 10:369–378

Dakos V, Scheffer M, van Nes EH, Brovkin V, Petoukhov V, Held H (2008) Slowing down as an early warning signal for abrupt climate change. Proc Natl Acad Sci USA 105:14308–14312

Dearing JA (2008) Landscape change and resilience theory: a palaeoenvironmental assessment from Yunnan, SW China. The Holocene 18:117–127

Dearing JA, Battarbee RW, Dikau R, Larocque I, Oldfield F (2006) Human–environment interactions: learning from the past. Region Environ Change 6:1–16

Dearing JA, Jones RT, Shen J, Yang X, Boyle JF, Foster GC, Crook DS, Elvin MJD (2008) Using multiple archives to understand past and present climate–human–environment interactions: the lake Erhai catchment, Yunnan Province, China. J Paleolimnol 40:3–31

Dearing JA, Braimoh AK, Reenberg A, Turner BL, van der Leeuw S et al (2010) Complex land systems: the need for long time perspectives to assess their future. Ecol Soc 15:21. http://www.ecologyandsociety.org/vol15/iss4/art21/

Dearing JA, Bullock S, Costanza R, Dawson TP, Edwards ME, Poppy GM, Smith G (2012a) Navigating the perfect storm: research strategies for social-ecological systems in a rapidly evolving world. Environ Manage 49:767–775

Dearing JA, Yang X, Dong X, Zhang E, Chen X, Langdon PG, Zhang K, Zhang W, Dawson TP (2012b) Extending the timescale and range of ecosystem services through paleoenvironmental analyses: the example of the lower Yangtze basin. Proc Natl Acad Sci USA 109:E1111–E1120

Foster IDL, Collins AL, Naden PS, Sear DA, Jones JI, Zhang Y (2011) The potential for paleolimnology to determine historic sediment delivery to rivers. J Paleolimnol 45:287–306

Froyd CA, Willis KJ (2008) Emerging issues in biodiversity and conservation management: the need for a palaeoecological perspective. Quat Sci Rev 27:1723–1732

Gell P, Tibby J, Fluin AJ, Leahy P, Reid M, Adamson CK, Bulpin BS, Macgregor AA, Wallbrink AP, Hancock DG, Walsh B (2005) Accessing limnological change and variability using fossil diatom assemblages, south-east Australia. River Res Appl 21:257–269

ICSU (2011) ICSU strategic plan II, 2012–2017. International Council for Science, Paris

Landres P, Morgan P, Swanson F (1999) Overview of the use of natural variability in managing ecological systems. Ecol Appl 9:1279–1288

Lindbladh M, Brunet J, Hannon G, Niklasson M, Eliasson P, Eriksson G, Ekstrand A (2007) Forest history as a basis for ecosystem restoration—a multidisciplinary case study in a South Swedish temperate landscape. Restor Ecol 15:284–295

MEA (2005) Ecosystems and human well-being: general synthesis. http://www.maweb.org/en/Synthesis.aspx

Oldfield F (1977) Lakes and their drainage basins as units of sediment-based ecological study. Prog Phys Geogr 1:460–504

Petschel-Held G, Block A, Cassel-Gintz M, Kropp J, Lüdeke MKB, Moldenhauer O, Reusswig F, Schellnhuber HJ (1999) Syndromes of global change: a qualitative modelling approach to assist global environmental management. Environ Model Assess 4:295–314

Rawcliffe R, Sayer CD, Woodward G, Grey J, Davidson TA, Jones JI (2010) Back to the future: using palaeolimnology to infer long-term changes in shallow lake food webs. Freshw Biol 55:600–613

Raworth K (2012) A safe and just space for humanity: can we live within the doughnut? Oxfam Discussion Papers, Oxford. http://policypractice.oxfam.org.uk/publications

Reid WV, Chen D, Goldfarb L, Hackmann H, Lee LT, Mokhele K, Ostrom E, Raivio K, Rockström J, Schellnhuber HJ, Whyte A (2010) Earth system science for global sustainability: Grand Challenges. Science 330:916–917

Rockström J, Steffen W, Noone K, Persson Å, Chapin FS III, Lambin EF, Lenton TM, Scheffer M, Folke C, Schellnhuber HJ, Nykvist B, de Wit CA, Hughes T, van der Leeuw S, Rodhe H, Sörlin S, Snyder PK, Costanza R, Svedin U, Falkenmark M, Karlberg L, Corell RW, Fabry VJ, Hansen J, Walker B, Liverman D, Richardson K, Crutzen P, Foley JA (2009) A safe operating space for humanity. Nature 461:472–475

Sayer CD, Jackson MJ, Hoare DJ, Waldock MJ, Simpson GL, Boyle JF, Jones JI, Appleby PG, Liptrot ER, Henderson ACG (2006) TBT causes regime shift in shallow lakes. Environ Sci Technol 40:5269–5275

Sayer CD, Davidson TA, Jones JI, Langdon PG (2010) Combining contemporary ecology and palaeolimnology to understand shallow lake ecosystem change. Freshw Biol 55:487–499

Scheffer M (2009) Critical transitions in nature and society. Princeton University Press, Princeton

Scheffer M, Carpenter S, Foley JA, Folke C, Walker B (2001) Catastrophic shifts in ecosystems. Nature 413:591–596

UK NEA (2011) The UK national ecosystem assessment technical report. UNEP-WCMC, Cambridge

Ulanowicz RE, Goerner SJ, Lietaer B, Gomez R (2009) Quantifying sustainability: resilience, efficiency and the return of information theory. Ecol Complex 6:27–36

Wang R, Dearing JA, Langdon PG, Zhang E, Yang X, Dakos V, Scheffer M (2012) Flickering gives early warning signals of a critical transition to a eutrophic lake state. Nature 492:419–422

Welsh KE, Dearing JA, Chiverrell RC, Coulthard TJ (2009) Testing a cellular modelling approach to simulating late Holocene sediment and water transfer from catchment to lake in the French Alps since 1826. The Holocene 19:783–796
Acknowledgments
It is a great pleasure to contribute a paper to this Special Issue. Since the 1970s, Rick has been an ever supportive and inspirational friend and colleague. I acknowledge financial support from the Programme Framework Grant 'Poverty and ecology: developing a new evolutionary approach' (NERC project no. NE/I002960/1), funded by the Ecosystem Services for Poverty Alleviation Programme (ESPA). The ESPA programme is funded by the Department for International Development (DFID), the Economic and Social Research Council (ESRC) and the Natural Environment Research Council (NERC). This is a Sustainability Science at Southampton publication.
Additional information
A celebration of Prof Rick Battarbee's contributions to palaeolimnology, edited by Holmes et al.
About this article
Cite this article
Dearing, J.A. Why Future Earth needs lake sediment studies. J Paleolimnol 49, 537–545 (2013). https://doi.org/10.1007/s10933-013-9690-1
Received:

Accepted:

Published:

Issue Date:
Keywords
Sustainability

Complex socio-ecological systems

Lake sediments