Abstract
The character and impact of climate change since the last glacial maximum (LGM) in the eastern Mediterranean region remain poorly understood. Here, two new diatom records from the Ioannina basin in northwest Greece are presented alongside a pre-existing record and used to infer past changes in lake level, a proxy for the balance between precipitation and evaporation. Comparison of the three records indicates that lake-level fluctuations were the dominant driver of diatom assemblage composition change, whereas productivity variations had a secondary role. The reconstruction indicates low lake levels during the LGM. Late glacial lake deepening was underway by 15.0 cal kyr BP, implying that the climate was becoming wetter. During the Younger Dryas stadial, a lake-level decline is recorded, indicating arid climatic conditions. Lake Ioannina deepened rapidly in the early Holocene, but long-term lake-level decline commenced around 7.0 cal kyr BP. The pattern of lake-level change is broadly consistent with an existing lake-level reconstruction at Lake Xinias, central Greece. The timing of the apparent change, however, is different, with delayed early Holocene deepening at Xinias. This offset is attributed to uncertainties in the age models, and the position of Xinias in the rain shadow of the Pindus Mountains.
Access options
Buy single article
Instant access to the full article PDF.
USD 39.95
Price includes VAT (USA)
Tax calculation will be finalised during checkout.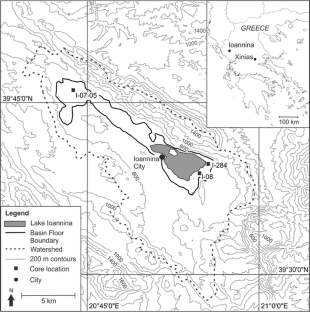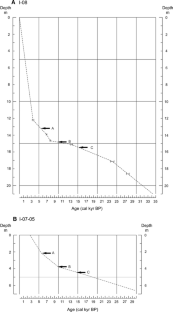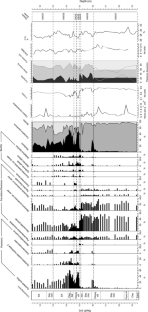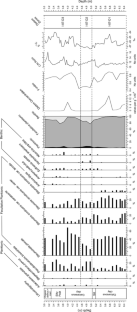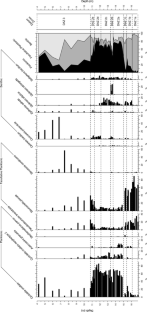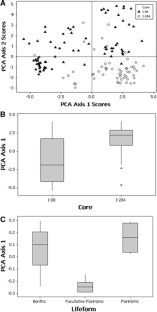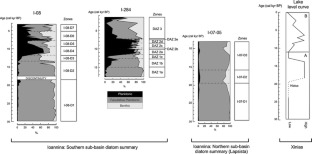 References
Ampel L, Wohlfarth B, Risberg J, Veres D (2008) Palaeolimnological response to millennial and centennial scale climate variability during MIS 3 and 2 as suggested by the diatom record in Les Echets, France. Quat Sci Rev 27:1493–1504

Barker PA, Roberts N, Lamb HF, van der Kaars S, Benkaddour A (1994) Interpretation of Holocene lake-level change from diatom assemblages in Lake Sidi Ali, Middle Atlas, Morocco. J Paleolimnol 12:223–234

Battarbee RW (1986) Diatom Analysis. In: Berglund BE (ed) Handbook of Holocene palaeoecology and palaeohydrology. Wiley, Chichester, pp 527–570

Battarbee RW, Jones VJ, Flower RJ, Cameron NG, Bennion H, Carvalho L, Juggins S (2001) Diatoms. In: Smol JP, Birks HJB, Last WM (eds) Tracking environmental changes using lake sediments. Volume 3: Terrestrial, Algal, and Siliceous Indicators. Kluwer Academic Publishers, Dordrecht, pp 155–202

Bennion H, Appleby P, Phillips GL (2001) Reconstructing nutrient histories in the Norfolk Broads, UK: implications for the role of diatom-total phosphorus transfer functions in shallow lake management. J Paleolimnol 26:181–2004

Birks HJB, Gordon AD (1985) Numerical methods in Quaternary pollen analysis. Academic Press, London

Clark PU, Dyke AS, Shakun JD, Carlson AE, Clark J, Wohlfarth B, Mitrovica JX, Hostetler SW, McCabe AM (2009) The last glacial maximum. Science 325:710–714

Clews JE (1989) Structural controls on basin evolution: Neogene to Quaternary of the Ionian zone, western Greece. J Geol Soc Lond 146:447–457

Cremer H, Wagner B (2003) The diatom flora in the ultra-oligotrophic Lake El'gygytgyn, Chukotka. Polar Biol 26:105–114

Diefendorf AF, Patterson WP, Holmden C, Mullins HT (2007) Carbon isotopes of marl and lake sediment organic matter reflect terrestrial landscape change during the late glacial and early Holocene (16,800 to 5,540 cal yr B.P.): a multiproxy study of lacustrine sediments at Lough Inchiquin, western Ireland. J Paleolimnol 39:101–115

Digerfeldt G, Olsson S, Sandgren P (2000) Reconstruction of lake level changes in Lake Xinias, central Greece, during the last 40,000 years. Palaeogeogr Palaeoclimatol Palaeoecol 158:65–82

Digerfeldt G, Olsson S, Sandgren P (2007) Reconstruction of Holocene lake-level changes in Lake Xinias, central Greece. Holocene 17:361–367

Eglinton TI, Aluwihare AL, Bauer JE, Druffel ERM, McNichol AP (1996) Gas chromatographic isolation of individual compounds from complex matrices for radiocarbon dating. Anal Chem 68:904–912

Flower RJ (1993) Diatom preservation: experiments and observations on dissolution and breakage in modern and fossil material. Hydrobiologia 269(270):473–484

Frogley MR (1997) The biostratigraphy, palaeoecology and geochemistry of a long lacustrine sequence from NW Greece. Ph.D. thesis, University of Cambridge

Galanidou N, Tzedakis PC (2001) New AMS dates from the Upper Palaeolithic Kastritsa. Proc Prehist Soc 67:271–278

Goericke R, Montoya JP, Fry B (1994) Physiology and isotopic fractionation in algae and cyanobacteria. In: Lajtha K, Michener RH (eds) Stable isotopes in ecology and environmental science. Blackwell, Oxford

Hausmann S, Lotter AF, van Leeuwen JFN, Ohlendorf C, Lemcke G, Gronland E, Sturm M (2002) Interactions of climate and land use documented in the varved sediments of Seebergsee in the Swiss Alps. Holocene 12:279–289

Haworth EY (1975) A scanning electron microscopy study of some different frustule forms of the genus Fragilaria found in some Scottish late-glacial sediments. Br Phycol J 10:73–80

Hegewald VE, Hindáková A (1997) Variability of a natural population and clones of the Cyclotella-ocellata-complex (Bacillariophyceae) from the Gallberg-pond, NW-Germany. Algol Stud 86:17–37

Hellenic National Meteorological Service (2012) Climatology: Ioannina. http://www.hnms.gr/hnms/english/climatology/climatology_region_diagrams_html?dr_city=Ioannina

Higgs ES, Vita-Finzi C (1966) The climate, environment and industries of Stone Age Greece: part II. Proc Prehist Soc 32:1–29

Higgs ES, Vita-Finzi C, Harris DR, Fagg AE (1967) The climate, environment and industries of Stone Age Greece: part III. Proc Prehist Soc 33:1–29

Hodell DA, Brenner M, Curtis JH (2007) Climate and cultural history of the Northeastern Yucatan Peninsula, Quintana Roo, Mexico. Clim Change 83:215–240

Jones TD (2010) A reconstruction of late Pleistocene and Holocene lake level changes at Ioannina, northwest Greece. PhD thesis, University of Leeds

Kagalou I, Papastergiadou E, Leonardos I (2008) Long term changes in the eutrophication process in a shallow Mediterranean lake ecosystem of W. Greece: response after the reduction of external load. J Environ Manage 87:497–506

King G, Bailey G, Sturdy D (1994) Active tectonics and human survival strategies. J Geophys Res Solid Earth 99:20063–20078

Kotthoff U, Müller UC, Pross J, Schmiedl G, Lawson IT, ven de Schootbrugge B, Schulz H (2008) Lateglacial and Holocene vegetation dynamics in the Aegean region: an integrated view based on pollen data from marine and terrestrial archives. Holocene 18:1019–1032

Krammer K, Lange-Bertalot H (1986) Süsswasserflora van Mitteleuropa. Bacillariophyceae. 1. Teil: Naviculaceae, vol 2/1. Gustav Fischer Verlag, Stuttgart

Krammer K, Lange-Bertalot H (1988) Süsswasserflora van Mitteleuropa. Bacillariophyceae. 2. Teil: Epithemiaceae, Bacillariaceae, Surirellaceae, vol 2/2. Gustav Fischer Verlag, Stuttgart

Krammer K, Lange-Bertalot H (1991a) Süsswasserflora van Mitteleuropa. Bacillariophyceae. 3. Teil: Centrales, Fragilariaceae, Eunotiaceae, vol 2/3. Gustav Fischer Verlag, Stuttgart

Krammer K, Lange-Bertalot H (1991b) Süsswasserflora van Mitteleuropa. Bacillariophyceae. 4. Teil: Achnanthaceae, vol 2/4. Gustav Fischer Verlag, Stuttgart

Lawson IT, Frogley MR, Bryant CL, Preece RC, Tzedakis PC (2004) The Lateglacial and Holocene environmental history of the Ioannina basin, north-west Greece. Quat Sci Rev 23:1599–1625

Leng MJ, Lamb AL, Heaton THE, Marshall JD, Wolfe BB, Jones MD, Holmes JA, Arrowsmith C (2005) Isotopes in lake sediments. In: Leng MJ (ed) Isotopes in palaeoenvironmental research. Springer, Dordrecht

Leng MJ, Baneschi I, Zanchetta G, Jex CN, Wagner B, Vogel H (2010) Late Quaternary palaeoenvironmental reconstruction from Lakes Ohrid and Prespa (Macedonia/Albania border) using stable isotopes. Biogeosciences 7:3109–3122

Levkov Z, Krstic S, Metzeltin D, Nakov T (2007) Diatoms of Lakes Prespa and Ohrid. About 500 taxa from ancient lake system. Iconographia Diatomologica, vol 16. ARG Gantner Verlag, Ruggell

Lionello P, Malanotte-Rizzoli P, Boscolo R, Alpert P, Artale V, Li L, Luterbacher J, May W, Trigo R, Tsimplis M, Ulbrich U, Xoplaki E (2006) The Mediterranean climate: an overview of the main characteristics and issues. In: Lionello P, Malanotte-Rizzoli P, Boscolo R (eds) Developments in earth and environmental sciences 4: Mediterranean climate variability. Elsevier, Amsterdam, pp 1–18

Lowe JJ, Rasmussen SO, Björck S, Hoek WZ, Steffensen JP, Walker MJC, Yu ZC, INTIMATE group (2008) Synchronisation of palaeoenvironmental events in the North Atlantic region during the last termination: a revised protocol recommended by the INTIMATE group. Quat Sci Rev 27:6–17

Magny M, de Beaulieu J-L, Drescher-Schneider R, Vannière B, Walter-Simonnet AV, Miras Y, Millet L, Bossuet G, Peyron O (2006) Climate oscillations in central Italy during the last glacial-Holocene transition: the record from Lake Accessa. J Quat Sci 21:311–320

Magny M, de Beaulieu J-L, Drescher-Schneider R, Vannière B, Walter-Simonnet AV, Miras Y, Millet L, Bossuet G, Peyron O, Bruglapaglia E, Leroux A (2007) Holocene climate changes in the central Mediterranean as recorded by lake-level fluctuations at Lake Accesa (Tuscany, Italy). Quat Sci Rev 26:1736–1758

Meyers PA (1994) Preservation of elemental and isotopic source identification of sedimentary organic matter. Chem Geol 114:289–302

Meyers PA, Teranes JL (2001) Sediment organic matter. In: Last WM, Smol JP (eds) Tracking environmental change using lake sediments. Volume 2: physical and geochemical techniques. Kluwer Academic Publishers, Dordrecht, pp 239–269

Ramsey CB (2001) Development of the radiocarbon calibration program OxCal. Radiocarbon 43:355–363

Reed JM, Cvetkoska A, Levkov Z, Vogel H, Wagner B (2010) The last glacial-interglacial cycle in Lake Ohrid (Macedonia/Albania): testing diatom response to climate. Biogeosciences 7:3083–3094

Reimer PJ, Baillie MGL, Bard E, Bayliss A, Beck JW, Blackwell PG, Ramsey CB, Buck CF, Burr GS, Edwards RL, Friedrich M, Grootes PM, Guilderson TP, Hajdas I, Heaton TJ, Hogg AG, Hughen KA, Kaiser KF, Kromer B, McCormac FG, Manning SW, Reimer RW, Richards DA, Southon JR, Talamo S, Turney CSM, van der Plicht J, Weyhenmeyer CE (2009) IntCal09 and Marine09 radiocarbon age calibration curves, 0–50,000 years cal BP. Radiocarbon 51:1111–1150

Roberts N, Reed JM, Leng MJ, Kuzucuoglu C, Fontugne M, Bertaux J, Woldring H, Bottema S, Black S, Hunt E, Karabiyikoglu M (2001) The tempo of Holocene climatic change in the eastern Mediterranean region: new high-resolution crater-lake sediment data from central Turkey. Holocene 11:721–736

Romero JR, Kagalou I, Imberger J, Hela D, Kotti M, Bartzokas A, Albanis T, Evmirides N, Karkabounas S, Papagiannis J, Bithava A (2002) Seasonal water quality of shallow and eutrophic Lake Pamvotis, Greece: implications for restoration. Hydrobiologia 474:91–105

Rossignol-Strick M (1999) The Holocene climatic optimum and pollen records of sapropel 1 in the eastern Mediterranean, 9000-6000 BP. Quat Sci Rev 18:515–530

Ruff M, Wacker L, Gaggeler HW, Suter M, Synal H-A, Szidat S (2007) A gas ion source for radiocarbon measurements at 200 kV. Radiocarbon 49:307–314

Rühland K, Paterson AM, Smol JP (2008) Hemispheric-scale patterns of climate-related shifts in planktonic diatoms from North American and European lakes. Glob Change Biol 14:1–15

Ryves DB, Juggins S, Fritz SC, Battarbee RW (2001) Experimental diatom dissolution and the quantification of microfossil preservation in sediments. Palaeogeogr Palaeoclimatol Palaeoecol 172:99–113

Sayer CD (2001) Problems with the application of diatom-total phosphorus transfer functions: examples from a shallow English lake. Freshw Biol 46:743–757

Schmidt R, Kamenik C, Lange-Bertalot H, Klee R (2004) Fragilaria and Staurosira (Bacillariophyceae) from sediment surfaces of 40 lakes in the Austrian Alps in relation to environmental variables, and their potential for palaeoclimatology. J Limnol 63:171–189

Synal HA, Stocker M, Suter M (2007) MICADAS: a new compact radiocarbon AMS system. Nucl Instrum Methods B 259:7–13

Talbot MR, Johannessen T (1992) A high resolution palaeoclimatic record for the last 27,500 years in tropical West Africa from the carbon and nitrogen isotopic composition of lacustrine organic matter. Earth Planet Sci Lett 111:23–27

ter Braak CJF, Prentice IC (1988) A theory of gradient analysis. Adv Ecol Res 18:271–317

Tzedakis PC (1994) Vegetation change through glacial-interglacial cycles: a long pollen sequence perspective. Philos Trans R Soc Lond B Biol Sci B345:403–432

Tzedakis PC (1999) The last climatic cycle at Kopais, central Greece. J Geol Soc Lond 156:425–434

Tzedakis PC (2007) Seven ambiguities in the Mediterranean palaeoenvironmental narrative. Quat Sci Rev 26:2042–2066

Uchikawa J, Popp BN, Schoonmaker JE, Xu L (2008) Direct application of compound-specific radiocarbon analysis of leaf waxes to establish lacustrine sediment chronology. J Paleolimnol 29:43–60

Wagner B, Vogel H, Zanchetta G, Sulpizio R (2010) Environmental change within the Balkan region during the past ca. 50 ka recorded in the sediments from lakes Prespa and Ohrid. Biogeosciences 7:3187–3198

Willis KJ (1994) The vegetational history of the Balkans. Quat Sci Rev 13:769–788

Wilson GP, Reed JM, Lawson IT, Frogley MR, Tzedakis PC, Preece RC (2008) Diatom response to the last glacial-interglacial transition in the Ioannina basin, northwest Greece: implications for Mediterranean palaeoclimate reconstruction. Quat Sci Rev 27:428–440

Wolin JA, Stone JR (2010) Diatoms as indicators of water-level change in freshwater lakes. In: Smol JP, Stoermer EF (eds) The diatoms: applications for the environmental and earth sciences, 2nd edn. Cambridge University Press, Cambridge

Wunsam S, Schmidt R, Klee R (1995) Cyclotella-taxa (Bacillariophyceae) in lakes of the Alpine region and their relationship to environmental variables. Aquat Sci 57:360–386
Acknowledgments
TDJ gratefully acknowledges a Natural Environment Research Council studentship (NER/S/A/2006/14152), and financial help from the QRA New Researchers Award, the Dudley Stamp Memorial Fund, the Explorer's Club Exploration Fund and the Ecology and Global Change Cluster Fund (University of Leeds). Radiocarbon dating and stable carbon isotope analysis was generously supported by NERC (allocations 1338.1008 and IP-1107-0509, respectively). Thanks are due to K. Roucoux, A. Milner, I. Kagalou, C. Michelaki and the Istria drilling team for fieldwork support, to J. Corr, D. Ashley and M. Ratcliffe for laboratory support, and to two anonymous reviewers for helpful comments and suggestions on the manuscript.
About this article
Cite this article
Jones, T.D., Lawson, I.T., Reed, J.M. et al. Diatom-inferred late Pleistocene and Holocene palaeolimnological changes in the Ioannina basin, northwest Greece. J Paleolimnol 49, 185–204 (2013). https://doi.org/10.1007/s10933-012-9654-x
Received:

Accepted:

Published:

Issue Date:
Keywords
Diatoms

Stable carbon isotopes

Ioannina

Lake-level change

Late Pleistocene

Holocene