Abstract
Sponge spicules are siliceous microfossils that are especially useful for analysis of sandy fluvio-lacustrine sediments. Sponge spicules in a long sediment core (~550 cm below surface), consisting of fine sand, sandy silt, and organic-rich mud, recovered from the floodplain of the Nabileque River, southern Pantanal, Brazil (S20°16′38.3″/W57°33′00.0″), form the basis of a novel paleoenvironmental interpretation for this region. Optically stimulated luminescence dates constrain the timing of deposition to the middle-late Holocene and all spicules identified are typical of the Brazilian cerrado biome. The base of the section is dominated by Oncosclera navicella Carter 1881, Metania spinata Carter 1881, and Corvospongilla seckti Bonetto and Ezcurra de Drago 1966, which indicate a lotic to semi-lotic environment strongly influenced by an actively meandering river channel at ~6.7–5.7 ka BP. The appearance of Heterorotula fistula Volkmer-Ribeiro and Motta 1995, Dosilia pydanieli Volkmer-Ribeiro 1992 and Radiospongilla amazonensis Volkmer-Ribeiro and Maciel 1983 at ~340 cm downcore suggests a reduction in flowing water and a more stable lentic environment, consistent with deposition in an oxbow lake. This oxbow lake environment existed during an interval of regional aridity between ~4.5 and 3.9 ka BP. Spicules, as well as phytoliths and diatoms, are highly variable moving up-section, with species from both lotic and lentic ecosystems present. Above ~193 cm, the total abundance of spicules declines, consistent with wetter climate conditions and development of an underfit river similar to the modern floodplain. Results support hypotheses related to migration of the Paraguay River inferred from geomorphological studies and add a key southern-region dataset to the emerging Holocene database of paleoenvironmental records from the Pantanal wetlands.
Access options
Buy single article
Instant access to the full article PDF.
US$ 39.95
Tax calculation will be finalised during checkout.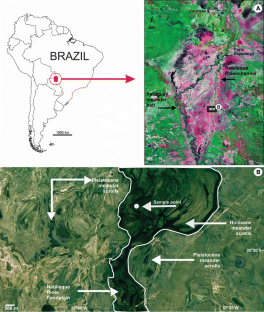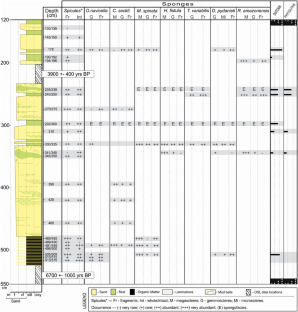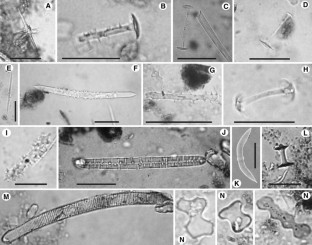 References
Ab'Saber AN (1988) O Pantanal Mato-Grossense e a teoria dos refúgios. Revista Brasileira de Geografia 50 especial, pp 9–57

Abdon M, Silva JSV (2006) Fisionomias da vegetação nas sub-regiões do Pantanal brasileiro. INPE, São José dos Campos

Almeida ACS, Volkmer-Ribeiro C, Varajão AFD, Gomes NS, Varajão CAC (2009) Espículas de esponjas continentais nos sedimentos cenozóicos do noroeste de Minas Gerais, como indicadores paleoambientais. Rev Bras Paleontol 12:123–138

Almeida ACS, Varajão AFDC, Gomes NS, Varajão CAC, Volkmer-Ribeiro C (2010) Characterization and origin of spongillite-hosting sediment from João Pinheiro, Minas Gerais, Brazil. J S Am Earth Sci 29:439–453

Alvarenga SM, Brasil AE, Del'Arco DM (1982) Geomorfologia. In: Brasil (ed) Ministério das Minas e Energia. Departamento Nacional de Produção Mineral. Projeto RadamBrasil. Folha SF-21-Campo Grande. MME Rio de Janeiro, vol 28, pp 125–184

Assine ML (2003) Sedimentação na Bacia do Pantanal Mato-Grossense. Centro-Oeste do Brasil. Instituto de Geociências e Ciências Exatas. Universidade Estadual Paulista, Rio Claro, pp 1–106

Assine ML, Silva A (2009) Contrasting fluvial styles of the Paraguay River in the northwestern border of Pantanal wetland, Brazil. Geomorphology 113:189–199

Assine ML, Soares PC (2004) Quaternary of the Pantanal, west-central Brazil. Quat Int 114:23–34

Batista TCA, Volkmer-Ribeiro C, Darwich C, Alves LF (2003) Freshwater sponges as indicators of floodplain lake environments and of river rocky bottom in Central Amazonia. Amazoniana 18:525–549

Bertaux J, Sondag F, Santos R, Soubiès F, Causse C, Plagnes V, Le Cornec F, Seidel A (2002) Paleoclimatic record of speleothems in a tropical region: study of laminated sequences from a Holocene stalagmite in Central-West Brazil. Quat Int 89:3–16

Bird BW, Abbott MB, Vuille M, Rodbell DT, Stansell ND, Rosenmeier MF (2011) A 2,300-year-long annually resolved record of the South American summer monsoon from the Peruvian Andes. Proc Natl Acad Sci USA 108:8583–8588

Bonetto AA, Ezcurra de Drago I (1966) Nuevas esponjas de água dulce de la Republica Argentina. Physis 26:129–140

Bonetto AA, Ezcurra de Drago I (1973) Las esponjas del gênero Trochospongilla Vejdovskyem aguas argentinas. Physis 32:8–13

Cândido JL, Volkmer-Ribeiro C, Simões Filho FL, Turcq BJ, Chauvel A (2000) Microsclere Variations Dosilia pydanieli (Porífera, Spongillidae). In: Caracaranã Lake (Roraima—Brazil). Palaeoenvironmental Implication. Biociências, vol 8, pp 77–92

Chase CG, Sussman AJ, Coblentz DD (2010) Curved Andes: geoid, forebulge, and flexure. Lithosphere 1:358–363

Coe HHG, Alexandre A, Carvalho CN, Santos GM, Silva AS, Sousa LOF, Lepsch IF (2012) Changes in Holocene tree cover density in Cabo Frio (Rio de Janeiro, Brazil): evidence from soil phytolith assemblages. Quat Int 2:1–10

DNOS (1974) Estudos Hidrológicos da Bacia do Alto Paraguai—Programa das Nações Unidas para Desenvolvimento (Relatório Técnico). Rio de Janeiro, pp 1–284

Gonçalvez AO, Pereira NR, Costa LL (2006) Characterization and climate suitability of annual and perennial crops on soil and climate zoning of Mato Grosso do Sul—Stage 1. Electronic records—Rio de Janeiro: Embrapa Soils

Iriondo M (1993) Geomorphology and late quaternary of the Chaco (South America). Geomorphology 13:289–303

Iriondo MH, Garcia NO (1993) Climatic variations in the Argentine plains during the last 18,000 years. Palaeogeogr Palaeoclimatol Palaeoecol 101:209–220

Junk WJ, Cunha CN, Wantzen KM, Petermann P, Strüssmann C, Marques MI, Adis J (2006) Biodiversity and its conservation in the Pantanal of Mato Grosso, Brazil. Aquat Sci 68:278–309

Kramer VMS, Stevaux JC (2001) Mudanças climáticas na região de Taquaruçu (MS) durante o Holoceno. Bol Parana Geo 49:79–89

Kuerten S, Assine ML (2011) O rio Paraguai no megaleque do Nabileque, sudoeste do Pantanal Mato-Grossense, MS. Rev Bras Geoci 41:642–653

Kuerten S, Assine ML, Corradini FA, dos Santos Gradella F, Silva A (2009) Rio Nabileque: antigo curso do Rio Paraguai? In: Anais 2° Simpósio de Geotecnologias no Pantanal, Corumbá, MS, vol 1, pp 194–201

Lacerda Filho JVD, Brito RSCD, Silva MDGD, Oliveira CC, Moreton LC, Martins EG, Lopes RDC, Lima TM, Larizzati JH, Valente CR (2004) Geologia e Recursos Minerais do Estado de Mato Grosso do Sul. Goiânia, CPRM (Convênio CPRM/SICME). Ilustrações and Mapas, pp 1–121. http://www.cprm.gov.br/publique/media/rel_mato_grosso_sul.pdf

Lewin J, Macklin MG, Johnstone E (2005) Interpreting alluvial archives: sedimentological factors in the British Holocene fluvial record. Quat Sci Rev 24:1873–1889

Machado VS (2009) Espongofauna do Paleolago Cemitério, Catalão GO. Instituto de Geociências, Universidade Federal do Rio Grande do Sul—UFRGS, Porto Alegre, Dissertação, 118 pp

Macklin MG, Lewin J (2008) Alluvial responses to the changing Earth system. Earth Surf Proc Land 33:1374–1395

Mayle FE, Power MJ (2008) Impact of a drier Early-Mid-Holocene climate upon Amazonian forests. Philos Trans R Soc Lond B Biol Sci 363:1829–1838

McGlue MM, Silva A, Corradini FA, Zani H, Trees MA, Ellis GS, Parolin M, Swarzenski PW, Cohen AS, Assine ML (2011) Limnogeology in Brazil's "forgotten wilderness": a synthesis from the Floodplain Lakes of the Pantanal. J Paleolimnol 46:273–289

McGlue MM, Silva A, Zani H, Corradini FA, Parolin M, Abel EJ, Cohen AS, Assine ML, Trees MA, Kuerten S, dos Santos Gradella F, Rasbold GG (2012) Lacustrine records of Holocene flood pulse dynamics in the Upper Paraguay River watershed (Pantanal wetlands, Brazil). Quat Res 78:285–294

Medeanic S, Cordazzo CV, Corrêa ICS, Mirlean N (2008) Os Fitólitos em Gramíneas de Dunas do Extremo Sul do Brasil: variabilidade Morfológica e Importância nas Reconstruções Paleoambientais Costeiras. Gravel 6:1–14

Melão MGG (1991) Importância ecológica e produtividade de porífera na Lagoa Dourada—Bacia Hidrográfica do Lobo, Brotas, SP. UFSCar, São Carlos, pp 1–143

Parolin M (2006) Paleoambientes e paleoclimas no final do Pleistoceno e no Holoceno no sudeste do estado do Mato Grosso do Sul. Universidade Estadual de Maringá, Maringá, pp 1–121

Parolin M, Stevaux JC (2006) Dry climate and eolian dune formation in the Middle Holocene in Mato Grosso do Sul State, Center West Brazil. Z Geomorphol 145:177–190

Parolin M, Volkmer-Ribeiro C (2005) Segundo Registro de Sterrastrolepis brasiliensis Volkmer-Ribeiro and De Rosa-Barbosa (Demospongiae, Potamolepidae) com Descrição do Habitat e de Assembléia, Bacia do Rio Paraná, Brasil. Rev Bras Zool 22:1003–1013

Parolin M, Volkmer-Ribeiro C, Stevaux JC (2007) Sponge spicules in peaty sediments as paleoenvironmental indicators of the Holocene in the upper Paraná River, Brazil. Rev Bras Paleontol 10:17–26

Parolin M, Volkmer-Ribeiro C, Stevaux JC (2008) Use of spongofacies as a proxy for river-lake paleohydrology in quaternary deposits of central-western Brazil. Rev Bras Paleontol 11:187–198

Prance GT, Schaller GB (1982) Preliminary study of some vegetation types of the Pantanal, Mato Grosso, Brazil. Brittonia 34:228–251

Ratter JÁ, Ribeiro JF, Bridgewater S (1997) The Brazilian cerrado vegetation and threats to its biodiversity. Ann Bot 80:223–230

Tavares MCM, Volkmer-Ribeiro C, Rosa-Barbosa RD (2003) Primeiro registro de Corvoheteromeyenia australis (Bonetto and Ezcurra de Drado) para o Brasil com chave taxonômica para os poríferos do Parque Estadual Delta do Jacuí, Rio Grande do Sul, Brasil. Rev Bras Zool 20:169–182

Traxler L (1895) Spikule von Sübwasserschwämmen aus Brasilien. Földt. Közlöny 25:62–64

Tricart J (1982) El Pantanal: un ejemplo del impacto geomorfologico sobre el ambiente. Informaciones Geograf (Chile) 29:81–97

Turcq B, Suguio K, Soubiès F, Servant M, Pressionotti MMN (1987) Alguns terraços fluviais de SE e Centro-Oeste brasileiros datados por radiocarbono. In: Anais, Congresso da ABEQUA, Porto Alegre, pp 379–392

Victoria RL, Fernandes F, Martinelli LA, Piccolo MC, Camargo PB, Trumbore S (1995) Past vegetation changes in the Brazilian pantanal-grassy savanna ecotone by using carbon isotopes in the soil organic matter. Glob Change Biol 1:165–171

Volkmer-Ribeiro C (1992) The freshwater sponges in some peatbog ponds in Brazil. Amazoniana 12:317–335

Volkmer-Ribeiro C (1999) Esponjas. In: Biodiversidade do Estado de São Paulo síntese do conhecimento ao final do século XX. Invertebrados de água doce. FAPESP, São Paulo, vol 4, pp 1–19

Volkmer-Ribeiro C, Maciel SB (1983) New freshwater sponges from Amazonian waters. Amazoniana 8:255–264

Volkmer-Ribeiro C, Motta JFM (1995) Esponjas Formadoras de Espongilitos em Lagoas no Triângulo Mineiro e Adjacências, com Indicação de Preservação de Habitat. Biociências 3:145–169

Volkmer-Ribeiro C, Parolin M (2010) As esponjas. In: Parolin M, Volkmer-Ribeiro C, Leandrini JA (eds) Abordagem ambiental interdisciplinar em bacias hidrográficas no Estado do Paraná. Fecilcam, Campo Mourão, pp 1–158

Volkmer-Ribeiro C, Pauls SM (2000) Esponjas de Agua Dulce (Porifera, Demospongiae) de Venezuela. Acta Biol Venez 20:1–28

Volkmer-Ribeiro C, Turcq B (1996) SEM analysis of silicious spicules of a freshwater sponge indicate paleoenvironmental changes. Acta Microsc 5:186–187

Volkmer-Ribeiro C, Motta JFM, Callegaro VLM (1998a) Taxonomy and distribuition of Brazilian spongillites. In: Watanabe Y, Fusetani N (eds) Sponge sciences-multidisciplinary perspectives. Springer, New York, pp 271–278

Volkmer-Ribeiro C, Mansur MCD, Mera PAS, Ross SM (1998b) Biological Indicators in the aquatic habitats of the Ilha de Maracá. In: Milliken W, Ratter WMJ (eds) Maracá: the biodiversity and environment of an Amazonian rainforest. John Wiley and Sons Ltd, West Sussex, pp 403–414

Volkmer-Ribeiro C, De Rosa-Barbosa R, Mostardeiro CC (2007) Esponjas. In: Becker FG, Ramos RA, Moura A (eds) Biodiversidade da região dos Butiazais de Tapes e da Lagoa do Casamento, Planície Costeira do Rio Grande do Sul. MMA/SBF, Brasília, pp 154–161

Zani H, Assine ML, Silva A, Corradini FA, Kuerten S, dos Santos Gradella F (2009) Geoformas deposicionais e feições erosivas no Pantanal Mato-Grossense identificadas por sensoriamento remoto. Geografia (Rio Claro) 34:643–654

Zavatini JA (1990) A dinâmica atmosférica e a distribuição das chuvas no Mato Grosso do Sul. FFLCH/USP, São Paulo, pp 1–223
Acknowledgments
We are grateful to the Brazilian Research Council (CNPq) for research grants to Mario Luis Assine (305208/2010-1) and Sidney Kuerten. We also thank Edna Maria Facincani and the Federal University of Mato Grosso do Sul—Campus Aquidauana for their assistance in the fieldwork. We thank the editors of JOPL for their comments and assistance in improving this manuscript. This research was funded by The São Paulo Research Foundation (FAPESP 07/55987-3).
About this article
Cite this article
Kuerten, S., Parolin, M., Assine, M.L. et al. Sponge spicules indicate Holocene environmental changes on the Nabileque River floodplain, southern Pantanal, Brazil. J Paleolimnol 49, 171–183 (2013). https://doi.org/10.1007/s10933-012-9652-z
Received:

Accepted:

Published:

Issue Date:
Keywords
Sponge spicules

Nabileque River

Pantanal

Holocene

Floodplain lakes

Fluvial sediments