Abstract
Surface and fossil pollen samples were collected to reconstruct the vegetation and environment since 30.7 cal ka BP in the Lake Balikun Basin, northwest China. This record demonstrates that the region was occupied by four vegetation communities during the interval 30.7–9.0 cal ka BP, including desert steppe (30.7–25.1 cal ka BP), Amaranthaceae-Asteraceae desert (25.1–17.7 cal ka BP), Amaranthaceae-Artemisia-Asteraceae desert (17.7–12.8 cal ka BP) and Amaranthaceae desert (12.8–9.0 cal ka BP), corresponding to relatively humid, the coldest and driest, cold and dry, and colder and drier conditions, respectively. The reconstructions of vegetation and environmental changes around Lake Balikun do not support the interpretation of an extremely humid LGM in Central Asia, challenging the cold-moist (glacial), warm-dry (interglacial) pattern of late Quaternary environmental change in Central Asia. The Last Glacial Maximum was cold and dry, and similarly harsh conditions continued into the early Holocene.
Access options
Buy single article
Instant access to the full article PDF.
USD 39.95
Price excludes VAT (USA)
Tax calculation will be finalised during checkout.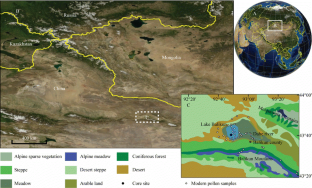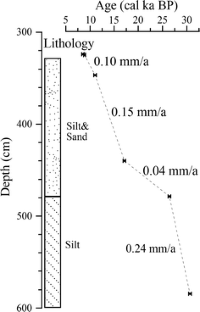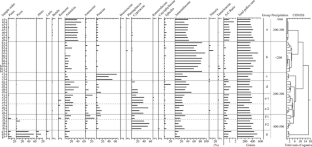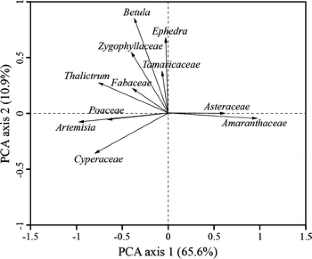 References
An CB, Zhao JJ, Tao SC, Lv YB, Dong WM, Li H, Jin M, Wang ZL (2011) Dust variation recorded by lacustrine sediments from Central Asia since ~15 cal kyr BP and its implication for atmospheric circulation. Quat Res 75:566–573

An CB, Lv YB, Zhao JJ, Tao SC, Dong WM, Li H, Jin M, Wang ZL (2012) A high resolution record of Holocene environmental and climatic changes from Lake Balikun (Xinjiang): implications for Central Asia. Holocene 22:43–52

Biscaye PE, Grousset FE, Revel M, Van der Gaast S, Zielinski GA, Vaars A, Kukla G (1997) Asian provenance of glacial dust (stage 2) in the Greenland Ice Sheet Project 2 Ice Core, Summit, Greenland. J Geophys Res 102:26765–26781

Chen FH, Yu ZC, Yang ML, Ito E, Wang SM, Madsen DB, Huang XZ, Zhao Y, Sato T, John B, Birks H, Boomer I, Chen JH, An CB, Wünnemann B (2008) Holocene moisture evolution in Central Asia and its out-of-phase relationship with Asian monsoon history. Quat Sci Rev 27:351–364

Cheng B, Chen FH (2010) Pollen analysis of topsoil samples from Shiyang River drainage, Northwest China. J Desert Res 30:350–356 (in Chinese with English abstract)

Dando WA (2005) Asia: climates of Siberia, central and east Asia. In: Oliver JE (ed) Encyclopedia of world climatology. Springer, Dordrecht, pp 102–114

El-Moslinmany AP (1990) The ecological significance of common nonarborcal pollen: example from dryland of the Middle East. Rev Palaeobot Palynol 64:343–350

Feng ZD, Ran M, Yang QL, Zhai XW, Wang W, Zhang XS, Huang CQ (2011) Stratigraphies and chronologies of late Quaternary loess-paleosol sequences in the core area of the central Asian arid zone. Quat Int 240:156–166

Grimm EC (1987) A Fortran 77 program for stratigraphically constrained cluster analysis by the method of incremental sum of squares. Comput Geosci 13:13–35

Grootes PM, Stuiver M (1997) Oxygen 18/16 variability in Greenland snow and ice with 103 − to 105-year time resolution. J Geophys Res 102:26455–26470

Gu ZY, Zhao HM, Wang ZH, Yuan BY (1998) Evaporation salt records of environmental response to climate change in Barkol Lake Basin, northwestern China. Quat Sci 4:328–334 (in Chinese with English abstract)

Han ST, Yuan YJ (1990) The sequence of paleoclimatic variation of Balikun Lake of Xinjiang in the past 35000 years. Acta Geographica Sinica 45:350–362 (in Chinese with English abstract)

Han ST, Pan AD, Zhao QH (1989) Bio-stratigraphy and palaeo-climate during Late Quaternary in Barkol Lake, Xinjiang. Chin Sci Bull 15:1168–1172

Hou XY (2001) Vegetation Atlas of China. Science Press, Beijing

Lehmkuhl F, Haselein F (2000) Quaternary paleoenvironmental change on the Tibetan Plateau and adjacent areas (Western China and Western Mongolia). Quat Int 65–66:121–145

Liu KB, Reese A, Thompson LG (2005) Ice-core pollen record of climatic changes in the central Andes during the last 400 yr. Quat Res 64:272–278

Liu X, Herzschuh U, Shen J, Jiang Q, Xiao X (2008) Holocene environmental and climatic changes inferred from Wulungu Lake in northern Xinjiang, China. Quat Res 70:412–425

Luo C, Peng ZC, Yang D, Liu WG, Zhang ZF, He JF, Chou CL (2009) A lacustrine record from Lop Nur, Xinjiang, China: implications for paleoclimate change during Late Pleistocene. J Asian Earth Sci 34:38–45

Ma ZB, Liu JQ, Yuan BY, Xiao JL, Zhang GP (2004) U-series chronology of sediments associated with Late Quaternary fluctuations, Balikun Lake, northwestern China. Quat Int 121:89–98

Maher BA, Prospero JM, Mackie D, Gaiero D, Hesse PP, Balkanski Y (2010) Global connections between aeolian dust, climate and ocean biogeochemistry at the present day and at the last glacial maximum. Earth Sci Rev 99:61–97

Martin JH, Fitzwater SE, Gordon RM (1991) We Still Say Iron Deficiency Limits Phytoplankton Growth in the Subarctic Pacific. J Geophys Res 96:20699–20700

Pye K, Zhou LP (1989) Late Pleistocene and Holocene aeolian dust deposition in North China and the Northwest Pacific Ocean. Palaeogeogr Palaeoclimatol Palaeoecol 73:11–23

Rasmussen KA, Ricketts RD, Johnson TC, Romanovsky VV, Grigina OM (2001) An 8,000 year multi-proxy record from Lake Issyk-Kul, Kyrgyzstan. PAGES News 9:5–6

Reimer PJ, Baillie MGL, Bard E, Bayliss A, Beck JW, Blackwell PG, Bronk Ramsey C, Buck CE, Burr GS, Edwards RL, Friedrich M, Grootes PM, Guilderson TP, Hajdas I, Heaton TJ, Hogg AG, Hughen KA, Kaiser KF, Kromer B, McCormac FG, Manning SW, Reimer RW, Richards DA, Southon JR, Talamo S, Turney CSM, van der Plicht J, Weyhenmeyer CE (2009) IntCal09 and Marine09 Radiocarbon Age Calibration Curves, 0–50,000 Years cal BP. Radiocarbon 51:1111–1150

Rhodes TE, Gasse F, Lin RF, Fontes JC, Wei KQ, Bertrand P, Gibert E, Mélières F, Tucholka P, Wang ZX, Cheng ZY (1996) A Late Pleistocene-Holocene lacustrine record from Lake Manas, Zunggar (northern Xinjiang, western China). Palaeogeogr Palaeoclimatol Palaeoecol 120:105–121

Ricketts RD, Johnson TC, Brown ET, Rasmussen KA, Romanovsky VV (2001) The Holocene paleolimnology of Lake Issyk-Kul, Kyrgyzstan: trace element and stable isotope composition of ostracodes. Palaeogeogr Palaeoclimatol Palaeoecol 176:207–227

Rudaya N, Tarasov P, Dorofeyuk N, Solovieva N, Kalugin I, Andreev A, Daryin A, Diekmann B, Riedel F, Tserendash N, Wagner M (2009) Holocene environments and climate in the Mongolian Altai reconstructed from the Hoton-Nur pollen and diatom records: a step towards better understanding climate dynamics in Central Asia. Quat Sci Rev 28:540–554

Tao SC, An CB, Chen FH, Tang LY, Wang ZL, Lv YB, Li ZF, Zheng TM, Zhao JJ (2010) Pollen-inferred vegetation and environmental changes since 16.7 cal kyr BP at Balikun Lake, Xinjiang. Chin Sci Bull 55:2449–2457

Uno I, Eguchi K, Yumimoto K, Takemura T, Shimizu A, Uematsu M, Liu ZY, Wang ZF, Hara Y, Sugimoto N (2009) Asian dust transported one full circuit around the globe. Nat Geosci 2:557–560

Wang SM, Dou HS (1998) Chinese lakes memoir. Science Press, Beijing (in Chinese)

Wang FX, Qian NF, Zhang YL, Yang HQ (1995) Pollen Flora of China. Science Press, Beijing

Wünnemann B, Mischke S, Chen FH (2006) A Holocene sedimentary record from Bosten Lake, China. Palaeogeogr Palaeoclimatol Palaeoecol 234:223–238

Xi YZ, Ning JC (1994) Study on pollen morphology of plants from dry and semidry region. Yushania 11:119–191

Xiao JL, An ZS, Liu TS, Inouchi Y, Kumai H, Yoshikawa S, Kondo Y (1999) East Asian monsoon variation during the last 130, 000 Years: evidence from the Loess Plateau of central China and Lake Biwa of Japan. Quat Sci Rev 18:147–157

Xinjiang Intergrative investigate team, t.C.A.o.S., Institute of Botany, t.C.A.o.S (1978) Xinjiang vegetation and its utilization. Science Press, Beijing (in Chinese)

Xu XK, Wang LQ, Yang JQ (2010) Last Glacial Maximum climate inferences from integrated reconstruction of glacier equilibrium-line altitude for the head of the Urumqi River, Tianshan Mountains. Quat Int 218:3–12

Xue JB, Zhong W (2008) Holocene climate change recorded by lacustrine sediments in Barkol Lake and its regional comparison. Quat Sci 28:610–620 (in Chinese with English abstract)

Yuan BY, Wei LY, Wang ZH, Gu ZY, Zhao HM (1998) The paleohydrological evolution sequence of Barkol Lake since 150000 a B.P. Quat Sci 4:319–327 (in Chinese with English abstract)
Acknowledgments
We thank the editors and two anonymous reviewers for valuable comments and suggestions. This research was supported by the National Basic Research Program of China (973 Program) (2010CB950202) and by the National Natural Science Foundation of China (41130102, 41021091).
About this article
Cite this article
An, CB., Tao, SC., Zhao, J. et al. Late Quaternary (30.7–9.0 cal ka BP) vegetation history in Central Asia inferred from pollen records of Lake Balikun, northwest China. J Paleolimnol 49, 145–154 (2013). https://doi.org/10.1007/s10933-012-9649-7
Received:

Accepted:

Published:

Issue Date:

DOI: https://doi.org/10.1007/s10933-012-9649-7
Keywords