Abstract
The rich, fossiliferous Triassic sediments exposed in the Virginia Solite Quarry include a 34-mm-thick "insect layer" that is notable for detailed preservation of soft-bodied invertebrate and vertebrate remains. We describe this unique Konservat-Lagerstätte and use sedimentologic and geochemical analyses to interpret the environmental conditions necessary to preserve such delicate fossils. This work is among the first attempts to apply detailed geochemical/stratigraphic analysis to the study of Lagerstätten and we report on a 332-mm-thick section that includes the insect layer and the rocks immediately below and above it. Our analysis successfully constrains various aspects of the depositional and diagenetic history of the Lagerstätte and permits a detailed analysis of changing conditions prior to, during, and after deposition. Geochemical and sedimentologic analyses of the insect layer and surrounding lithologies reveal a change from siliciclastic-dominated layers (Unit 1) to dolomite-siliciclastic laminites above (Unit 2 and the insect layer), separated by a boundary dolostone layer that is traceable for over 200 m. We interpret this sedimentary shift as the initial stages in the transgression of a shallow, saline, alkaline rift-basin lake over lake margin deposits. The absence of bioturbation by plants and benthic organisms, as well as a lack of predation on the insects, is not explained by significant water depth, but is instead more reasonably considered a result of the chemistry of the water at the lake margin, affected by groundwater seeps, which provided F-, Mg-, and Ca-rich fluids. Although the initial conditions of preservation are remarkable, it is equally impressive that the fossils survived extensive diagenesis, e.g. dissolution of quartz and coarsening of dolomite.
This is a preview of subscription content, log in to check access.
Access options
Buy single article
Instant access to the full article PDF.
US$ 39.95
Tax calculation will be finalised during checkout.
Subscribe to journal
Immediate online access to all issues from 2019. Subscription will auto renew annually.
US$ 199
Tax calculation will be finalised during checkout.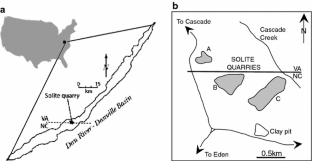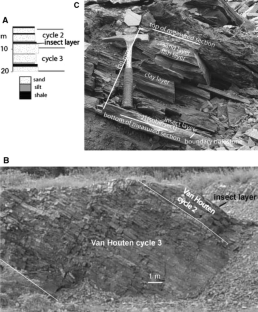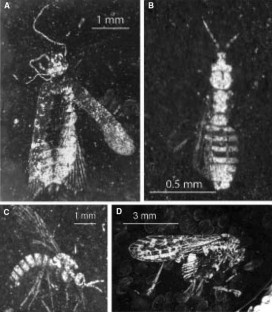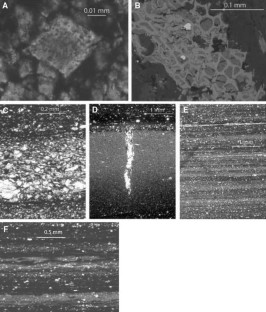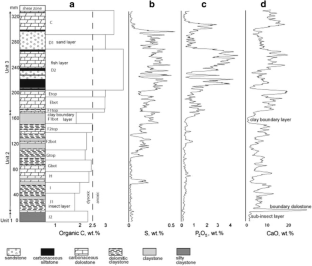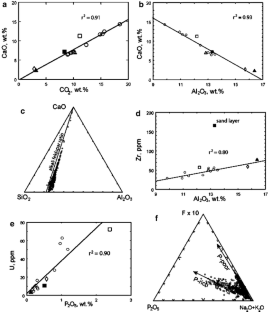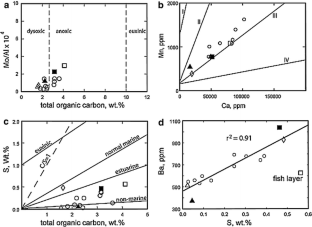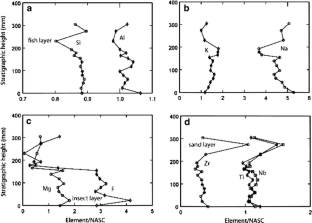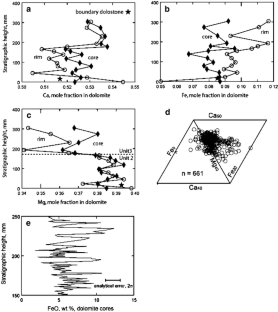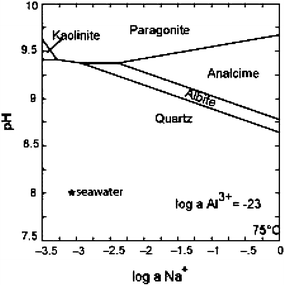 References
Ackermann RV, Schlische RW, Patiño LC, Johnson LA (2003) A Lagerstätte of rift-related tectonic structures from the Solite Quarry, Dan River/Danville rift basin. In: LeTourneau PM, Olsen PE (eds) The Great Rift Valleys of Pangea. Columbia University Press, New York, pp 118–133

Algeo TJ, Maynard JB (2004) Trace-element behavior and redox facies in core shales of Upper Pennsylvanian Kansas-type cyclothems. Chem Geol 206:289–318

Anderson J, Anderson H, Fatti P, Sichel H (1996) The Triassic explosion (?): a statistical model for extrapolating biodiversity based on the terrestrial Molteno formation. Paleobiology 22:318–328

Ashley GM, Mworia JM, Muasya AM, Owens RB, Driese SG, Hover VC, Renaut RW, Goman MF, Mathai S, Blatt SH (2004) Sedimentation and recent history of a freshwater wetland in a semi-arid environment: Loboi Swamp, Kenya, East Africa. Sedimentology 51:1201–1321

Ayers JC, Zhang L (2005) Zircon aqueous solubility and partitioning systematics. Goldschmidt conference abstracts, Moscow, vol 15, p A5

Barrat JA, Boulègue J, Tiercelin J-J, Lesourd M (2000) Strontium isotopes and rare-earth element geochemistry of hydrothermal carbonate deposits from Lake Tanganyika, East Africa. Geochim Cosmochim Acta 64:287–298

Berner RA, Raiswell R (1984) C/S method for distinguishing freshwater from marine sedimentary rocks. Geology 12:365–368

Bethke CM (2005) The Geochemists Workbench®, version 6.0, GWB essentials guide. Hydrogeology Program, University of Illinois, Urbana, 76 pp

Blagoderov V, Grimaldi DA, Fraser NC (2007) How time flies for flies: diverse Diptera from the Triassic of Virginia and early radiation of the order. Am Mus Novit 3572:1–39

Buatois LA, Mangano MG (2008) Applications of ichnology in lacustrine sequence stratigraphy: potential and limitations. Palaeogeogr Palaeoclimatol Palaeoecol. doi:10.1016/j.palaeo.2008.10.012

Calvert SE, Bustin RM, Ingall ED (1996) Influence of water column anoxia and sediment supply on the burial and preservation of organic carbon in marine shales. Geochim Cosmochim Acta 60:1577–1593

Calvo JP, McKenzie JA, Vasconcelos C (2003) Microbially-mediated lacustrine dolomite formation: evidence and current research trends. In: Valero-Garcés BL (ed) Limnogeology in Spain: a tribute to Kerry Kelts. Consejo Superior de Investigaciones Cientificas, Madrid, pp 229–251

Carroll AR, Bohacs KM (1999) Stratigraphic classification of ancient lakes: balancing tectonic and climatic controls. Geology 27:99–102

Cohen AS, Thouin C (1987) Nearshore carbonate deposits of Lake Tanganyika. Geology 15:414–418

Collinson JD, Thompson DB (1982) Sedimentary structures. George Allen and Unwin, London

Condie KC (1993) Chemical composition and evolution of the upper continental crust: contrasting results from surface samples and shales. Chem Geol 104:1–37

Coshell L, Rosen MR (1994) Stratigraphy and Holocene history of Lake Hayward, Swan Coastal Plain wetlands, western Australia. In: Renaut RW, Last WM (eds) Sedimentology and geochemistry of modern and ancient Saline Lakes. Special publication 50. SEPM, Tulsa, pp 173–188

de Wet CB, Mora CI, Gore PJW, Gierlowski-Kordesch E, Cucolo SJ (2002) Deposition and geochemistry of lacustrine and spring carbonates in Mesozoic rift basins, eastern North America. In: Renaut RW, Ashley GM (eds) Sedimentation in continental rifts. Special publication 73. SEPM, Tulsa, pp 309–325

DeDeckker P (1988) Biological and sedimentary facies of Australian salt lakes. Palaeogeogr Palaeoclimatol Palaeoecol 62:237–270

DeDeckker P, Last WM (1989) Modern, non-marine dolomite in evaporitic playas of western Victoria, Australia. Sediment Geol 64:223–238

Demicco RV, Hardie LA (1994) Sedimentary structures and early diagenetic features of shallow marine carbonate deposits. Atlas series 1. SEPM, Tulsa, 265 pp

Deocampo DM (2002) Sedimentary processes and lithofacies in lake-margin groundwater-fed wetlands in East Africa. In: Ashley GM, Renaut RW (eds) Sedimentation in continental rifts. Special publication 73. SEPM, Tulsa, pp 295–308

Duffy CJ, Al-Hassan S (1988) Groundwater circulation in a closed desert basin: topographic scaling and climate forcing. Water Resour Res 24:1675–1688

El Tabakh M, Schreiber BC (1998) Diagenesis of the Newark Rift Basin, eastern North America. Sedimentology 45:855–874

Eugster HP, Hardie LA (1975) Sedimentation in an ancient playa-lake complex: the Wilkins Peak Member of the Green River Formation of Wyoming. Geol Soc Am Bull 86:319–334

Finkelstein DB, Hay RL, Altaner SP (1999) Origin and diagenesis of lacustrine sediments, upper Oligocene Creede Formation, southwestern Colorado. Geol Soc Am Bull 111:1175–1191

Fraser NC, Grimaldi DA (2003) Late Triassic continental faunal change: new perspectives on Triassic insect diversity as revealed by a locality in the Danville basin, Virginia, Newark Supergroup. In: Letourneau PM, Olsen PE (eds) The Great Rift Valleys of Pangaea in Eastern North America: sedimentology, stratigraphy and paleontology, vol 2. Columbia University Press, New York, pp 192–205

Fraser NC, Grimaldi DA, Olsen PE, Axsmith B (1996) A Triassic Lagerstätte from eastern North America. Nature 380:615–619

Fürsich FT, Sha J, Jiang B, Pan Y (2007) High resolution palaeoecological and taphonomic analysis of Early Cretaceous lake biota, western Liaoning (NE-China). Palaeogeogr Palaeoclimatol Palaeoecol 253:434–457

Gall JC (1971) Faunes et paysages du Grès à Voltzia du Nord des Vosges. Essai Paléoécologique sur le Bundsandstein supérieur. Mémoires du Service de la Carte géologique d'Alsace-Lorraine 34:1–318

Gell PA, Barker PA, DeDeckker P, Last WM, Jelicic L (1994) The Holocene history of West Basin lake, Victoria, Australia; chemical changes based on fossil biota and sediment mineralogy. J Paleolimnol 12:235–258

Gierlowski-Kordesch E (2010) Lacustrine carbonates. In: Alonso-Zarza AM, Tanner LH (eds) Carbonates in continental settings, vol 61. Elsevier, Amsterdam, pp 1–101

Gierlowski-Kordesch E, Park LE (2004) Comparing species diversity in the modern and fossil record of lakes. J Geol 112:703–717

Gierlowski-Kordesch E, Rust BR (1994) The Jurassic East Berlin Formation, Hartford Basin, Newark Supergroup (Connecticut and Massachusetts): a saline lake-playa-alluvial plain system. In: Renaut RW, Last WM (eds) Sedimentology and geochemistry of modern and ancient Saline Lakes. Special publication 50. SEPM, Tulsa, pp 249–265

Gikunju JK, Maitho TE, Birkeland JM, Lökken P (1992) Fluoride levels in water and fish from Lake Magadi (Kenya). Hydrobiologia 234:123–127

Gore PJW (1986) Depositional framework of a Traissic rift basin: The Durham and Sanford sub-basins of the Deep River Basin, North Carolina. In Textoris DA (ed) Southeastern United States: Third Annual Midyear Meeting, Raleigh, North Carolina, Field Guidebook, SEPM, Field Trip no. 3, pp 55–115

Grimaldi D, Shmakov A, Fraser N (2004) Mesozoic thrips and early evolution of the order Thysanoptera (Insecta). J Paleontol 78:941–952

Grimaldi D, Junfeng Z, Fraser NC, Rasnitsyn A (2005) Revision of the bizarre Mesozoic scorpionflies in the Pseudopolycentropodidae (Mecopteroidea). Insect Syst Evol 36:443–458

Heggie D, Skyring G (2005) Ozestuaries database. On line at www.ozestuaries.org/indicators/In_toc_ts_f.html. Maintained by Geosciences Australia

Hilsenhoff WL (1991) Diversity and classification of insects and collembolan. In: Thorp JH, Covich AP (eds) Ecology and classification of North American freshwater invertebrates. Academic Press, Inc., San Diego, pp 593–663

Horton JW, McConnell KJ (1991) The western piedmont. In: Horton JW, Zullo VA (eds) The geology of the carolinas. The University of Tennessee Press, Knoxville, pp 36–58

Kent DV, Olsen PE (1997) Paleomagnetism of Upper Triassic continental sedimentary rocks from the Dan River-Danville rift basin (eastern North America). Geol Soc Am Bull 109:366–377

Kilham P, Cloke PL (1990) The evolution of saline lake waters: gradual and rapid biogeochemical pathways in the Bosatu Lake District, Tanzania. Hydrobiologia 197:35–50

Kilham P, Hecky RE (1973) Fluoride: Geochemical and ecological significance in east African waters and sediments. Limnol Oceanogr 18:932–945

Larsen CPS, Pienitz R, Smol JP, Moser KA, Cumming BF, Blais JM, Macdonald GM, Hall RI (1998) Relations between lake morphometry and the presence of laminated lake sediments: a re-examination of Larsen and Macdonald (1993). Quat Sci Rev 17:711–717

Last WM (1990) Lacustrine dolomite; an overview of modern, Holocene, and Pleistocene occurrences. Earth Sci Rev 27:221–263

Last WM, DeDeckker P (1990) Modern and Holocene carbonate sedimentology of two saline volcanic maar lakes, southern Australia. Sedimentology 37:967–981

Last WM, Vance RE, Wilson S, Smol JP (1998) A multi-proxy limnologic record of rapid early Holocene hydrologic change on the northern Great Plains, southwestern Saskatchewan, Canada. Holocene 8:503–520

Leventhal JS (1995) Carbon-sulfur plots to show diagenetic and epigenetic sulfidization in sediments. Geochim Cosmochim Acta 59:1207–1211

Liutkus CM, Wright JD (2008) The influence of hydrology and climate on the isotope geochemistry of playa carbonates: a study from Pilot Valley, Nevada, USA. Sedimentology 55:965–978

Meyertons CT (1963) Triassic formations of the Danville basin. Virginia Division of Mineral Resources, Report of Investigations, vol 6, pp 1–65

Muttoni G, Kent DV, Olsen PE, Di Stefano P, Lowrie W, Bernasconi SM, Hernandez FM (2004) Tethyan magnetostratigraphy from Pizzo Mondello (Sicily) and correlation to the Late Triassic Newark astrochronological polarity time scale. Geol Soc Am Bull 116:1043–1058

Olsen PE (1979) A new aquatic eosuchian from the Newark Supergroup (Late Triassic-Early Jurassic) of North Carolina and Virginia. Postilla 176:1–14

Olsen PE (1986) A 40-million-year lake record of early Mesozoic orbital climatic forcing. Science 234:842–848

Olsen PE, Johansson AK (1994) Field guide to Late Triassic tetrapod sites in Virginia and North Carolina. In: Fraser NC, Sues H-D (eds) In the shadow of the dinosaurs. Cambridge University Press, New York, pp 408–443

Olsen PE, Remington CL, Cornet B, Thomson KS (1978) Cyclic change in Late Triassic terrestrial communities. Science 201:729–733

Olsen PE, Schlische RW, Gore PJW (1989) Tectonic, depositional, and paleoecological history of early Mesozoic Rift Basins, Eastern North America. 28th International geological congress, guidebook for field trip T351, American Geophysical Union, Washington, DC

Olsen PE, Froelich AJ, Daniels DL, Smoot JP, Gore PJW (1991) Rift basins of early Mesozoic age. In: Horton W (ed) Geology of the carolinas. University of Tennessee Press, Knoxville, pp 142–170

Pache M, Reitner J, Arp G (2001) Geochemical evidence for the formation of a large Miocene "travertine" mound at a sublacustrine spring in a soda lake (Wallerstein Castle Rock, Nördlinger Ries, Germany). Facies 45:211–230

Park LE, Downing KF (2001) Paleoecology of an exceptionally preserved arthropod fauna from lake deposits of the Miocene Barstow Formation, Southern California, USA. Palaios 16:175–184

Partey F, Lev S, Casey R, Widom E, Lueth VW, Rakovan J (2009) Source of fluorine and petrogenesis of the Rio Grande Rift-Type barite-fluorite-galena deposits. Econ Geol 104:505–520

Pratt BR (1998) Syneresis cracks: subaqueous shrinkage in argillaceous sediments caused by earthquake-induced dewatering. Sediment Geol 117:1–10

Quinby-Hunt MS, Wilde P (1996) Chemical depositional environments of calcic marine black shales. Econ Geol 91:4–13

Renaut RW, Tiercelin J-J (1994) Lake Bogoria, Kenya rift valley—a sedimentological overview. In: Renaut RW, Last WM (eds) Sedimentology and geochemistry of modern and ancient Saline Lakes. Special publication 50. SEPM, Tulsa, pp 101–123

Schlische RW (2003) Progress in understanding the structural geology, basin evolution, and tectonic history of the eastern North American rift system. In: LeTourneau PM, Olsen PE (eds) The Great Rift Valleys of Pangea in Eastern North America: tectonics, structure, and volcanism, vol 1. Columbia University Press, New York, pp 21–64

Scholl DW (1960) Pleistocene algal pinnacles at Searles Lake, California. J Sediment Petrol 30:414–431

Scott J, Renaut RW, Owen RB, Sarjeant WAS (2007) Biogenic activity, trace formation, and trace taphonomy in the marginal sediments of saline, alkaline Lake Bogoria, Kenya Rift Valley. In: Bromley RG, Buatois LA, Mangano G, Genise JF, Melchor RN (eds) Sediment-organism interactions; a multifaceted ichnology. Society for sedimentary geology special publication 88, pp 311–332

Scott J, Renaut RW, Buatois LA, Owen RB (2009) Biogenic structures in exhumed surfaces around saline lakes: an example from Lake Bogoria, Kenya Rift Valley. Palaeogeogr Palaeoclimatol Palaeoecol 272:176–198

Shcherbakov DE (2008) Insect recovery after the Permian/Triassic crisis. Alavesia 2:125–131

Tucker ME, Wright VP (1990) Carbonate sedimentology. Blackwell Scientific Publications, Oxford

Valero Garces BL, Gisbert Aguilar J (1994) Permian saline lakes in the Aragón-Béarn basin, western Pyrenees. In: Renaut RW, Last WM (eds) Sedimentology and geochemistry of modern and ancient Saline Lakes. Special publication 50. SEPM, Tulsa, pp 267–290

Van Alstine RE (1976) Continetal rifts and lineaments associated with major fluorspar districts. Econ Geol 71:977–987

van de Kamp PC, Leake BE (1996) Petrology, geochemistry, and Na-metasomatism of Triassic-Jurassic non-marine clastic sediments in the Newark, Hartford, and Deerfield rift basins, northeastern USA. Chem Geol 133:89–124

Watson TL, Grasty JS (1915) Barite of the Appalachian states. Chem Eng 21:135–143

Wright VP (1999) The role of sulphate-reducing bacteria and cyanobacteria in dolomite formation in distal ephemeral lakes of the Coorong region, South Australia. Sediment Geol 126:147–157
Acknowledgments
Thanks to Paul Olsen, Hans Sues, Dave Grimaldi, Brian Axsmith, and Dennis Kent for many fruitful discussions on Newark Supergroup paleontology and stratigraphy. We thank Paul Olsen, Dennis Kent, Brian Axsmith, Dave Grimaldi, Vladimir Blagoderov, Bruce Cornet, Michael Engels, Tam Nguyen, Christa Hampton and Julian McCarthy for their assistance in the field. Additional thanks go to Elizabeth Gierlowski-Kordesch, Bob Demicco, Richard Abbott, Sarah Carmichael, Carol de Wet, Dan Deocampo, Fred Webb, Jr., Katelyn McGinnis, and the group from PaleoLunch for their insight into the carbonate geochemistry and thin-section analysis. Special thanks to the editorial staff of the Journal of Paleolimnology and several anonymous reviewers for helpful reviews of an earlier version of this manuscript. Research into the paleontology and sedimentology of the Solite Quarry has been supported by National Science Foundation grant EAR 0106309 to Nicholas Fraser and David Grimaldi. The fieldwork was supported by a National Geographic Society grant to NCF and by the Virginia Museum of Natural History.
About this article
Cite this article
Liutkus, C.M., Beard, J.S., Fraser, N.C. et al. Use of fine-scale stratigraphy and chemostratigraphy to evaluate conditions of deposition and preservation of a Triassic Lagerstätte, south-central Virginia. J Paleolimnol 44, 645–666 (2010). https://doi.org/10.1007/s10933-010-9445-1
Received:

Accepted:

Published:

Issue Date:
Keywords
Rift basin

Lacustrine

Newark Supergroup

Insects

Danville-Dan River Basin