Abstract
Sequences of paleo-shorelines and the deposits of rift lakes are used to reconstruct past climate changes in East Africa. These recorders of hydrological changes in the Rift Valley indicate extreme lake-level variations on the order of tens to hundreds of meters during the last 20,000 years. Lake-balance and climate modeling results, on the other hand, suggest relatively moderate changes in the precipitation-evaporation balance during that time interval. What could cause such a disparity? We investigated the physical characteristics and hydrology of lake basins to resolve this difference. Nine closed-basin lakes, Ziway-Shalla, Awassa, Turkana, Suguta, Baringo-Bogoria, Nakuru-Elmenteita, Naivasha, Magadi-Natron, Manyara, and open-basin Lake Victoria in the eastern branch of the East African Rift System (EARS) were used for this study. We created a classification scheme of lake response to climate based on empirical measures of topography (hypsometric integral) and climate (aridity index). With reference to early Holocene lake levels, we found that lakes in the crest of the Ethiopian and Kenyan domes were most sensitive to recording regional climatic shifts. Their hypsometric values fall between 0.23–0.29, in a graben-shaped basin, and their aridity index is above unity (humid). Of the ten lakes, three lakes in the EARS are sensitive lakes: Naivasha (HI = 0.23, AI = 1.20) in the Kenya Rift, Awassa (HI = 0.23, AI = 1.03) and Ziway-Shalla (HI = 0.23, AI = 1.33) in the Main Ethiopian Rift (Main Ethiopian Rift). Two lakes have the graben shape, but lower aridity indices, and thus Lakes Suguta (HI = 0.29, AI = 0.43) and Nakuru-Elmenteita (HI = 0.30, AI = 0.85) are most sensitive to local climate changes. Though relatively shallow and slightly alkaline today, they fluctuated by four to ten times the modern water depth during the last 20,000 years. Five of the study lakes are pan-shaped and experienced lower magnitudes of lake level change during the same time period. Understanding the sensitivity of these lakes is critical in establishing the timing or synchronicity of regional-scale events or trends and predicting future hydrological variations in the wake of global climate changes.
Access options
Buy single article
Instant access to the full article PDF.
USD 39.95
Price excludes VAT (USA)
Tax calculation will be finalised during checkout.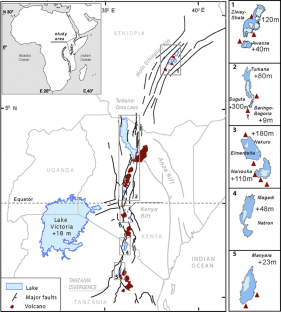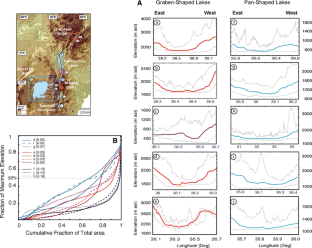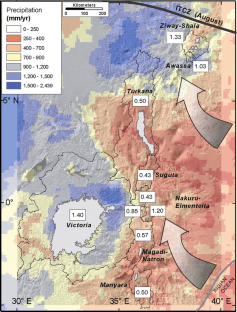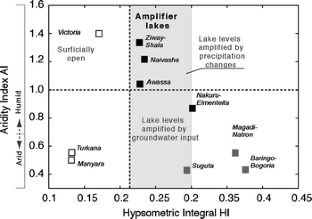 References
Alemayehu T, Ayenew T, Kebede S (2006) Hydrogeochemical and lake level changes in the Ethiopian Rift. J Hydrol 316:290–300

Ase LE, Sernbo K, Syren P (1986) Studies of Lake Naivasha, Kenya and its drainage area. Naturgeografiska Institutionen Stockholms Universitet Forskningsrapport 63:1–75

Ayenew T (2003) Environmental Implications of changes in the levels of lakes in the Ethiopian Rift since 1970. J Hydrol 279:83–93

Ayenew T, Greegziabher Y (2006) Application of a spreadsheet hydrological model for computing the long-term water balance of Lake Awassa, Ethiopia. Hydrol Sci J 51:3

Ayenew T, Becht R, Van Lieshout A, Gebreegziabher Y, Legesse D, Onyando J (2007) Hydrodynamics of topographically closed lakes in the Ethio-Kenyan Rift: The case of lakes Awassa and Naivasha. J Spatial Hydrol 7:81–100

Baker BH, Mohr PA, Williams LAJ (1972) Geology of the eastern rift system of Africa. Geol Soc Am Spec Pap 136:67

Barker PA (1990) Diatoms as palaeolimnological indicators: A reconstruction of Late Quaternary environments in two East African salt lakes. Unpublished Ph.D. thesis, Loughborough University of Technology, Leicestershire

Barker PA, Gasse F (2003) New evidence for a reduced water balance in East Africa during the Last Glacial Maximum: implication for model-data comparison. Quat Sci Rev 22:823–837

Bergner AGN, Trauth MH (2004) Comparison of the hydrologic and hydrochemical evolution of Lake Naivasha (Kenya) during three highstands between 175 and 60 kyr BP. Palaeogeogr Palaeoclimatol Palaeoecol 125:17–36

Bessems I, Verschuren D, Russell JM, Hus J, Mees F, Cumminge BF (2008) Palaeolimnological evidence for widespread late 18th century drought across equatorial East Africa. Palaeogeogr Palaeoclimatol Palaeoecol 259:107–120

Buck R (1991) Modes of continental lithospheric extension. J Geophys Res 96:20161–20178

Burrough SL, Thomas DSG (2009) Geomorphological contributions to paleolimnology on the African continent. Geomorphology 103:285–298

Casanova J, Hillaire-Marcel C (1992) Chronology and paleohydrology of Late Quaternary high lake levels in the Manyara Basin (Tanzania) from isotopic data (18O, 13C, 14C, Th/U) on fossil stromatolites. Quat Res 38:205–226

Castanier S, Bernet-Rollande M, Maurin A, Perthuisot J (1993) Effects of microbial activity on the hydrochemistry and sedimentology of Lake Logipi, Kenya. Hydrobiologia 267:99–112

Chorowicz J (2005) The East African Rift System. J Afr Earth Sci 43:379–410

Darling WG, Gizaw B, Arusei MK (1996) Lake groundwater relationships and fluid rock interaction in the East African rift valley, isotopic evidence. J Afr Earth Sci 22:423–431

Dühnforth M, Bergner AGN, Trauth MH (2006) The hydrological budget of the Nakuru- Elmenteita basin, Central Kenya Rift, during the Early Holocene wet period. J Paleolimnol 36:281–294

Dunkley PN, Smith M, Allen DJ, Darling WG (1993) The geothermal activity and geology of the northern sector of the Kenya Rift Valley. Research Report SC/93/1. British Geological Survey, Keyworth

Ebinger CJ, Yamane T, Kelley S (1993) Volcanism and extension between the main Ethiopian and Gregory Rifts. In: Thorweihe U, Schdelmeier H (eds) Geoscientific Research in Northeast Africa. Rotterdam, Balkema, pp 301–304

Ebinger CJ, Poudjom Y, Mbede E, Foster F, Dawson JB (1997) Rifting Archean lithosphere: The Eyasi-Manyara-Natron rifts, East Africa. Geol Soc London Special Publications 154, pp 947–960

Ebinger CJ, Yamane T, Harding DJ, Tesfaye S, Kelley S, Rex DC (2000) Rift deflection, migration, and propagation: Linkage of the Ethiopian and Eastern rifts, Africa. GSA Bull 112:163–176

Ferguson AJD, Harbott BJ (1982) Geographical, physical and chemical aspects of Lake Turkana. In: Hopson AJ (ed) Lake Turkana: A report on the findings of the lake Turkana project, 1972–1975, vol 1. Overseas Development Administration, London, pp 1–108

Garcin Y, Junginger A, Melnick D, Olago DO, Strecker MR, Trauth MH (2009) Late Pleistocene–Holocene rise and collapse of Lake Suguta, northern Kenya Rift. Quat Sci Rev 28:911–925

Gasse F (2000) Hydrological changes in the African tropics since the Last Glacial Maximum. Quat Sci Rev 19:189–211

Hancock GR, Martinez C, Evans KG, Moliere DR (2006) A comparison of SRTM and high-resolution digital elevation models and their use in catchment geomorphology and hydrology: Australian examples. Earth Surf Processes 31:1394–1412

Hastenrath SL, Kutzbach JE (1983) Paleoclimatic estimates from water and energy budgets of East African lakes. Quat Res 19:141–153

Hurtrez JE, Sol C, Lucazeau F (1999) Effect of Drainage area on Hypsometry from an analysis of small-scale drainage basins in the Siwalik hills (Central Nepal). Earth Surf Process 24:799–808

Johansson H, Brolin AA, Håkanson L (2007) New Approaches to modeling of Lake basin morphometry. Environ Model Assess 12:213–228

Knight Piesold & Partners (1992) Ewaso Ngiro (south) Multipurpose project. Environmental impact assessment, Stage III Reports. Socio-economics, ecology and land use, fisheries, flamingo and construction impact. Tour du Vala, Humberside International, ADEC, Trump, Knight Piesold & Partners, Kent

Le Turdu C, Tiercelin JJ, Gibert E, Travi Y, Lezzar KE, Richert JP, Massault M, Gasse F, Bonnefille R, Decobert M, Gensous B, Jeudy V, Tamrat E, Mohammed MU, Martens K, Atnafu B, Chernet T, Williamson D, Taieb M (1999) The Ziway-Shala basin system, Main Ethiopian Rift: influence of volcanism, tectonism, and climate forcing on basin formation and sedimentation. Palaeogeogr Palaeoclimatol Palaeoecol 150:135–177

Legesse D, Gasse F, Radakovitch O, Vallet-Coulomb C, Bonnefille R, Verschuren D, Gibert E, Barker P (2002) Environmental changes in a tropical lake (Lake Abiyata, Ethiopia) during recent centuries. Palaeogeogr Palaeoclimatol Palaeoecol 187:233–258

Makin MJ, Kingham TJ, Waddams AE, Birchall CJ, Eavis BW (1976) Prospects for irrigation development around lake Ziway, Ethiopia. Land Res. Study. Division, Ministry of Overseas Development, 26. Tolworth, UK, 270 pp

Montgomery DR, Balco G, Willett SD (2001) Climate, tectonics and the morphology of the Andes. Geology 29:579–582

Nicholson SE (1996) A review of dynamics and climate variability in Eastern Africa. In: Johnson TJ, Odada EO (eds), The Limnology, Climatology and Paleoclimatology of the Eastern African lakes. Gordon and Breach, Amsterdam, pp. 25–56. 63–75

Nyenzi BS, Kiangi PMR, Rao NNP (1981) Evaporation values in East Africa. Arch Met Geoph Biokl Ser B 29:35–55

Odada EO, Olago DO, Bugenyi F, Kulindwa K, Karimumuryango J, West K, Ntiba M, Wandiga S, Aloo-Obudho P, Achola P (2003) Environmental assessment of the East African Rift Valley lakes. Aquat Sci 65:254–271

Owen RB, Renaut RW, Hover VC, Ashley GM, Muasya AM (2004) Swamps, Springs and diatoms: Wetlands of the semi-arid Bogoria-Baringo Rift, Kenya. Hydrobiologia 518:59–78

Paltineanu C, Mihailescu IF, Seceleanu I, Dragota C, Vasenciuc F (2007) Using aridity indices to describe some climate and soil features in Eastern Europe: a Romanian case study. Theor Appl Climatol 90:263–274

Pike RJ, Wilson SE (1971) Elevation–relief ratio, hypsometric integral and geomorphic area–altitude analysis. Geol Soc Amer Bull 82:1079–1084

Ring U, Hilde L, Schwartz L, Bromage TG, Sanaane C (2005) Kinematic and sedimentological evolution of the Manyara Rift in northern Tanzania. East Afr Geol Mag 142:355–368

Rodriguez E, Morris C, Belz E (2006) A global assessment of the SRTM performance. Photogramm Eng Rem S 72:237–247

Rowntree KM (1989) Rainfall characteristics, rainfall reliability, and the definition of drought: Baringo District, Kenya. S Afr Geog J 71:74–80

Scholz CA, Moore TC, Hutchinson DR, Golmshtok AJ, Klitgord KD, Kurotchkin AG (1998) Comparative sequence stratigraphy of low-latitude versus high-latitude lacustrine rift basins: seismic data examples from the east African and Baikal rifts. Palaeogeogr Palaeoclimatol Palaeoecol 140:401–420

Sepulchre P, Ramstein G, Fluteau F, Schuster M, Tiercelin J, Brunet M (2006) Tectonic uplift and eastern Africa aridification. Science 313:1419–1423

Singer A, Stoffers P (1980) Clay mineral diagenesis in two East African lake sediments. Clay Miner 15:291–307

Spiegel C, Kohn BP, Belton DX, Gleadow AJW (2007) Morphotectonic evolution of the Central Kenya rift flanks: Implications for late Cenozoic environmental change in East Africa. Geology 35:427–430

Spigel RH, Coulter GW (1996) Comparison of hydrology and physical limnology of the East African Great Lakes: Tanganyika, Malawi, Victoria, Kivu and Turkana (with reference to some North American Great Lakes). In: Johnson TC, Odada EO (eds) The Limnology, Climatology and Paleoclimatology of East African Lakes: Gordon and Breach, Toronto, pp 103–139

Strecker MR, Blisniuk PM, Eisbacher GH (1990) Rotation of extension direction in the central Kenya Rift. Geology 18:299–302

Street FA (1980) The relative importance of climate and local hydrogeological factors in influencing lake-level fluctuations. Palaeoecol Afr 12:137–158

Street-Perrott FA, Harrison SP (1985) In: Hecht AD (eds), Paleoclimate Analysis and Modeling. Wiley, New York, 291–340

Tarits C, Renaut RW, Tiercelin J, Le Hérissé A, Cotten J, Cabon J (2006) Geochemical evidence of hydrothermal recharge in Lake Baringo, central Kenya Rift Valley. Hydrol Process 20:2027–2055

Telford RJ, Lamb HF, Mohammed MU (1999) Diatom-derived palaeoconductivity estimates for Lake Awassa, Ethiopia. J Paleolimnol 21:409–421

Tiercelin JJ (1990) Rift-sedimentation: responses to climate, tectonism and volcanism. Examples of the East African Rift. J Afr Earth Sci 10:283–305

Tiercelin JJ, Lezzar KE (2002) A 300 Million years history of rift lakes in central and east Africa: an updated broad view. In: Odada EO, Olago DO (eds) The East African great Lakes: Limnology, Paleolimnology and Biodiversity. Kluwer, Dordrecht, pp 3–62

Trauth MH, Maslin MA, Deino A, Strecker MR (2005) Late Cenozoic moisture history of East Africa. Science 309:2051–2053

Trauth MH, Maslin MA, Deino AL, Strecker MR, Bergner AGN, Dühnforth M (2007) High- and low-latitude forcing of Plio-Pleistocene East African climate and human evolution. J Hum Evol 53:475–486

Tsakiris G, Vangelis H (2005) Establishing a drought index incorporating evapotranspiration. Eur Wat 9(10):3–11

Verschuren D (1999) Sedimentation controls on the preservation and time resolution of climate proxy records from shallow fluctuating lakes. Quat Sci Rev 18:821–837

Verschuren D, Tibby J, Sabbe K, Roberts N (2000) Effects of depth, salinity and substrate on the invertebrate community of a tropical fluctuating lake. Ecology 81:164–182

Washbourn-Kamau C (1970) Late Quaternary chronology of the Nakuru-Elmenteita Basin, Kenya. Nature 226:253–254

Washbourn-Kamau CK (1975) Late Quaternary shorelines of Lake Naivasha, Kenya. Azania X: 77–92
About this article
Cite this article
Olaka, L.A., Odada, E.O., Trauth, M.H. et al. The sensitivity of East African rift lakes to climate fluctuations. J Paleolimnol 44, 629–644 (2010). https://doi.org/10.1007/s10933-010-9442-4
Received:

Accepted:

Published:

Issue Date:

DOI: https://doi.org/10.1007/s10933-010-9442-4
Keywords
East African Rift

Tectonics

Geomorphometry

Aridity index

Sensitive lakes