Abstract
We explored the use of hydrogen peroxide (H2O2) of different strengths (1, 3, 6, and 9%) in the preparation of lake-sediment samples for macroscopic charcoal determination. In previous work we found that soaking sediment samples in 3% H2O2 for 24 h disaggregates samples and removes or bleaches some non-charred organic material, making it easier to distinguish macroscopic charcoal particles from dark, non-charred organic matter. To determine whether this procedure alters charcoal particle abundances and size distributions, we tested the procedure on wood and grass samples containing a known number of laboratory-produced charcoal particles from different size classes (250–500, 500–1,000, and 1,000–2,000 µm). For both sample types, we found that post-treatment numbers were not statistically different from pre-treatment numbers. However, application of hydrogen peroxide solutions of 3, 6, and 9% to fossil charcoal assemblages in a sediment core from northwestern Costa Rica reduced charcoal concentrations markedly, by bleaching or removing particles that were not fully charred. We also tested the replicability of charcoal counts by conducting enumerations on multiple samples from the same stratigraphic depths in a core. Horizontally adjacent samples from the same core may vary in charcoal concentration. This finding has implications for establishing sample volume in macroscopic charcoal analysis.
Access options
Buy single article
Instant access to the full article PDF.
USD 39.95
Price excludes VAT (USA)
Tax calculation will be finalised during checkout.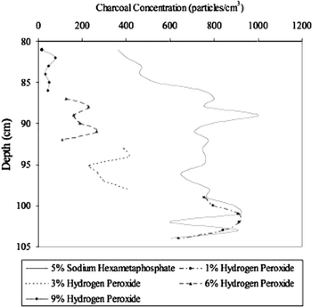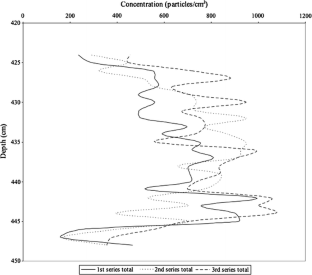 References
Arford MR, Horn SP (2004) Pollen evidence of the earliest maize agriculture in Costa Rica. J Lat Am Geogr 3:108–115. doi:10.1353/lag.2005.0001

Brunelle A, Anderson RS (2003) Sedimentary charcoal as an indicator of late-Holocene drought in the Sierra Nevada, California, and its relevance to the future. Holocene 13:21–28. doi:10.1191/0959683603hl591rp

Carcaillet C, Bouvier M, Frechette B, Larouche AC, Richard PJH (2001a) Comparison of pollen-slide and sieving methods in lacustrine charcoal analyses for local and regional fire history. Holocene 11:467–476. doi:10.1191/095968301678302904

Carcaillet C, Bergeron Y, Richard PJH, Fréchette B, Gauthier S, Prairie YT (2001b) Change of fire frequency in the eastern Canadian boreal forests during the Holocene: does vegetation composition or climate trigger the fire regime? J Ecol 89:930–946. doi:10.1111/j.1365-2745.2001.00614.x

Enache MD, Cumming BF (2006) Tracking recorded fires using charcoal morphology from the sedimentary sequence of Prosser Lake, British Columbia (Canada). Quat Res 65:282–292. doi:10.1016/j.yqres.2005.09.003

Gardner JJ, Whitlock C (2001) Charcoal accumulation following a recent fire in the Cascade Range, northwestern USA, and its relevance for fire-history studies. Holocene 11:541–549. doi:10.1191/095968301680223495

Gavin DG, Brubaker LB, Lertzman KP (2003) An 1800-year record of the spatial and temporal distribution of fire from the west coast of Vancouver Island, Canada. Can J Res 33:573–586. doi:10.1139/x02-196

Haberyan KA, Horn SP, Umana G (2003) Basic limnology of fifty-one lakes in Costa Rica. Rev Biol Trop 51:107–122

Higuera PE, Sprugel DG, Brubaker LB (2005) Reconstructing fire regimes with charcoal from small-hollow sediments: a calibration with tree-ring records of fire. Holocene 15:238–251. doi:10.1191/0959683605hl789rp

League BL (2003) Patterns of recent charcoal accumulation in sediments of a glacial lake in the páramo of Parque Nacional Chirripó, Costa Rica. MS Thesis, Department of Geography, University of Tennessee, 84 pp

League BL, Horn SP (2000) A 10 000-year record of páramo fires in Costa Rica. J Trop Ecol 16:747–752. doi:10.1017/S0266467400001693

Long CJ, Whitlock C, Bartlein PJ, Millspaugh SH (1998) A 9000-year fire history from the Oregon Coast Range, based on a high-resolution charcoal study. Can J Res 28:774–787. doi:10.1139/cjfr-28-5-774

Millspaugh SH, Whitlock C (1995) A 750-year fire history based on lake sediment records in central Yellowstone National Park, USA. Holocene 5:283–292. doi:10.1177/095968369500500303

Millspaugh SH, Whitlock C, Bartlein PJ (2000) Variations in fire frequency and climate over the past 17 000 yr in central Yellowstone National Park. Geology 28:211–214. doi :10.1130/0091-7613(2000)28<211:VIFFAC>2.0.CO;2

Mohr JA, Whitlock C, Skinner CN (2000) Postglacial vegetation and fire history, eastern Klamath Mountains, California, USA. Holocene 10:587–601. doi:10.1191/095968300675837671

Ohlson M, Tryterud E (2000) Interpretation of the charcoal record in forest soils: forest fires and their production and deposition of macroscopic charcoal. Holocene 10:519–525. doi:10.1191/095968300667442551

Orvis KH, Lane CS, Horn SP (2005) Laboratory production of vouchered reference charcoal from small wood samples and non-woody plant tissue. Palynology 29:1–11. doi:10.2113/29.1.1

Rhodes AN (1998) A method for the preparation and quantification of microscopic charcoal from terrestrial and lacustrine sediment cores. Holocene 8:113–117. doi:10.1191/095968398671104653

Schmidt MWI, Rumpel C, Kogel-Knabner I (1999) Particle size fractionation of soil containing coal and combusted particles. Eur J Soil Sci 50:515–522. doi:10.1046/j.1365-2389.1999.00254.x

White EM, Hannus LA (1981) Approximate method for estimating soil charcoal contents. Commun Soil Sci Plant Anal 12:363–371. doi:10.1080/00103628109367157

Whitlock C (2001) Variations in Holocene fire frequency: a view from the western United States. Proc R Ir Acad B 101B:65–77

Whitlock C, Larsen CPS (2001) Charcoal as a fire proxy. In: Smol JP, Birks HJB, Last WM (eds) Tracking environmental change using lake sediments. Terrestrial, algal, and siliceous indicators, vol 3. Kluwer, Dordrecht, pp 75–97

Whitlock C, Millspaugh SH (1996) Testing the assumptions of fire history studies: an examination of modern charcoal accumulation in Yellowstone National Park, USA. Holocene 6:7–15. doi:10.1177/095968369600600102
Acknowledgments
This research was supported by National Science Foundation grant 0242286 to S. Horn and earlier awards from The A.W. Mellon Foundation and the National Geographic Society. We thank M. Arford for laboratory guidance, R. Horn for manufacturing laboratory sampling tools, and K. Orvis and B.E. Wofford for providing modern oak charcoal and cane samples, respectively. We also thank M. Arford, K. Orvis, H.D. Grissino-Mayer, L. Todd, and two anonymous reviewers for helpful advice and reviews of the manuscript.
About this article
Cite this article
Schlachter, K.J., Horn, S.P. Sample preparation methods and replicability in macroscopic charcoal analysis. J Paleolimnol 44, 701–708 (2010). https://doi.org/10.1007/s10933-009-9305-z
Received:

Accepted:

Published:

Issue Date:

DOI: https://doi.org/10.1007/s10933-009-9305-z
Keywords