Abstract
This study uses 239+240Pu-dated varved sediments from Big Round Lake, a proglacial lake on northeast Baffin Island, Arctic Canada to generate a 1000-year-long, annual-resolution record of past climate. Varve thickness is positively correlated with July–August–September temperature measured at Clyde River, 70 km to the north of the lake (r = 0.46, p < 0.001). We therefore interpret the variability and trends in varve thickness to partially represent summer temperature. The coolest Little Ice Age temperatures occurred in this record from 1575 to 1760 AD and were approximately 1.5°C cooler than today (average from 1995 to 2005 AD) and 0.2°C cooler than the last millennium (average from 1000 to 2000 AD). Pre-twentieth-century warmth occurred during two intervals, 970–1150 AD and 1375–1575 AD; temperatures were approximately 1.2°C cooler than today, but 0.1°C warmer than the last millennium. The Big Round Lake varve-thickness record contains features similar to that reconstructed elsewhere in the eastern Canadian Arctic. This high-resolution quantitative record expands our understanding of arctic climate during the past millennium.
Access options
Buy single article
Instant access to the full article PDF.
US$ 39.95
Tax calculation will be finalised during checkout.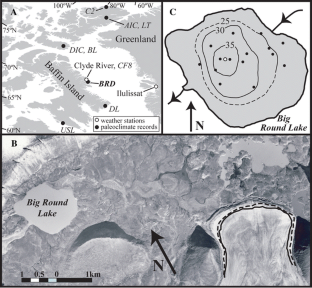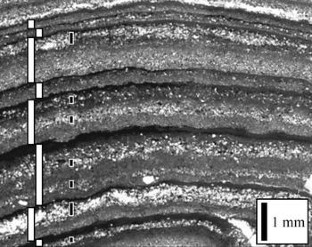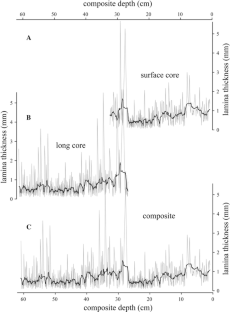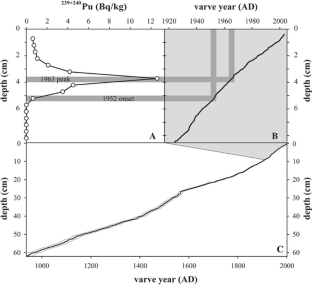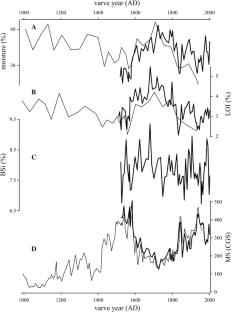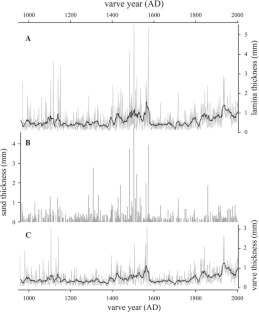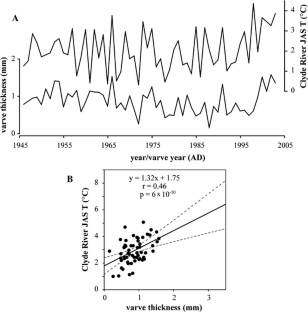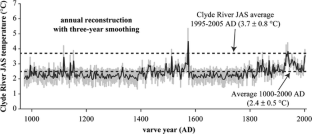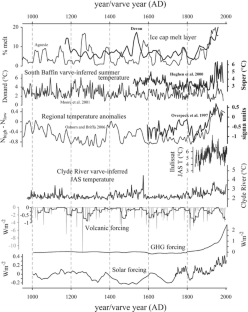 References
Arctic Climate Impacts Assessment (2005) Arctic Climate Impacts Assessment. Cambridge University Press, Cambridge

Bradley R (2000) 1000 Years of climate change. Science 288:1351354. doi:10.1126/science.288.5470.1353

Bradley R, Hughes MK, Diaz HF (2003) Climate in Medieval time. Science 302:404–405. doi:10.1126/science.1090372

Briner JP, Davis PT, Miller GH (in press) Latest Pleistocene and Holocene glaciation of Baffin Island: key patterns and chronologies. Quat Sci Rev

Chapin FS, Sturm M, Serreze MC, McFadden JP, Key JR, Lloyd AH et al (2005) Role of land-surface changes in Arctic summer warming. Science 310:657–660. doi:10.1126/science.1117368

Crowley TJ (2000) Causes of climate change over the past 1000 years. Science 289:270–277. doi:10.1126/science.289.5477.270

Crowley TJ, Criste TA, Smith NR (1993) Reassessment of Crete (Greenland) ice core acidity/volcanism link to climate change. Geophys Res Lett 20:209–212. doi:10.1029/93GL00207

Douglas MSV, Smol JP, Blake W Jr (1994) Marked post-18th century environmental change in high-arctic ecosystems. Science 266:416–419. doi:10.1126/science.266.5184.416

Environment Canada (2007) National climate archive. http://climate.weatheroffice.ec.gc.ca

Etheridge DM, Steele LP, Langenfelds RL, Francey RJ, Barnola J-M, Morgan VI (1996) Natural and anthropogenic changes in atmospheric CO2 over the last 1000 years from air in Antarctic ice and firn. J Geophys Res 101:4115–4128. doi:10.1029/95JD03410

Fisher DA (1979) Comparison of 100, 000 years of oxygen isotope and insoluble impurity profiles from the Devon Island and Camp Century ice cores. Quat Res 11:299–304. doi:10.1016/0033-5894(79)90077-2

Fisher DA, Koerner RM (1994) Signal and noise in four ice-core records from the Agassiz Ice Cap, Ellesmere Island, Canada: details of the last millennium for stable isotopes, melt and solid conductivity. Holocene 4:11120. doi:10.1177/095968369400400201

Fisher DA, Koerner RM, Reeh N (1995) Holocene climatic records from Agassiz Ice Cap, Ellesmere Island, NWT, Canada. Holocene 5:19–24. doi:10.1177/095968369500500103

Francus P, Asikainen C (2001) Sub-sampling unconsolidated sediments: a solution for the preparation of undisturbed thin-sections from clay-rich sediments. J Paleolimnol 26:32326. doi:10.1023/A:1017572602692

Hammer CU, Clausen HB, Dansgaard W (1980) Greenland ice sheet evidence of post-glacial volcanism and its climatic impact. Nature 288:230–235. doi:10.1038/288230a0

Hardy DR, Bradley RS, Zolitschka B (1996) The climatic signal in varved sediments from Lake C2, northern Ellesmere Island, Canada. J Paleolimnol 16:227–238

Hodder KR, Gilbert R, Desloges JR (2007) Glaciolacustrine varved sediment as an alpine hydroclimatic proxy. J Paleolimnol 38:365–394. doi:10.1007/s10933-006-9083-9

Hughen KA, Overpeck JT, Anderson RF (2000) Recent warming in a 500-year palaeotemperature record from varved sediments, Upper Soper Lake, Baffin Island, Canada. Holocene 10:9–19. doi:10.1191/095968300676746202

Hunt BG (2006) The Medieval Warm Period, the Little Ice Age and simulated climatic variability. Clim Dyn 27:677–694. doi:10.1007/s00382-006-0153-5

Jansen E, Overpeck J, Briffa KR, Duplessy J-C, Joos F, Masson-Delmotte V et al (2007) Palaeoclimate. In: Solomon S, Qin D, Manning M, Chen Z, Marquis M, Averyt KB, Tignor M, Miller HL (eds) Climate change 2007: the physical science basis. Contribution of working group I to the fourth assessment report of the intergovernmental panel on climate change. Cambridge University Press, Cambridge, pp 434–497

Jones PD, Mann ME (2004) Climate over past millennia. Rev Geophys 42:RG2002. doi:10.1029/2003RG000143

Ketterer ME, Hafer KM, Jones VJ, Appleby PG (2004a) Rapid dating of recent sediments in Lock Ness: inductively coupled plasma mass spectrometric measurements of global fallout plutonium. Sci Total Environ 322:221–229. doi:10.1016/j.scitotenv.2003.09.016

Ketterer ME, Hafer KM, Link CL, Kolwaite D, Wilson J, Mietelski JW (2004b) Resolving global versus local/regional Pu sources in the environment using sector ICP-MS. J Anal At Spectrom 19:241–245. doi:10.1039/b302903d

Lamoureux SF (1994) Embedding unfrozen lake sediments for thin section preparation. J Paleolimnol 10:141–146. doi:10.1007/BF00682510

Lamoureux SF, Bradley RS (1996) A late Holocene varved sediment record of environmental change from northern Ellesmere Island, Canada. J Paleolimnol 16:239–255. doi:10.1007/BF00176939

Lamoureux SF, Gilbert R (2004) A 750-yr record of autumn snowfall and temperature variability and winter storminess recorded in the varved sediments of Bear Lake, Devon Island, Arctic Canada. Quat Res 61:134–137. doi:10.1016/j.yqres.2003.11.003

Lamoureux SF, Gilbert R, Lewis T (2002) Lacustrine sedimentary environments in High Arctic proglacial Bear Lake, Devon Island, Nunavut, Canada. Arct Antarct Alp Res 34:130–141. doi:10.2307/1552464

Langway CC, Osada K, Clausen HB, Hammer CU, Shoji H (1995) A 10-century comparison of prominent bipolar volcanic events in ice cores. J Geophys Res 100:16241–16247. doi:10.1029/95JD01175

Lean J, Beer J, Bradley R (1995) Reconstruction of solar irradiance since 1610: implications for climate change. Geophys Res Lett 22:3195–3198. doi:10.1029/95GL03093

Leonard EM (1997) The relationship between glacial activity and sediment production: evidence from a 4450-year varve record of Neoglacial sedimentation in Hector Lake, Alberta, Canada. J Paleolimnol 17:319–330. doi:10.1023/A:1007948327654

Lewis T, Gilbert R, Lamoureux SF (2002) Spatial and temporal changes in sedimentary processes at proglacial Bear Lake, Devon Island, Nunavut, Canada. Arct Antarct Alp Res 34:119–129. doi:10.2307/1552463

Mann ME, Bradley RS, Hughes MK (1999) Northern hemisphere temperatures during the past millennium: inferences, uncertainties and limitations. Geophys Res Lett 26:759–762. doi:10.1029/1999GL900070

Meier MF, Dyurgerov MB, Rick UK, O'Neel S, Pfeffer WT, Anderson RS et al (2007) Glaciers dominate eustatic sea-level rise in the 21st century. Science 317:1064–1067. doi:10.1126/science.1143906

Menounos B (1997) The water content of lake sediments and its relationship to other physical parameters: an alpine case study. Holocene 7:207–212. doi:10.1177/095968369700700208

Michelutti N, Wolfe AP, Vinebrooke RD, Rivard B, Briner JP (2005) Recent primary production increases in arctic lakes. Geophys Res Lett 32:L19715. doi:10.1029/2005GL023693

Michelutti N, Douglas MSV, Wolfe AP, Smol JP (2006) Heightened sensitivity of a poorly buffered high arctic lake to late-Holocene climatic change. Quat Res 65:421–430. doi:10.1016/j.yqres.2006.02.001

Moore JJ, Hughen KA, Miller GH, Overpeck JT (2001) Little Ice Age recorded in summer temperature reconstruction from varved sediments of Donard Lake, Baffin Island, Canada. J Paleolimnol 25:50517. doi:10.1023/A:1011181301514

Moritz RE, Bitz CM, Steig EJ (2002) Dynamics of recent climate change in the Arctic. Science 297:1497–1502. doi:10.1126/science.1076522

Mortlock RA, Froelich PN (1989) A simple method for the rapid determination of biogenic opal in pelagic marine sediments. Deep-Sea Res Part A 36:1415–1426. doi:10.1016/0198-0149(89)90092-7

Nesje A (1992) A piston corer for lacustrine and marine sediments. Arct Alp Res 24:257–259. doi:10.2307/1551667

Osborn TJ, Briffa KR (2006) The spatial extent of 20th-century warmth in the context of the past 1200 years. Science 311:841–844. doi:10.1126/science.1120514

Overpeck J, Hughen K, Hardy D, Bradley R, Case R, Douglas M et al (1997) Arctic environmental change of the last four centuries. Science 278:1251–1256. doi:10.1126/science.278.5341.1251

Shepherd A, Wingham D (2007) Recent sea-level contributions of the Antarctic and Greenland ice sheets. Science 315:1529–1532. doi:10.1126/science.1136776

Smith SV Jr, Bradley RS, Abbott MB (2004) A 300 year record of environmental change from Lake Tuborg, Ellesmere Island, Nunavut, Canada. J Paleolimnol 32:137–148. doi:10.1023/B:JOPL.0000029431.23883.1c

Smol JP, Douglas MSV (2007a) Crossing the final ecological threshold in high Arctic ponds. Proc Natl Acad Sci USA 104:12395–12397. doi:10.1073/pnas.0702777104

Smol JP, Douglas MSV (2007b) From controversy to consensus: making the case for recent climate change in the Arctic using lake sediments. Front Ecol Environ 5:466–474. doi:10.1890/1540-9295(2007)5[466:FCTCMT]2.0.CO;2

Smol JP, Wolfe AP, Birks HJB, Douglas MSV, Jones VJ, Korhola A et al (2005) Climate-driven regime shifts in the biological communities of arctic lakes. Proc Natl Acad Sci USA 102:4397–4402. doi:10.1073/pnas.0500245102

Stroeve J, Serreze M, Drobot S, Gearhard S, Holland M, Maslanik J et al (2008) Arctic Sea ice extent plummets in 2007. Eos 89:114. doi:10.1029/2008EO020001

Stuiver M, Braziunas TF (1993) Modeling atmospheric 14C influences and 14C ages of marine samples to 10, 000 BC. Radiocarbon 35:137–189

Thomas EK, Axford Y, Briner JP (2008) Rapid 20th century environmental change on northeastern Baffin Island, Arctic Canada inferred from a multi-proxy lacustrine record. J Paleolimnol 40:507–517. doi:10.1007/s10933-007-9178-y

Vinther BM, Andersen KK, Jones PD, Briffa KR, Cappelen J (2006) Extending Greenland temperature records into the late eighteenth century. J Geophys Res 111:D11105. doi:10.1029/2005JD006810

Walker IR, Cwynar LC (2006) Midges and palaeotemperature reconstruction-the North American experience. Quat Sci Rev 25:1911–1925. doi:10.1016/j.quascirev.2006.01.014

Wolfe AP (2003) Diatom community responses to late-Holocene climatic variability, Baffin Island, Canada: a comparison of numerical approaches. Holocene 13:29–37

Zielinski GA (1995) Stratospheric loading and optical depth estimates of explosive volcanism over the last 2100 years derived from the Greenland Ice Sheet Project 2 ice core. J Geophys Res 100:20937–20955. doi:10.1029/95JD01751
Acknowledgements
We are indebted to Jamesee Qillaq and the Inuit of Clyde River for their logistical support. Neal Michelutti was an indispensable field assistant. Yarrow Axford and Jason Szymanski provided valuable support and ideas in the early stages of this project. Thanks to Darrell Kaufman, Michael Ketterer, Candy Kramer, John Menzies, Emily Pratt, Caleb Schiff, and Al Werner for their help in sample analysis and preparation. Andrew Bukata provided valuable advice about statistics. We appreciate the licensing and logistical support provided by the Nunavut Research Institute and the National Science Foundation (VECO Polar Resources). This research is a contribution to the NSF-ARCSS 2 kyr Synthesis Project, grant ARC-0455024. The Geological Society of America partially supported this research in the form of a student research grant to EKT. EKT was supported by an NSF Graduate Research Fellowship. This manuscript was improved by insightful comments from Darrell Kaufman, Brian Menounos, and two other anonymous reviewers.
Additional information
This is one of fourteen papers published in a special issue dedicated to reconstructing late Holocene climate change from Arctic lake sediments. The special issue is a contribution to the International Polar Year and was edited by Darrell Kaufman.
About this article
Cite this article
Thomas, E.K., Briner, J.P. Climate of the past millennium inferred from varved proglacial lake sediments on northeast Baffin Island, Arctic Canada. J Paleolimnol 41, 209–224 (2009). https://doi.org/10.1007/s10933-008-9258-7
Received:

Accepted:

Published:

Issue Date:
Keywords
Varves

Late Holocene paleoclimate

Arctic

Lake sediments

Air temperature proxy

Paleolimnology