Abstract
The Gray Fossil Site (GFS) includes a small (<2 ha) paleosinkhole lake fill with an exceptionally well-preserved record of sedimentation and fossils from the latest Miocene to earliest Pliocene. The uppermost lacustrine stratigraphy is characterized by rhythmites that regularly alternate between coarse-grained and organic-rich (A) laminae and fine-grained, silty clay (B) laminae. Both the A and B components are almost exclusively comprised of exogenic sediment (including organic matter). Periodicities of 24 and 4.4 are recorded within a continuous 96 interpreted year sequence of rhythmite sediment. In a small lake with a poorly oxygenated bottom, the presence of laterally continuous laminated sediment that includes well-known periodicities in rhythmite thickness is interpreted as representing annually generated varves that correspond to seasonal variations in sedimentation. The distinctly larger fraction of medium sand-size quartz grains present within the A laminae, as well as the abrupt transitions between A and B components suggest that the rhythmites represent deposition during alternating high-energy and lower-energy seasons, which is consistent with a monsoonal precipitation pattern. The seasonal climate may relate to changes in the ocean circulation pattern prior to 4.6 Ma that resulted in an increased temperature and atmospheric pressure gradient between the east coast of North America and the Atlantic Ocean, but this climate phase seems to be only a temporary condition, as underlying and overlying sediment are both consistent with drier conditions. The periodicity at 24 interpreted years is consistent with the well-known Hale solar cycle. The 4.4 interpreted-year periodicity occurs within the ENSO frequency band, and if this documentation of ENSO-like interannual climate change is correct, then it suggests that ENSO operated at times during the warm Earth conditions characterizing the late Tertiary.
Access options
Buy single article
Instant access to the full article PDF.
USD 39.95
Price includes VAT (USA)
Tax calculation will be finalised during checkout.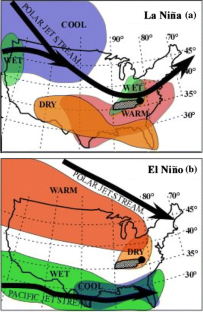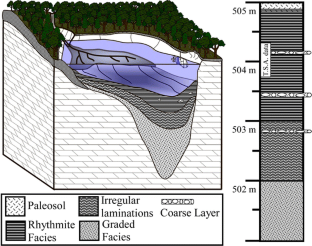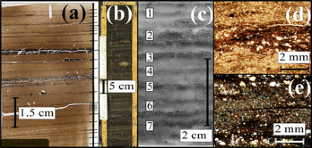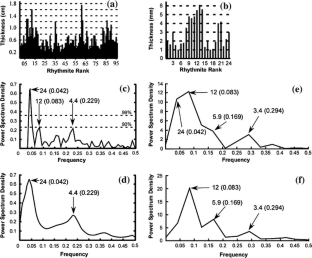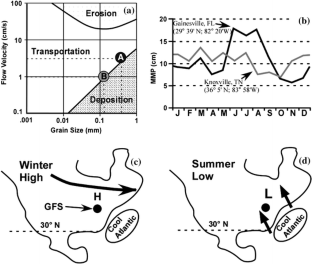 References
Anderson RY (1996) Seasonal sedimentation: a framework for reconstructing climatic and environmental change. In: Kemp AES (ed) Palaeoclimatology and palaeoceanography from laminated sediments. The Geological Society, London, pp 1–17

Anderson RY, Dean WE (1988) Lacustrine varve formation through time. Palaeogeogr Palaeoclimatol Palaeoecol 62:215–235. doi:10.1016/0031-0182(88)90055-7

Anderson RY, Dean WE, Bradbury JP, Love D (1985) Meromictic lakes and varved lake sediments in North America. US Geol Surv Bull 1607:1–19

Anderson RY, Braddock KL, Gardner JV (1990) Expression of seasonal and ENSO forcing in climatic variability at lower than ENSO frequencies: evidence from Pleistocene marine varves off California. Palaeogeogr Palaeoclimatol Palaeoecol 78:287–300. doi:10.1016/0031-0182(90)90218-V

Anderson RY, Dean WE, Bradbury JP (1993) The varve chronometer in Elk Lake: record of climatic variability and evidence for solar-geomagnetic-14C-climate connection. Geol Soc Am Spec Pap 276:45–67

Ashley GM (1975) Rhythmic sedimentation in Glacial Lake Hitchcock, Massachusetts-Connecticut. In: Jopling AV, McDonald BC (eds) Glaciofluvial and glaciolacustrine sedimentation. Society of Economic Paleontologists and Mineralogists, Tulsa

Cane MA (2005) The evolution of El Niño past and future. Earth Planet Sci Lett 230:227–240. doi:10.1016/j.epsl.2004.12.003

Cooper MC, O'Sullivan PE, Shine AJ (2000) Climate and solar variability recorded in Holocene laminated sediments—a preliminary assessment. Quat Int 68–71:363–371. doi:10.1016/S1040-6182(00)00059-8

Damnati B, Taieb M (1995) Solar and ENSO signatures in laminated deposits from Lake Magadi (Kenya) during the Pleistocene-Holocene transition. J Afr Earth Sci 21:373–382. doi:10.1016/0899-5362(95)00094-A

Fedorov AV, Dekens PS, McCarthy M, Ravelo AC, deMenocal PB, Barreiro M et al (2006) The Pliocene paradox (mechanisms for a permanent El Niño). Science 312:1485–1489. doi:10.1126/science.1122666

Gälman V, Petterson G, Renberg I (2006) A comparison of sediment varves (1950–2003 AD) in two adjacent lakes in northern Sweden. J Paleolimnol 35:837–853. doi:10.1007/s10933-005-5952-x

Haug GH, Tiedemann R (1998) Effect of the formation of the Isthmus of Panama on Atlantic Ocean thermohaline circulation. Nature 393:673–676. doi:10.1038/31447

Hubeny JB, King JW, Santo A (2006) Subdecadal to multidecadal cycles of Late Holocene North Atlantic climate variability preserved by estuarine fossil pigments. Geology 34:569–572. doi:10.1130/G22671.1

Huber M, Caballero R (2003) Eocene El Niño: evidence for robust tropical dynamics in the "Hothouse". Science 299:877–881. doi:10.1126/science.1078766

Kemp AES (1996) Laminated sediments as palaeo-indicators. In: Kemp AES (ed) Palaeoclimatology and palaeoceanography from laminated sediments. The Geological Society, London, pp I–XII

Kirkland DW (2003) An explanation for the varves of the Castile evaporites (Upper Permian), Texas and New Mexico, USA. Sedimentology 50:899–920. doi:10.1046/j.1365-3091.2003.00588.x

Lyons RG (2004) Understanding digital signal processing, 2nd edn. Prentice Hall Professional Technical Reference, Upper Saddle River

Maier-Reimer E, Milkolajeicz U, Crowley T (1990) Ocean general circulation model sensitivity experiment with an open Central American Isthmus. Paleoceanography 5:349–366. doi:10.1029/PA005i003p00349

Meyers PA (1994) Preservation of elemental and isotopic source identification of sedimentary organic matter. Chem Geol 114:289–302. doi:10.1016/0009-2541(94)90059-0

Milana JP, Lopez S (1998) Solar cycles recorded in Carboniferous glacimarine rhythmites (Western Argentina): relationships between climate and sedimentary environment. Palaeogeogr Palaeoclimatol Palaeoecol 144:37–63. doi:10.1016/S0031-0182(96)00037-5

Mingram J (1998) Laminated Eocene maar-lake sediments from Eckfeld (Eifel region, Germany) and their short-term periodicities. Palaeogeogr Palaeoclimatol Palaeoecol 140:289–305. doi:10.1016/S0031-0182(98)00021-2

Molnar P, Cane MA (2007) Early Pliocene (pre-Ice Age) El Niño-like global climate: which El Niño? Geosphere 3:337–365. doi:10.1130/GES00103.1

Munoz A, Ojeda J, Sanchez-Valverde B (2002) Sunspot-like and ENSO/NAO-like periodicities in lacustrine laminated sediments of the Pliocene Villarroya Basin (La Rioja, Spain). J Paleolimnol 27:453–463. doi:10.1023/A:1020319923164

Parmalee PW, Klippel WE, Meylan PA, Holman JA (2002) A late Miocene-early Pliocene population of Trachemys (Testundines: Emydidae) from east Tennessee. Ann Carnegie Mus 71:233–239

Rajagopalan B, Lall U (1998) Interannual variability in western US precipitation. J Hydrol (Amst) 210:51–67. doi:10.1016/S0022-1694(98)00184-X

Ravelo AC, Dekens PS, McCarthy M (2006) Evidence for El Niño-like conditions during the Pliocene. GSA Today 16:4–11. doi :10.1130/1052-5173(2006)016<4:EFENLC>2.0.CO;2

Riggs SR, Belknap DF (1988) Upper Cenozoic processes and environments of continental margin sedimentation: eastern United States. In: Sheridan RE, Grow JA (eds) The geology of North America, v. 1–2, the Atlantic continental margin. U.S. Geological Society of America, Boulder, pp 131–176

Ripepe M, Roberts LT, Fischer AG (1991) ENSO and sunspot cycles in varved Eocene oil shales from image analysis. J Sediment Petrol 61:1155–1163

Rittenour TM, Bringam-Grette J, Mann ME (2000) El Niño-like climate teleconnections in New England during the Late Pleistocene. Science 288:1039–1042. doi:10.1126/science.288.5468.1039

Ross J, Gilbert R (1999) Lacustrine sedimentation in a monsoon environment: the record from Phewa Tal, middle mountain region of Nepal. Geomorphology 27:307–323. doi:10.1016/S0169-555X(98)00079-8

Shunk AJ, Driese SG (2008) Multiple proxy evidence from paleosols for abrupt late Neogene warming at the Gray Fossil site, northeastern TN, USA (abst). GSA Abstr. Progs 43. Geological Society of America, Boulder

Shunk AJ, Driese SG, Clark GM (2006) Latest Miocene to earliest Pliocene sedimentation and climate record derived from paleosinkhole fill deposits, Gray Fossil Site, northeastern Tennessee. U.S.A. Palaeogeogr Palaeoclimat Palaeoecol 231:265–278. doi:10.1016/j.palaeo.2005.08.001

Snyder SW, Mauger LL, Ames D (2001) Benthic foraminifera and paleoecology of the Pliocene Yorktown and Chowan River Formations, Lee Creek Mine, North Carolina. U.S.A. J Foraminiferal Res 31:244–274. doi:10.2113/31.3.244

Talbot MR, Allen PA (1996) Lakes. In: Reading HG (ed) Sedimentary environments: processes, facies and stratigraphy. Blackwell Science, London, pp 84–101

Tong J, Qiang Z, Deming Z, Yijin W (2005) Yangtze floods and droughts (China) and teleconnections with ENSO activities. Quat Int 144:29–37. doi:10.1016/j.quaint.2005.05.010

Wallace SC, Wang X (2004) Two new carnivores from an unusual late Tertiary forest biota in eastern North. Am Nat 431:556–559

Walpole RE, Myers RH (1978) Probability and statistics for engineers and scientists, 2nd edn. Macmillan Publishing Co, New York, pp 220–222

Wara MW, Ravelo AC, Delaney ML (2005) Permanent El Niño-like conditions during the Pliocene warm period. Science 309:758–761. doi:10.1126/science.1112596

Ward LW, Strickland GL (1988) Outline of Tertiary stratigraphy and depositional history of the U.S. Atlantic Coastal Plain. In: Sheridan RE, Grow JA (eds) The geology of North America, v. 1–2, The Atlantic continental margin. U.S. Geological Society of America, Boulder, pp 110–123
Acknowledgments
AJS wishes to acknowledge generous financial support of the Geological Society of America and from the Department of Geology (Baylor University) for support of this research. The manuscript benefited greatly by reviews from Dr. M. Soreghan (University of Oklahoma) and from an anonymous J. Paleolimnology reviewer. We appreciate the assistance of faculty at East Tennessee State Univ., especially Drs. S. Wallace and M. Whitelaw, who provided access to the Gray Fossil Site for sampling and many helpful discussions.
About this article
Cite this article
Shunk, A.J., Driese, S.G. & Dunbar, J.A. Late Tertiary paleoclimatic interpretation from lacustrine rhythmites in the Gray Fossil Site, northeastern Tennessee, USA. J Paleolimnol 42, 11–24 (2009). https://doi.org/10.1007/s10933-008-9244-0
Received:

Accepted:

Published:

Issue Date:
Keywords
Lacustrine rhythmites

Varves

Monsoon

ENSO

Late Tertiary

Periodicity