Abstract
This paper evaluates the potential usefulness of non-pollen palynomorphs or NPPs (microfossils other than pollen and spores present in palynological preparations) contained in lake sediments in the paleolimnological reconstruction of high altitude environments (>4,000 m) from the Venezuelan Andes. A synthetic, quantitative approach is employed, instead of the classical analytical and mostly qualitative approach commonly used so far for NPPs. The main sources of variation are the Pediastrum–Botryococcus alternation and the relationship between these two algae and animal remains such as Acari legs, postabdomina of Cladocera, mandibles of other invertebrates, and an unknown type called LVA-1. Other significant microfossils are remains of Rivularia-type and turbellarian oocytes, including Gyratrix. The sequence initiates around 15,000 calibrated years before present (cal BP) with the deglaciation of the lake catchment, high water levels and still cold climates. A phase of lower lake levels was recorded between about 12,000 and 6,000 cal BP. Temperatures increased by around 9,000 and 7,000 cal BP, and then decreased until 6,000 cal BP. Since that time, both lake levels and temperature increased again and stabilized at about 4,000 cal BP, when they reach modern-like values. These results show a good agreement with previous studies based on pollen, diatom and oxygen isotope analyses, and provide additional paleoecological information, as for example the possibility of a previously unrecorded Younger Dryas signal. The inclusion of quantitative NPP analysis in routine paleolimnological studies using synthetic methods is thus recommended. Possible future improvements are suggested, mainly those related with the development and use of NPP modern analogs.
Access options
Buy single article
Instant access to the full article PDF.
US$ 39.95
Tax calculation will be finalised during checkout.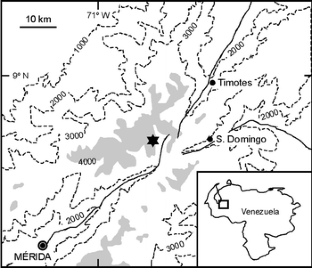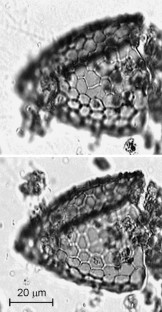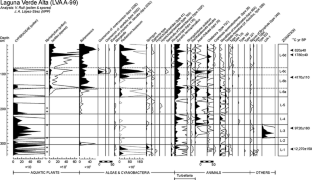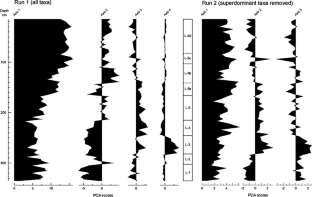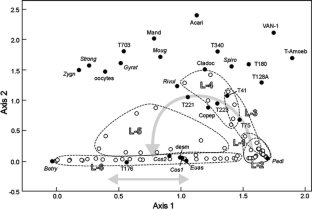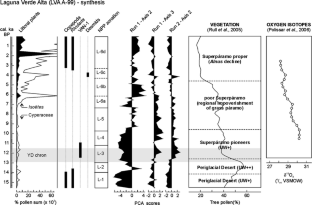 References
Batten DJ, Grenfell HR (1996) Botryococcus. In: Jansonius J, McGregor DC (eds) Palynology: principles and applications. AASP Foundation, Salt Lake City, pp 205–225

Bennett KD (1996) Determination of the number of zones in a biostratigraphical sequence. New Phytol 132:155–170

Birks HJB (1998) Numerical tools in palaeolimnology – progress, potentialities, and problems. J Paleolimnol 20:307–332

Birks HJB, Birks HH (1980) Quaternary palaeoecology. Edward Arnold, London, UK

Bradley RS (1999) Paleoclimatology. Reconstructing climates of the Quaternary. Academic Press, San Diego, USA

Cronin TM (1999) Principles of paleoclimatology. Columbia University Press, New York, USA

Duigan CA, Birks HH (2000) The late-glacial and early-Holocene palaeoecology of cladoceran microfossil assemblages at Kråkenes, western Norway with a quantitative reconstruction of temperature changes. J Paleolimnol 23:67–76

Erikson JM (1988) Fossil Oribatid mites as tool for Quaternary paleoecologists: preservation quality. Bull Buffalo Soc Nat Sci 33:207–226

Fryer G (2004) Variation in acid tolerance of certain freshwater crustacean in different natural waters. Hydrobiologia 250:119–125

Guy-Ohlsson D (1992) Botryococcus as an aid in the interpretation of palaeoenvironmental and depositional processes. Rev Palaeobot Palynol 71:1–15

Haas JN (1996) Neorhabdocoela oocytes – palaeoecological indicators found in pollen preparations from Holocene freshwater lake sediments. Rev Palaeobot Palynol 91:371–382

Hansen BCS (1995) A review of late glacial pollen records from Ecuador and Peru with reference to the Younger Dryas event. Quat Sci Rev 14:853–865

Haug GH, Hughen KA, Sigman DM, Peterson LC, Röhl U (2001) Southward migration of the intertropical convergence zone through the Holocene. Science 293:1304–1308

Hooghiemstra H, van Geel B (1998) World list of Quaternary pollen and spore atlases. Rev Palaeobot Palynol 104:157–182

Jankovská V, Komárek J (2000) Indicative value of Pediastrum and other coccal green algae in palaeoecology. Folia Geobot 35:59–82

Komárek J, Jankovská V (2001) Review of the green algal genus Pediastrum; implication for pollen-analytical research. Bibl Phycol 108:1–127

Kuhry P (1985) Transgression of a raised bog across a coversand ridge originally covered with an oak-lime forest. Palaeoecological study of a Middle Holocene local vegetational succession in the Amtsven (northwest Germany). Rev Palaeobot Palynol 44:303–353

Kuhry P (1988) A palaeobotanical and palynological study of Holocene peat from the El Bosque mire, located in a volcanic area of the Cordillera Central of Colombia. Rev Palaeobot Palynol 55:19–72

Ledru MP, Ceccantini G, Gouveia SEM, López-Sáez JA, Pessenda LCR, Ribeiro AS (2006) Millenial-scale climatic and vegetation changes in a northern Cerrado (Northeast Brazil) since the Last Glacial Maximum. Quat Sci Rev 25:1110–1126

López-Sáez JA, van Geel B, Farbos-Texier S, Diot MF (1998) Remarques paléoécologiques à propos de quelques palynomorphes non-polliniques provenant de sédiments quaternaires en France. Rev Paléobiol 17:445–459

Luteyn JL (1999) Páramos. A checklist of plant diversity, geographical distribution and botanical literature. New York Bot. Gard. Press, New York, USA

Marchant R, Behling H, Berrío JC, Cleef A, Duivenvoorden J, Hooghiemstra H, Kuhry P, Melief B, Schreve-Brinkman E, van Geel B, van der Hammen T, van Reenen G, Wille M (2002) Pollen-based biome reconstructions for Colombia at 3000, 6000, 9000, 12 000, 15 000 and 18 000 14C yr ago: late Quaternary tropical vegetation dynamics. J Quat Sci 17:113–129

Medeanic S, Jankovská V, Dillenburg SR (2003) The implication of green algae (Chlorophyta) for palaeoecological reconstruction of the Holocene lagoon system in the Tramandaí Lagoon region, Rio Grande do Sul, Brazil. Acta Paleoebot 43:113–123

Middeldorp AA (1982) Pollen concentration as a basis for indirect dating and quantifying net organic and fungal production in a peat bog ecosystem. Rev Palaeobot Palynol 37:225–282

Monasterio M (1980) Las formaciones vegetales de los páramos de Venezuela. In: Monasterio M (ed) Estudios ecológicos en los páramos andinos. Univ de Los Andes, Mérida, pp 93–158

Monasterio M, Reyes S (1980) Diversidad ambiental y variación de la vegetación en los páramos de los Andes venezolanos. In: Monasterio M (ed) Estudios ecológicos en los páramos andinos. Univ de Los Andes, Mérida, pp 47–91

Paduano GM, Bush MB, Baker PA, Fritz SC, Seltzer GO (2003) A vegetation and fire history of lake Titicaca since the Last Glacial Maximum. Palaeogeogr Palaeoclimatol Palaeoecol 194:259–279

Pals JP, van Geel B, Delfos A (1980) Palaeoecological studies in the Klokkeweel bog near Hoogkarspel (Prov. of Noord-Holland). Rev Palaeobot Palynol 30:371–418

Polissar PJ (2005) Lake records of Holocene climate change, Cordillera de Mérida, Venezuela. Ph.D. diss., Univ of Massachusetts, Amherst, USA

Polissar PJ, Abbott MB, Shemesh A, Wolfe AP, Bradley RS (2006) Holocene hydrologic balance of tropical South America from oxygen isotopes of lake sediment opal, Venezuelan Andes. Earth Planet Sci Lett 242:375–389

Rull V (2001) A quantitative palynological record from the early Miocene of western Venezuela, with emphasis on mangroves. Palynology 25:109–126

Rull V (2006) A high mountain pollen-altitude calibration set for palaeoclimatic use in the Venezuelan Andes. Holocene 16:105–117

Rull V, Vegas-Vilarrúbia T (1997) Acari remains from periglacial sediments of the Venezuelan Andes and their palaeoecological significance. Curr Res Pleist 14:153–155

Rull V, Abbott MA, Polissar PJ, Wolfe AP, Bezada M, Bradley RS (2005) 15,000-yr pollen record of vegetation change in the high altitude tropical Andes at Laguna Verde Alta, Venezuela. Quat Res 64:308–317

Salgado-Labouriau ML (1979) Modern pollen deposition in the Venezuelan Andes. Grana 18:53–68

Salgado-Labouriau ML, Schubert C (1977) Pollen analysis of a peat bog from Laguna Victoria (Venezuelan Andes). Acta Cient Venez 28:328–332

Salgado-Labouriau ML, Rull V, Schubert C, Valastro S (1988) The establishment of vegetation after Late-Pleistocene deglaciation in the Páramo Miranda, Venezuelan Andes. Rev Palaeobot Palynol 55:5–17

Stansell ND, Abbott MB, Polissar PJ, Wolfe AP, Bezada M, Rull V (2005) Late Quaternary deglacial history of the Mérida Andes, Venezuela. J Quat Sci 20:801–812

Torres V, Vandenberghe J, Hooghiemstra H (2005) An environmental reconstruction of the sediment infill of the Bogotá basin (Colombia) during the last 3 million years from abiotic and biotic proxies. Palaeogeogr Palaeoclimatol Palaeoecol 226:127–148

Van der Hammen T, Hooghiemstra H (1995) The El Abra Stadial, a Younger Dryas equivalent in Colombia. Quat Sci Rev 14:841–851

van Geel B (1976) Fossil spores of Zygnemataceae in ditches of a prehistoric settlement in Hoogkarspel (The Netherlands). Rev Palaeobot Palynol 22:337–374

van Geel B (1978) A palaeoecological study of Holocene peat bog sections in Germany and The Netherlands. Rev Palaeobot Palynol 25:1–120

van Geel B (1986) Application of fungal and algal remains and other microfossils in palynological analyses. In: Berglund BE (ed) Handbook of Holocene palaeoecology and palaeohydrology. J. Wiley & Sons, Chichester, pp 497–505

van Geel B (2001) Non-pollen palynomorphs. In: Smol JP, Birks HJB, Last WM (eds) Tracking environmental change using lake sediments. Volume 3, terrestrial, algal, and siliceous indicators. Kluwer Acad. Publ., Dordrecht, pp 99–119

van Geel B, Bohncke SJP, Dee H (1981) A paleoecological study of an upper Late Glacial and Holocene sequence from "De Borchert", The Netherlands. Rev Palaeobot Palynol 31:367–448

van Geel B, Hallewas DP, Pals JP (1983) A Late Holocene deposit under the Westfriese Zeedijk near Enkhuizen (Prov. of Noord-Holland, The Netherlands): palaeoecological and archaeological aspects. Rev Palaeobot Palynol 38:269–335

van Geel B, Coope GR, van der Hammen T (1989) Palaeoecology and stratigraphy of the Lateglacial type section at Usselo (The Netherlands). Rev Palaeobot Palynol 60:25–129

van Geel B, Mur LR, Ralska-Jasiewiczowa M, Groslar T (1994) Fossil akinetes of Aphanizomenon and Anabaena as indicators for medieval phosphate-eutrophication of Lake Gosciaz (Central Poland). Rev Palaeobot Palynol 83:97–105

van Geel B, Odgaard BV, Ralska-Jasiewiczowa M (1996) Cyanobacteria as indicators of phosphate-eutrophication of lakes and pools in the past. Pact 50:399–425

Witte HBL, van Geel B (1985) Vegetational and environmental succession and net organic production between 4500 and 800 B.P. reconstructed from a peat deposit in the western dutch coastal area (Assendelver polder). Rev Palaeobot Palynol 45:239–300
Acknowledgements
The authors are grateful to V. Jankovská for her help in the identification of Pediastrum species, and to B. van Geel and J. N. Haas, whose comments greatly contributed to the improvement of the manuscript . This research has been supported by the US National Science Foundation (Grant ESH ATM-9809472 to Mark Abbott, Univ. of Pittsburgh, USA) and the Ramón y Cajal program of the Spanish Ministry of Education and Science (V. Rull, J. A. López-Sáez).
About this article
Cite this article
Rull, V., López-Sáez, J.A. & Vegas-Vilarrúbia, T. Contribution of non-pollen palynomorphs to the paleolimnological study of a high-altitude Andean lake (Laguna Verde Alta, Venezuela). J Paleolimnol 40, 399 (2008). https://doi.org/10.1007/s10933-007-9169-z
Received:

Accepted:

Published:
Keywords
Palynology

Non-pollen palynomorphs

Late-Glacial

Holocene

Venezuelan Andes

High altitude