Abstract
We present results from multiple stable isotope analyses (δ18O of chironomid larval head capsules, chironomid adult thoraxes and other insect remains and δD, δ13C, δ15N of total organic matter—TOM) of a lake sediment core (04-SVID-03) taken from Stora Vidarvatn in northeastern Iceland to reconstruct past environmental, limnological and δ18O of past lake water changes during the Holocene. Core 04-SVID-03 represents a ∼12,000 cal. yrs BP to present record. Large magnitude changes in δ18O occurred during the Holocene at the site. Downcore shifts in δ18O of chironomids did not correlate with measurements of the δ13C and δ15N of chironomid head capsules, implying that the δ18O changes were not primarily driven by changes in chironomid diet during the Holocene. The δD of TOM provided a proxy of relative lake-water δD changes at the site and also showed large magnitude changes during the record. This approach was supported by analyses of a modern training set where δDTOM analyses were conducted using surface sediments from a suite of freshwater lakes over a large latitudinal gradient. The magnitude of changes in both the δ18O and δD and the relatively negative δ18O values throughout much of the core suggest that the proxies represent more paleoenvironmental information than solely temperature. Additional possible influences on lake-water isotopic composition are discussed, including changes in the seasonality of precipitation, in the patterns of air masses supplying precipitation to Iceland and in the dominant mode of the North Atlantic Oscillation.
Access options
Buy single article
Instant access to the full article PDF.
USD 39.95
Price excludes VAT (USA)
Tax calculation will be finalised during checkout.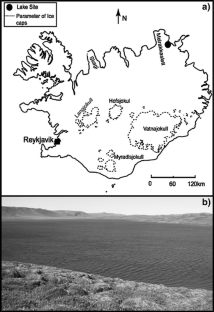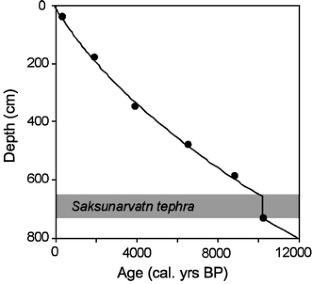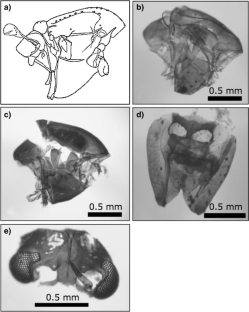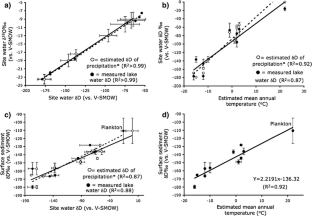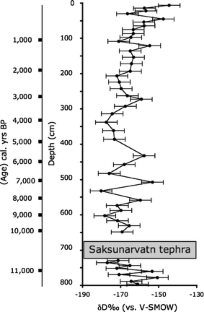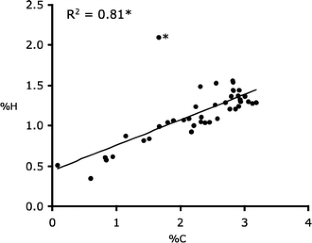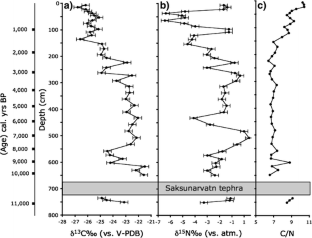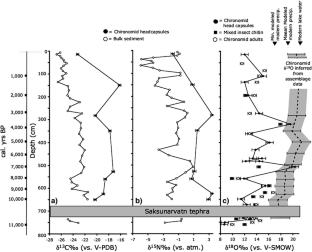 References
Andersen T (2000) A new species of Skutzia Reiss, 1985 (Chironomidae: Chironominae: Tanytarsini) from Henri Pittier National Park, Venezuela. Bol Entomol Venez 15:119–125

Anderson L, Abbott MB, Finney BP, Burns SJ (2005) Regional atmospheric circulation change in the North Pacific during the Holocene inferred from lacustrine carbonate oxygen isotopes, Yukon Territory, Canada. Quatern Res 64:21–35

Andrews JT, Geirsdottir A, Hardardottir J, Principato S, Gronvold K, Kristjansdottir GB, Helgadottir G, Drexler J, Sveinbjornsdottir A (2002) Distribution, sediment magnetism and geochemistry of the Saksunarvatn (10,180 ± 60 cal. yr BP) tephra in marine, lake, and terrestrial sediments, northwest Iceland. J Quatern Sci 17:731–745

Appenzeller C, Stocker TF, Anklin M (1998) North Atlantic oscillation dynamics recorded in Greenland ice cores. Science 282:446–449

Axford Y (accepted pending revisions) Holocene temperature history of northern Iceland inferred from subfossil midges. Quater Sci Rev

Birks HH, Gulliksen S, Haflidason H, Mangerud J, Possnert G (1996) New radiocarbon dates for the Vedde ash and the Saksunarvatn ash from western Norway. Quatern Res 45:119–127

Bowen GJ, Revenaugh J (2003) Interpolating the isotopic composition of modern meteoric precipitation. Water Resour Res 39(10):1299

Bowen GJ, Chesson L, Nielson K, Cerling TE, Ehleringer JR (2005) Treatment methods for the determination of delta H-2 and delta O-18 of hair keratin by continuous-flow isotope-ratio mass spectrometry. Rapid Commun Mass Spectrom 19:2371–2378

Briner JP, Michelutti N, Francis DR, Miller GH, Axford Y, Wooller MJ, Wolfe AP (2006) A multi-proxy lacustrine record of Holocene climate change on northeastern Baffin Island, Arctic Canada. Quatern Res 65:431–442

Dansgaard W (1964) Stable isotopes in precipitation. Tellus. 16:436–468

Dergachev VA, Vasiliev SS (2004) Sources of delta O-18 concentration variability in Greenland ice cores: temperature, North Atlantic Oscillation and solar activity. Solar Phys 224:433–443

Goedkoop W, Akerblom N, Demandt MH (2006) Trophic fractionation of carbon and nitrogen stable isotopes in Chironomus riparius reared on food of aquatic and terrestrial origin. Freshwater Biol 51:878–886

Grey J, Kelly A, Jones RI (2004a) High intraspecific variability in carbon and nitrogen stable isotope ratios of lake chironomid larvae. Limnol Oceanogr 49:239–244

Grey J, Kelly A, Ward S, Sommerwerk N, Jones RI (2004b) Seasonal changes in the stable isotope values of lake-dwelling chironomid larvae in relation to feeding and life cycle variability. Freshwater Biol 49:681–689

Harris D, Horwath WR, Kessel Cv (2001) Acid fumigation of soils to remove carbonates prior to total organic carbon or carbon-13 isotopic analysis. Soil Sci Soc Am J 65:1853–1856

Hou JZ, Huang YS, Wang Y, Shuman B, Oswald WW, Faison E, Foster DR (2006) Postglacial climate reconstruction based on compound-specific D/H ratios of fatty acids from Blood Pond, New England. Geochem Geophys Geosyst 7(3):Q03008

Huang YS, Shuman B, Wang Y, Webb T (2004) Hydrogen isotope ratios of individual lipids in lake sediments as novel tracers of climatic and environmental change: a surface sediment test. J Paleolimnol 31:363–375

Hurrell JW (1995) Decadal trends in the North-Atlantic oscillation – regional temperatures and precipitation. Science 269:676–679

Jones RI, King L, Dent MM, Maberly SC, Gibson CE (2004) Nitrogen stable isotope ratios in surface sediments, epilithon and macrophytes from upland lakes with differing nutrient status. Freshwater Biol 49:382–391

Kornexl BE, Gehre M, Hofling R, Werner RA (1999) On-line delta O-18 measurement of organic and inorganic substances. Rapid Commun Mass Spectrom 13:1685–1693

Krishnamurthy RV, Syrup KA, Baskaran M, Long A (1995). Late-glacial climate record of Midwestern United-States from the hydrogen isotope ratio of lake organic-matter. Science 269:1565–1567

Lamb AL, Leng MJ, Sloane HJ, Telford RJ (2005) A comparison of the palaeoclimate signals from diatom oxygen isotope ratios and carbonate oxygen isotope ratios from a low latitude crater lake. Palaeogeogr Palaeoclimatol Palaeoecol 223:290–302

Leng MJ, Barker PA (2006) A review of the oxygen isotope composition of lacustrine diatom silica for palaeoclimate reconstruction. Earth-Sci Rev 75:5–27

Mangerud J, Furnes H, Johansen J (1986) A 9000-year-old ash bed on the Faroe Islands. Quatern Res 26:262–265

Masson-Delmotte V, Landais A, Stievenard M, Cattani O, Falourd S, Jouzel J, Johnsen SJ, Jensen DD, Sveinsbjornsdottir A, White JWC, Popp T, Fischer H (2005) Holocene climatic changes in Greenland: different deuterium excess signals at Greenland Ice Core Project (GRIP) and NorthGRIP. J Geophys Res Atmos 110

McDermott F, Mattey DP, Hawkesworth C (2001) Centennial-scale holocene climate variability revealed by a high-resolution speleothem delta O-18 record from SW Ireland. Science 294:1328–1331

Meyers PA (2003) Applications of organic geochemistry to paleolimnological reconstructions: a summary of examples from the Laurentian Great Lakes. Org Geochem 34:261–289

Meyers PA, Lallier-Verges E (1999) Lacustrine sedimentary organic matter records of Late Quaternary paleoclimates. J Paleolimnol 21:345–372

Sachse D, Radke J, Gleixner G (2004) Hydrogen isotope ratios of recent lacustrine sedimentary n-alkanes record modern climate variability. Geochim Cosmochim Acta 68:4877–4889

Sauer PE, Miller GH, Overpeck JT (2001) Oxygen isotope ratios of organic matter in arctic lakes as a paleoclimate proxy: field and laboratory investigations. J Paleolimnol 25:43–64

Stiller M, Nissenbaum A (1980) Variations of stable hydrogen isotopes in plankton from a freshwater lake. Geochim Cosmochim Acta 44:1999–1101

Thompson RS, Anderson KH, Bartlein PJ (1999) Atlas of the relations between climatic parameters and the distributions of important trees and shrubs in North America. U.S. Geological Survey Professional Paper. p 1650

Tiljander M, Karhu JA, Kauppila T (2006) Holocene records of carbon and hydrogen isotope ratios of organic matter in annually laminated sediments of Lake Korttajarvi, central Finland. J Paleolimnol 36:233–243

Vander Zanden MJ, Rasmussen JB (2001) Variation in delta N-15 and delta C-13 trophic fractionation: implications for aquatic food web studies. Limnol Oceanogr 46:2061–2066

Walker IR (2001) Midges: chironomidae and related diptera. In: Smol JP, Birks HJB, Last WM (eds) Tracking environmental change using lake sediments, vol 4, Zoological Indicators. Kluwer Academic Publishers, Dordrecht, pp 43–66

Wang Y, Wooller MJ (2006) The stable isotopic (C and N) composition of modern plants from northern Iceland: with paleoenvironmental implications. JOKULL 56:27–37

Wassenaar LI, Hobson KA (2002) Comparative equilibration and online technique for determination of non-exchangeable hydrogen of keratins for use in animal migration studies. Isotopes Environ Health Stud 39:1–7

Werner M, Heimann M, Hoffmann G (2001) Isotopic composition and origin of polar precipitation in present and glacial climate simulations. Tellus Series B-Chem Phys Meteorol 53:53–71

Wolfe BB, Edwards TWD (1997) Hydrologic control on the oxygen-isotope relation between sediment cellulose and lake water, western Taimyr Peninsula, Russia: implications for the use of surface-sediment calibrations in paleolimnology. J Paleolimnol 18(3):283–291

Wooller MJ, Francis D, Fogel ML, Miller GH, Walker IR, Wolfe AP (2004) Quantitative paleotemperature estimates from delta O-18 of chironomid head capsules preserved in arctic lake sediments. J Paleolimnol 31:267–274
Acknowledgements
We thank our Icelandic colleagues and collaborators for their support during our field work, including Áslaug Geirsdóttir. We thank Gifford Miller for discussions related to this research. Funding for the research presented in this paper came from a US National Science Foundation grant awarded to Wooller (NSF-EAR-0317766). Field work was supported by NSF-EAR-0317766, NSF ATM-0318479 to G. Miller, RANNIS (Icelandic Centre for Research) Grant 060236021 to Á. Geirsdóttir, and VECO Polar Resources. G. Gunnarsdottir and family provided access to the field site and generous hospitality. We thank Diane O'Brien (UAF) for allowing us to use the microscope in her laboratory to take images of insect remains from our samples. We also thank Thora Hrafnsdottir from the Natural History Museum of Kopavogur, Iceland for identifying some of the remains from our core. Peter Sauer collected the water samples from Baffin Island. We also thank the Icelandic coring perfectionists Thorsteinn Jónsson and Sveinbjorn Steinthorsson for their energy and ideas for coring lake sediments. We thank two anonymous reviewers for their constructive suggestions, which improved our paper.
About this article
Cite this article
Wooller, M., Wang, Y. & Axford, Y. A multiple stable isotope record of Late Quaternary limnological changes and chironomid paleoecology from northeastern Iceland. J Paleolimnol 40, 63–77 (2008). https://doi.org/10.1007/s10933-007-9144-8
Received:

Accepted:

Published:

Issue Date:

DOI: https://doi.org/10.1007/s10933-007-9144-8
Keywords
Chironomids

Stable isotopes

Carbon

Nitrogen

Oxygen

Hydrogen