Abstract
Polyphenol oxidase (PPO) is a ubiquitous enzyme important in the food industry. Although PPO activity followed Michaelis–Menten kinetics at catechol concentrations of up to 1 mM, it slowly decreased at catechol concentrations above 2 mM. This result indicated that in addition to the active site (site A), the enzyme possesses a second catechol-binding site (site B) that exerts an inhibitory effect on PPO activity. Halides inhibit PPO activity in such a way that substrate inhibition is lessened when halide concentration is increased. Furthermore, elevated concentrations of catechol diminished the degree of inhibition by halides. These findings suggest that halides also bind to site B to inhibit PPO activity. A steady-state kinetic analysis demonstrated that the dissociation constant between catechol and PPO depended on the binding of halides to site B. The dissociation constants were greatest when chloride bound to the site. Bromide and iodide yielded lower dissociation constants, in that order. These data indicate that the binding of halide to site B modulated the structure of site A, thereby exerting an inhibitory effect.
Access options
Buy single article
Instant access to the full article PDF.
USD 39.95
Price excludes VAT (USA)
Tax calculation will be finalised during checkout.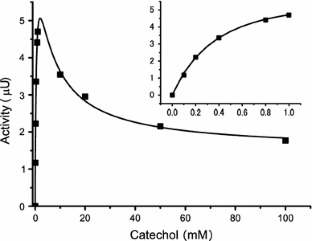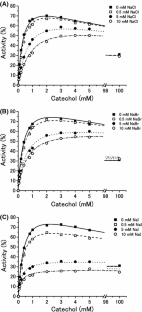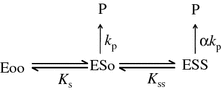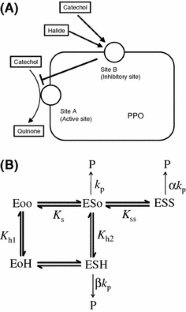 Abbreviations
DOPA:

3,4-dihydroxyphenylalanine

EoH :

PPO Empty at site A and bound to halide at site B

Eoo:

Free PPO

ESH:

PPO Bound to substrate at site A and to halide at site B

ESo:

PPO Bound to substrate at site A and empty at site B

ESS:

PPO Bound to substrates at both sites A and B

PPO:

Polyphenol oxidase

Site A:

First substrate-binding site of PPO

Site B:

Second substrate-binding site of PPO
References
Bisswanger H (2008) Enzyme kinetics, 2nd edn. Wiley-VCH Verlag, Weinheim

Faria RO, Moure VR, Balmant W, Amazonas MALD, Krieger N, Mitchell DA (2007) Food Technol Biotechnol 45:334–340

Janovitz-Klapp AH, Richard FC, Goupy PM, Nicolas JJ (1990) J Agric Food Chem 38:926–931

Klabunde T, Eicken C, Sacchettini JC, Krebs B (1998) Nat Struct Biol 5:1084–1090

Park YD, Kim SY, Lyou YJ, Lee JY, Yang JM (2005) Biochim 87:931–937

Paul B, Gowda LR (2000) J Agric Food Chem 48:3839–3846

Pizzocaro F, Torreggiani D, Gilardi G (1993) J Food Proc Preserv 17:21–30

Queiroz C, Mendes Lopes ML, Fialho E, Valente-Mesquita VL (2008) Food Rev Int 24:361–375

Ramirez EC, Whitaker JR, Virador VM (2003) Handbook of food enzymology. Marcel Dekker, New York

Rojo M, Gómez M, Isorna P, Estrada P (2001) J Mol Catal B Enzym 11:857–865

Seo SY, Sharma VK, Sharma N (2003) J Agric Food Chem 51:2837–2853

Severini C, Baiano A, De Pilli T, Romaniello R, Derossi A (2003) Lebensm-Wiss U-Technol 36:657–665

Tepper AWJW, Bubacco L, Canters GW (2002) J Biol Chem 277:30436–30444

Ünal ÜM (2007) Food Chem 100:909–913

Valero E, García-Carmona F (1998) J Agric Food Chem 46:2447–2451
Acknowledgments
This work was supported by a fund (11D3) from The Salt Science Research Foundation, Japan. G.G.F.L was supported by a scholarship from The Ajinomoto Scholarship Foundation.
About this article
Cite this article
Lim, G.G.F., Imura, Y. & Yoshimura, E. Substrate Inhibition Competes with Halide Inhibition in Polyphenol Oxidase. Protein J 31, 609–614 (2012). https://doi.org/10.1007/s10930-012-9442-5
Published:

Issue Date:

DOI: https://doi.org/10.1007/s10930-012-9442-5
Keywords
Enzyme kinetics

Polyphenol oxidase

Substrate inhibition

Halide

Inhibition

Catechol