Abstract
Chromodulin (also known as low-molecular-weight chromium-binding substance, LMWCr) is a chromium-binding oligopeptide proposed to play a role in insulin signaling and chromium transport in mammals. This laboratory has isolated and purified this material from a non-mammalian source, an avian. Spectroscopic and physical characterization of the isolated material suggests the material is an oligopeptide with a multinuclear chromium assembly bridged via asparatate and glutamate residues very similar to its mammalian counterparts. The isolated material also possesses a biological activity similar to other LMWCr isolates.
Access options
Buy single article
Instant access to the full article PDF.
US$ 39.95
Tax calculation will be finalised during checkout.
Subscribe to journal
Immediate online access to all issues from 2019. Subscription will auto renew annually.
US$ 79
Tax calculation will be finalised during checkout.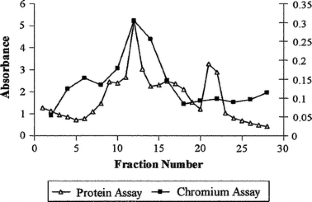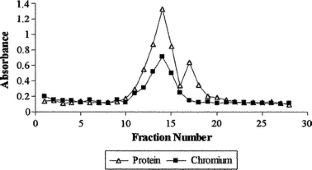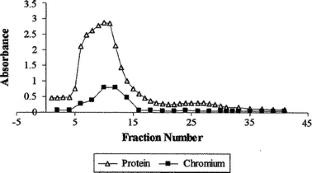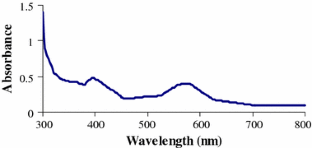 Abbreviations
LMWCr:

Low-molecular-weight chromium-binding substance

ADAM 19:

A disintegrin and metalloproteinase domain 19

Glu:

Glutamate

Asp:

Aspartate

mL:

Milliliter

M:

Molar

mM:

Millimolar

μM:

Micomolar

g :

Gravity

ºC:

Degree celsius

%:

Percent

pH:

Measure of acidity or basicity

cm:

Centimeter

nm:

Nanometer

μL:

Microliter

ppm:

Parts per million

DEAE:

(Diethylaminoethyl) cellulose

SDS-PAGE:

Sodium dodecyl sulfate polyacrylamide gel electrophoresis

1H NMR:

Proton nuclear magnetic resonance
References
1.

Davis CM, Vincent JB (1997) Arch Biochem Biophys 339:335–343

2.

Davis CM, Vincent JB (1997) J Biol Inorg Chem 2:675–679

3.

Davis CM, Vincent JB (1997) Biochemistry 36:4382–4385

4.

Davis CM, Sumrall KH, Vincent JB (1996) Biochemistry 35:12963–12969

5.

Dinakarpandian D, Morrissette V, Chaudhary S, Amini K, Bennett B, Van Horn JD (2004) BMC Chem Biol 4:2. www.biomedcentral.com/1472–6769/4/2

6.

Ellis T, Glass M, Harton A, Folting K, Huffman JC, Vincent JB (1994) Inorg Chem 33:552–5527

7.

Glass M, Belmore K, Vincent JB (1993) Polyhedron 12:133–140

8.

Hatfield MJ, Gillespie S, Chen Y, Li Z, Cassady CJ, Vincent JB (2006) Comp Biochem Physiol Part B Biochem Mol Biol 144B:423–431

9.

Levina A, Codd R, Dillion CT, Lay PA (2003) Prog Inorg Chem 51:145–644

10.

Levina A, Harris H, Lay PA (2007) JACS 129:1065–1075

11.

Li J, Elberg G, Gefel D, Shechter Y (1995) Biochemistry 34:6218–6225

12.

Losi ME, Amrhein C, Frankenberger WTJ (1994) Rev Environ Cont Tox 136:91–121

13.

Marczenko Z (1986) Spectrophotometric determination of the elements. Ellis Horwood Ltd, Chichester UK, pp 295–296

14.

Mertz W, Roginski EE (1963) J Biol Chem 238:868–872

15.

Peterson RL, Banker KJ, Garcia TY, Works CF (2008) J Inorg Biochem 102:833–841

16.

Schwarz K, Mertz W (1957) Arch Biochem Biophys 72:515–518

17.

Schwarz K, Mertz W (1959) Arch Biochem Biophys 85:292–295

18.

Sumrall KH, Vincent JB (1997) Polyhedron 16:4171–4177

19.

Udenfriend S, Stein S, Bohlen P, Dairman W, Leimgruber W, Weigele M (1972) Science 178:871–872

20.

Vincent JB (1999) J Am Coll Nutr 18:6–12

21.

Vincent JB (2000) J Nutr 130:715–718

22.

Wada O, Wu GY, Yamamoto A, Manabe S, Ono T (1983) Environ Res 32:228–239

23.

Yamamoto A, Wada O, Ono T (1981) Toxicol Appl Pharmacol 59:515–523

24.

Yamamoto A, Wada O, Ono T (1984) J Inorg Biochem 22:91–102

25.

Yamamoto A, Wada O, Ono T (1987) Eur J Biochem 65:627–631

26.

Yamamoto A, Wada O, Suzuki H (1988) J Nutr 118:39–45
Acknowledgements
The Department of Chemistry at Georgia Southern University in conjugation with the Allen E. Paulson College of Science and Technology Academic Excellence Committee provided funding for this research. The authors would like to acknowledge and thank Phoebe C. Pletcher for her technical assistance in the chromium and protein assays.
About this article
Cite this article
Viera, M., Davis-McGibony, C.M. Isolation and Characterization of Low-Molecular-Weight Chromium-binding Substance (LMWCr) from Chicken Liver. Protein J 27, 371–375 (2008). https://doi.org/10.1007/s10930-008-9146-z
Keywords
Chromium

Chicken

Low-molecular-weight chromium-binding substance

Chromodulin