Abstract
Curcumin (CUR) is a major component of turmeric Curcuma longa, which is often used in food or as a dietary supplement. The purpose of this preclinical study is to investigate the acute pharmacokinetic and pharmacodynamic (PK/PD) profiles of two commercially marketed CUR products (GNC and Vitamin Shoppe) and a CUR powder from Sigma in female rats. Plasma samples were collected at specific time points and analyzed for CUR and its metabolite curcumin-O-glucuronide. RNA was extracted from leukocytes and analyzed for the expression of Nrf2-mediated antioxidant genes Nrf2, Ho-1, and Nqo1 by qPCR as selected PD markers. CUR PK was characterized by a 2-compartment model (2CM) after intravenous (IV) or oral administrations. Compared to IV CUR, the absolute bioavailability (F) of CUR for GNC (GC) is 0.9%, Vitamin Shoppe (VC) is 0.6% and Sigma (SC) is 3.1%. Pharmacodynamically, all three formulations showed induction of antioxidant Nrf2, Ho-1 and Nqo1 gene expression in rat leucocytes. PK/PD modeling of CUR's effect on antioxidant gene expression was well captured by an indirect response model. Physiologically based PK modeling and simulation using GastroPlus described the observed PK data reasonably well. In summary, our current study shows that the absolute oral bioavailability of the parent CUR was very low for all three formulations. However, despite the low CUR plasma concentrations, all three oral CUR formulations displayed PD response in the induction of Nrf2-mediated antioxidant genes, suggesting the potential of oral CUR contributing to the overall health beneficial effects of oral CUR.
Access options
Buy single article
Instant access to the full article PDF.
USD 39.95
Price excludes VAT (USA)
Tax calculation will be finalised during checkout.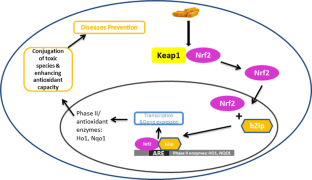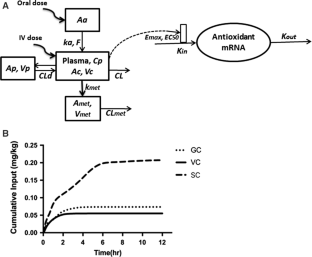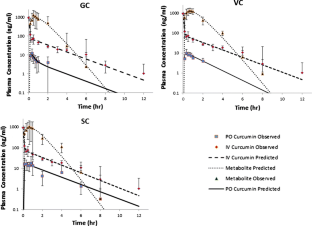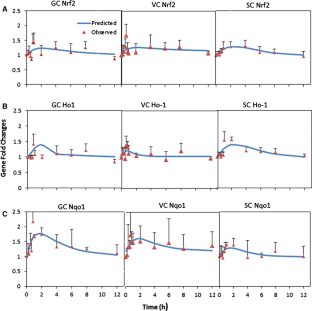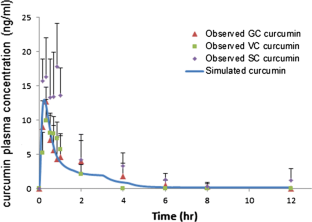 References
Gupta SC, Kismali G, Aggarwal BB (2013) Curcumin, a component of turmeric: from farm to pharmacy. BioFactors 39(1):2–13

Thangapazham RL, Puri A, Tele S, Blumenthal R, Maheshwari RK (2008) Evaluation of a nanotechnology-based carrier for delivery of curcumin in prostate cancer cells. Int J Oncol 32(5):1119–1123

Howells LM, Mahale J, Sale S, McVeigh L, Steward WP, Thomas A, Brown K (2014) Translating curcumin to the clinic for lung cancer prevention: evaluation of the preclinical evidence for its utility in primary, secondary, and tertiary prevention strategies. J Pharmacol Exp Ther 350(3):483–494

Wongcharoen W, Phrommintikul A (2009) The protective role of curcumin in cardiovascular diseases. Int J Cardiol 133(2):145–151

Aggarwal BB (2010) Targeting inflammation-induced obesity and metabolic diseases by curcumin and other nutraceuticals. Annu Rev Nutr 21(30):173–199

Zhang D, Fu M, Gao S-H, Liu J-L (2013) Curcumin and diabetes: a systematic review. Evid Based Complement Alternat Med. https://doi.org/10.1155/2013/636053

Li N, Chen X, Liao J, Yang G, Wang S, Josephson Y, Han C, Chen J, Huang M-T, Yang CS (2002) Inhibition of 7,12-dimethylbenz[a]anthracene (DMBA)-induced oral carcinogenesis in hamsters by tea and curcumin. Carcinogenesis 23(8):1307–1313

Shehzad A, Shahzad R, Lee YS (2014) Curcumin: a potent modulator of multiple enzymes in multiple cancers. Enzymes 36:149–174

Vareed SK, Kakarala M, Ruffin MT, Crowell JA, Normolle DP, Djuric Z, Brenner DE (2008) Pharmacokinetics of curcumin conjugate metabolites in healthy human subjects. Cancer Epidemiol Biomark Prev 17(6):1411–1417

Pan MH, Huang TM, Lin JK (1999) Biotransformation of curcumin through reduction and glucuronidation in mice. Drug Metab Dispos 27(4):486–494

Metzler M, Pfeiffer E, Schulz SI, Dempe JS (2013) Curcumin uptake and metabolism. BioFactors 39(1):14–20

Yang K-Y, Lin L-C, Tseng T-Y, Wang S-C, Tsai T-H (2007) Oral bioavailability of curcumin in rat and the herbal analysis from Curcuma longa by LC-MS/MS. J Chromatogr B 853(1–2):183–189

Maheshwari RK, Singh AK, Gaddipati J, Srimal RC (2006) Multiple biological activities of curcumin: a short review. Life Sci 78(18):2081–2087

Anand P, Kunnumakkara AB, Newman RA, Aggarwal BB (2007) Bioavailability of curcumin: problems and promises. Mol Pharm 4(6):807–818

Sharma RA, Gescher AJ, Steward WP (2005) Curcumin: the story so far. Eur J Cancer 41(13):1955–1968

Lao CD, Ruffin MT, Normolle D, Heath DD, Murray SI, Bailey JM, Boggs ME, Crowell J, Rock CL, Brenner DE (2006) Dose escalation of a curcuminoid formulation. BMC Complement Altern Med 17(6):10

Baum L, Lam CWK, Cheung SK-K, Kwok T, Lui V, Tsoh J, Lam L, Leung V, Hui E, Ng C, Woo J, Chiu HFK, Goggins WB, Zee BC-Y, Cheng KF, Fong CYS, Wong A, Mok H, Chow MSS, Ho PC, Ip SP, Ho CS, Yu XW, Lai CYL, Chan M-H, Szeto S, Chan IHS, Mok V (2008) Six-month randomized, placebo-controlled, double-blind, pilot clinical trial of curcumin in patients with Alzheimer disease. J Clin Psychopharmacol 28(1):110–113

Cheng D, Li W, Wang L, Lin T, Poiani G, Wassef A, Hudlikar R, Ondar P, Brunetti L, Kong A-N (2019) Pharmacokinetics, pharmacodynamics, and PKPD modeling of curcumin in regulating antioxidant and epigenetic gene expression in healthy human volunteers. Mol Pharm. 16(5):1881–1889

Gao Y, Li Z, Sun M, Li H, Guo C, Cui J, Li A, Cao F, Xi Y, Lou H, Zhai G (2010) Preparation, characterization, pharmacokinetics, and tissue distribution of curcumin nanosuspension with TPGS as stabilizer. Drug Dev Ind Pharm 36(10):1225–1234

King CD, Rios GR, Green MD, Tephly TR (2000) UDP-glucuronosyltransferases. Curr Drug Metab 1(2):143–161

Hoehle SI, Pfeiffer E, Metzler M (2007) Glucuronidation of curcuminoids by human microsomal and recombinant UDP-glucuronosyltransferases. Mol Nutr Food Res 51(8):932–938

Balogun E, Hoque M, Gong P, Killeen E, Green CJ, Foresti R, Alam J, Motterlini R (2003) Curcumin activates the haem oxygenase-1 gene via regulation of Nrf2 and the antioxidant-responsive element. Biochem J 371(Pt 3):887–895

Boyanapalli SSS, Paredes-Gonzalez X, Fuentes F, Zhang C, Guo Y, Pung D, Saw CLL, Kong A-NT (2014) Nrf2 knockout attenuates the anti-inflammatory effects of phenethyl isothiocyanate and curcumin. Chem Res Toxicol 27(12):2036–2043

Cao Y, Jusko WJ (2012) Applications of minimal physiologically-based pharmacokinetic models. J Pharmacokinet Pharmacodyn 39(6):711–723

Li W, Yang H, Buckley B, Wang L, Kong A-N (2018) A Novel Triple Stage Ion Trap MS method validated for curcumin pharmacokinetics application: a comparison summary of the latest validated curcumin LC/MS methods. J Pharm Biomed Anal 15(156):116–124

Livak KJ, Schmittgen TD (2001) Analysis of relative gene expression data using real-time quantitative PCR and the 2(-Delta Delta C(T)) Method. Methods 25(4):402–408

Sun YN, Jusko WJ (1998) Transit compartments versus gamma distribution function to model signal transduction processes in pharmacodynamics. J Pharm Sci 87(6):732–737

Piergies AA, Ruo TI, Jansyn EM, Belknap SM, Atkinson AJ (1987) Effect kinetics of N-acetylprocainamide-induced QT interval prolongation. Clin Pharmacol Ther 42(1):107–112

Dayneka NL, Garg V, Jusko WJ (1993) Comparison of four basic models of indirect pharmacodynamic responses. J Pharmacokinet Biopharm 21(4):457–478

Mantzorou M, Pavlidou E, Vasios G, Tsagalioti E, Giaginis C (2018) Effects of curcumin consumption on human chronic diseases: a narrative review of the most recent clinical data. Phytother Res 32(6):957–975

Li W, Su Z-Y, Guo Y, Zhang C, Wu R, Gao L, Zheng X, Du Z-Y, Zhang K, Kong A-N (2018) Curcumin derivative epigenetically reactivates Nrf2 antioxidative stress signaling in mouse prostate cancer TRAMP C1 cells. Chem Res Toxicol 31(2):88–96

Storka A, Vcelar B, Klickovic U, Gouya G, Weisshaar S, Aschauer S, Bolger G, Helson L, Wolzt M (2015) Safety, tolerability and pharmacokinetics of liposomal curcumin in healthy humans. Int J Clin Pharmacol Ther 53(1):54–65

Jamwal R (2018) Bioavailable curcumin formulations: a review of pharmacokinetic studies in healthy volunteers. J Integr Med 16(6):367–374

Shoba G, Joy D, Joseph T, Majeed M, Rajendran R, Srinivas PS (1998) Influence of piperine on the pharmacokinetics of curcumin in animals and human volunteers. Planta Med 64(4):353–356

Uzunović A, Vranić E (2007) Effect of magnesium stearate concentration on dissolution properties of ranitidine hydrochloride coated tablets. Bosn J Basic Med Sci 7(3):279–283

Alomar MJ (2014) Factors affecting the development of adverse drug reactions (Review article). Saudi Pharm J 22(2):83–94

Setthacheewakul S, Mahattanadul S, Phadoongsombut N, Pichayakorn W, Wiwattanapatapee R (2010) Development and evaluation of self-microemulsifying liquid and pellet formulations of curcumin, and absorption studies in rats. Eur J Pharm Biopharm 76(3):475–485

Dulbecco P, Savarino V (2013) Therapeutic potential of curcumin in digestive diseases. World J Gastroenterol 19(48):9256–9270

Kesarwani K, Gupta R, Mukerjee A (2013) Bioavailability enhancers of herbal origin: an overview. Asian Pac J Trop Biomed 3(4):253–266

Boyanapalli SSS, Huang Y, Su Z, Cheng D, Zhang C, Guo Y, Rao R, Androulakis IP, Kong A-N (2018) Pharmacokinetics and Pharmacodynamics of Curcumin in regulating anti-inflammatory and epigenetic gene expression. Biopharm Drug Dispos 39(6):289–297

Trujillo J, Chirino YI, Molina-Jijón E, Andérica-Romero AC, Tapia E, Pedraza-Chaverrí J (2013) Renoprotective effect of the antioxidant curcumin: recent findings. Redox Biol 17(1):448–456

Ben Yehuda Greenwald M, Frušić-Zlotkin M, Soroka Y, Ben Sasson S, Bitton R, Bianco-Peled H, Kohen R (2017) Curcumin protects skin against UVB-induced cytotoxicity via the Keap1-Nrf2 pathway: the use of a microemulsion delivery system. Oxid Med Cell Longev 2017:5205471

Zeng C, Zhong P, Zhao Y, Kanchana K, Zhang Y, Khan ZA, Chakrabarti S, Wu L, Wang J, Liang G (2015) Curcumin protects hearts from FFA-induced injury by activating Nrf2 and inactivating NF-κB both in vitro and in vivo. J Mol Cell Cardiol 79:1–12

Schnekenburger M, Diederich M (2015) Chapter 18-nutritional epigenetic regulators in the field of cancer: new avenues for chemopreventive approaches. In: Gray SG (ed) Epigenetic cancer therapy. Academic Press, Boston, pp 393–425

Bachmeier BE, Mirisola V, Romeo F, Generoso L, Esposito A, Dell'eva R, Blengio F, Killian PH, Albini A, Pfeffer U (2010) Reference profile correlation reveals estrogen-like trancriptional activity of Curcumin. Cell Physiol Biochem 26(3):471–482

Sikora E, Scapagnini G, Barbagallo M (2010) Curcumin, inflammation, ageing and age-related diseases. Immun Ageing 7(1):1

Sajithlal GB, Chithra P, Chandrakasan G (1998) Effect of curcumin on the advanced glycation and cross-linking of collagen in diabetic rats. Biochem Pharmacol 56(12):1607–1614

Ravindran J, Prasad S, Aggarwal BB (2009) Curcumin and cancer cells: how many ways can curry kill tumor cells selectively? AAPS J 11(3):495–510

Foteinou PT, Calvano SE, Lowry SF, Androulakis IP (2009) Modeling endotoxin-induced systemic inflammation using an indirect response approach. Math Biosci 217(1):27–42

Gobeau N, Stringer R, De Buck S, Tuntland T, Faller B (2016) Evaluation of the GastroPlus™ advanced compartmental and transit (ACAT) model in early discovery. Pharm Res 33(9):2126–2139

Parrott N, Lave T (2008) Applications of physiologically based absorption models in drug discovery and development. Mol Pharm 5(5):760–775

Jones HM, Gardner IB, Watson KJ (2009) Modelling and PBPK simulation in drug discovery. AAPS J 11(1):155–166
Acknowledgement
We thank all the members of Kong lab for their suggestions and helpful discussions in the preparation of this manuscript. This work was supported in part by institutional funds, R01AT007065 from the National Center for Complementary and Integrated Health (NCCIH) and the Office of Dietary Supplements (ODS), and R01AT009152 from the National Center for Complementary and Integrative Health (NCCIH).
Ethics declarations
Conflict of interest
The authors declare that there is no conflict of interest associated with this work.
Additional information
Publisher's Note
Springer Nature remains neutral with regard to jurisdictional claims in published maps and institutional affiliations.
Electronic supplementary material
Below is the link to the electronic supplementary material.
About this article
Cite this article
Wang, L., Li, W., Cheng, D. et al. Pharmacokinetics and pharmacodynamics of three oral formulations of curcumin in rats. J Pharmacokinet Pharmacodyn 47, 131–144 (2020). https://doi.org/10.1007/s10928-020-09675-3
Received:

Accepted:

Published:

Issue Date:

DOI: https://doi.org/10.1007/s10928-020-09675-3
Keywords
Curcumin

Pharmacokinetics/pharmacodynamics

Nrf2

Oxidative stress

Formulation