Abstract
We discuss the question of model identifiability within the context of nonlinear mixed effects models. Although there has been extensive research in the area of fixed effects models, much less attention has been paid to random effects models. In this context we distinguish between theoretical identifiability, in which different parameter values lead to non-identical probability distributions, structural identifiability which concerns the algebraic properties of the structural model, and practical identifiability, whereby the model may be theoretically identifiable but the design of the experiment may make parameter estimation difficult and imprecise. We explore a number of pharmacokinetic models which are known to be non-identifiable at an individual level but can become identifiable at the population level if a number of specific assumptions on the probabilistic model hold. Essentially if the probabilistic models are different, even though the structural models are non-identifiable, then they will lead to different likelihoods. The findings are supported through simulations.
This is a preview of subscription content, log in to check access.
Access options
Buy single article
Instant access to the full article PDF.
US$ 39.95
Price includes VAT for USA
Subscribe to journal
Immediate online access to all issues from 2019. Subscription will auto renew annually.
US$ 99
This is the net price. Taxes to be calculated in checkout.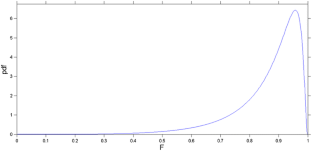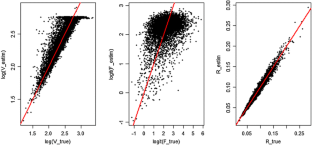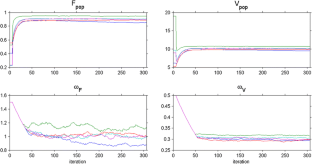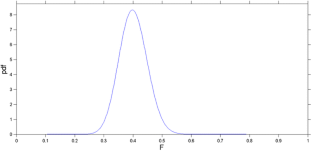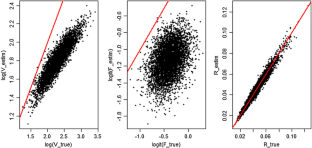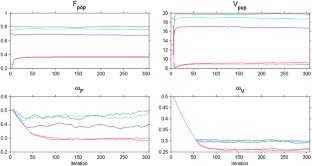 References
1.

Bellman R, Åström KJ (1970) On structural identifiability. Math Biosci 7(3):329–339

2.

Bonate PL (2011) Pharmacokinetic–pharmacodynamic modeling and simulation. Springer, New York

3.

Brun R, Reichert P, Künsch HR (2001) Practical identifiability analysis of large environmental simulation models. Water Resour Res 37(4):1015–1030

4.

Chappell MJ, Godfrey KR, Vajda S (1990) Global identifiability of the parameters of nonlinear systems with specified inputs: a comparison of methods. Math Biosci 102(1):41–73

5.

Cobelli C, Distefano JJ 3rd (1980) Parameter and structural identifiability concepts and ambiguities: a critical review and analysis. Am J Physiol-Regul Integr Comp Physiol 239(1):R7–R24

6.

Evans ND, Godfrey KR, Chapman MJ, Chappell MJ, Aarons L, Duffull SB (2001) An identifiability analysis of a parent-metabolite pharmacokinetic model for ivabradine. J Pharmacokinet Pharmacodynam 28(1):93–105

7.

Fröhlich, F., Theis, F.J., Hasenauer, J.: Uncertainty analysis for non-identifiable dynamical systems: Profile likelihoods, bootstrapping and more. In: Computational Methods in Systems Biology, pp. 61–72. Springer (2014)

8.

Garcia RI, Ibrahim JG, Wambaugh JF, Kenyon EM, Setzer RW (2015) Identifiability of PBPK models with applications to dimethylarsinic acid exposure. J Pharmacokinet Pharmacodynam 42(6):591–609

9.

Gargash B, Mital D (1980) A necessary and sufficient condition of global structural identifiability of compartmental models. Comput Biol Med 10(4):237–242

10.

Godfrey KR, Chapman MJ, Vajda S (1994) Identifiability and indistinguishability of nonlinear pharmacokinetic models. J Pharmacokinet Biopharm 22(3):229–251

11.

Guedj J, Thiébaut R, Commenges D (2007) Practical identifiability of HIV dynamics models. Bull Math Biol 69(8):2493–2513

12.

Lavielle M (2014) Mixed Effects Models for the Population Approach: Models, Tasks, Methods and Tools. Chapman and Hall/CRC

13.

Petersen B, Gernaey K, Vanrolleghem PA (2001) Practical identifiability of model parameters by combined respirometric-titrimetric measurements. Water Sci Technol 43(7):347–356

14.

Raue A, Kreutz C, Maiwald T, Bachmann J, Schilling M, Klingmüller U, Timmer J (2009) Structural and practical identifiability analysis of partially observed dynamical models by exploiting the profile likelihood. Bioinformatics 25(15):1923–1929

15.

Shivva V, Korell J, Tucker I, Duffull S (2013) An approach for identifiability of population pharmacokinetic-pharmacodynamic models. CPT: Pharmacometrics Syst Pharmacol 2(6):e49

16.

Shivva V, Korell J, Tucker IG, Duffull SB (2014) Parameterisation affects identifiability of population models. J Pharmacokinet Pharmacodynam 41(1):81–86

17.

Tikhonov AN, Goncharsky A, Stepanov VV, Yagola AG (1995) Numerical methods for the solution of ill-posed problems. Springer Science & Business Media, Dordrecht

18.

Walter E, Pronzato L (1996) On the identifiability and distinguishability of nonlinear parametric models. Math Comput Simul 42(2):125–134

19.

Wang W et al (2013) Identifiability of linear mixed effects models. Electron J Stat 7:244–263

20.

Wu L (2010) Mixed effects models for complex data. CRC Press, Boca Raton

21.

Xia X, Moog CH (2003) Identifiability of nonlinear systems with application to HIV/AIDS models. IEEE Trans Autom Control 48(2):330–336

22.

Yates J, Jones R, Walker M, Cheung S (2009) Structural identifiability and indistinguishability of compartmental models. Expert Opinion Drug Metab Toxicol 5(3):295–302
Acknowledgments
The research leading to these results received support from the Innovative Medicines Initiative Joint Undertaking under Grant agreement 115156, resources of which are composed of financial contributions from the European Union's Seventh Framework Programme (FP7/2007-2013) and EFPIA companies' in kind contribution. The DDMoRe project is also supported by financial contribution from Academic and SME partners.
About this article
Cite this article
Lavielle, M., Aarons, L. What do we mean by identifiability in mixed effects models?. J Pharmacokinet Pharmacodyn 43, 111–122 (2016). https://doi.org/10.1007/s10928-015-9459-4
Received:

Accepted:

Published:

Issue Date:
Keywords
Model identifiability

Practical identifiability

Structural identifiability

Parameter estimation

Mixed effects model

Pharmacokinetics