Abstract
Purpose The purpose of this study was to descriptively quantify experiences of injured workers with permanent impairment during their first year of work reintegration. Methods A representative survey was conducted to characterize health, disability, pain, employment, reinjury, and economic outcomes for 598 workers with permanent impairment who had returned to work during the year after workers' compensation claim closure. Survey responses were summarized by degree of whole body impairment (< 10% vs. ≥ 10%). Results Injured workers who had returned to work reported that permanent impairment made it difficult to get a job (47%) and to keep their job (58%). A year after claim closure, 66% reported moderate to very severe pain; 40% reported pain interference with work. About 13% reported new work injuries; over half thought permanent impairment increased their reinjury risk. Asked to compare current to pre-injury work status, workers with a higher degree of impairment more frequently reported working fewer hours (OR 1.60; 95% CI 1.06, 2.42), earning less (OR 1.56; 95% CI 1.04, 2.36), and being at higher risk of losing their current job due to their impairment (OR 1.66; 95% CI 1.01, 2.71). Conclusions Injured workers with permanent impairment face long-term challenges related to health limitations, chronic pain, work reintegration, and economic impacts. Workers with a higher degree of impairment more frequently reported several economic and job security challenges. Developing workplace and workers' compensation-based interventions that reduce return-to-work interruption and reinjury for workers with permanent impairment should be prioritized as an important public health and societal goal.
Access options
Buy single article
Instant access to the full article PDF.
US$ 39.95
Tax calculation will be finalised during checkout.
Subscribe to journal
Immediate online access to all issues from 2019. Subscription will auto renew annually.
US$ 79
Tax calculation will be finalised during checkout.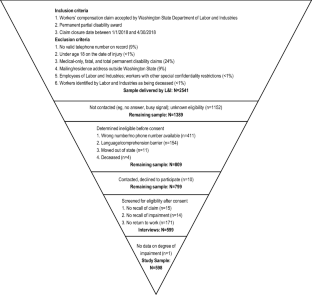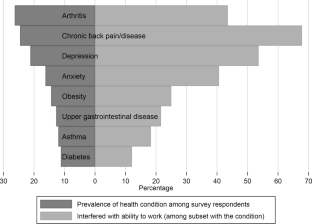 References
1.

Weiss E, Murphy G, Boden LI. Workers' compensation: benefits, costs, and coverage (2017 data). Washington, D.C.: National Academy of Social Insurance; 2019.

2.

MacEachen E, Kosny A, Ferrier S, Lippel K, Neilson C, Franche RL, et al. The 'ability' paradigm in vocational rehabilitation: challenges in an Ontario injured worker retraining program. J Occup Rehabil. 2012;22(1):105–117.

3.

Butler R, Johnson W, Baldwin M. Managing work disability: why first return to work is not a measure of success. Ind Labor Relat Rev. 1995;48(3):452–469.

4.

Scott-Marshall HK, Tompa E, Wang Y, Liao Q. Long-term mortality risk in individuals with permanent work-related impairment. Can J Public Health. 2014;105(5):e330–335.

5.

Casey R, Ballantyne PJ. Diagnosed chronic health conditions among injured workers with permanent impairments and the general population. J Occup Environ Med. 2017;59(5):486–496.

6.

Price J, Shi J, Lu B, Smith GA, Stallones L, Wheeler KK, et al. Nonoccupational and occupational injuries to US workers with disabilities. Am J Public Health. 2012;102(9):e38–46.

7.

Young AE. Return to work following disabling occupational injury–facilitators of employment continuation. Scand J Work Environ Health. 2010;36(6):473–483.

8.

Organisation for Economic Co-operation and Development (OECD). Sickness, Disability and Work: Breaking the Barriers. A Synthesis of Findings across OECD Countries. Paris: OECD Publishing; 2010.

9.

Kaye HS. Stuck at the bottom rung: occupational characteristics of workers with disabilities. J Occup Rehabil. 2009;19(2):115–128.

10.

National Institute for Occupational Safety and Health. Morbidity and disability among workers 18 years and older in the Healthcare and Social Assistance sector, 1997–2007. DHHS (NIOSH) Publication No. 2012-161. October 2012; https://www.cdc.gov/niosh/docs/2012-161/pdfs/2012-161.pdf. Accessed April 30, 2017.

11.

Bohle P, Pitts C, Quinlan M. Time to call it quits? The safety and health of older workers. Int J Health Serv. 2010;40(1):23–41.

12.

Scott KA, Liao Q, Fisher GG, Stallones L, DiGuiseppi C, Tompa E. Early labor force exit subsequent to permanently impairing occupational injury or illness among workers 50–64 years of age. Am J Ind Med. 2018;61(4):317–325.

13.

Zwerling C, Sprince NL, Davis CS, Whitten PS, Wallace RR, Heeringa SG. Occupational injuries among older workers with disabilities: A prospective cohort study of the Health and Retirement Survey, 1992 to 1994. Am J Public Health. 1998;88(11):1691–1695.

14.

Zwerling C, Sprince NL, Wallace RB, Davis CS, Whitten PS, Heeringa SG. Risk factors for occupational injuries among older workers: An analysis of the health and retirement study. Am J Public Health. 1996;86(9):1306–1309.

15.

Zwerling C, Whitten PS, Davis CS, Sprince NL. Occupational injuries among older workers with visual, auditory, and other impairments. A validation study. J Occup Environ Med. 1998;40(8):720–723.

16.

Shi J, Gardner S, Wheeler KK, Thompson MC, Lu B, Stallones L, et al. Characteristics of nonfatal occupational injuries among U.S. workers with and without disabilities. Am J Ind Med. 2015;58(2):168–177.

17.

Shi J, Wheeler KK, Lu B, Bishai DM, Stallones L, Xiang H. Medical expenditures associated with nonfatal occupational injuries among U.S. workers reporting persistent disabilities. Disabil Health J. 2015;8(3):397–406.

18.

Ruseckaite R, Collie A. Repeat workers' compensation claims: Risk factors, costs and work disability. BMC Public Health. 2011;11:492.

19.

Ruseckaite R, Collie A. The incidence and impact of recurrent workplace injury and disease: a cohort study of WorkSafe Victoria, Australia compensation claims. BMJ Open. 2013;3(3):e002396.

20.

Keeney BJ, Turner JA, Fulton-Kehoe D, Wickizer TM, Chan KC, Franklin GM. Early predictors of occupational back reinjury: results from a prospective study of workers in Washington State. Spine. 2013;38(2):178–187.

21.

Lipscomb HJ, Cameron W, Silverstein B. Incident and recurrent back injuries among union carpenters. Occup Environ Med. 2008;65(12):827–834.

22.

Welch CE 3rd. Long-term risk of repeat occupational injury or illness incidents among Veterans Health Administration nursing employees. AAOHN J. 2010;58(8):323–329.

23.

Hergenrather K, Zeglin R, McGuire-Kuletz M, Rhodes S. Employment as a social determinant of health: a systematic review of longitudinal studies exploring the relationship between employment status and physical health. Rehabil Res Policy Educ. 2015;29(1):2–26.

24.

State of Washington. RCW Title 51: Chapter 51.12. Employments and occupations covered. https://apps.leg.wa.gov/rcw/default.aspx?Cite=51.12. Accessed July 29, 2019.

25.

Franklin GM, Wickizer TM, Fulton-Kehoe D, Turner JA. Policy-relevant research: when does it matter? NeuroRx. 2004;1(3):356–362.

26.

Fishbain DA, Cutler RB, Rosomoff HL, Khalil T, Steele-Rosomoff R. Prediction of "intent", "discrepancy with intent", and "discrepancy with nonintent" for the patient with chronic pain to return to work after treatment at a pain facility. Clin J Pain. 1999;15(2):141–150.

27.

Kominski G, Pourat N, Roby D, Cameron M. Access to medical treatment in the California workers' compensation system, 2006. Los Angeles: UCLA Center for Health Policy Research; 2006.

28.

National Survey of Families and Households. Wave 3 codebook files. Madison: Center for Demography, University of Wisconsin; 2005.

29.

Ware J Jr, Kosinski M, Keller SD. A 12-Item Short-Form Health Survey: construction of scales and preliminary tests of reliability and validity. Med Care. 1996;34(3):220–233.

30.

Ware JE, Sherbourne CD. The MOS 36-item short-form health survey (SF-36). I. Conceptual framework and item selection. Med Care. 1992;30(6):473–483.

31.

Washington State Office of Financial Management. Washington State Population Survey. 2010; https://www.ofm.wa.gov/sps/. Accessed August 20, 2012.

32.

Wickizer T. Updated Report on the Outcome Evaluation for the Western Washington COHE (prepared for: Occupational Health Services Project, Washington State Department of Labor and Industries). 2007; https://www.lni.wa.gov/ClaimsIns/Files/Providers/ohs/UwReportRentonCohe.pdf. Accessed June 15, 2008.

33.

Workers' Compensation Board. Companion Document to Strengthening Vocational Rehabilitation: A Vocational Rehabilitation Program Review. Ontario: Workers' Compensation Board; 1992.

34.

Young AE. Employment maintenance and the factors that impact it after vocational rehabilitation and return to work. Disabil Rehabil. 2010;32(20):1621–1632.

35.

Sears JM, Wickizer TM. Evaluation of the Vocational Rehabilitation Pilot Program. Report to the Washington State Legislature as required by ESSB 5920 (Chapter 72, Laws of 2007). Tumwater: Washington State Department of Labor and Industries; 2012.

36.

Groll DL, To T, Bombardier C, Wright JG. The development of a comorbidity index with physical function as the outcome. J Clin Epidemiol. 2005;58(6):595–602.

37.

Marcum JL, McHugh A, Foley M, Adams D, Bonauto D. The economic effect of chronic comorbidities in carpal tunnel syndrome workers' compensation claimants. Washington State J Occup Environ Med. 2018;60(12):1128–1135.

38.

The American Association for Public Opinion Research. Standard definitions: final dispositions of case codes and outcome rates for surveys. 9th ed. Oakbrook Terrace, IL: AAPOR; 2016.

39.

Washington State Department of Labor and Industries. Medical Examiners' Handbook. Publication F252-001-000; 2019.

40.

Washington State Department of Labor and Industries. Permanent Partial Disability. PPD Award Schedules. https://lni.wa.gov/claims/for-workers/claim-benefits/permanent-partial-disability. Accessed May 17, 2020.

41.

American Medical Association. Guides to the evaluation of permanent impairment. 5th ed. Chicago, IL: AMA Press; 2017.

42.

Ingram DD, Franco SJ. 2013 NCHS Urban–Rural Classification Scheme for Counties. Vital Health Statistics. Washington, DC: National Center for Health Statistics; 2014.

43.

StataCorp. Stata Statistical Software: Release 15. College Station, TX: StataCorp LLC; 2017.

44.

Sears JM, Wickizer TM, Schulman BA. Improving vocational rehabilitation services for injured workers in Washington State. Eval Prog Planning. 2014;44:26–35.

45.

National Institute for Occupational Safety and Health. NIOSH Worker Health Charts: Health Status Charts, Behavioral Risk Factor Surveillance System (BRFSS), 2013–2015. https://wwwn.cdc.gov/NIOSH-WHC/chart/brfss-status/status?OU=_RFHLTH_r&T=A&V=R. Accessed November 7, 2019.

46.

Ballantyne PJ, Casey R, O'Hagan FT, Vienneau P. Poverty status of worker compensation claimants with permanent impairments. Crit Public Health. 2016;26(2):173–190.

47.

Kaiser Family Foundation. Health Insurance Coverage of the Total Population, 2018. https://www.kff.org/other/state-indicator/total-population/. Accessed November 7, 2019.

48.

Bureau of Labor Statistics (BLS). Union Membership (Annual) News Release, 2018. https://www.bls.gov/news.release/archives/union2_01182019.htm. Accessed November 7, 2019.
Acknowledgements
We thank all survey participants for their time and input. We thank the following Washington State Department of Labor and Industries personnel, who facilitated access to the necessary administrative data and provided extensive data documentation: Gary Franklin (Medical Director), Lisann Rolle (Program Manager, Research and Data Services), and Sarah West (Data Analyst, Research and Data Services). This work was supported by the National Institute for Occupational Safety and Health (NIOSH) under Grant R21OH011355. Its contents are solely the responsibility of the authors and do not necessarily represent the official views of NIOSH. The authors declare no conflicts of interest.
Ethics declarations
Conflict of interest
All authors declare that they have no conflicts of interest.
Ethical Approval
All procedures followed were in accordance with the ethical standards of the institutional review board (University of Washington IRB Committee J; IRB00005647; FWA #00006878) and with the 1964 Helsinki Declaration and its later amendments. All survey participants gave their informed consent prior to their inclusion in the study.
Additional information
Publisher's Note
Springer Nature remains neutral with regard to jurisdictional claims in published maps and institutional affiliations.
About this article
Cite this article
Sears, J.M., Schulman, B.A., Fulton-Kehoe, D. et al. Workforce Reintegration After Work-Related Permanent Impairment: A Look at the First Year After Workers' Compensation Claim Closure. J Occup Rehabil 31, 219–231 (2021). https://doi.org/10.1007/s10926-020-09912-z
Keywords
Occupational injuries

Workers' compensation

Return to work

Chronic pain

Health status