Abstract
Purpose To evaluate whether a protocol for early intervention addressing the psychosocial risk factors for delayed return to work in workers with soft tissue injuries would achieve better long-term outcomes than usual (stepped) care. Methods The study used a controlled, non-randomised prospective design to compare two case management approaches. For the intervention condition, workers screened within 1–3 weeks of injury as being at high risk of delayed returned to work by the Örebro Musculoskeletal Pain Screening Questionnaire—short version (ÖMPSQ-SF) were offered psychological assessment and a comprehensive protocol to address the identified obstacles for return to work. Similarly identified injured workers in the control condition were managed under usual (stepped) care arrangements. Results At 2-year follow-up, the mean lost work days for the Intervention group was less than half that of the usual care group, their claim costs were 30% lower, as was the growth trajectory of their costs after 11 months. Conclusions The findings supported the hypothesis that brief psychological risk factor screening, combined with a protocol for active collaboration between key stakeholders to address identified psychological and workplace factors for delayed return to work, can achieve better return on investment than usual (stepped) care.
Access options
Buy single article
Instant access to the full article PDF.
US$ 39.95
Tax calculation will be finalised during checkout.
Subscribe to journal
Immediate online access to all issues from 2019. Subscription will auto renew annually.
US$ 79
Tax calculation will be finalised during checkout.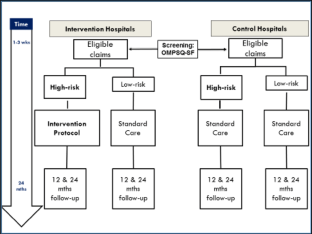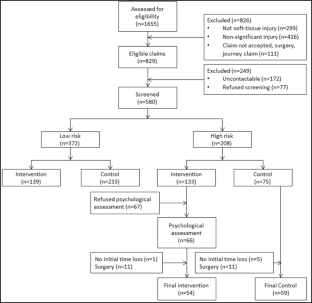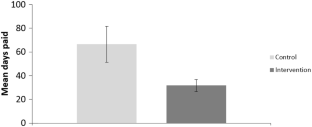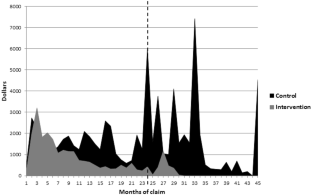 References
1.

Henschke N, Maher CG, Refshauge KM, Herbert RD, Cumming RG, Bleasel J, et al. Prognosis of recent onset low back pain in Australian primary care: an inception cohort study. Br Med J. 2008. https://doi.org/10.1136/bmj.a171.

2.

Social Research Centre. Return to work survey, 2017/18 headline measures report. Canberra: Safe Work Australia; 2018.

3.

Johnson D, Fry T. Factors affecting return to work after injury: a study for the Victorian WorkCover Authority. Melbourne Institute of Applied Economic and Social Research Melbourne, 2002.

4.

Schofield DJ, Shrestha RN, Percival R, Callander EJ, Kelly SJ, Passey ME. Early retirement and the financial assets of individuals with back problems. Eur Spine J. 2011;20(5):731–736.

5.

Campbell P, Wynne-Jones G, Muller S, Dunn KM. The influence of employment social support for risk and prognosis in nonspecific back pain: a systematic review and critical synthesis. Int Arch Occup Environ Health. 2013;86:119–137.

6.

Chou R, Shekelle P. Will this patient develop persistent disabling low back pain? JAMA. 2010;303:1295–1302.

7.

Mallen CD, Peat G, Thomas E, et al. Prognostic factors for musculoskeletal pain in primary care: a systematic review. Br J Gen Pract. 2007;57:655–661.

8.

Main CJ, Phillips CJ, Watson PJ. Secondary prevention in health care and occupational settings in musculoskeletal conditions focusing on low back pain. In: Schultz IZ, Gatchel RJ, editors. Handbook of complex occupational disability claims: early risk identification, intervention and prevention. New York: Springer; 2005. p. 387–404.

9.

Jellema P, van der Windt DA, van der Horst HE, Blankenstein AH, Bouter LM, Stalman WAB. Why is a treatment aimed at psychosocial factors not effective in patients with (sub)acute low back pain? Pain. 2005;118:350–359.

10.

Nicholas MK, Linton SJ, Watson PJ, Main CJ. The early identification and management of psychological risk factors (Yellow Flags) in patients with low back pain: a reappraisal. Phys Ther. 2011;91:737–753.

11.

Sullivan MJL, Feuerstein M, Gatchel R, Linton SJ, Pransky G. Integrating psychosocial and behavioral interventions to achieve optimal rehabilitation outcomes. J Occup Rehabil. 2005;15:457–489.

12.

Franche R-L, Baril R, Shaw W, Nicholas MK, Loisel P. Workplace-based return-to-work interventions: optimizing the role of stakeholders in implementation and research. J Occup Rehabil. 2005;15(4):525–542.

13.

Pransky G, Fassie J-B, Besen E, Blanck P, Ekberg K, Feuerstein M, Munir F. The Hopkinton conference working group on workplace disability prevention. Sustaining work participation across the life course. J Occup Rehabil. 2016;26:465–479.

14.

McCluskey S, Burton AK, Main CJ. The implementation of occupational health guidelines principles for reducing sickness absence due to musculoskeletal disorders. Occup Med. 2006;56:237–242.

15.

Cullen KL, Irvin E, Collie A, Clay F, Gensby U, Jennings PA, et al. Effectiveness of workplace interventions in return-to-work for musculoskeletal, pain-related and mental health conditions: an update of the evidence and messages for practitioners. J Occup Rehabil. 2018;28:1–15.

16.

Aarons GA, Hurlburt M, Horwitz SM. Advancing a conceptual model of evidence-based practice implementation in public service sectors. Adm Policy Mental Health Serv Res. 2011;38:4–23.

17.

Main CJ, Shaw WS, Tetrick LE, Ehrhart MG, Pransky G. Implementation science and employer disability practices: embedding implementation factors in research designs. J Occup Rehabil. 2016;26:448–464.

18.

Pearce G, McGarity A, Nicholas MK, Linton SJ, Peat J. Better outcomes in worker's compensation through very early selective intervention. Paper presented at: 2008 Combined Conference of the Australasian Faculty of Rehabilitation Medicine and the Australasian Faculty of Occupational and Environmental Medicine; Adelaide, Australia; May, 2008.

19.

WorkCover NSW. Improving outcomes: Integrated, active management of workers with soft tissue injury (2008). Work Cover website: www.workcover.nsw.gov.au.

20.

Balderson BHK, Von Korff M. The stepped care approach to chronic back pain. In: Linton SJ, editor. New avenues for the prevention of chronic musculoskeletal pain and disability, vol. 1. Amsterdam: Elsevier; 2002. p. 237–243.

21.

Linton SL, Nicholas MK, MacDonald S. Development of a short form of the Örebro Musculoskeletal Pain Screening Questionnaire. Spine. 2012;36:1891–1895.

22.

Nicholas MK, Costa DSJ, Linton SJ, Main CJ, Shaw W, Pearce G, et al. Predicting return to work in a heterogeneous sample of recently injured workers using the brief ÖMPSQ-SF. J Occup Rehabil. 2018;29:295–302.

23.

Myhre K, Marchand GH, Leivseth G, Keller A, Bautz-Holter E, Sandvik L, et al. The effect of work-focused rehabilitation among patients with neck and back pain: a randomized controlled trial. Spine. 2014;39:1999–2006.

24.

Lovibond PF, Lovibond SH. The structure of negative emotional states: comparison of the Depression Anxiety Stress Scales (DASS) with the Beck Depression and Anxiety Inventories. Behav Res Ther. 1995;33:335–343.

25.

Cleeland CS, Ryan KM. Pain assessment: global use of the Brief Pain Inventory. Ann Acad Med. 1994;23(2):129–138.

26.

Nicholas MK. The pain self-efficacy questionnaire: taking pain into account. Eur J Pain. 2007;11:153–163.

27.

Sullivan MJL, Bishop SR, Pivik J. The pain catastrophizing scale: development and validation. Psychol Assess. 1995;7:524–532.

28.

Treede R-D, Rief W, Barke A, Aziz Q, Bennett MI, Benoliel R, et al. A classification of chronic pain for ICD-11. Pain. 2015;156:1003–1007.

29.

Hochberg Y. A sharper Bonferroni procedure for multiple tests of significance. Biometrika. 1988;75(4):800–802.

30.

Linton SJ, Nicholas MK, Shaw W. Why wait to address high-risk cases of acute low back pain? A comparison of stepped, stratified, and matched care. Pain. 2018;159:2437–2441.

31.

Åsenlöf P, Denison E, Lindberg P. Individually tailored treatment targeting activity, motor behavior, and cognition reduces pain-related disability: a randomized controlled trial in patients with musculoskeletal pain. J Pain. 2005;6(9):588–603.

32.

Campbell M, Fitzpatrick R, Haines A, Kinmonth AL, Sandercock P, Spiegelhalter D, et al. Framework for design and evaluation of complex interventions to improve health. Br Med J. 2000;321:684–686.

33.

Medical Research Council (2009). Developing and evaluating complex interventions: new guidance. www.mrc.ac.uk/complexinterventionsguidance.

34.

van Oostrom SH, van Oostrom W, van Mechelen BT, de Vet HCW, Knol DL, Anema JR. A workplace intervention for sick-listed employees with distress: results of a randomised controlled trial. Occup Environ Med. 2010. https://doi.org/10.1136/oem.2009.050849.

35.

Whitfill T, Haggard R, Bierner SM, Pransky G, Hassett RG, Gatchel RJ. Early intervention options for acute low back pain patients: a randomized clinical trial with one-year follow-up outcomes. J Occup Rehabil. 2010;20:256–263.

36.

Main CJ, Sullivan MJL, Watson PJ, Greasley K. Pain and work: organizational perspectives. In: Main C, Sullivan MJL, Watson P, editors. Pain management: practical applications of the biopsychosocial perspective in clinical and occupational settings. 2nd ed. Edinburgh: Churchill Livingstone; 2008. p. 391–669.

37.

Harbeck RV, Leahy MJ, Hunt HA, Fong C, Welch EM. Employer factors related to workers' compensation claims and disability management. Rehabil Counsel Bull. 1991;34:210–226.

38.

Social Research Centre. The cost of work-related injury and illness for australian employers, workers and the community: 2012–13. Canberra: Safe Work Australia; 2015.
Acknowledgements
This study was supported by a Grant from the NSW Ministry of Health, EML Insurance, and SI-CORP (now icare). We would like to specifically acknowledge the contributions to the study by Karen Munk, Tamara Sprod, Rachel Elmes, Claims managers and staff at EML; Robert Lloyd, Susan Rafty, and Steven Hunt at icare; Michele Murphy and John Roach from NSWHealth, and the CEO's, General Managers, and RTW coordinators at each participating hospital, as well as the Occupational Physicians and Dr Rob Borland, University of Sydney, who provided independent advice. We also thank the injured workers who voluntarily participated, and the helpful feedback on earlier drafts of this manuscript from Glen Pransky, Ian Cameron, Chris Maher, Alex Collie, and Amanda Williams.
Funding
This study was supported by a Grant from the NSW Ministry of Health, EML Insurance, and SI-CORP (now icare). The Grant funding supported only the work performed by the two project managers (Michael Gleeson, and Raphael Z Pinto).
Ethics declarations
Conflict of interest
The authors declare that they have no conflict of interest.
Ethical Approval
The study was approved by the Sydney Local Health District Human Research Ethics Committee at Concord Hospital (17/06/2013), and the Human Research Ethics Committees of each participating hospital. The study was registered prospectively with the Australian and New Zealand Clinical Trials Registry (# ACTRN12613000847718). The system regulator, WorkCover(NSW), also gave its written approval for the protocol employed in the study.
Additional information
We would like to dedicate this paper to the memory of Dr Garry Pearce who played a critical role in the establishment and conduct of the study but died before the paper was completed.
Publisher's Note
Springer Nature remains neutral with regard to jurisdictional claims in published maps and institutional affiliations.
The original version of this article was revised: The typo in the co-author name has been corrected.
About this article
Cite this article
Nicholas, M.K., Costa, D.S.J., Linton, S.J. et al. Implementation of Early Intervention Protocol in Australia for 'High Risk' Injured Workers is Associated with Fewer Lost Work Days Over 2 Years Than Usual (Stepped) Care. J Occup Rehabil 30, 93–104 (2020). https://doi.org/10.1007/s10926-019-09849-y
Keywords
Screening

Psychosocial factors

Workers' compensation

Work injury

Early intervention