Abstract
Purpose General Practitioners (GPs) play an important role in personal injury compensation systems yet system processes have been perceived as burdensome. Objectives were to (1) determine attitudes of Australian GPs on health benefits of return to work (RTW) after injury/illness and (2) identify associations between GP characteristics and agreement with issues surrounding treating compensable patients. Methods Cross-sectional postal survey of 423 Australian GPs to determine agreement with issues associated with compensable patients (including patient advocacy, conflicting opinions between GPs and compensation systems, fitness-for-work certification, and refusal to treat). Results The vast majority of GPs agreed there was a health benefit to early RTW. GPs with 16–20 years' experience had significantly higher odds of agreeing that the certificate of work capacity is the primary method of communication between RTW stakeholders (OR 2.36 [1.13–4.92]) than those with greater experience. 49% of GPs agreed they should be able to refuse to treat compensable patients. Female GPs had significantly lower odds (OR 0.60 [0.40–0.90]) of agreeing with right to refuse than male GPs, as did those from remote or regional practices (OR 0.43 [0.20–0.94]; OR 0.60 [0.39–0.92]) than GPs from urban practices. Conclusions Reducing administrative barriers identified by Australian GPs and improving communication with compensation systems will likely have a positive impact on their refusal to treat compensable patients.
This is a preview of subscription content, log in to check access.
Access options
Buy single article
Instant access to the full article PDF.
US$ 39.95
Price includes VAT for USA
Subscribe to journal
Immediate online access to all issues from 2019. Subscription will auto renew annually.
US$ 99
This is the net price. Taxes to be calculated in checkout.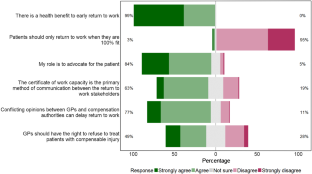 References
1.

Waddell G, Burton K. Is work good for your health and well-being? London: The Stationary Office; 2006.

2.

Johnson D, Fry T. Factors affecting return to work after injury: a study for the Victorian Work Cover Authority. Melbourne: Melbourne Institute of Applied Economic and Social Research; 2002

3.

Bunzli S, Singh N, Mazza D, Collie A, Kosny A, Ruseckaite R, Brijnath B. Fear of (re)injury and return to work following compensable injury: qualitative insights from key stakeholders in Victoria, Australia. BMC Public Health. 2017;17(1):313. https://doi.org/10.1186/s12889-017-4226-7

4.

The Royal Australasian College of Physicians. Australasian faculty of occupational and environmental medicine position statement on realising the health benefits of work. Sydney: The Royal Australasian College of Physicians; 2011

5.

Brijnath B, Mazza D, Kosny A, Bunzli S, Singh N, Ruseckaite R, Collie A. Is clinician refusal to treat an emerging problem in injury compensation systems? BMJ Open. 2016;6(1):e009423. https://doi.org/10.1136/bmjopen-2015-009423

6.

Collie A, Ruseckaite R, Brijnath B, Kosny A, Mazza D. Sickness certification of workers compensation claimants by general practitioners in Victoria, 2003–2010. Med J Aust. 2013;199(7):480–483.

7.

Brijnath B, Mazza D, Singh N, Kosny A, Ruseckaite R, Collie A. Mental health claims management and return to work: qualitative insights from Melbourne, Australia. J Occup Rehabil. 2014;24(4):766–776.

8.

Mazza D, Brijnath B, Singh N, Kosny A, Ruseckaite R, Collie A. General practitioners and sickness certification for injury in Australia. BMC Fam Pract. 2015;16(1):100. https://doi.org/10.1186/s12875-015-0307-9

9.

Swartling MS, Alexanderson KAE, Wahlstrom RA. Barriers to good sickness certification—an interview study with Swedish general practitioners. Scand J Public Health. 2008;36(4):408–414.

10.

Skaner Y, Nilsson GH, Arrelov B, Lindholm C, Hinas E, Wilteus AL, Alexanderson K. Use and usefulness of guidelines for sickness certification: results from a national survey of all general practitioners in Sweden. BMJ Open. 2011;1(2):e000303. https://doi.org/10.1136/bmjopen-2011-000303

11.

Brijnath B, Bunzli S, Xia T, Singh N, Schattner P, Collie A, Sterling M, Mazza D. General practitioners knowledge and management of whiplash associated disorders and post-traumatic stress disorder: implications for patient care. BMC Fam Pract. 2016;17(1):82. https://doi.org/10.1186/s12875-016-0491-2

12.

Buchbinder R, Jolley D, Wyatt M. Population based intervention to change back pain beliefs and disability: three part evaluation. BMJ. 2001;322(7301):1516–1520.

13.

Winde LD, Alexanderson K, Carlsen B, Kjeldgard L, Wilteus AL, Gjesdal S. General practitioners' experiences with sickness certification: a comparison of survey data from Sweden and Norway. BMC Fam Pract. 2012;13(1):10. https://doi.org/10.1186/1471-2296-13-10

14.

Ruseckaite R, Collie A, Scheepers M, Brijnath B, Kosny A, Mazza D. Factors associated with sickness certification of injured workers by General Practitioners in Victoria, Australia. BMC Public Health. 2016;16(1):298. https://doi.org/10.1186/s12889-016-2957-5

15.

Dahrouge S, Seale E, Hogg W, Russell G, Younger J, Muggah E, Ponka D, Mercer J. A Comprehensive assessment of family physician gender and quality of care: a cross-sectional analysis in Ontario, Canada. Med Care. 2016;54(3):277–286.

16.

Kosny A, Brijnath B, Singh N, Allen A, Collie A, Ruseckaite R. Uncomfortable bed fellows: employer perspectives on general practitioners' role in the return-to-work process. Policy Pract Health Saf. 2015;13(1):65–76.

17.

Department of Health. General practice workforce statistics—2013–2014. http://www.health.gov.au/internet/main/publishing.nsf/content/general+practice+statistics-1 (2018). Accessed 2 Nov 2018.

18.

Parkinson A, Jorm L, Douglas K, Gee A, Sargent G, Lujic S. Recruiting general practitioners for surveys: reflections on the difficulties and some lessons learned. Aust J Prim Health. 2015;21(2):254–258.
Acknowledgements
This research did not receive any specific funding.
Ethics declarations
Conflict of interest
The authors declare they have no conflicts of interest.
Additional information
Publisher's Note
Springer Nature remains neutral with regard to jurisdictional claims in published maps and institutional affiliations.
About this article
Cite this article
Gray, S.E., Brijnath, B., Mazza, D. et al. Australian General Practitioners' and Compensable Patients: Factors Affecting Claim Management and Return to Work. J Occup Rehabil 29, 672–678 (2019). https://doi.org/10.1007/s10926-019-09828-3
Keywords
Injury

Return to work

Health services administration

Refusal to treat

Workers' compensation

Traffic accidents