Abstract
Background Return to work with or after a chronic disease is not a very well understood process, influenced by a variety of personal, professional, societal and medical factors. The aim of this study is to identify predictors for return to work 12 months after a solid organ transplant applying a bio-psycho-social model. Methods This study is based on patients included in the Swiss Transplant Cohort Study, a national prospective multicentre cohort, who underwent a first solid organ transplant (kidney, liver, heart, lung). Bio-psycho-social factors were tested and predictors of return to work identified using logistic regression models. Results Among the 636 patients included in the study, 49.8% (317) were employed 12 months post-transplant. The major predictor for returning to work 12 months posttransplant was pre-transplant employment status (OR 10.8). Accordingly, the population was stratified in employed and not employed pre-transplant groups. Age, self-perceived health (6 months post-transplant) and the transplanted organ were significantly associated with post-transplant employment status in both groups. Return to work was influenced by education, depression (6 month post-transplant) and waiting time in the employed pre-transplant group and by invalidity pension in the not employed pre-transplant group. Conclusion Employment status pre-transplant being highly associated with employment status post-transplant, the process promoting return to work should be started well before surgery. Biomedical, psychological and social factors must be taken into account to promote return to work in transplanted patients.
Access options
Buy single article
Instant access to the full article PDF.
US$ 39.95
Tax calculation will be finalised during checkout.
Subscribe to journal
Immediate online access to all issues from 2019. Subscription will auto renew annually.
US$ 79
Tax calculation will be finalised during checkout.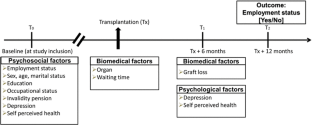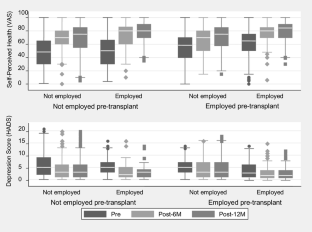 References
1.

Huda A, Newcomer R, Harrington C, Keeffe EB, Esquivel CO. Employment after liver transplantation: a review. Transplant Proc. 2015;47(2):233–239.

2.

Tumin D, Kirkby SE, Tobias JD, Hayes D. Attained functional status moderates survival outcomes of return to work after lung transplantation. Lung 2016;194(3):437–445.

3.

White-Williams C, Jalowiec A, Grady K. Who returns to work after heart transplantation? J Heart Lung Transplant. 2005;24(12):2255–2261.

4.

Kugler C, Gottlieb J, Warnecke G, Schwarz A, Weissenborn K, Barg-Hock H, et al. Health-related quality of life after solid organ transplantation: a prospective, multiorgan cohort study. Transplantation 2013;96(3):316–323

5.

Reimer J, Franke GH, Lütkes P, Kohnle M, Gerken G, Philipp T, et al. Quality of life in patients before and after kidney transplantation. Psychother Psychosom Med Psychol. 2002;52(1):16–23.

6.

Hunt CM, Tart JS, Dowdy E, Bute BP, Williams DM, Clavien PA. Effect of orthotopic liver transplantation on employment and health status. Liver Transplant Surg. 1996;2(2):148–153.

7.

Petrucci L, Ricotti S, Michelini I, Vitulo P, Oggionni T, Cascina A, et al. Return to work after thoracic organ transplantation in a clinically-stable population. Eur J Heart Fail. 2007;9(11):1112–1119.

8.

Nour N, Heck CS, Ross H. Factors related to participation in paid work after organ transplantation: perceptions of kidney transplant recipients. J Occup Rehabil. 2015;25(1):38–51.

9.

White-Williams C, Wang E, Rybarczyk B, Grady KL. Factors associated with work status at 5 and 10 years after heart transplantation. Clin Transplant. 2011;25(6):E599–E605.

10.

Botsford AL. Review of literature on heart transplant recipients' return to work: predictors and outcomes. Soc Work Health Care. 1995;21(2):19–39.

11.

Messias AA, Reichelt AJ, Dos Santos EF, Albuquerque GC, Kramer JSP, Hirakata VN, et al. Return to work after renal transplantation: a study of the Brazilian Public Social Security System. Transplantation 2014;98(11):1199–1204.

12.

Eppenberger L, Hirt-Minkowski P, Dickenmann M. Back to work? Socioeconomic status after kidney transplantation. Swiss Med Wkly. 2015;145:w14169. https://doi.org/10.4414/smw.2015.14169

13.

Åberg F. From prolonging life to prolonging working life: tackling unemployment among liver-transplant recipients. World J Gastroenterol. 2016;22(14):3701–3711

14.

Engel GL. The need for a new medical model: a challenge for biomedicine. Science 1977;196(4286):129–136.

15.

Åberg F, Rissanen AM, Sintonen H, Roine RP, Höckerstedt K, Isoniemi H. Health-related quality of life and employment status of liver transplant patients. Liver Transplant. 2009;15(1):64–72.

16.

Kristen AV, Ammon K, Koch A, Dösch AO, Erbel C, Celik S, et al. Return to work after heart transplantation: discrepancy with subjective work ability. Transplantation 2009;87(7):1001–1005.

17.

Saab S, Wiese C, Ibrahim AB, Peralta L, Durazo F, Han S, et al. Employment and quality of life in liver transplant recipients. Liver Transplant. 2007;13(9):1330–1338.

18.

Sangalli V, Dukes J, Doppalapudi SB, Costa G, Neri L. Work ability and labor supply after kidney transplantation. Am J Nephrol. 2014;40(4):353–361.

19.

Matas AJ, Lawson W, McHugh L, Gillingham K, Payne WD, Dunn DL, et al. Employment patterns after successful kidney transplantation. Transplantation 1996;61(5):729–733.

20.

Schulz K-H, Kroencke S. Psychosocial challenges before and after organ transplantation. Transplant Res Risk Manage. 2015;7:45–58. https://doi.org/10.2147/TRRM.S53107.

21.

Praz-Christinaz S-M, Pascual M, Pilon N, Simcox A, Wild P, Danuser B. Factors influencing the return to work after transplantation in 61 renal or liver recipient. Rev Med Suisse. 2014;10(431):1148–1152.

22.

Koller MT, van Delden C, Müller NJ, Baumann P, Lovis C, Marti H-P, et al. Design and methodology of the Swiss Transplant Cohort Study (STCS): a comprehensive prospective nationwide long-term follow-up cohort. Eur J Epidemiol. 2013;28(4):347–355.

23.

Zigmond AS, Snaith RP. The hospital anxiety and depression scale. Acta Psychiatr Scand. 1983;67(6):361–370.

24.

Oulevey BA, Wild P, Von Rotz U, Danuser B, Morin D. The "sandwich generation" in Switzerland: a better understanding of factors linked with perceived health for health promotion. Rech Soins Infirm. 2013;(115):68–84. https://doi.org/10.3917/rsi.115.0068.

25.

De Baere C, Delva D, Kloeck A, Remans K, Vanrenterghem Y, Verleden G, et al. Return to work and social participation: does type of organ transplantation matter? Transplantation 2010;89(8):1009–1015.

26.

Raiz L, Monroe J. Employment post-transplant: a biopsychosocial analysis. Soc Work Health Care. 2007;45(3):19–37.

27.

Danuser B, Simcox A, Studer R, Koller M, Wild P, Psychosocial Interest Group, Swiss Transplant Cohort Study. Employment 12 months after kidney transplantation: an in-depth bio-psycho-social analysis of the Swiss Transplant Cohort. PLoS ONE. 2017;12(4):e0175161. https://doi.org/10.1371/journal.pone.0175161

28.

Fusar-Poli P, Martinelli V, Klersy C, Campana C, Callegari A, Barale F, et al. Depression and quality of life in patients living 10 to 18 years beyond heart transplantation. J Heart Lung Transplant. 2005;24(12):2269–2278.

29.

Tzvetanov I, D'Amico G, Walczak D, Jeon H, Garcia-Roca R, Oberholzer J, et al. High rate of unemployment after kidney transplantation: analysis of the United network for organ sharing database. Transplant Proc. 2014;46(5):1290–1294.

30.

Gorevski E, Succop P, Sachdeva J, Scott R, Benjey J, Varughese G, et al. Factors influencing posttransplantation employment: does depression have an impact? Transplant Proc. 2011;43(10):3835–3839.

31.

Newton SE. Relationship between depression and work outcomes following liver transplantation: the nursing perspective. Gastroenterol Nurs. 2003;26(2):68–72.
Funding
This study was funded by Schweizerischer Nationalfonds zur Förderung der Wissenschaftlichen Forschung (CH), Grant Number PDFMP3_137125/1.
Ethics declarations
Conflict of interest
The authors declare that they have no conflict of interest.
Ethical Approval
All procedures performed in studies involving human participants were in accordance with the ethical standards of the institutional and/or national research committee and with the 1964 Helsinki declaration and its later amendments or comparable ethical standards.
Informed Consent
Informed consent was obtained from all individual participants included in the study.
About this article
Cite this article
Vieux, L., Simcox, A.A., Mediouni, Z. et al. Predictors of Return to Work 12 Months After Solid Organ Transplantation: Results from the Swiss Transplant Cohort Study. J Occup Rehabil 29, 462–471 (2019). https://doi.org/10.1007/s10926-018-9804-8
Keywords
Employment status

Organ transplantation

Pre-transplant

Post-transplant

Return to work