Abstract
Purpose The Work Rehabilitation Questionnaire (WORQ) is a patient-reported instrument to assess work related functioning in vocational rehabilitation (VR) and work, based on the International Classification of Functioning, Disability and Health (ICF) core set for VR. The objective of this study was to cross-culturally adapt WORQ to French and to evaluate its psychometric properties. Methods The cross-cultural adaptation followed a dual-panel approach. Psychometrics was examined in one VR-centre in the French speaking part of Switzerland. Test–retest reliability was analyzed with intraclass correlation coefficient (ICC), internal consistency was assessed with Cronbach's alpha. Construct validity was determined by convergence to the self-reported general functioning scale and the Hospital Anxiety and Depression Scales (HADS). The association of patient's return-to-work expectation within 6-months and having a case manager was examined. The usability of WORQ-French was tested in 10 VR patients. Results Eighty-nine patients with musculoskeletal injuries were included. WORQ-French showed excellent internal consistency (0.968) and a high test–retest reliability (0.935). WORQ-French was positively associated with self-reported general functioning (r = 0.662) and both HADS scales (r = 0.56–0.57). Neither the patient's return-to-work expectation nor having a case manager were significantly correlated with WORQ-French. Usability in terms of understandability of questions and response options was found to be good. Seven patients rated the length of WORQ-French as good, while two found the instrument a little too long and one found it too long. Conclusions WORQ French is a valid, reliable, and easy to administer instrument to assess self-reported work functioning given our study setting and sample characteristics.
Access options
Buy single article
Instant access to the full article PDF.
US$ 39.95
Tax calculation will be finalised during checkout.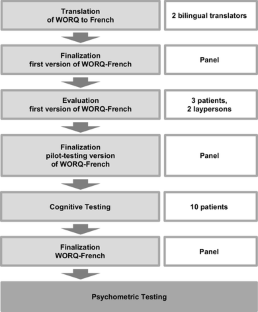 References
1.

International Labour Organization, editor. ILO vocational rehabilitation and employment (disabled persons) convention (no. 159) and recommendation (no. 168): United Nations convention on the rights of persons with disabilities. Geneva: ILO; 2008.

2.

Seing I, MacEachen E, Stahl C, Ekberg K. Early-return-to-work in the context of an intensification of working life and changing employment relationships. J Occup Rehabil. 2015;25(1):74–85.

3.

Marzolini S, Oh PI, Alter D, Stewart DE, Grace SL. Musculoskeletal comorbidities in cardiac patients: prevalence, predictors, and health services utilization. Arch Phys Med Rehabil. 2012;93(5):856–862.

4.

Ervasti J, Vahtera J, Pentti J, Oksanen T, Ahola K, Kivekas T, et al. The role of psychiatric, cardiometabolic, and musculoskeletal comorbidity in the recurrence of depression-related work disability. Depress Anxiety. 2014;31(9):796–803.

5.

Finger ME, Glassel A, Erhart P, Gradinger F, Klipstein A, Rivier G, et al. Identification of relevant ICF categories in vocational rehabilitation: a cross sectional study evaluating the clinical perspective. J Occup Rehabil. 2011;21(2):156–166.

6.

Schmidt C, Bernert S, Spyra K. [Concerning the impact of psychological comorbidity for chronic back pain: frequency, reduced earning capacity pension and rehabilitation aftercare in the course of the rehabilitation cohorts 2002–2009]. Rehabilitation (Stuttg). 2014;53(6):384–389.

7.

Catalina-Romero C, Ruilope LM, Sanchez-Chaparro MA, Valdivielso P, Cabrera-Sierra M, Fernandez-Labandera C, et al. Factors influencing return-to-work after cerebrovascular disease: the importance of previous cardiovascular risk. Eur J Prev Cardiol. 2015;22(9):1220–1227.

8.

Hasselhorn MH. Work ability—concept and assessment. In: Weber VM, Warr N, editors. Achieving business excellence—health, well-being and performance. Bielefeld: Bertelsmann Stiftung, BKK Bundesverband; 2008.

9.

Power P. A guide to vocational assessment. 5 ed. Austin: Pro-Ed; 2013.

10.

Breeding RR. The utility of proactive vocational assessment in advancing consumer empowerment. Vocat Eval Career Assess Prof J. 2005;2(2):39–56.

11.

Homa D, DeLambo D. Vocational assessment and job placement: chapter 8. In: Escorpizo R, Brage S, Homa D, Stucki G, editors. Handbook of vocational rehabilitation and disability evaluation. New York: Springer; 2015. pp. 161–187.

12.

World Health Organization (WHO). International classification of functioning, disability and health. Geneva: WHO; 2001.

13.

Saltychev M, Kinnunen A, Laimi K. Vocational rehabilitation evaluation and the international classification of functioning, disability, and health (ICF). J Occup Rehabil. 2013;23(1):106–114.

14.

Finger ME, Escorpizo R, Glassel A, Gmunder HP, Luckenkemper M, Chan C, et al. ICF core set for vocational rehabilitation: results of an international consensus conference. Disabil Rehabil. 2012;34(5):429–438.

15.

Finger ME, Escorpizo R, Bostan C, De Bie R. Work Rehabilitation Questionnaire (WORQ): development and preliminary psychometric evidence of an ICF-based questionnaire for vocational rehabilitation. J Occup Rehabil. 2014;24(3):498–510.

16.

Finger ME, Selb M, De Bie R, Escorpizo R. Using the international classification of functioning, disability and health in physiotherapy in multidisciplinary vocational rehabilitation: a case study of low back pain. Physiother Res Int. 2015;20(4):231–241.

17.

Portmann Bergamaschi R, Escorpizo R, Staubli S, Finger ME. Content validity of the work rehabilitation questionnaire-self-report version WORQ-SELF in a subgroup of spinal cord injury patients. Spinal Cord. 2014;52(3):225–230.

18.

Swiss Federal Statistical Office. Languages declared as main languages, 2015. https://www.bfs.admin.ch/bfs/en/home/statistics/population.assetdetail.2260545.html. Accessed 21 Nov 2017.

19.

Beaton DE, Bombardier C, Guillemin F, Ferraz MB. Guidelines for the process of cross-cultural adaptation of self-report measures. Spine (Phila Pa 1976). 2000;25(24):3186–3191.

20.

Hagell P, Hedin PJ, Meads DM, Nyberg L, McKenna SP. Effects of method of translation of patient-reported health outcome questionnaires: a randomized study of the translation of the rheumatoid arthritis quality of life (RAQoL) instrument for Sweden. Value Health. 2010;13(4):424–430.

21.

World Health Organization (WHO). WHODAS-II—disability assessment schedule training manual: a guide to administration. Geneva: WHO; 2004.

22.

O'Connor J, McCaughan D, McDaid C, Booth A, Fayter D, Rodriguez-Lopez R, et al. Orthotic management of instability of the knee related to neuromuscular and central nervous system disorders: systematic review, qualitative study, survey and costing analysis. Health Technol Assess. 2016;20(55):1–262.

23.

Glassel A, Finger ME, Cieza A, Treitler C, Coenen M, Escorpizo R. Vocational rehabilitation from the client's perspective using the international classification of functioning, disability and health (ICF) as a reference. J Occup Rehabil. 2011;21(2):167–178.

24.

Haasper C, Junge M, Ernstberger A, Brehme H, Hannawald L, Langer C, et al. [The Abbreviated Injury Scale (AIS). Options and problems in application]. Unfallchirurg. 2010;113(5):366–372.

25.

Iakova M, Ballabeni P, Erhart P, Seichert N, Luthi F, Deriaz O. Self perceptions as predictors for return to work 2 years after rehabilitation in orthopedic trauma inpatients. J Occup Rehabil. 2012;22(4):532–540.

26.

Rashid M, Kristofferzon ML, Nilsson A, Heiden M. Factors associated with return to work among people on work absence due to long-term neck or back pain: a narrative systematic review. BMJ Open. 2017;7(6):e014939.

27.

Steenstra IA, Munhall C, Irvin E, Oranye N, Passmore S, Van Eerd D, et al. Systematic review of prognostic factors for return to work in workers with sub acute and chronic low back pain. J Occup Rehabil. 2017;27(3):369–381.

28.

Opsahl J, Eriksen HR, Tveito TH. Do expectancies of return to work and Job satisfaction predict actual return to work in workers with long lasting LBP? BMC Musculoskelet Disord. 2016;17(1):481. https://doi.org/10.1186/s12891-016-1314-2.

29.

O'Donnell ML, Varker T, Holmes AC, Ellen S, Wade D, Creamer M, et al. Disability after injury: the cumulative burden of physical and mental health. J Clin Psychiatry. 2013;74(2):e137–e143.

30.

Carriere JS, Thibault P, Sullivan MJ. The mediating role of recovery expectancies on the relation between depression and return-to-work. J Occup Rehabil. 2015;25(2):348–356.

31.

Ferdiana A, Post MW, Finger M, Bultmann U, Escorpizo R. Assessment of health-related quality of life of clients in vocational rehabilitation: association with depressive symptoms and type of services. Eur J Phys Rehabil Med. 2014;50(3):343–353.

32.

Zigmond AS, Snaith RP. The hospital anxiety and depression scale. Acta Psychiatr Scand. 1983;67(6):361–370.

33.

Koo TK, Li MY. A guideline of selecting and reporting intraclass correlation coefficients for reliability research. J Chiropr Med. 2016;15(2):155–163.

34.

Weir JP. Quantifying test-retest reliability using the intraclass correlation coefficient and the SEM. J Strength Cond Res. 2005;19(1):231–240.

35.

Terwee CB, Bot SD, de Boer MR, van der Windt DA, Knol DL, Dekker J, et al. Quality criteria were proposed for measurement properties of health status questionnaires. J Clin Epidemiol. 2007;60(1):34–42.

36.

Brown JD. Standard error vs. Standard error off measurement. JALT Testing & Evaluation SIG Newsletter [Internet]. 1999;3(1). http://hosted.jalt.org/test/PDF/Brown4.pdf. Accessed 14 Dec 2017.

37.

Tighe J, McManus IC, Dewhurst NG, Chis L, Mucklow J. The standard error of measurement is a more appropriate measure of quality for postgraduate medical assessments than is reliability: an analysis of MRCP(UK) examinations. BMC Med Educ. 2010;10(1):40. https://doi.org/10.1186/1472-6920-10-40.

38.

Donoghue D, Stokes EK. How much change is true change? The minimum detectable change of the Berg Balance Scale in elderly people. J Rehabil Med. 2009;41(5):343–346.

39.

Field A. Exploring assumptions. In: Field A, editor. Discovering statistics using SPSS. 3 ed. London: SAGE; 2009. pp. 131–196.

40.

George D, Mallery P. Bivariate correlation. In: George D, Mallery P, editors. SPSS for windows 23 step by step: a simple guide and reference. 14 ed. New York: Taylor & Francis; 2016. pp. 139–148.

41.

RStudio (2015). RT. RStudio: Integrated development environment for R. RStudio, Inc. Boston, MA. http://www.rstudio.com/. Accessed 15 Oct 2016.

42.

Stekhoven DJ, Bühlmann P. MissForest—non-parametric missing value imputation for mixed-type data. Bioinformatics. 2012;28(1):112–118.

43.

IBM SPSS Statistics for Windows. 24.0 ed: IBM; 2016.

44.

Epstein J, Osborne RH, Elsworth GR, Beaton DE, Guillemin F. Cross-cultural adaptation of the Health Education Impact Questionnaire: experimental study showed expert committee, not back-translation, added value. J Clin Epidemiol. 2015;68(4):360–369.

45.

Harkness J, Bilgen I, Córdova Cazar A, Hu M, Huang L, Lee S, et al. Questionnaire design. Guidelines for best practice in cross-cultural surveys. http://www.ccsg.isr.umich.edu/. Accessed 15 Sept 2016.

46.

Boot CR, Hogg-Johnson S, Bultmann U, Amick BC 3rd, van der Beek AJ. Differences in predictors for return to work following musculoskeletal injury between workers with and without somatic comorbidities. Int Arch Occup Environ Health. 2014;87(8):871–879.

47.

Cieza A, Geyh S, Chatterji S, Kostanjsek N, Ustun BT, Stucki G. Identification of candidate categories of the international classification of functioning disability and health (ICF) for a generic ICF core set based on regression modelling. BMC Med Res Methodol. 2006;6(1):36. https://doi.org/10.1186/1471-2288-6-36.

48.

Voutilainen A, Pitkaaho T, Kvist T, Vehvilainen-Julkunen K. How to ask about patient satisfaction? The visual analogue scale is less vulnerable to confounding factors and ceiling effect than a symmetric Likert scale. J Adv Nurs. 2016;72(4):946–957.

49.

Rausch M, Zehetleitner M. A comparison between a visual analogue scale and a four point scale as measures of conscious experience of motion. Conscious Cogn. 2014;28:126–140.

50.

Martins PC, Couto TE, Gama AC. Auditory-perceptual evaluation of the degree of vocal deviation: correlation between the Visual Analogue Scale and Numerical Scale. Codas. 2015;27(3):279–284.

51.

Hjermstad MJ, Fayers PM, Haugen DF, Caraceni A, Hanks GW, Loge JH, et al. Studies comparing Numerical Rating Scales, Verbal Rating Scales, and Visual Analogue Scales for assessment of pain intensity in adults: a systematic literature review. J Pain Symptom Manag. 2011;41(6):1073–1093.

52.

van Kampen DA, Willems WJ, van Beers LW, Castelein RM, Scholtes VA, Terwee CB. Determination and comparison of the smallest detectable change (SDC) and the minimal important change (MIC) of four-shoulder patient-reported outcome measures (PROMs). J Orthop Surg Res. 2013;8(1):40. https://doi.org/10.1186/1749-799X-8-40.

53.

Jakobsen K, Lillefjell M. Factors promoting a successful return to work: from an employer and employee perspective. Scand J Occup Ther. 2014;21(1):48–57.

54.

Proper KI, van den Heuvel SG, De Vroome EM, Hildebrandt VH, Van der Beek AJ. Dose-response relation between physical activity and sick leave. Br J Sports Med. 2006;40(2):173–178.

55.

Huijnen IP, Verbunt JA, Peters ML, Seelen HA. Is physical functioning influenced by activity-related pain prediction and fear of movement in patients with subacute low back pain? Eur J Pain. 2010;14(6):661–666.

56.

Wand BM, Chiffelle LA, O'Connell NE, McAuley JH, Desouza LH. Self-reported assessment of disability and performance-based assessment of disability are influenced by different patient characteristics in acute low back pain. Eur Spine J. 2010;19(4):633–640.

57.

Tankumpuan T, Utriyaprasit K, Chayaput P, Itthimathin P. Predictors of physical functioning in postoperative brain tumor patients. J Neurosci Nurs. 2015;47(1):E11–E21.

58.

Rasmussen MU, Amris K, Rydahl-Hansen S, Danneskiold-Samsoe B, Mortensen EL, Christensen R, et al. Are the changes in observed functioning after multi-disciplinary rehabilitation of patients with fibromyalgia associated with changes in pain self-efficacy? Disabil Rehabil. 2017;39(17):1744–1752.

59.

Giovannetti AM, Schiavolin S, Brenna G, Brambilla L, Confalonieri P, Cortese F, et al. Cognitive function alone is a poor predictor of health-related quality of life in employed patients with MS: results from a cross-sectional study. Clin Neuropsychol. 2016;30(2):201–215.

60.

Sun Y, Shigaki CL, Armer JM. Return to work among breast cancer survivors: a literature review. Support Care Cancer. 2017;25(3):709–718.

61.

Bush EJ, Hux K, Guetterman TC, McKelvey M. The diverse vocational experiences of five individuals returning to work after severe brain injury: a qualitative inquiry. Brain Inj. 2016;30(4):1–15.

62.

Waszkowska M, Szymczak W. Return to work after myocardial infarction: a retrospective study. Int J Occup Med Environ Health. 2009;22(4):373–381.

63.

Nieuwenhuijsen K, Cornelius LR, de Boer MR, Groothoff JW, Frings-Dresen MHW, van der Klink JJL, et al. Predicting improvement of functioning in disability claimants. J Occup Rehabil. 2014;24(3):410–418.

64.

de Vries G, Koeter MW, Nieuwenhuijsen K, Hees HL, Schene AH. Predictors of impaired work functioning in employees with major depression in remission. J Affect Disord. 2015;185:180–187.

65.

Cancelliere C, Kristman VL, Cassidy JD, Hincapie CA, Cote P, Boyle E, et al. Systematic review of return to work after mild traumatic brain injury: results of the international collaboration on mild traumatic brain injury prognosis. Arch Phys Med Rehabil. 2014;95(3 Suppl):S201–S209.

66.

Kuijer PP, Gouttebarge V, Wind H, van Duivenbooden C, Sluiter JK, Frings-Dresen MH. Prognostic value of self-reported work ability and performance-based lifting tests for sustainable return to work among construction workers. Scand J Work Environ Health. 2012;38(6):600–603.

67.

Levesque JF, Haggerty J, Beninguisse G, Burge F, Gass D, Beaulieu MD, et al. Mapping the coverage of attributes in validated instruments that evaluate primary healthcare from the patient perspective. BMC Fam Pract. 2012;13(1):20. https://doi.org/10.1186/1471-2296-13-20.

68.

Howell D, Liu G. Can routine collection of patient reported outcome data actually improve person-centered health? Healthc Pap. 2011;11(4):42–47 (discussion 55–48).

69.

Gagnier JJ. Patient reported outcomes in orthopaedics. J Orthop Res. 2017;35(10):2098–2108.
Acknowledgements
The authors would like to thank Olivier Dériaz, Dominique Monnin and Carolina Fellinghauer for their help with the cross-cultural adaptation. We would also like to thank Wolfgang Segerer for providing technical consultation and Christina Ehrmann for statistical support. This project was funded by a research grant from the Swiss Accident Insurance Company (suva).
About this article
Cite this article
Finger, M.E., Wicki-Roten, V., Leger, B. et al. Cross-Cultural Adaptation of the Work Rehabilitation Questionnaire (WORQ) to French: A Valid and Reliable Instrument to Assess Work Functioning. J Occup Rehabil 29, 350–360 (2019). https://doi.org/10.1007/s10926-018-9795-5
Keywords
Vocational rehabilitation

Work

WORQ

Functioning

ICF

Psychometrics