Abstract
Purpose To explore how burnout rehabilitation clients experienced their recovery from burnout and what they found beneficial in rehabilitation. Subjects Twelve clients whose burnout levels had declined during rehabilitation were interviewed at the end of the second period of the rehabilitation course. Methods Semi-structured interviews comprised the main material of the study and were analysed by content analysis. In addition, the Bergen Burnout Indicator (BBI-15) was used to measure the reduction in burnout levels. Results The analysis yielded a single overarching theme, My well-being in my own hands, and four categories. The overarching theme describes the overall process of recovery and the revelation experienced by clients that they are in charge of their own well-being. The process starts with Support from rehabilitation professionals, the client group and family or friends. The categories Awareness and Approval refer to specific changes in the attitude towards and recognition of one's needs and limits. The category Regained joy describes the culmination of the recovery process manifested in different spheres of life. Conclusions The rehabilitation course proved particularly beneficial for individuals suffering from burnout. The accumulation of support, awareness and approval led to a revival of joy in life and greater perceived control over one's well-being.
Access options
Buy single article
Instant access to the full article PDF.
USD 39.95
Price excludes VAT (USA)
Tax calculation will be finalised during checkout.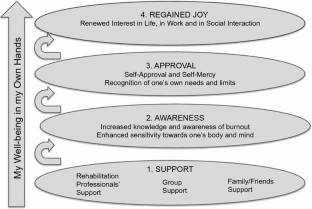 References
Maslach C, Jackson S, Leiter M. Maslach burnout inventory. 3rd ed. Palo Alto, CA: Consulting Psychologist Press; 1996.

Schaufeli WB, Enzmann D. The burnout companion to study and practice: a critical analysis. Washington, DC: Taylor & Francis; 1998.

Awa WL, Plaumann M, Walter U. Burnout prevention: a review of intervention programs. Patient Educ Couns. 2010;78:184–90.

Le Blanc PM, Schaufeli WB. Burnout interventions: an overview and illustration. In: Halbesleben JRB, editor. Handbook of stress and burnout in health care. Hauppauge: Nova Science Publishers; 2008. p. 201–15.

Stenlund T, Birgander LS, Lindahl B, Nilsson L, Ahlgren C. Effect of Qigong in patients with burnout: a randomized controlled trial. J Rehabil Med. 2009;41:761–7.

Hätinen M, Kinnunen U, Mäkikangas A, Kalimo R, Tolvanen A, Pekkonen M. Burnout during a long-term rehabilitation: comparing low burnout, high burnout–benefited, and high burnout–not benefited trajectories. Anxiety Stress Coping. 2009;22(3):341–60.

Hätinen M, Kinnunen U, Pekkonen M, Kalimo R. Comparing two burnout interventions: perceived job control mediates decreases in burnout. Int J Stress Manag. 2007;14:227–48.

Hätinen M, Mäkikangas A, Kinnunen U, Pekkonen M. Recovery from burnout during a one-year rehabilitation intervention with six-month follow-up: associations with coping strategies. Int J Stress Manag. 2013;20(4):364–90.

Lloyd J, Bond FW, Flaxman PE. The value of psychological flexibility: examining psychological mechanisms underpinning a cognitive behavioural therapy intervention for burnout. Work Stress. 2013;27:181–99.

Le Blanc PM, Hox JJ, Schaufeli WB, Taris TW, Peeters MCW. Take care! The evaluation of a team-based burnout intervention program for oncology care providers. J Appl Psychol. 2007;92:213–27.

Bernier D. A study of coping: successful recovery from severe burnout and other reactions to severe work-related stress. Work Stress An Int J Work Health Organ. 1998;12(1):50–65.

Fjellman-Wiklund A, Stenlund T, Steinholtz K, Ahlgren C. Take charge: patients' experiences during participation in a rehabilitation programme for burnout. J Rehabil Med. 2010;42:475–81.

Näätänen P, Aro A, Matthiesen SB, Salmela-Aro K. Bergen burnout indicator. 15th ed. Helsinki: Edita; 2003.

Janis IL. Groupthink. Psychol Today. 1971;5(6):43–6.

Denzin N. The research act in sociology: a theoretical introduction to sociological methods. London: Butterworth & Co; 1970.

Denzin N. The research act: a theoretical introduction to sociological methods. 3rd ed. New York, NY: Prentice Hall; 1989.

Mitchell ES. Multiple triangulation: a methodology for nursing science. Adv Nurs Sci. 1986;8:18–26.

Krippendorff K. Content analysis: an introduction to its methodology. 3rd ed. Thousands Oaks, CA: Sage Publications, Inc.; 2012.

Bremander A, Bergman S, Arvidsson B. Perception of multimodal cognitive treatment for people with chronic widespread pain: changing one's life plan. Disabil Rehabil. 2009;31(24):1996–2004.

Bullington J, Nordemar R, Nordemar K, Sjöström-Flanagan C. Meaning out of chaos: a way to understand chronic pain. Scand J Caring Sci. 2003;17:325–31.

Bandura A. Exercise of human agency through collective efficacy. Curr Dir Psychol Sci. 2000;9(3):75–8.

Järvikoski A, Martin M, Autti-Rämö I, Härkäpää K. Shared agency and collaboration between the family and professionals in medical rehabilitation of children with severe disabilities. Int J Rehabil Res. 2013;36:30–7.

Eriksson T, Karlström E, Jonsson H, Tham K. An exploratory study of the rehabilitation process of people with stress-related disorders. Scand J Occup Therapy. 2010;17:29–39.

Ahlberg K, Nordner A. The importance of participation in support groups for women with ovarian cancer. Oncol Nurs Forum. 2006;33(4):53–61.

Hållstam A, Stålnacke BM, Svensen C, Löfgren M. "Change is possible": patients´ experience of a multimodal chronic pain rehabilitation programme. J Rehabil Med. 2015;47:242–8.
Acknowledgments
The study was funded by Grants from the Academy of Finland (No. 258882) and the JYPE foundation awarded to Anne Mäkikangas.
Conflict of interest
Stela Salminen, Anne Mäkikangas, Marja Hätinen, Ulla Kinnunen and Mika Pekkonen declare that they have no conflict of interest.
About this article
Cite this article
Salminen, S., Mäkikangas, A., Hätinen, M. et al. My Well-Being in My Own Hands: Experiences of Beneficial Recovery During Burnout Rehabilitation. J Occup Rehabil 25, 733–741 (2015). https://doi.org/10.1007/s10926-015-9581-6
Published:

Issue Date:

DOI: https://doi.org/10.1007/s10926-015-9581-6
Keywords
Interview

Qualitative research

Content analysis

Occupational health

Change