Abstract
Introduction Many injuries experienced by soldiers can be attributed to the occupational loads they are required to carry. Purpose The aim of this study was to determine whether contemporary military load carriage is a source of injuries to Australian Regular Army soldiers and to profile these injuries. Methods The Australian Defence Force 'Occupational Health, Safety and Compensation Analysis and Reporting' database was searched to identify all reported injuries sustained during load carriage events. Key search terms were employed and narrative description fields were interrogated to increase data accuracy. Results A total of 1,954 injury records were extracted from the database. Of these, 404 injuries were attributed to load carriage. The majority of these load carriage injuries involved either the lower limb or back, with bones and joints accounting for the most frequently reported body structures to be injured. Field activities were the leading activities being performed at the time that load carriage injuries occurred, and muscular stress was identified as the mechanism of injury for over half of reported load carriage injuries. Conclusion This study suggests that load carriage is a substantial source of injury risk to Australian Army soldiers. Physical training may fail to adequately prepare soldiers for load carriage tasks during field training exercises.
Access options
Buy single article
Instant access to the full article PDF.
USD 39.95
Price excludes VAT (USA)
Tax calculation will be finalised during checkout.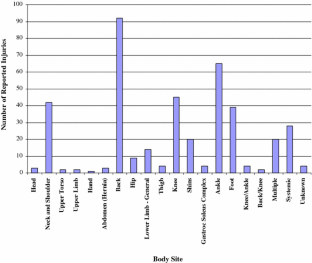 References
Orr R. The history of the soldier's load. Aust Army J. 2010;VII(2):67–88.

Knapik JJ, Reynolds KL, Harman E. Soldier load carriage: historical, physiological, biomechanical, and medical aspects. Mil Med. 2004;169(1):45–56.

Meakin JR, Smith FW, Gilbert FJ, Aspden RM. The effect of axial load on the sagittal plane curvature of the upright human spine in vivo. J Biomech. 2008;41(13):2850–4.

Harman E, Han K-H, Frykman PN. Load-speed interaction effects on the biomechanics of backpack load carriage. In: RTO meeting proceedings 56: soldier mobility: innovations in load carriage system design and evaluation; Kingston, Canada: Research and Technology Organisation/North Atlantic Treaty Organization; 2000.

Wright A. Smart vests take pressure off troops. Natl Def. 2009;94(672):19.

Orr RM, Pope R, Johnston V, Coyle J. Load carriage and its force impact. Aust Def Forc J J Aust Prof Arms. 2011;185:52–63.

Butler NL. Injury prevention as a combat multiplier. Carlisle Barracks, PA: U.S. Army War College; 2008.

Lee JWI. A greek army on the march: soldiers and survival in xenophon's anabasis. New York: Cambridge University Press; 2007.

Lothian NV. The load carried by the soldier. J R Army Med Corps. 1921;38:9–24, 241–63, 342–51, 448–58.

Mayville WC. A soldier's load. Infantry. 1987;87:25–28.

Department of Defence. Incidence Capture. Department of Defence (AUST). 2011. 31 Jan 2011. http://www.defence.gov.au/dpe/ohsc/Incidents/default.htm#guidance.

Australian Safety and Compensation Council. Type of Occurence Classification System: Australian Safety and Compensation Council, Canberra; 2008.

Khosa R. Australian Defence Almanac 2010–2011: Australian Strategic Policy Institute; 2010.

Knapik JJ, Reynolds KL, Staab J, Vogel JA, Jones B. Injuries associated with strenuous road marching. Mil Med. 1992;157(2):64–7.

Reynolds KL, White J, Knapik JJ, Witt C, Amoroso P. Injuries and risk factors in a 100-mile (161-km) infantry road march. Prev Med. 1999;28(2):167–73.

Jennings BM, Yoder LH, Heiner SL, Loan LA, Bingham MO. Soldiers with musculoskeletal injuries. J Nurs Scholarsh. 2008;40(3):268–74.

O'Connor F. Injuries during Marine Corps officer basic training. Mil Med. 2000;165(7):515–20.

Defence Health Services Branch. ADF Health Status. Defence Health Services Branch: Department of Defence. 2000.

Lobb B. Load carriage for fun: a survey of New Zealand trampers, their activities and injuries. Appl Ergon. 2004;35(6):541–7.

Attwells R, Birrell SA, Hooper RH, Mansfield NJ. Influence of carrying heavy loads on soldier's posture, movements and gait. Ergonomics. 2006;49(14):1527–37.

Knapik JJ, Reynolds KL, Duplantis KL, Jones B. Friction blisters: pathophysiology, prevention and treatment. Sports Med. 1995;20(3):136–47.

Knapik JJ, Reynolds K, Barson J. Influence of an antiperspirant on foot blister incidence during cross-country hiking. J Am Acad Dermatol. 1998;39(2):202–6.

Rudzki SJ. Lessons learnt from a heat stroke death: 704: May 28 9: 30 AM-9: 45 AM. Med Sci Sports Exerc. 2009;41(5):56.

Carter R III, Cheuvront SN, Williams JO, Kolka MA, Stephenson LA, Sawka MN, et al. Epidemiology of hospitalizations and deaths from heat illness in soldiers. Med Sci Sports Exerc. 2005;37(8):1338.

Goldman RF. Introduction to heat-related problems in military operations, in. Medical Aspects of Harsh Environments Volume 1: Office of the Surgeon General, United States Army; 2001. p. 3–49.

Park K, Hur P, Rosengren KS, Horn GP, Hsiao-Wecksler ET. Effect of load carriage on gait due to firefighting air bottle configuration. Ergonomics. 2010;53(7):882–91.

Orr R. The Australian Army load carriage context: a challenge for defence capability. Australia: Annual Military Pharmacy Specialist Interest Group conference Brisbane; 2012.

Chan K, Yuan Y, Li C, Chien P, Tsang G. Sports causing most injuries in Hong Kong. Br J Sports Med. 1993;27(4):263.

Orr R, Pope R, Johnston V, Coyle J. Load carriage: minimising soldier injuries through physical conditioning: a narrative review. J Mil Veterans' Health. 2010;18(3):31–8.

Nordin M, Frankel VH. Basic biomechanics of the musculoskeletal system. 3rd ed. Lippincott: Williams and Wilkins; 2001.
Conflict of interest
Authors, Orr, Johnson, Coyle and Pope declare that they have no conflict of interest.
About this article
Cite this article
Orr, R.M., Johnston, V., Coyle, J. et al. Reported Load Carriage Injuries of the Australian Army Soldier. J Occup Rehabil 25, 316–322 (2015). https://doi.org/10.1007/s10926-014-9540-7
Published:

Issue Date:

DOI: https://doi.org/10.1007/s10926-014-9540-7
Keywords