Abstract
Introduction Work-related injury is a major public health problem and a worker's recovery can be shaped by their interactions with employers, healthcare providers and the workers' compensation system. Most research on the effects of compensation has concentrated on examining outcomes rather than considering the compensation process itself. There has been little attention paid to the interactions between stakeholders and only recently has the client's view been considered as worthy of investigation. This systematic review aimed to identify and synthesize findings from peer reviewed qualitative studies that investigated injured workers interactions with insurers in workers' compensation systems. Method A search of six electronic library databases revealed 1,006 articles. After screening for relevance, 18 articles were read in full and a search of those bibliographies revealed a further nine relevant articles. Quality assessment of the 27 studies resulted in a final 13 articles of medium and high quality being retained for data extraction. Results Included studies focused mainly on experiences of injured workers, many of whom had long term claims. Findings were synthesized using a meta-ethnographic approach. Six themes were identified which characterised the interactions between insurers and injured workers. The majority of interactions were negative and resulted in considerable psychosocial consequences for injured workers. Positive interactions were less frequently reported and included respectful, understanding and supportive communication and efficient service from insurers. Conclusion Findings from this synthesis support the growing consensus that involvement in compensation systems contributes to poorer outcomes for claimants. Interactions between insurers and injured workers were interwoven in cyclical and pathogenic relationships, which influence the development of secondary injury in the form of psychosocial consequences instead of fostering recovery of injured workers. This review suggests that further research is required to investigate positive interactions and identify mechanisms to better support and prevent secondary psychosocial harm to injured workers.
Access options
Buy single article
Instant access to the full article PDF.
US$ 39.95
Tax calculation will be finalised during checkout.
Subscribe to journal
Immediate online access to all issues from 2019. Subscription will auto renew annually.
US$ 79
Tax calculation will be finalised during checkout.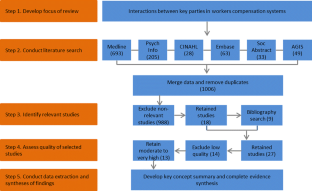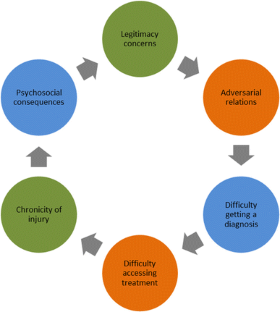 Notes
1.

The version used by MacEachen et al. [21] excluded one question that related specifically to evaluation research and similarly that question was not included in this review.

2.

Reflexivity refers to the comments made by the authors of each article on how the context, selection of participants or data collection process affected the results obtained in their study.
References
1.

Dembe AE. The social consequences of occupational injury and illnesses. Am J Ind Med. 2001;40:403–17.

2.

Loisel P, Durand M, Baril R, Gervais J, Falardeau M. Interorganizational collaboration in occupational rehabilitation: perceptions of an interdisciplinary rehabilitation team. J Occup Rehabil. 2005;15(4):581–90.

3.

Cassidy JD, Carroll LJ, Cote P, Lemstra M, Berglund A, Nygren A. Effect of eliminating compensation for pain and suffering on the outcome of insurance claims for whiplash injury. New Engl J Med. 2000;342:1179–86.

4.

Spearing N, Gyrd-Hansen D, Pobereskin L, Rowell D, Connelly L. Are people who claim compensation "cured by a verdict"? A longitudinal study of health outcomes after whiplash. J Law Med. 2012;20:82–92.

5.

Turner J, Franklin G, Fulton-Kehoe D, Sheppard L, Thomas M, Rae Wu W, Gluck J, Egan K, Stover B. Early predictors of chronic work disability associated with carpal tunnel syndrome: a longitudinal workers' compensation cohort study. Am J Ind Med. 2007;50:489–500.

6.

Weiler SW, Foeh KP, van Mark A, Touissant R, Sonntag N, Gaessler A, Schulze J, Kessel R. Outpatient rehabilitation of workers with musculoskeletal disorders using structured workplace description. Int Arch Occup Environ Health. 2009;82:427–34.

7.

Cole D, Mondloch M, Hogg-Johnson S, for the Early Claimant Cohort Prognostic Modelling Group. Institute for Work, Health. Listening to injured workers: how recovery expectations predict outcomes—a prospective study. Can Med Assoc. 2002;166(6):749–54.

8.

Harris I, Murgatroyd D, Cameron I, Young J, Solomon M. The effect of compensation on health care utilisation in a trauma cohort. Med Journal Aust. 2009;190(11):619–22.

9.

Franche RL, Cullen K, Clarke J, Irvin E, Sinclair S, Frank J. The Institute for Work and Health (IWH) Workplace-Based RTW Intervention Literature Review Research Team. Workplace-based return-to-work interventions: a systematic review of the quantitative literature. J Occup Rehabil. 2005;15:607–31.

10.

Gabbe BJ, Cameron PA, Williamson OD, Edwards ER, Graves SE, Richardson MD. The relationship between compensable status and long-term patient outcomes following orthopaedic trauma. Med J Aust. 2007;187(1):14–7.

11.

Harris I, Mulford J, Solomon M, van Gelder JM, Young J. Association between compensation status and outcome after surgery: a meta-analysis. J Am Med Assoc. 2005;293(13):1644–52.

12.

Moustakas C. Phenomenological research methods. London: Sage Publications; 1994.

13.

Grant G, Studdert D. Poisoned chalice? A critical analysis of the evidence linking personal injury compensation processes with adverse health outcomes. Melb Uni Law Rev. 2009;33(3):865–85.

14.

Lippel K. Preserving workers' dignity in workers' compensation systems: an international perspective. Am J Ind Med. 2012;55(6):519–36.

15.

Akkermans A. Reforming personal injury claims settlement: Paying more attention to emotional dimension promotes victim recovery. 2009; doi:10.2139/ssrn.1333214. Accessed 1 Oct 2012.

16.

Sager L, James C. Injured workers perspectives of their rehabilitation process under the New South Wales workers compensation system. Aust Occup Ther J. 2005;52:127–35.

17.

Calzoni T. The client perspective: the missing link in work injury and rehabilitation studies. J Occup Health Saf Aust NZ. 1997;13(1):47–57.

18.

Bye R. When clients are dying: occupational therapists' perspectives. Occup Ther J Res. 1998;18(1):3–24.

19.

McKinnon A. Client values and satisfaction with Occupational Therapy. Scand J Occup Ther. 2000;7:99–106.

20.

Boynton T, Darragh A. Participatory ergonomics intervention in a sterile processing center; a case study. Work. 2008;31:95–9.

21.

MacEachen E, Clarke J, Franche RL, Irvin E. Systematic review of the qualitative literature on return to work after injury. Scand J Work Environ Health. 2006;32(4):257–69.

22.

Spencer L, Ritchie J, Lewis J, Dillon L. Quality in qualitative evaluation: a framework for assessing research evidence. London: Cabinet Office; 2003.

23.

Noblit G, Hare R. Meta-Ethnography: Synthesizing qualitative studies. California: Sage Publications; 1998.

24.

Beardwood B, Kirsh B, Clark N. Victims twice over: perceptions and experiences of injured workers. Qual Health Res. 2005;15(1):30–48.

25.

Cacciacarro L, Kirsh B. Exploring the mental health needs of injured workers. Can J Occup Ther. 2006;73(3):178–87.

26.

Cromie J, Robertson V, Best M. Physical therapists who claimed workers' compensation: a qualitative study. Phys Ther. 2003;83(12):1080–9.

27.

Hubertsson J, Petersson I, Arvidsson B, Thorstensson C. Sickness absence in musculoskeletal disorders—patients' experiences of interactions with the Social Insurance Agency and health care. A qualitative study. BMC Public Health. 2011; doi:10.1186/1471-2458-11-107.

28.

Jaye C, Fitzgerald R. The lived political economy of occupational overuse syndrome among New Zealand workers. Sociol Health Illn. 2010;32(7):1010–25.

29.

Kosny A, MacEachen E, Ferrier S, Chambers L. The role of healthcare providers in long term and complicated workers' compensation claims. J Occup Rehabil. 2011;21(4):582–90.

30.

Lippel K. Workers describe the effect of the workers' compensation process on their health: a Quebec study. Int J Law Psychiatry. 2007;30(4):427–43.

31.

MacEachen E, Kosny A, Ferrier S. Unexpected barriers in return to work: lessons learned from injured worker peer support groups. Work. 2007;29(2):155–64.

32.

MacEachen E, Kosny A, Ferrier S, Chambers L. The "toxic dose" of system problems: why some injured workers don't return to work as expected. J Occup Rehabil. 2010;20(3):349–66.

33.

Murray M. Fish harvesters with injuries accounts of their experiences with the workers' compensation system. Work. 2007;28(1):47–56.

34.

Reid J, Ewan C, Lowy E. Pilgrimage of pain: the illness experiences of women with repetition strain injury and the search for credibility. Soc Sci Med. 1991;32(5):601–12.

35.

Roberts-Yates C. The concerns and issues of injured workers in relation to claims/injury management and rehabilitation: the need for new operational frameworks. Disabil Rehabil. 2003;25(16):898–907.

36.

Strunin L, Boden L. The workers' compensation system: worker friend or foe? Am J Ind Med. 2004;45(4):338–45.

37.

Miller D. Disrespect and the experience of injustice. Annu Rev Psychol. 2001;52(1):527–53.

38.

Brown C, Bostick G, Lim J, Gross D. Perceived injustice in injured workers: analysis of public responses to an injured worker who took Workers' Compensation Board employees hostage. Scand J Caring Sci. 2012;26(3):569–78.

39.

Hadler N. If you have to prove you are ill, you can't get well: the object lesson of fibromyalgia. Spine. 1996;21(20):2397–400.

40.

Davis MC, Ibrahim J, Ranson D, Ozanne-Smith J, Routely V. Work-related musculoskeletal injury and suicide: opportunities for intervention and therapeutic jurisprudence. J Law Med. 2013;21(1):110–21.

41.

Routely V, Ozanne-Smith J, Davis MC. Suicide following work-injury in Victoria, Australia. J Health Saf Med. 2012;23(3):293.

42.

Smith M, Perlis M, Haythornthwaite J. Suicidal ideation in outpatients with chronic musculoskeletal pain. An exploratory study of the role of sleep onset insomnia and pain intensity. Clin J Pain. 2004;20(2):111–8.

43.

Tang N, Crane C. Suicidality in chronic pain: a review of the prevalence, risk factors and psychological links. Psychol Med. 2006;36:575–86.

44.

Wilson K, Kowal J, Henderson P, McWilliams L, Péloquin K. Chronic pain and the interpersonal theory of suicide. Rehabilitation Psychology. 2013;58(1):111–5.

45.

Dawson S. Workers' Compensation in Pennsylvania. J Health Soc Policy. 1995;6(1):87–100.

46.

Lippel K. Therapeutic and anti-therapeutic consequences of workers' compensation. Int J Law Psychiatry. 1999;22(5):521–46.

47.

Ison T. The therapeutic significance of compensation structures. Can Bar Rev. 1986;64:605–17.

48.

Wilkinson W. Therapeutic jurisprudence and workers' compensation. Ariz Atty. 1994;30:28–33.

49.

Shuman D. The psychology of compensation in tort law. U. Kans Law Rev. 1994;43:39–77.

50.

Imershein A, Hill S, Reynolds A. The workers' compensation system as a quality of life problem for workers' compensation claimants. Adv Med Sociol. 1994;5:181–200.

51.

Svensson T, Karlsson A, Alexanderson K, Nordqvist C. Shame-inducing encounters. Negative emotional aspects of sickness-absentees' interactions with rehabilitation professionals. J Occup Rehabil. 2003;13(3):183–95.

52.

Frank J, Sinclair S, Hogg-Johnson S, Shannon H, Bombardier C, Beaton D, Cole D. Preventing disability from work-related low-back pain—new evidence gives new hope—if we can just get all the players onside. Can Med Assoc J. 1998;158:1625–31.

53.

Schaafsma F, De Wolf A, Kayaian A, Cameron I. Changing insurance company claims handling processes improves some outcomes for people injured in road traffic crashes BMC Public Health 2012; http://www.biomedcentral.com/1471-2458/12/36. Accessed 9 Dec 2012.
Acknowledgments
The project was funded by WorkSafe Victoria, the Transport Accident Commission and Monash University, Victoria, Australia. The authors wish to thank Dr. E MacEachen for the use of quality appraisal and data extraction proforma previously developed for a systematic review of qualitative literature on return to work.
Conflict of interest
The project No FS-M-11-029 was funded by WorkSafe Victoria and the Transport Accident Commission, (TAC) Victoria, Australia. ISCRR is a joint initiative of TAC, WorkSafe Victoria and Monash University.
Electronic supplementary material
Below is the link to the electronic supplementary material.
Appendix
Appendix
Quality Assessment Questions
The questions from the Quality Assessment Framework developed by Spencer [22] and modified by MacEachen [21] were reordered to fit the focus of the review. Each question was rated out of five using the suggested underlying quality guidelines. Questions 1 and 2 were regarded as important screening indicators. If reviewers did not score the first two questions at 2 or above, the assessment was not continued as it was evident that the article was not of sufficient relevance to be included in the review.
1.

How has knowledge/understanding of interactions between key parties in workers' compensation systems been extended by the research?

2.

Scope for drawing wider inference about interactions between key parties in workers' compensation systems—how well is this explained?

3.

How well does the study address the original aims and purpose?

4.

How credible are the findings?

5.

How defensible is the research design?

6.

How well defended is the sample design/target selection of cases?

7.

Sample composition/case inclusion—how well is coverage described?

8.

How well was the data collection carried out?

9.

How adequately has the research process been documented?

10.

How well was the approach to/formulation of the analysis conveyed?

11.

Contexts of data sources—how well are they retained/portrayed?

12.

How well has diversity of perspective and content been explored?

13.

How well has detail, depth and richness of data been conveyed?

14.

How clear are the links between data, interpretation and conclusions?

15.

How clear and coherent is the reporting?

16.

How clear are the assumptions/theoretical perspectives/values that shaped form and output of the study?

17.

What evidence is there of attention to ethical issues?
The question excluded in this modified version was "How clear is the basis of evaluative appraisal?" which applies only to evaluation research.
Rating Calculation Guidelines
Each of the quality assessment questions were rated out of 5 and scores were then totalled to achieve the overall rating of the article. An overall score was calculated for the article and levels of quality were assigned as: Very Low (0–15); Low (16–30); Medium (31–55); High (56–70); and Very High (71–85). The questions included in each section, and the possible maximum scores for each section are listed below
| Question | Category | Rated score | Maximum score |
| --- | --- | --- | --- |
| 1–4 | Findings |   | 20 |
| 5–7 | Design and Sample |   | 15 |
| 8–9 | Data Collection |   | 10 |
| 10–13 | Analysis |   | 20 |
| 14 | Auditability |   | 5 |
| 15 | Reporting |   | 5 |
| 16 | Reflexivity and Neutrality |   | 5 |
| 17 | Ethics |   | 5 |
|   | Total score |   | 85 |
About this article
Cite this article
Kilgour, E., Kosny, A., McKenzie, D. et al. Interactions Between Injured Workers and Insurers in Workers' Compensation Systems: A Systematic Review of Qualitative Research Literature. J Occup Rehabil 25, 160–181 (2015). https://doi.org/10.1007/s10926-014-9513-x
Keywords
Workers' compensation

Injured worker

Insurer

Interactions

Psychosocial consequences

Qualitative

Systematic review