Abstract
Purpose A lack of social acceptance by non-disabled co-workers is often the reason why employees with disabilities fail to stay in regular organizations for sustained periods. The aim of the study is to present a coherent review of the extant literature on factors affecting the acceptance of people with disabilities in regular employment. Method We conducted a search of the electronic databases PsychINFO and Web of Science (period: 1996–2011) supplemented with a search for additional relevant articles by means of cross-referencing. In total 48 articles were selected, coded and analyzed by three coders into three overarching themes. Results The analysis of included articles shows that the acceptance of employees with disabilities is influenced by three main variable groups: characteristics of co-workers, of the persons with disabilities and of the employers/organizations. Most studies present factors that influence co-workers' or employers' attitudes toward employees with disabilities such as demographic variables. Conclusion Although, recent research has started to accumulate findings on factors that affect the acceptance of employees with disabilities, many gaps remain in the understanding of the concept of acceptance and its relation to the employment of people with disabilities.
Access options
Buy single article
Instant access to the full article PDF.
US$ 39.95
Tax calculation will be finalised during checkout.
Subscribe to journal
Immediate online access to all issues from 2019. Subscription will auto renew annually.
US$ 79
Tax calculation will be finalised during checkout.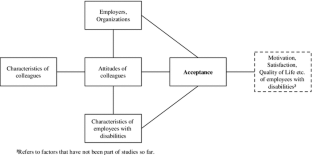 Notes
1.

These numbers have to be interpreted carefully as data are inconsistent across countries. Besides different interpretations of the concept disability, the numbers partly include sheltered work or supported employment for those countries that offer these opportunities to people with disabilities.
References
1.

Landy FJ, Conte JM. Work in the 21st century: an introduction to industrial and organizational psychology. 2nd ed. Malden: Blackwell; 2007.

2.

Jahoda M. Work, employment, and unemployment: values, theories, and approaches in social research. Am Psychol. 1981;36(2):184–91.

3.

Paul KI, Batinic B. The need for work: Jahoda's latent functions of employment in a representative sample of the German population. J Organ Behav. 2010;31(1):45–64.

4.

Paul KI, Geithner E, Moser K. Latent deprivation among people who are employed, unemployed, or out of the labor force. J Psychol. 2009;143(5):477–91.

5.

Hoare PN, Machin MA. Maintaining wellbeing during unemployment. Aust J Career Dev. 2006;15(1):19–27.

6.

Wanberg CR, Griffiths RF, Gavin MB. Time structure and unemployment: a longitudinal investigation. J Occup Organ Psych. 1997;70:75–95.

7.

Creed PA, Evans BM. Personality, well-being and deprivation theory. Pers Indiv Differ. 2002;33(7):1045–54.

8.

Hall E. Spaces of social inclusion and belonging for people with intellectual disabilities. J Intell Disabil Res. 2010;54(Suppl 1):48–57.

9.

Isaac R, Dharma Raja BW, Ravanan MP. Integrating people with disabilities: their right—our responsibility. Disabil Soc. 2010;25(5):627–30.

10.

O'Grady A, Pleasence P, Balmer NJ, Buck A, Genn H. Disability, social exclusion and the consequential experience of justiciable problems. Disabil Soc. 2004;19(3):259–71.

11.

World Health Organization. World report on disability. Geneva: World Health Organization; 2011.

12.

World Health Organization. The global burden of disease: 2004 update. Geneva: World Health Organization; 2004.

13.

Antonak RF, Livneh H. Measurement of attitudes towards persons with disabilities. Disabil Rehabil. 2000;22(5):211–24.

14.

OECD. Sickness, disability and work: breaking the barriers. Paris: OECD; 2010.

15.

Hall E. Social geographies of learning disability: narratives of exclusion and inclusion. Area.(2004); doi:10.1111/j.0004-0894.2004.00227.x.

16.

Baumeister RF, Leary MR. The need to belong: desire for interpersonal attachments as a fundamental human motivation. Psychol Bull. 1995;117(3):497–529.

17.

Richman LS, Leary MR. Reactions to discrimination, stigmatization, ostracism, and other forms of interpersonal rejection: a multimotive model. Psychol Rev. 2009;116(2):365–83.

18.

Thau S, Aquino K, Poortvliet PM. Self-defeating behaviors in organizations: the relationship between thwarted belonging and interpersonal work behaviors. J Appl Psychol. 2007;92(3):840–7.

19.

Wu LZ, Yim FHK, Kwan HK, Zhang XM. Coping with workplace ostracism: the roles of ingratiation and political skill in employee psychological distress. J Manage Stud. 2012;49(1):178–99.

20.

DeWall CN, Bushman BJ. Social acceptance and rejection: the sweet and the bitter. Curr Dir Psychol Sci. 2011;20(4):256–60.

21.

van der Klink JJL, Bültmann U, Brouwer S, Burdorf A, Schaufeli WB, Zijlstra FRH, et al. Duurzame inzetbaarheid bij oudere werknemers, werk als waarde. Gedrag en Organisatie. 2011;24(4):342–56.

22.

Stone DL, Colella A. A model of factors affecting the treatment of disabled individuals in organizations. Acad Manage Rev. 1996;21(2):352–401.

23.

Scior K. Public awareness, attitudes and beliefs regarding intellectual disability: a systematic review. Res Dev Disabil. 2011;32(6):2164–82.

24.

Gewurtz R, Kirsh B. Disruption, disbelief and resistance: a meta-synthesis of disability in the workplace. Work. 2009;34(1):33–44.

25.

Kirsh B, Stergiou-Kita M, Gewurtz R, Dawson D, Krupa T, Lysaght R, et al. From margins to mainstream: what do we know about work integration for persons with brain injury, mental illness and intellectual disability? Work. 2009;32(4):391–405.

26.

United Nations enable. Convention on the rights of persons with disabilities. United Nations. (2006); http://www.un.org/disabilities/default.asp?navid=14&pid=150. Accessed 19 Jun 2012.

27.

US Department of Justice. The Americans with disabilities act of 1990. US Department of Justice. (1990); http://www.ada.gov/pubs/ada.htm. Accessed 19 Jun 2012.

28.

Administration for Children and Families. The developmental disabilities assistance and bill of rights act of 2000. US Department of Health and Human Services. (2000); http://www.acf.hhs.gov/programs/add/ddact/DDA.html. Accessed 19 Jun 2012.

29.

Gates LB, Akabas SH, Oran-Sabia V. Relationship accommodations involving the work group: improving work prognosis for persons with mental health conditions. Psychiatr Rehabil J. 1998;21(3):264–72.

30.

Lau JTF, Cheung CK. Discriminatory attitudes to people with intellectual disability or mental health difficulty. Int Soc Work. 1999;42(4):431–44.

31.

Cramm JM, Tebra N, Finkenflügel H. Colleagues' perception of supported employee performance. J Policy Pract Intell Disabil. 2008;5(4):269–75.

32.

McLaughlin ME, Bell MP, Stringer DY. Stigma and acceptance of persons with disabilities—Understudied aspects of workforce diversity. Group Organ Manage. 2004;29(3):302–33.

33.

Fishbein M, Ajzen I. Belief, attitude, intention, and behavior: an introduction to theory and research. Reading: Addison-Wesley; 1975.

34.

Eagly AH, Chaiken S. The psychology of attitudes. Orlando: Harcourt Brace Jovanovich College Publishers; 1993.

35.

Glaser BG, Strauss AL. The discovery of grounded theory: strategies for qualitative research. Chicago: Aldine Publishing Company; 1967.

36.

Amick III BC, Habeck RV, Hunt A, Fossel AH, Chapin A, Keller RB, et al. Measuring the impact of organizational behaviors on work disability prevention and management. J Occup Rehabil. 2000;10(1):21–38.

37.

Angermeyer MC, Beck M, Dietrich S, Holzinger A. The stigma of mental illness: patients' anticipations and experiences. Int J Soc Psychiatr. 2004;50(2):153–62.

38.

Banks B, Charleston S, Grossi T, Mank D. Workplace supports, job performance, and integration outcomes for people with psychiatric disabilities. Psychiatr Rehabil J. 2001;24(4):389–96.

39.

Bruyére SM, Erickson WA, VanLooy S. Comparative study of workplace policy and practices contributing to disability nondiscrimination. Rehabil Psychol. 2004;49(1):28–38.

40.

Burge P, Ouellette-Kuntz H, Lysaght R. Public views on employment of people with intellectual disabilities. J Vocat Rehabil. 2007;26:29–37.

41.

Butterworth J, Hagner D, Helm DT, Whelley TA. Workplace culture, social interactions, and supports for transition-age young adults. Ment Retard. 2000;38(4):342–53.

42.

Chadsey JG, Sheldon DL, Horn JR, Bardeleben D, Cimera RE. Description of variables impacting successful and unsuccessful cases of social integration involving co-workers. J Vocat Rehabil. 1999;12(2):103–11.

43.

Colella A, DeNisi AS, Varma A. The impact of ratee's disability on performance judgments and choice as partner: the role of disability-job fit stereotypes and interdependence of rewards. J Appl Psychol. 1998;83(1):102–11.

44.

Colella A, Varma A. Disability-job fit stereotypes and the evaluation of persons with disabilities at work. J Occup Rehabil. 1999;9(2):79–95.

45.

Colella A, Varma A. The impact of subordinate disability on leader-member exchange relationships. Acad Manage J. 2001;44(2):304–15.

46.

Fillary R, Pernice R. Social inclusion in workplaces where people with intellectual disabilities are employed: implications for supported employment professionals. Int J Rehabil Res. 2006;29(1):31–6.

47.

García MF, Paetzold RL, Colella A. The relationship between personality and peers' judgments of the appropriateness of accommodations for individuals with disabilities. J Appl Soc Psychol. 2005;35(7):1418–39.

48.

Gilbride D, Stensrud R, Vandergoot D, Golden K. Identification of the characteristics of work environments and employers open to hiring and accommodating people with disabilities. Rehabil Couns Bull. 2003;46(3):130–7.

49.

Habeck R, Hunt A, Rachel CH, Kregel J, Chan F. Employee retention and integrated disability management practices as demand side factors. J Occup Rehabil. 2010;20(4):443–55.

50.

Hand C, Tryssenaar J. Small business employers' views on hiring individuals with mental illness. Psychiatr Rehabil J. 2006;29(3):166–73.

51.

Harlan SL, Robert PM. The social construction of disability in organizations—why employers resist reasonable accommodation. Work Occup. 1998;25(4):397–435.

52.

Hartnett HP, Stuart H, Thurman H, Loy B, Batiste LC. Employers' perceptions of the benefits of workplace accommodations: reasons to hire, retain and promote people with disabilities. J Vocat Rehabil. 2011;34(1):17–23.

53.

Henry D, Keys C, Balcazar F, Jopp D. Attitudes of community living staff members toward persons with mental retardation, mental illness, and dual diagnosis. Ment Retard. 1996;34(6):367–79.

54.

Henry DB, Duvdevany I, Keys CB, Balcazar FE. Attitudes of American and Israeli staff toward people with intellectual disabilities. Ment Retard. 2004;42(1):26–36.

55.

Honey A. The impact of mental illness on employment: consumers' perspectives. Work. 2003;20(3):267–76.

56.

Horner-Johnson W, Keys C, Henry D, Yamaki K, Oi F, Watanabe K, et al. Attitudes of Japanese students toward people with intellectual disability. J Intell Disabil Res. 2002;46:365–78.

57.

Jones J, Ouellette-Kuntz H, Vilela T, Brown H. Attitudes of community developmental services agency staff toward issues of inclusion for individuals with intellectual disabilities. J Policy Pract Intell Disabil. 2008;5(4):219–26.

58.

Kaye H, Jans L, Jones E. Why don't employers hire and retain workers with disabilities? J Occup Rehabil. 2011;21(4):526–36.

59.

Kulkarni M, Lengnick-Hall ML. Socialization of people with disabilities in the workplace. Hum Resource Manage. 2011;50(4):521–40.

60.

Martz E. Facilitating inclusive employment: an examination of the accommodations for and the barriers to employment for Russians with disabilities. Int J Rehabil Res. 2007;30(4):321–6.

61.

Morgan RL, Alexander M. The employer's perception: employment of individuals with developmental disabilities. J Vocat Rehabil. 2005;23:39–49.

62.

Novak J, Jo Feyes K, Christensen KA. Application of intergroup contact theory to the integrated workplace: setting the stage for inclusion. J Vocat Rehabil. 2011;35:211–26.

63.

Ouellette-Kuntz H, Burge P, Henry DB, Bradley EA, Leichner P. Attitudes of senior psychiatry residents toward persons with intellectual disabilities. Can J Psychiat. 2003;48(8):538–45.

64.

Paetzold RL, García MF, Colella A, Ren LR, del Carmen Triana M, Ziebro M. Perceptions of people with disabilities: when is accommodation fair? Basic Appl Soc Psych. 2008;30(1):27–35.

65.

Popovich PM, Scherbaum CA, Scherbaum KL, Polinko N. The assessment of attitudes toward individuals with disabilities in the workplace. J Psychol. 2003;137(2):163–77.

66.

Rollins AL, Bond GR, Jones AM, Kukla M, Collins LA. Workplace social networks and their relationship with job outcomes and other employment characteristics for people with severe mental illness. J Vocat Rehabil. 2011;35:243–52.

67.

Rollins AL, Mueser KT, Bond GR, Becker DR. Social relationships at work: does the employment model make a difference? Psychiatr Rehabil J. 2002;26(1):51–61.

68.

Ross GF. Ethics, trust and expectations regarding the treatment of disabled staff within a tourism/hospitality industry context. Int J Hosp Manag. 2004;23(5):523–44.

69.

Russinova Z, Griffin S, Bloch P, Wewiorski NJ, Rosoklija I. Workplace prejudice and discrimination toward individuals with mental illnesses. J Vocat Rehabil. 2011;35:227–41.

70.

Scheid TL. Stigma as a barrier to employment: mental disability and the Americans with disabilities act. Int J Law Psychiat. 2005;28(6):670–90.

71.

Scherbaum CA, Scherbaum KL, Popovich PM. Predicting job-related expectancies and affective reactions to employees with disabilities from previous work experience. J Appl Soc Psychol. 2005;35(5):889–904.

72.

Schur L, Kruse D, Blasi J, Blanck P. Is disability disabling in all workplaces? Workplace disparities and corporate culture. Ind Relat. 2009;48(3):381–410.

73.

Schwartz C, Armony-Sivan R. Students' attitudes to the inclusion of people with disabilities in the community. Disabil Soc. 2001;16(3):403–13.

74.

Solovieva TI, Dowler DL, Walls RT. Employer benefits from making workplace accommodations. Disabil Health J. 2011;4(1):39–45.

75.

Varekamp I, van Dijk FJH. Workplace problems and solutions for employees with chronic diseases. Occup Med. 2010;60(4):287–93.

76.

Vilà M, Pallisera M, Fullana J. Work integration of people with disabilities in the regular labour market: what can we do to improve these processes? J Intellec Dev Dis. 2007;32(1):10–8.

77.

Westmorland MG, Williams RM, Amick III BC, Shannon H, Rasheed F. Disability management practices in Ontario workplaces: employees' perceptions. Disabil Rehabil. 2005;27(14):825–35.

78.

Williams-Whitt K. Impediments to disability accommodation. Ind Relat. 2007;62(3):405–32.

79.

Yazbeck M, McVilly K, Parmenter T. Attitudes toward people with intellectual disability (ID): an Australian perspective. J Disabil Policy Stud. (2004); doi:10.1177/10442073040150020401.

80.

Jiranek D, Kirby N. The job satisfaction and/or psychological well being of young adults with an intellectual disability and nondisabled young adults in either sheltered employment, competitive employment or unemployment. Aust NZ J Dev Disabil. 1990;16(2):133–48.

81.

Griffin DK, Rosenberg H, Cheyney W, Greenberg B. A comparison of self-esteem and job satisfaction of adults with mild mental retardation in sheltered workshops and supported employment. Educ Train Ment Ret. 1996;31(2):142–50.
Acknowledgments
This research has been funded by the Atlant group, an organization for sheltered and supported employment.
Conflict of interest
None.
About this article
Cite this article
Vornholt, K., Uitdewilligen, S. & Nijhuis, F.J.N. Factors Affecting the Acceptance of People with Disabilities at Work: A Literature Review. J Occup Rehabil 23, 463–475 (2013). https://doi.org/10.1007/s10926-013-9426-0
Keywords
People with disabilities

Employee acceptance

Sustainable employment

Literature review