Abstract
Introduction: The aim was to study whether return to work (RTW) after long-term sickness absence is affected by adjustment latitude i.e. opportunities to adjust one's work to one's state of health by e.g. choosing among work tasks and deciding about work pace and working hours. We also studied whether the effect of adjustment latitude differed between those returning full-time and those returning part-time. Methods: Differences between men and women were also studied. A questionnaire was sent to 5,590 salaried employees who had been on sick leave for at least 90 days in 2000. The year after, 2001, they received a questionnaire which included questions about work status, working conditions, adjustment latitude and health. Results: The questionnaire was returned from 3056 persons. Among women 32% were fully back to work, 34% were partly back and 34% were still on sick leave. Comparable figures for men were 33%, 32% and 36%. Conclusion: For both men and women the likelihood to RTW increased with increasing number of opportunities to adjust. Adjustment latitude increased returning to part-time as well as full-time work. The study indicates that work organisation is important for RTW.
Access options
Buy single article
Instant access to the full article PDF.
US$ 39.95
Tax calculation will be finalised during checkout.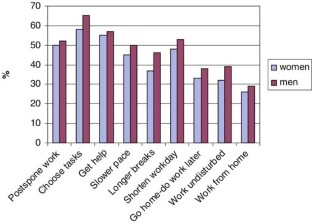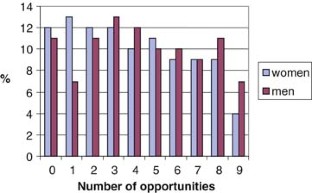 References
1.

Statistiska centralbyrån. Vad påverkar sjukskrivningarna. Registerstudie av hur sjukpenningkostnaderna utvecklats 1993–2001. Demografisk rapport 2004:2. (Statistics Sweden, What affects sick leave. A register study of the development of sick leave costs 1993–2001. Demographic reports 2004:2).

2.

Riksförsäkringsverket. Långtidssjukskrivna-egenskaper vid 2003 års RFV-LS-undersökning. RFV redovisar 2003:4 (Long-term-sick. The National Social Insurance Board, Sweden).

3.

Reiso H, Nygård JF, Jorgensen GS, Holanger R, Soldal D, Bruusgaard D. Back to work: Predictors of return to work among patients with back disorder certified as sick. Spine 2003;28:1468–74.

4.

Haldorsen EM, Indahl A, Ursin H. Patients with low back pain not returning to work: a 12-month follow-up study. Spine 1998;23:1202–7.

5.

Tuomi K, Ilmarinen J, Jahkola A, Katajarinne L, Tulkki A. Work Ability Index. Helsinki: Institute of Occupational Health, 1994.

6.

Johansson G, Lundberg I. Adjustment latitude and attendance requirements as determinants of sickness absence or attendance. Empirical tests of the illness flexibility model. Soc Sci Med 2004;58:1857–68.

7.

Krause N, Dasinger LK, Deegan LJ, Rudolph L, Brand RJ. Psychosocial job factors and return-to-work after compensated low back injury: A disability phase-specific analysis. Am J Ind Med 2001;40:374–92.

8.

Infante-Rivard C, Lortie M. Prognostic factors for return to work after a first compensated episode of back pain. Occup Environ Med 1996;53:488–94.

9.

Detaille SI, Haafkens JA, van Dijk FJH. What employees with rheumatoid arthritis, diabetes mellitus and hearing loss need to cope at work. Scand J Work Environ Health 2004;29:134–42.

10.

Riksförsäkringsverket. Långtidssjukskrivna-diagnos, yrke, partiell sjukskrivning och återgång i arbete. RFV redovisar 2004:7 (Long-term-sick. The National Social Insurance Board, Sweden).

11.

Janssen N, Van den Heuvel WPM, Beurskens AJHM, Nijhuis FJN, Schröer CAP, van Eijk JTM. The demand-control support model as a predictor of return to work. Int J Rehabil Res 2003;26:1–8.

12.

Karasek R. Job demands, job decision latitude, and mental strain: Implications for job redesign. Adm Sci Q 1979;24:285–307.

13.

Ahlberg-Hultén G. Psychological demands and decision latitude within health care work. Dissertation. Department of Psychology. Stockholm University,1999.

14.

Van der Giezen AM, Bouter LM, Nijhuis FJN. Prediction of return-to-work of low back pain patients sicklisted for 3–4 months. Pain 2000;87:285–94.

15.

Krause N, Dasinger LK, Neuhauser F. Modified work and return to work: a review of the literature. J Occup Rehabil 1998;8:113–39.

16.

Franche R-L, Krause N. Readiness for return to work following injury or illness: Conceptualizing the interpersonal impact of health care, work place and insurance factors. J Occup Rehabil 2002;12:233–56.
Acknowledgements
Financial support was provided by Alecta Pension Insurance Mutual.
About this article
Cite this article
Johansson, G., Lundberg, O. & Lundberg, I. Return to work and adjustment latitude among employees on long-term sickness absence. J Occup Rehabil 16, 181–191 (2006). https://doi.org/10.1007/s10926-006-9020-9
Keywords
Adjustment latitude

Flexibility

Return to work

Work organisation