Abstract
Montmorillonite-based porous adsorbent prepared by gel casting method was used to adsorb Cr(III)-organic complexes in tanning wastewater,together with the initial concentration of 10 mg L−1. The as-porous adsorbent exhibited an excellent performance of separation. Meanwhile, its structural and morphology were characterized by TG, BET, XRD, SEM, EDS and XPS, showing that the porous adsorbent was complete hollow ball structure. And the adsorption results showed that the adsorption amount of porous adsorbent rapidly declined from 9.58 to 5.28 mg L−1, and only Cr(III) was adsorbed, when the molar ratio of Cr(III) and citrate was more than 1:5. Increased of pH was beneficial to adsorb Cr(III)-citrate in range from 2.46 to 7.12. Furthermore, the best removal efficiency of Cr(III)-organic complex was up to 97% and still above 84% after five cycles with porous adsorbent. Finally, the mechanism on adsorbing Cr(III) with porous adsorbent is also provided. Therefore, a kind of porous adsorbent which was easily separated, was prepared to deeply treat tanning wastewater containing Cr(III)-organic complex, and solve the problem of difficult recycle.
Access options
Buy single article
Instant access to the full article PDF.
USD 39.95
Price excludes VAT (USA)
Tax calculation will be finalised during checkout.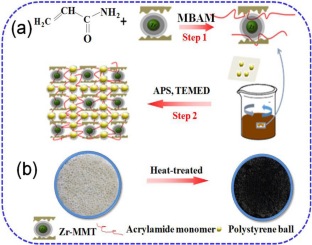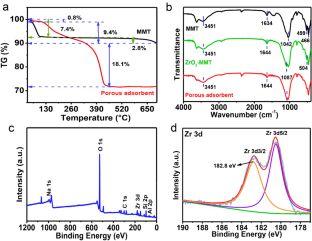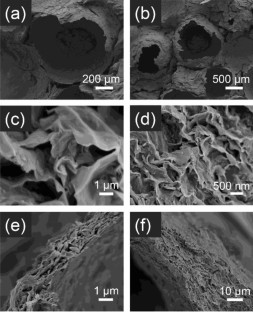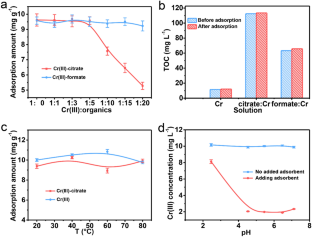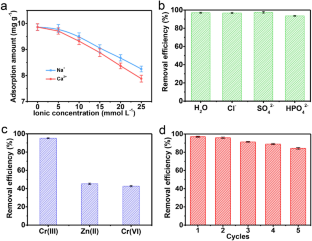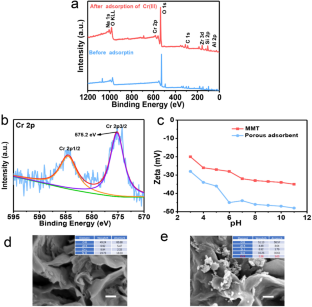 Data availability
The datasets used and/or analyzed during the current study are available from the corresponding author on reasonable request.
Acknowledgements
The research was supported by Liaoning Province (Jinzhou) Fur Green Manufacturing Industry Technology Innovation Strategic Alliance [201854], Research on resource recycling technology of tanned chromium-containing waste dander [2018020190-301], The "Seedling" Project named "Research on Graphene-based 3D Material Construction and Key Technologies for Industrialization Application" for Youth Science and Technology Talents of Education Department of Liaoning Province (LQ2020011), Study on the deep removal of heavy metal chromium from industrial wastewater in the upper reaches of Daling River estuary [BDHYYJY2020013] (This study were supported by the Open Fund of Institute of Ocean Research, Bohai University), National Natural Science Foundation of China [21878024], Innovation Team Project of Liaoning Province [LT2015001], and Innovation Team Project of Liaoning Higher University [2018479-14].
Ethics declarations
Conflict of interest
We declare that we have no financial and personal relationships with other people or organizations that can inappropriately influence our work, there is no professional or other personal interest of any nature or kind in any product, service or company. No conflict of interest exits in the submission of this manuscript, and manuscript is approved by all authors for publication. I would like to declare on behalf of my co-authors that the work described was original research that has not been published previously, and not under consideration for publication elsewhere, in whole or in part.
Conflict of interest
The authors declare that they have no conflict of interest.
Additional information
Publisher's Note
Springer Nature remains neutral with regard to jurisdictional claims in published maps and institutional affiliations.
Supplementary Information
Below is the link to the Supplementary Information.
About this article
Cite this article
Hao, X., Tao E, Yang, S. et al. A New Montmorillonite-Based Porous Composites: Effectively Removal of Cr(III)-Organic Complexes in Tannery Wastewater. J Polym Environ 30, 308–318 (2022). https://doi.org/10.1007/s10924-021-02193-4
Accepted:

Published:

Issue Date:

DOI: https://doi.org/10.1007/s10924-021-02193-4
Keywords
Zirconium oxide

Montmorillonite

Porous adsorbent

Cr(III)-organic complex

Adsorption

Wastewater