Abstract
The safe and effective treatment for dyeing wastewater including harmful metal ions, which are important environmental pollution sources, has not been solved in the realistic industry. Using natural materials with short regeneration cycle should be valued in recognized and effective adsorption techniques. In this study, hydroxyl-rich tannin molecules were successfully modified on palm leaf sheath fibers (PLSF) to obtain multifunctional adsorbent for simultaneous removal of dye molecules and heavy metal ions in dyeing wastewater. As a result, modified PLSF can effectively adsorb reactive yellow 3 (RY3) dye molecules with a maximum adsorption capacity of 83.19 mg/g from dyeing wastewater, while the sample loaded with RY3 can adsorb Cr(VI) with a maximum adsorption capacity of 189.48 mg/g. XRD, SEM, FT-IR, and stereomicroscope are used to characterize the adsorbent samples. The kinetic and thermodynamic analysis results show that the adsorption of RY3 and Cr(VI) by the adsorbent is consistent with pseudo-second-order kinetics and the Langmuir isotherm model. The thermodynamic parameters of Cr(VI) adsorption indicate that adsorption is a spontaneous endothermic process and has good reusability of Cr(VI).
Access options
Buy single article
Instant access to the full article PDF.
USD 39.95
Price excludes VAT (USA)
Tax calculation will be finalised during checkout.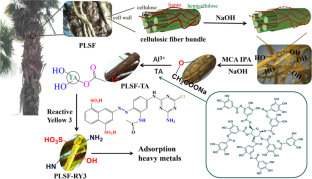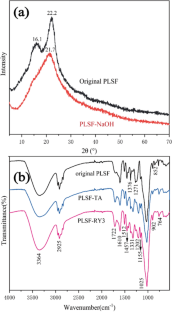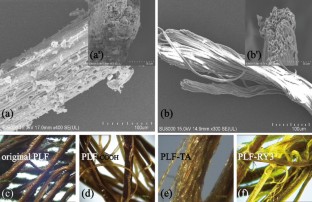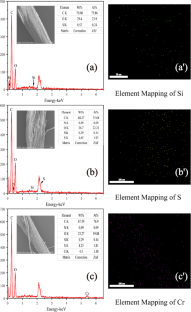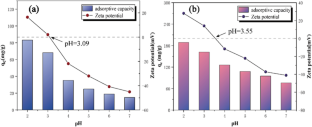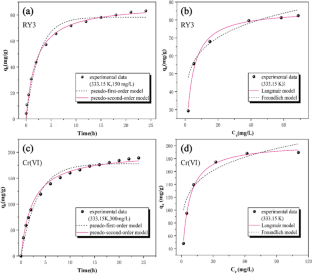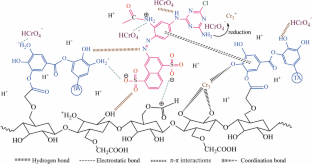 References
Leng CT, Husni H (2019) Oil palm frond for the adsorption of Janus Green dye. Mater Today: Proc 16:1766–1771

Benkhaya S, M'Rabet S, El Harfi A (2020) Classifications, properties, recent synthesis and applications of azo dyes. Heliyon 6(1):e03271

Hasanpour M, Hatami M (2020) Photocatalytic performance of aerogels for organic dyes removal from wastewaters: review study. J Mol Liq 309:113094

Petcu AR, Lazar CA, Rogozea EA et al (2016) Nonionic microemulsion systems applied for removal of ionic dyes mixtures from textile industry wastewaters. Sep Purif Technol 158:155–159

Hassan MM, Carr CM (2018) A critical review on recent advancements of the removal of reactive dyes from dyehouse effluent by ion-exchange adsorbents. Chemosphere 209:201–219

Tkaczyk A, Mitrowska K, Posyniak A (2020) Synthetic organic dyes as contaminants of the aquatic environment and their implications for ecosystems: a review. Sci Total Environ 717:137222

Zhou Y, Lu J, Zhou Y et al (2019) Recent advances for dyes removal using novel adsorbents: a review. Environ Pollut 252:352–365

Lellis B, Fávaro-Polonio CZ, Pamphile JA et al (2019) Effects of textile dyes on health and the environment and bioremediation potential of living organisms. Biotechnol Res Innov 3(2):275–290

Chen SH, Yien Ting AS (2015) Biodecolorization and biodegradation potential of recalcitrant triphenylmethane dyes by Coriolopsis sp. isolated from compost. J Environ Manag 150(2015):274–280

Holkar CR, Jadhav AJ, Pinjari DV et al (2016) A critical review on textile wastewater treatments: possible approaches. J Environ Manag 182:351–366

Daneshvar N, Aber S, Vatanpour V et al (2008) Electro-Fenton treatment of dye solution containing orange II: Influence of operational parameters. J Electroanal Chem 615(2):165–174

Soares PA, Silva TFCV, Manenti DR et al (2014) Insights into real cotton-textile dyeing wastewater treatment using solar advanced oxidation processes. Environ Sci Pollut Res 21(2):932–945

Tehrani-Bagha AR, Mahmoodi NM, Menger FM (2010) Degradation of a persistent organic dye from colored textile wastewater by ozonation. Desalination 260(1):34–38

Yeap KL, Teng TT, Poh BT et al (2014) Preparation and characterization of coagulation/flocculation behavior of a novel inorganic–organic hybrid polymer for reactive and disperse dyes removal. Chem Eng J 2014(243):305–314

Li F, Huang J, Xia Q et al (2018) Direct contact membrane distillation for the treatment of industrial dyeing wastewater and characteristic pollutants. Sep Purif Technol 195:83–91

Sahinkaya E, Sahin A, Yurtsever A et al (2018) Concentrate minimization and water recovery enhancement using pellet precipitator in a reverse osmosis process treating textile wastewater. J Environ Manag 222:420–427

Afroze S, Sen TK (2018) A review on heavy metal ions and dye adsorption from water by agricultural solid waste adsorbents. Water Air Soil Pollut 229(7):225

Li W, Mu B, Yang Y (2019) Feasibility of industrial-scale treatment of dye wastewater via bio-adsorption technology. Biores Technol 277:157–170

Gao S, Luo T, Zhou Q et al (2018) Surface sodium lignosulphonate-immobilized sawdust particle as an efficient adsorbent for capturing Hg2+ from aqueous solution. J Colloid Interface Sci 2018(517):9–17

Li J, Zhang X, Zhu J et al (2020) Structural, chemical, and multi-scale mechanical characterization of waste windmill palm fiber (Trachycarpus fortunei). J Wood Sci 66(1):8

Cheng L, Zhang T, Guo M et al (2014) Structural characteristics and properties of windmill palm leaf sheath fiber. Wood Fiber Sci 46(2):270–279

Zhang T, Guo M, Cheng L et al (2015) Investigations on the structure and properties of palm leaf sheath fiber. Cellulose 22(2):1039–1051

Li JL, Li K, Zhang TH et al (2016) Development of activated carbon from windmill palm sheath fiber by KOH activation. Fibers Polym 17(6):880–887

Deniz F, Kepekci RA (2016) Dye biosorption onto pistachio by-product: a green environmental engineering approach. J Mol Liq 219:194–200

Zheng L, Dang Z, Yi X et al (2010) Equilibrium and kinetic studies of adsorption of Cd(II) from aqueous solution using modified corn stalk. J Hazard Mater 176(1):650–656

Yu X, Tong S, Ge M et al (2013) Adsorption of heavy metal ions from aqueous solution by carboxylated cellulose nanocrystals. J Environ Sci 25(5):933–943

Hokkanen S, Bhatnagar A, Sillanpaa M (2016) A review on modification methods to cellulose-based adsorbents to improve adsorption capacity. Water Res 2016(91):156–173

O'Connell DW, Birkinshaw C, O'Dwyer TF (2008) Heavy metal adsorbents prepared from the modification of cellulose: a review. Biores Technol 99(15):6709–6724

Luo W, Luo T, Mu J et al (2019) Enrichment and recovery of Cr(VI) from aqueous solution via a monolithic loofah sponge modified by tannins and arginine. J Polym Environ 2019(27):618–631

Labbé N, Rials TG, Kelley SS et al (2005) FT-IR imaging and pyrolysis-molecular beam mass spectrometry: new tools to investigate wood tissues. Wood Sci Technol 39(1):61–76

Luo H, Zhang H, Yue L et al (2018) Effects of steam explosion on the characteristics of windmill palm fiber and its application to fiberboard. Eur J Wood Prod 76(2):601–609

Dong J, Du Y, Duyu R et al (2019) Adsorption of copper ion from solution by polyethylenimine modified wheat straw. Bioresour Technol Rep 6:96–102

Al-Othman ZA, Ali R, Naushad M (2012) Hexavalent chromium removal from aqueous medium by activated carbon prepared from peanut shell: adsorption kinetics, equilibrium and thermodynamic studies. Chem Eng J 184:238–247

Jung C, Heo J, Han J et al (2013) Hexavalent chromium removal by various adsorbents: powdered activated carbon, chitosan, and single/multi-walled carbon nanotubes. Sep Purif Technol 106:63–71

Gao Q, Hua J, Li R et al (2017) Radiation-induced graft polymerization for the preparation of a highly efficient UHMWPE fibrous adsorbent for Cr(VI) removal. Radiat Phys Chem 130:92–102

Hameed BH, El-Khaiary MI (2008) Kinetics and equilibrium studies of malachite green adsorption on rice straw-derived char. J Hazard Mater 153(1):701–708

Buhani, Sumadi, Suharso (2010) Adsorption kinetics and isotherm of Cd(II) ion on Nannochloropsis sp. biomass imprinted ionic polymer. Desalination 259(1):140–146

de la Luz-Asunción M, Pérez-Ramírez EE, Martínez-Hernández AL et al (2020) Adsorption and kinetic study of reactive red 2 dye onto graphene oxides and graphene quantum dots. Diam Relat Mater 109:108002

Greluk M, Hubicki Z (2013) Effect of basicity of anion exchangers and number and positions of sulfonic groups of acid dyes on dyes adsorption on macroporous anion exchangers with styrenic polymer matrix. Chem Eng J 215–216:731–739

Değermenci GD, Değermenci N, Ayvaoğlu V et al (2019) Adsorption of reactive dyes on lignocellulosic waste; characterization, equilibrium, kinetic and thermodynamic studies. J Clean Prod 225:1220–1229

Gao D-W, Hu Q, Pan H et al (2015) High-capacity adsorption of aniline using surface modification of lignocellulose-biomass jute fibers. Biores Technol 193:507–512

Lin C, Luo W, Chen J et al (2017) Rice husk grafted PMAA by ATRP in aqueous phase and its adsorption for Ce3+. Chem Phys Lett 2017(690):68–73

Kumar R, Sharma RK, Singh AP (2017) Cellulose based grafted biosorbents—Journey from lignocellulose biomass to toxic metal ions sorption applications—a review. J Mol Liq 232:62–93

Gao S, Luo T, zhou Q et al (2018) A novel and efficient method on the recovery of nanosized CeO2 in Ce3+ wastewater remediation using modified sawdust as adsorbent. J Colloid Interface Sci 512(2018):629–637

Çelebi H (2020) Recovery of detox tea wastes: usage as a lignocellulosic adsorbent in Cr6+ adsorption. J Environ Chem Eng 8(5):104310

Lai KC, Lee LY, Hiew BYZ et al (2020) Utilisation of eco-friendly and low cost 3D graphene-based composite for treatment of aqueous reactive black 5 dye: characterisation, adsorption mechanism and recyclability studies. J Taiwan Inst Chem Eng 114:57–66

Lin C, Luo W, Luo T et al (2018) A study on adsorption of Cr(VI) by modified rice straw: characteristics, performances and mechanism. J Clean Prod 2018(196):626–634

Luo T, Tian X, Yang C et al (2017) Polyethylenimine-functionalized corn bract, an agricultural waste material, for efficient removal and recovery of Cr(VI) from aqueous solution. J Agric Food Chem 65(33):7153–7158
Acknowledgements
The authors acknowledge precious support provided by the Funds for Study on Preparation and Performance of Biomass Macromolecular Composites (2017036019).
Additional information
Publisher's Note
Springer Nature remains neutral with regard to jurisdictional claims in published maps and institutional affiliations.
About this article
Cite this article
Dai, W., Zhang, J., Xiao, Y. et al. Dual Function of Modified Palm Leaf Sheath Fibers in Adsorbing Reactive Yellow 3 and Cr(VI) From Dyeing Wastewater. J Polym Environ 29, 3854–3866 (2021). https://doi.org/10.1007/s10924-021-02157-8
Accepted:

Published:

Issue Date:

DOI: https://doi.org/10.1007/s10924-021-02157-8
Keywords