Abstract
In this study, novel biocomposites of medium chain length polyhydroxyalkanoate (mcl-PHA) containing 75 mol% of 3-hydroxydecanoate (3-HD) incorporating torch ginger cellulose nanowhiskers (TGCN) were developed via solution casting. The result showed that the morphology and mechanical properties of mcl-PHA were not significantly affected by TGCN. However, addition of TGCN decrease the crystallization temperature and water vapour and oxygen permeability of mcl-PHA. Furthermore, this material was prepared as a filter for bacteria removal and water filtration. The efficiency of the filter was increased with an increase of film number. 90–92% of bacteria and yeast were removed when a stack of three mcl-PHA-based films was applied in the filter holder. However, the efficiency of the filter was lower than the World Health Organization standard. The filter was also used for domestic wastewater purification. The biological oxygen demand, solid content and total bacteria in wastewater were significantly decreased using mcl-PHA based filter. The parameters tested in this current study also passed water quality standards for domestic wastewater (Thailand). It can be summarized that mcl-PHA-based biocomposites are able to remove microorganisms from water. Moreover, they can be applied for water purification.
This is a preview of subscription content,
to check access.
Access this article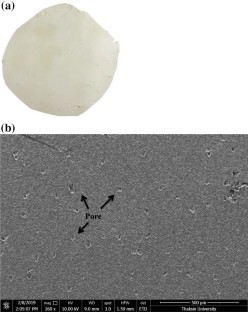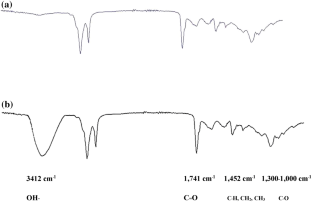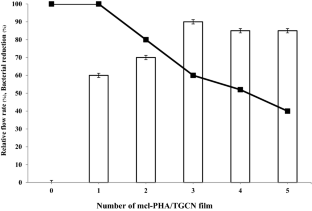 References
UN-Water (2018) World Water Development Report 2018: Nature-based solutions for water. UNESCO, Paris

Bhutta ZA, Das JK (2013) Pediatrics 131:634

Holmgren J, Bourgeois L, Carlin N, Clements J, Gustafsson B, Lundgren A, Nygren E, Tobias J, Walker R, Svennerholm AM (2013) Vaccine 31:2457

WHO, UNICEF (2015) Progress on sanitation and drinking water-2015 update and MDG assessment, World Health Organization, Geneva

Bethke K, Palantoken S, Andrei V, Ross M, Raghuwanshi VS, Kettemann F, Greis K, Ingber TT, Stuckrath JB, Valiyaveettil S (2018) Adv Funct Mater 28:1800409

Lonsdale HK (1982) J Membr Sci 10:81

Howe KJ, Clark MM (2002) Environ Sci Technol 36:3571

Zularisam AW, Ismail AF, Salim R (2006) Desalination 194:211

Ten E, Bahr DF, Li B, Jiang L, Wolcott MP (2012) Ind Eng Chem Res 51:2941

Pasquini D, de Morais TE, da Silva Curvelo AA, Belgacem MN, Dufresne A (2008) Compos Sci Technol 68:193

Habibi Y, El-Zawawy WK, Ibrahim MM, Dufresne A (2008) Compos Sci Technol 68:1877

Chumkhot N, Chuaikaew S, Thongrakkhao Y (2019) Extraction and preparation of cellulose nanofiber from Etlingera elatior and Bambuseae for bio-filter, and its application for domestic wastewater treatment, Research Project, Science Classroom in University-Affiliated School Project (2019) 1

de Menezes AJ, Siqueira G, Curvelo A, Durfresne A (2009) Polymer 50:4552

Ljungberg N, Bonini C, Bortolussi F, Boisson C, Heux L, Cavaille JY (2005) Macromolecules 6:2732

Ljungberg N, Cavaille JY, Heuz L (2006) Polymer 47:6285

Chazeau L, Cavaille JY, Ganova G, Dendievel R, Boutherin B (1999) J Appl Polym Sci 71:1797

de Rodriguez N, Thielemans W, Dufresne A (2006) Cellulose 13:261

Siqueira G, Bras J, Dufresne A (2009) Biomacromol 10:425

Mathew A, Oksman K, Sain M (2005) J Appl Polym Sci 97:2014

Oksman K, Mathew A, Bondeson D, Kvien I (2006) Compos Sci Technol 66:2776

Bondeson D, Oksman K (2007) Compos A 38:2486

Pei A, Zhou Q, Berglund LA (2010) Compos Sci Technol 70:815

Vargas NHMS (2010) Thesis, Lulea University of Technology, Lulea, Sweden

Dufresne A, Kellerhals MB, Witholt B (1999) Macromolecules 32:7396

Petersson L, Mathew AP, Oksman K (2009) J Appl Polym Sci 112:2001

Grunert M, Winter WT (2002) J Polym Environ 10:27

Ayuk JE, Mathew AP, Okman K (2009) J Appl Polym Sci 114:2723

Cao X, Dong H, Li C (2007) Biomacromol 8:899

Chen G, Wei M, Chen J, Huang J, Dufresne A, Chang PR (2008) Polymer 19:1860

Chang PR, Ai F, Chen Y, Dufresne A, Huang J (2009) J Appl Polym Sci 111:619

Ruiz M, Cavaille JY, Dufresne A, Gerard JF, Graillat C (2000) Compos Interfaces 7:117

Abdelmouleh M, Boufi S, Belgacam MN, Durfresne A, Gandini A (2005) J Appl Polym Sci 98:974

de Carvalho Benini KCC, Cioffi MOH, Voorwald HJC (2017) Rev Mater 22:11837

Ten E, Turtle J, Barh D, Jiang L, Wolcott MP (2010) Polymer 51:2652

Jiang L, Morelius E, Zhang J, Wolcott MP, Holbery J (2008) J Compos Mater 42:2629

Wang D, Zeng G, Chen Y, Li X (2015) Water Res 73:311

Xu Q, Liu X, Yang G, Wang D, Liu Y, Li X, Yang Q (2019) Bioresour Technol 284:16

Valentini F, Dorigato A, Rigotti D, Pegoretti A (2019) J Polym Environ 27:1333

Fazliyana AZ, Ibrahim A, Ishak A (2011) Malaysia polymer international conference (MPIC 2011) 1080

Martinez-Sanz M, Villano M, Oliveira C, Albuquerque MGE, Majone M, Reis M, Lopez-Rubio A, Lagaron JM (2014) New Biotechnol 31:364

Ottenhall A, Henschen J, Illergard J, Ek M (2018) Environ Sci-Water Res Technol. https://doi.org/10.1039/c8ew00514a

Shamala TR, Divyashree MS, Davis R, Latha Kumari KS, Vijayendra SVN, Raj B (2009) Indian J Microbiol 49:251

Fortunati E, Peltzer M, Armentano I, Torre L, Jimenez A, Kenny JM (2012) Carbohydr Polym 90:948

Khan RA, Beck S, Dussault D, Salmieri S, Bouchard J, Lacroix M (2013) J Appl Polym Sci 129:3038

Paralikar SA, Simonsen J, Lombardi J (2008) J Membr Sci 320:248

WHO (2016) Results of round I of the WHO international scheme to evaluate household water treatment technologies, Geneva

Marova I, Kundrat V, Benesova P, Matouskova P, Obruca S (2015) Use of biodegradable PHA-based nanofibers to removing microorganisms from water. Proceedings of the 15th IEEE International Conference on Nanotechnology. July 27–30, 2015, Rome, Italy. pp 204–206.

Illergard J, Wagberg L, Ek M (2015) Cellulose 22:2023

Amann RI, Ludwig W, Schleifer KH (1995) Microbiol Rev 59:143

Kaeberlein T, Lewis K, Epstein SS (2002) Science 296:1127

Ong SY, Chee JY, Sudesh K (2017) J Sib Fed Univ Biol 10:211

Altaee N, El-Hiti GA, Fahdil A, Sudesh K, Yousil E (2016) Springerplus 5:762

Mathew A (2012) Functional membranes/filters with anti/low-fouling surface for water purification through elective adsorption on biobased nanocrystals and fibers, NANOSELECT. Lulea Tekniska Universitet, University Campus, Porsoen, Lullea
Acknowledgements
This work was supported by the Department of Chemistry, Faculty of Science, Thaksin University (research project grant) and the Thailand Research Fund (TRF) Grant for Researcher (project number RSA 6180066 and RTA 6080010).
Additional information
Publisher's Note
Springer Nature remains neutral with regard to jurisdictional claims in published maps and institutional affiliations.
About this article
Cite this article
Sangkharak, K., Paichid, N., Yunu, T. et al. Novel Polyhydroxyalkanoate-Based Biocomposites Obtained by Solution Casting and Their Application for Bacteria Removal and Domestic Wastewater Purification. J Polym Environ 28, 1893–1900 (2020). https://doi.org/10.1007/s10924-020-01738-3
Published:

Issue Date:

DOI: https://doi.org/10.1007/s10924-020-01738-3
Keywords