Abstract
A series of fish collagen proteins were prepared for wound healing application. The physicochemical properties such as molecular weight, solubility, thermal stability of the products was studied. Fourier transform infrared spectroscopy (FTIR) was employed to identify the chemical bonds of fish collagen and its resemblance to type 1 collagen. The surface morphology of the prepared collagen was also studied by scanning electron microscopy (SEM). Results obtained showed that Tilapia and Grey mullet collagen consists of identical four subunits including β chains, γ chains and two α chains (α1 and α2). Due to strong fibrillar nature of collagen, it greatly enhances the cell adhesion capacities of the prepared products. Moreover, the antibacterial activity of collagen was investigated. It was found that all the extracted collagen products have inhibitory activity against all of the tested bacteria. Wound healing efficiency of the prepared collagen was also investigated through assessing the rate of wound contraction, histological evaluations demonstrated that collagen treatment resulted in better resolution and closure of the wound. The above analysis suggested that the isolated fish collagen can be a potential candidate for wound healing application.
This is a preview of subscription content,
to check access.
Access this article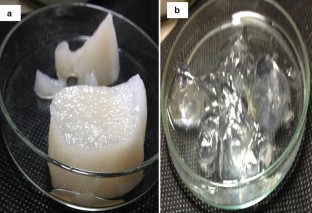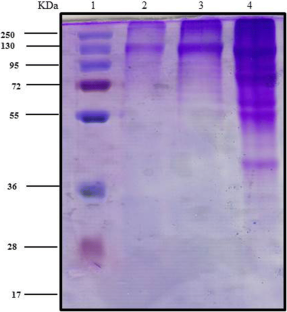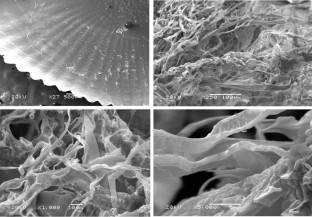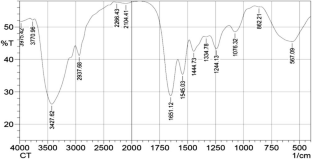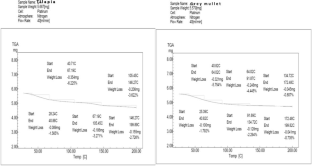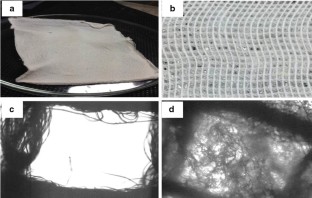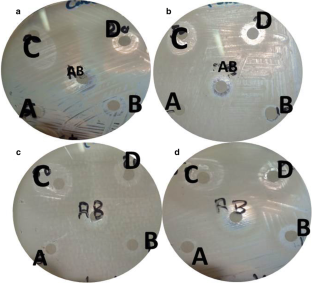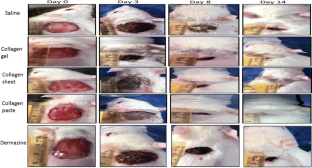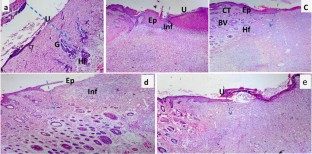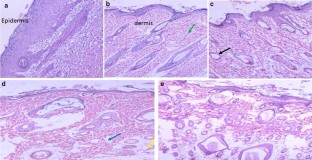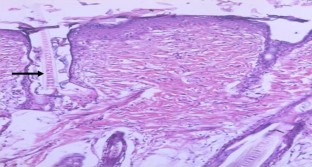 Similar content being viewed by others
References
Vollmer AN, Rosenfield RG (1983) U.S. Patent No. 4,402,873. U.S. Patent and Trademark Office, Washington, DC

Berg, RA, Silver FH, Pachence JM (1989) U.S. Patent No. 4,837,285. U.S. Patent and Trademark Office, Washington, DC

Morimura S, Nagata H, Uemura Y, Fahmi A, Shigematsu T, Kida K (2002) Development of an effective process for utilization of collagen from livestock and fish waste. Process Biochem 37(12):1403–1412

Helcke T (2000) Gelatin, the food technologist's friend or foe. Int Food Ingred 1:6–8

Trevitt CR, Singh PN (2003) Variant Creutzfeldt-Jakob disease: pathology, epidemiology, and public health implications. Am J Clin Nutr 78(3):651S–656S

Gómez-Guillén MC, Giménez B, López-Caballero MA, Montero MP (2011) Functional and bioactive properties of collagen and gelatin from alternative sources: a review. Food Hydrocoll 25(8):1813–1827

Lazovic G, Colic M, Grubor M, Jovanovic M (2005) The application of collagen sheet in open wound healing. Ann Burns Fire Disasters 18(3):151–159

Miller RL, Lee JH, Owens ML (2013) U.S. Patent No. 8,426,457. U.S. Patent and Trademark Office, Washington, DC

Geistlich P, Schloesser L (2003) U.S. Patent No. 6,576,015. U.S. Patent and Trademark Office, Washington, DC

Steadman JR, Rodkey WG (2005) Tissue-engineered collagen meniscus implants: 5-to 6-year feasibility study results. Arthroscopy 21(5):515–525

Piez KA, Gross J (1960) The amino acid composition of some fish collagens: the relation between composition and structure. J Biol Chem 235(4):995–998

Sood A, Granick MS, Tomaselli NL (2014) Wound dressings and comparative effectiveness data. Adv Wound Care 3(8):511–529

Hoffman AS (2012) Hydrogels for biomedical applications. Adv Drug Deliv Rev 64(1):18–23

Liu J, Chinga-Carrasco G, Cheng F, Xu W, Willför S, Syverud K, Xu C (2016) Hemicellulose-reinforced nanocellulose hydrogels for wound healing application. Cellulose 23(5):3129–3143

Chattopadhyay S, Raines RT (2014) Review collagen-based biomaterials for wound healing. Biopolymers 101(8):821–833

Yamada S, Yamamoto K, Ikeda T, Yanagiguchi K, Hayashi Y (2014) Potency of fish collagen as a scaffold for regenerative medicine. BioMed Res Int 2014:302932

Lee CH, Singla A, Lee Y (2001) Biomedical applications of collagen. Int J Pharm 221(1–2):1–22

Pati F, Datta P, Adhikari B, Dhara S, Ghosh K, Mohapatra PKD (2012) Collagen scaffolds derived from fresh water fish origin and their biocompatibility. J Biomed Mater Res Part A 100(4):1068–1079

Rajan N, Habermehl J, Coté M, Doillon C, Mantovani D (2006) Preparation of ready-to-use, storable and reconstituted type I collagen from rat tail tendon for tissue engineering applications. Nat Protoc 1(6):2753

Lowry OH, Rosebrough NJ, Farr AL, Randall RJ (1951) Protein measurement with the Folin phenol reagent. J Biol Chem 193:265–275

Sambrook J, Fritsch EF, Maniatis T (1989) Molecular cloning: a laboratory manual, 2nd edn. Cold Spring Harbor Laboratory Press, Cold Spring Harbor

Laemmli UK, Amos LA, Klug A (1976) Correlation between structural transformation and cleavage of the major head protein of T4 bacteriophage. Cell 7(2):191–203

Baker CN, Stocker SA, Culver DH, Thornsberry C (1991) Comparison of the E Test to agar dilution, broth microdilution, and agar diffusion susceptibility testing techniques by using a special challenge set of bacteria. J Clin Microbiol 29(3):533–538

Magaldi S, Mata-Essayag S, De Capriles CH, Perez C, Colella MT, Olaizola C, Ontiveros Y (2004) Well diffusion for antifungal susceptibility testing. Int J Infect Dis 8(1):39–45

Fayemi OE, Ekennia AC, Katata-Seru L, Ebokaiwe AP, Ijomone OM, Onwudiwe DC, Ebenso EE (2018) Antimicrobial and wound healing properties of polyacrylonitrile-moringa extract nanofibers. ACS Omega 3(5):4791–4797

Johal HS, Garg T, Rath G, Goyal AK (2016) Advanced topical drug delivery system for the management of vaginal candidiasis. Drug Deliv 23(2):550–563

Xie Z, Paras CB, Weng H, Punnakitikashem P, Su LC, Vu K, Tang L, Yang J, Nguyen KT (2013) Dual growth factor releasing multi-functional nanofibers for wound healing. Acta Biomater 9(12):9351–9359

Nagai T, Izumi M, Ishii M (2004) Fish scale collagen. Preparation and partial characterization. Int J Food Sci Technol 39(3):239–244

Cherim M, Sîrbu R (2018) Obtaining of collagen extracts used as biomaterials with applications in the medical field. Eur J Med Nat Sci 2(3):13–18

Liao W, Guanghua X, Li Y, Shen XR, Li C (2018) Comparison of characteristics and fibril-forming ability of skin collagen from barramundi (Lates calcarifer) and tilapia (Oreochromis niloticus). Int J Biol Macromol 107:549–559

Rittié L (2017) Type I collagen purification from rat tail tendons fibrosis. Humana Press, New York 2017:287–308

Matmaroh K, Benjakul S, Prodpran T, Encarnacion AB, Kishimura H (2011) Characteristics of acid soluble collagen and pepsin soluble collagen from scale of spotted golden goatfish (Parupeneus heptacanthus). Food Chem 129(3):1179–1186

Tamilmozhi S, Veeruraj A, Arumugam M (2013) Isolation and characterization of acid and pepsin-solubilized collagen from the skin of sailfish (Istiophorus platypterus). Food Res Int 54(2):1499–1505

Okazaki E, Osako K (2014) Isolation and characterization of acid-soluble collagen from the scales of marine fishes from Japan and Vietnam. Food Chem 149:264–270

Sinthusamran S, Benjakul S, Kishimura H (2013) Comparative study on molecular characteristics of acid soluble collagens from skin and swim bladder of seabass (Lates calcarifer). Food Chem 138(4):2435–2441

Tziveleka LA, Ioannou E, Tsiourvas D, Berillis P, Foufa E, Roussis V (2017) Collagen from the marine sponges Axinella cannabina and Suberites carnosus: isolation and morphological, biochemical, and biophysical characterization. Marine Drugs 15(6):152–168

Kaewdang O, Benjakul S, Kaewmanee T, Kishimura H (2014) Characteristics of collagens from the swim bladders of yellowfin tuna (Thunnus albacares). Food Chem 15(155):264–270

Singh P, Benjakul S, Maqsood S, Kishimura H (2011) Isolation and characterisation of collagen extracted from the skin of striped catfish (Pangasianodon hypophthalmus). Food Chem 124(1):97–105

Zhang J, Duan R, Huang L, Song Y, Regenstein JM (2014) Characterisation of acid-soluble and pepsin-solubilised collagen from jellyfish (Cyanea nozakii Kishinouye). Food Chem 1(150):22–26

Doyle BB, Bendit EG, Blout ER (1975) Infrared spectroscopy of collagen and collagen-like polypeptides. Biopolymers 14(5):937–957

Krimm S, Abe Y (1972) Intermolecular interaction effects in the amide I vibrations of β polypeptides. Proc Natl Acad Sci USA 69(10):2788–2792

Muyonga JH, Cole CGB, Duodu KG (2004) Fourier transform infrared (FTIR) spectroscopic study of acid soluble collagen and gelatin from skins and bones of young and adult Nile perch (Lates niloticus). Food Chem 86(3):325–332

Bryan MA, Brauner JW, Anderle G, Flach CR, Brodsky B, Mendelsohn R (2007) FTIR studies of collagen model peptides: complementary experimental and simulation approaches to conformation and unfolding. J Am Chem Soc 129(25):7877–7884
Acknowledgements
This research has been funded by Academy of Scientifc Research and Technology (ASRT), Grant number 26D/2017.
Additional information
Publisher's Note
Springer Nature remains neutral with regard to jurisdictional claims in published maps and institutional affiliations.
About this article
Cite this article
Shalaby, M., Agwa, M., Saeed, H. et al. Fish Scale Collagen Preparation, Characterization and Its Application in Wound Healing. J Polym Environ 28, 166–178 (2020). https://doi.org/10.1007/s10924-019-01594-w
Published:

Issue Date:

DOI: https://doi.org/10.1007/s10924-019-01594-w
Keywords