Abstract
This work characterized the disintegration and biodegradation of aged samples of PBAT films with and without photostabilization additives. The objective is to correlate these processes with properties affected after aging, i.e. molecular weight and gel content. Three different formulations were studied: pure polymer; PBAT with carbon black and hindered amine light stabilizer (HALS) and PBAT with carbon black and phenolic stabilizer vitamin E. The samples were monitored for 12 months. As expected, the lower level of photostabilization lead to the higher disintegration and biodegradation rates. Nevertheless, mineralization test showed that during time the differences among biodegradation rates become subtler. The crystallinity degree presented changes only at an advanced stage of degradation process, showing a reduction. The evaluation of the carbonyl index, molecular weight, surface morphology and visual analysis allowed to observe that the aged samples with lower gel content and lower molecular weight showed a faster degradation rate. The changes in material structure due to the increase of aromatic units concentration is the main hypothesis to explain the material behavior during degradation in soil.
Access options
Buy single article
Instant access to the full article PDF.
USD 39.95
Price excludes VAT (USA)
Tax calculation will be finalised during checkout.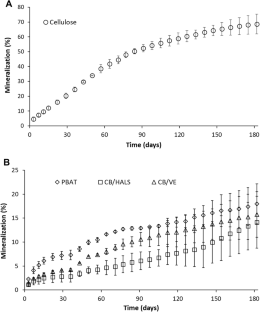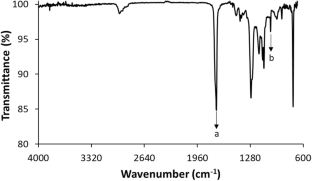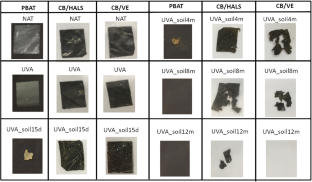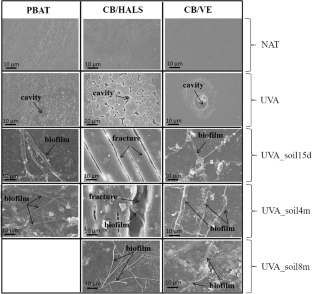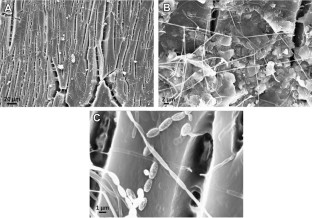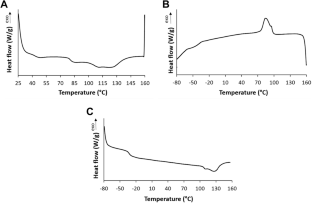 References
Yang N, Sun Z-X, Feng L-S, Chi D-C, Meng W-Z, Hou Z-Y, Bai W, Li K-Y (2015) Mater Manuf Process 30:143

Wilde B., Deconinck S. 2017. Expert Statement. (Bio)degradable mulching films. http://www.ows.be/publication/expert-statement-biodegradable-mulching-films/. Accessed 10 Oct 2018

Touchaleaume F, Martin-Closas L, Angellier-Coussy H, Chevillard A, Cesar G, Gontard N, Gastaldi E (2016) Chemosphere 144:433

Bilck AP, Grossmann MVE, Yamashita F (2010) Polym Test 29:471

Kijchavengkul T, Auras R, Rubino M, Selke S, Ngoujio M, Fernandez R (2010) Polym Degrad Stab 97:99

Souza PMS, Morales AR, Sanchez EMS, Mei LHI (2018) J Polym Environ 26:3422

Kijchavengkul T, Auras R, Rubino M, Ngoujio M, Fernandes RT (2008) Chemosphere 71:1607

BASF. Tinuvin 783. São Paulo, 2004 (Commercial catalog)

CABOT. Carbon blacks for specialty applications. 1988 (Commercial catalog)

American Society for Testing and Materials ASTM G154—Standard practice for operating fluorescent ultraviolet (UV) lamp apparatus for exposure of nonmetallic materials, 2012

Felisberti MI, Sanchez EMS, Saron C (2016) Simulador ambiental para envelhecimento acelerado de polímeros, 04/06, Patente de Invenção, PI0200366-0. Patente Unicamp, depósito: 07/02/2002. Concessão: 26/04/2016. INPI- Instituto Nacional da Propriedade Industrial, Brazil

American Society for Testing and Materials ASTM D5988—Standard practice for determining aerobic biodegradation of plastic materials in soil, 2012

Saadi Z, Cesar G, Bewa H (2013) J Polym Environ 21:893

British Standard BS 8472. Methods for the assessment of the oxo-biodegradation of plastics and of phyto-toxicity of residues in controlled laboratory conditions, 2011

Mariani PDS, Neto APV, Silva JP, Cardoso EJBN, Esposito E, Mei LHI (2007) J Polym Environ 15:19

Palsikowski PA, Kuchnier CN, Pinheiro IF, Morales AR (2018) J Polym Environ 26:330

Al-Itry R, Lamnawar K, Maazouza A (2012) Polym Degrad Stab 97:1898

Fukushima K, Wu M-H, Bocchini S, Rasyida A, Yang M-C (2012) Mater Sci Eng C 32:1331

Chivrac F, Kadlecová Z, Pollet E, Avérous L (2006) J Polym Environ 14:393

Kale G, Auras R, Singh SP, Narayan R (2007) Polym Test 26:1049

Xing Q, Wu L, Wand W-J. Study on accelerated aging of biodegradable poly(butylene adipate co-terephtalate) films for mulch applications. https://aiche.confex.com/aiche/2016/webprogram/Paper466844.html. Accessed 6 Dec 2017

Sikorska W, Rydz J, Wolna-Stypka K, Musiol M, Adamus G, Kwiencien I, Janeczek H, Duale K, Kowalczuk M (2017) Polymers 9:257

Sadi RK, Fechine GJM, Demarquette NR (2013) Polym Eng Sci 53:2109

Cai Y, Jungang LV, Feng J (2013) J Polym Environ 21:108

Sanchez EMS, Felisberti MI, Costa CAR, Galembeck F (2003) polimeros 13:166

Ping T, Zhou Y, He Y, Tang Y, Yang J, Akram MY, Nie J (2016) Prog Org Coat 97:74

Wang H, Wei D, Zheng A, Xiao H (2015) Polym Degrad Stab 116:14

Costerton JW, Lewandwski Z, Caldwell DE, Korber DR, Lappin-Socott HM (1995) Microbial Biofilms. Annu Rev Microbiol 49:711

Cranston E, Kawada J, Raymond S, Morin FG, Marchessault RH (2003) Biomacromolecules 4:995

Shih XQ, Kikutani T (2005) Polymer 46:11442

Kuwabara K, Gan Z, Nakamura T, Abe H, Doi Y (2002) Biomacromolecules 3:390

Gan Z, Kuwabara K, Yamamoto M, Abe H, Doi Y (2004) Polym Degrad Stab 83:289

Souza PMS, Corroqué NA, Morales AR, Marin-Morales MA, Mei LHI (2013) J Polym Environ 21:1052

Khatiwala VK, Shekhar N, Aggarwal S, Mandal UK (2008) J Polym Environ 16:61

Kijchavengkul T, Auras R, Rubino M, Selke S, Ngouajio M, Ferandez RT (2010) Polym Degrad Stab 95:2641

Feng S, Wu D, Liu H, Chen C, Liu J, Yao Z, Xu J (2014) Thermochim Acta 587:72

Gan Z, Kuwabara K, Yamamoto M, Abe H, Doi Y (2004) Polym Degrad Stab 83:289

Svoboda P, Dvorackova M, Svobodova D (2019) Polym Adv Technol 30:552
Acknowledgement
The authors thanks São Paulo Research Foundation-FAPESP (Process numbers 2016/10777-0, 2016/11999-0 and 2017/06103-7) by the financial support, Daniel Andrade de Siqueira Franco (Biological Institute, Campinas, Brazil) by the soil supplying used in this work, CABOT by carbon black providing, BASF by Ecoflex providing and AD & PG Comércio de Produtos Químicos Ltda by Tinuvin 783 supplying.
Additional information
Publisher's Note
Springer Nature remains neutral with regard to jurisdictional claims in published maps and institutional affiliations.
About this article
Cite this article
Souza, P.M.S., Coelho, F.M., Sommaggio, L.R.D. et al. Disintegration and Biodegradation in Soil of PBAT Mulch Films: Influence of the Stabilization Systems Based on Carbon Black/Hindered Amine Light Stabilizer and Carbon Black/Vitamin E. J Polym Environ 27, 1584–1594 (2019). https://doi.org/10.1007/s10924-019-01455-6
Published:

Issue Date:

DOI: https://doi.org/10.1007/s10924-019-01455-6
Keywords
Poly(butylene adipate co-terephthalate)

Disintegration

Biodegradation