Abstract
Carrageenan-based films demonstrate good performance, the raw materials for their production are abundant in nature and can be sustainably sourced from seaweeds. Similar to other naturally-derived biopolymers, however, carrageenans are relatively expensive to purify and form into useful materials. In order to potentially lower the production costs compared to pure carrageenan, semi-refined carrageenan (SRC) plasticized with 0–50% (w/w) glycerol was investigated using a solution casting method. The film color and opacity increased along with the moisture content, whereas the water vapor permeability decreased with increasing levels of glycerol. The tensile properties of the SRC films improved significantly, particularly at glycerol additions greater than 30% (w/w). Moreover, the addition of glycerol improved the thermal stability and altered the surface morphology of the films. In general, the properties of the SRC films were comparable with refined carrageenan films suggesting that SRC has potential to be furthered developed into more cost effective primary food packaging materials.
Access options
Buy single article
Instant access to the full article PDF.
USD 39.95
Price excludes VAT (USA)
Tax calculation will be finalised during checkout.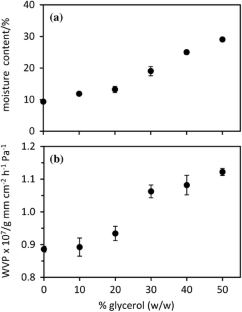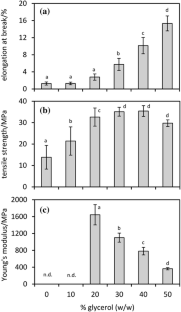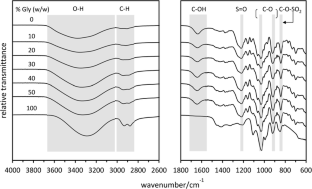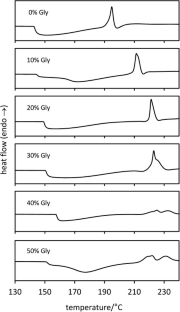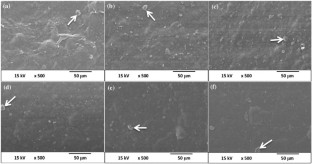 References
Siracusa V, Rocculi P, Romani S, Rosa MD (2008) Trends Food Sci Technol 19:634–643

Jambeck JR, Geyer R, Wilcox C, Siegler TR, Perryman M, Andrady A, Narayan R, Law KL (2015) Science 347:768

Vartiainen J, Vähä-Nissi M, Harlin A (2014) Mater Sci Appl 05:708–718

Mekonnen T, Mussone P, Khalil H, Bressler D (2013) J Mater Chem A 1:13379

Siah WM, Aminah A, Ishak A (2015) Int Food Res J 22:2230–2236

Jouanneau D, Guibet M, Boulenguer P, Mazoyer J, Smietana M, Helbert W (2010) Food Hydrocolloids 24:452–461

Al-Alawi AA, Al-Marhubi IM, Al-Belushi MSM, Soussi B (2011) Mar Biotechnol 13:893–899

Karbowiak T, Debeaufort F, Champion D, Voilley A (2006) J Colloid Interface sci 294:400–410

Lopez-Pena CL, McClements DJ (2014) Food Chem 153:9–14

Campo VL, Kawano DF, Silva DB Jr, Carvalho I (2009) Carbohydr Polym 77:167–180

Paula GA, Benevides NMB, Cunha AP, de Oliveira AV, Pinto AMB, Morais JPS, Azeredo HMC (2015) Food Hydrocolloids 47:140–145

Zarina S, Ahmad I (2015) BioResources 10:256–271

Rhim J-W, Wang L-F (2013) Carbohydr Polym 96:71–81

Farhan A, Hani NM (2017) Food Hydrocolloids 64:48–58

Ghosh PK, Siddhanta AK, Prasad K, Meena R, Bhattacharya A (2006) Process of preparation of biodegradable films from semi refined kappa carrageenan. Patent WO 2006/059180, A2

Vieira MGA, da Silva MA, dos Santos LO, Beppu MM (2011) Eur Polym J 47:254–263

Rhim J-W (2012) J Food Sci 77:N66–N73

Gómez-Estaca J, Giménez B, Montero P, Gómez-Guillén MC (2009) J Food Eng 92:78–85

Sobral PJA, Menegalli FC, Hubinger MD, Roques MA (2001) Food Hydrocolloids 15:423–432

Sanyang ML, Sapuan SM, Jawaid M, Ishak MR, Sahari J (2016) J Food Sci Technol 53:326–336

Farahnaky A, Saberi B, Majzoobi M (2013) J Texture Stud 44:176–186

Jongjareonrak A, Benjakul S, Visessanguan W, Tanaka M (2005) Eur Food Res Technol 222:229–235

Martins JT, Cerqueira MA, Bourbon AI, Pinheiro AC, Souza BWS, Vicente AA (2012) Food Hydrocolloids 29:280–289

Masarin F, Cedeno FRP, Chavez EGS, de Oliveira LE, Gelli VC, Monti R (2016) Biotechnol Biofuels 9:122

Sothornvit R, Krochta JM (2000) J Agric Food Chem 48:6298–6302

Karbowiak T, Hervet H, Leger L, Champion D, Debeaufort F, Voilley A (2006) Biomacromolecules 7:2011–2019

Rivero S, Damonte L, García MA, Pinotti A (2016) Food Biophys 11:117–127

Bertuzzi MA, Gottifredi JC, Armada M (2012) Braz J Food Technol 15:219–227

Paşcalău V, Popescu V, Popescu GL, Dudescu MC, Borodi G, Dinescu A, Perhaiţa I, Paul M (2012) J Alloys Compd 536:S418–S423

Aranilla C, Nagasawa N, Bayquen A, DeLa Rosa A (2012) Carbohydr Polym 87:1810–1816

Kongjao S, Damronglerd S, Hunsom M (2010) Korean J Chem Eng 27:944–949

Rezaei M, Motamedzadegan A (2015) World J Nano Sci Eng 05:178–193

van Soest JJG, Bezemer RC, de Wit D, Vliegenthart JFG (1996) Ind Crops Prod 5:1–9

Xue Z, Zhang W, Yan M, Liu J, Wang B, Xia Y (2017) RSC Adv 7:25253–25264

Pang J, Liu X, Zhang X, Wu Y, Sun R (2013) Materials 6:1270–1284

Hejri Z, Ahmadpour A, Seifkordi A, Zebarjad A S (2012) Int J Nanosci Nanotechnol 8:215–226

Zhang L, Otte A, Xiang M, Liu D, Pinal R (2015) Molecules 20:17180

Jiang X, Zhao Y, Hou L (2016) Carbohydr Polym 135:191–198
About this article
Cite this article
Sedayu, B.B., Cran, M.J. & Bigger, S.W. Characterization of Semi-refined Carrageenan-Based Film for Primary Food Packaging Purposes. J Polym Environ 26, 3754–3761 (2018). https://doi.org/10.1007/s10924-018-1255-y
Published:

Issue Date:

DOI: https://doi.org/10.1007/s10924-018-1255-y
Keywords