Abstract
Commercially, chewing gum is produced based on synthetic gum base, which is non-biodegradable and remains in the environment for a long time. Accordingly, chewing gum residue can be considered as a dangerous environmental pollutant. This research was set up to develop a bio-chewing gum based on "Saqqez (Bene resin)" as the source of biopolymers. The produced bio-chewing gum was evaluated for its biodegradability (over a 20-weeks course), condition in a simulated digestive system, and textural and sensory properties; the properties were also compared with those of synthetic chewing gum. According to biodegradability studies, scanning electron microscope photographs showed that the bio-chewing gum was very well biodegradable in the environment (approximately degraded after 3 years), while the synthetic sample remained unchanged for a long time (≈ 1602 years). The SEM results also showed that the simulated digestive system did not dramatically affect the microstructure of the bio and synthetic samples. The hardness and chewiness of the bio-chewing gum were significantly higher than those of the synthetic one. However, the cohesiveness, springiness and adhesiveness of the bio-chewing gum were significantly lower than those observed for the synthetic sample. According to the overall acceptability scores, it can be stated that the bio-chewing gum was well appreciated by the panelists. The bio-chewing gum developed in this study is viable as a good alternative to synthetic chewing gum due to natural gum used in its production, as well as its good biodegradability and textural and overall acceptability.
Graphical Abstract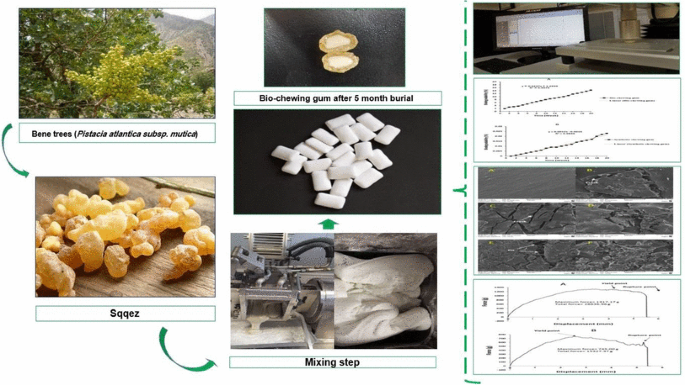 Access options
Buy single article
Instant access to the full article PDF.
US$ 39.95
Tax calculation will be finalised during checkout.
Subscribe to journal
Immediate online access to all issues from 2019. Subscription will auto renew annually.
US$ 79
Tax calculation will be finalised during checkout.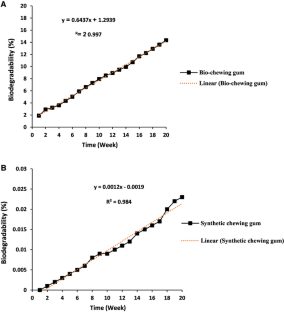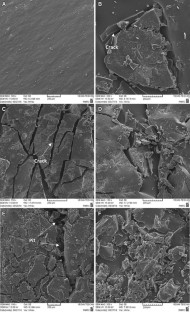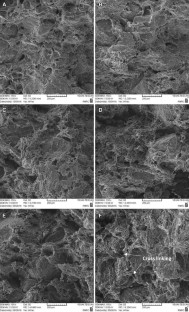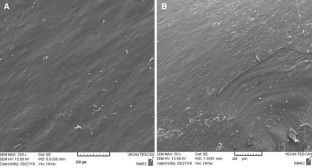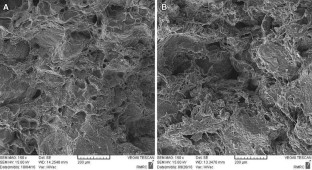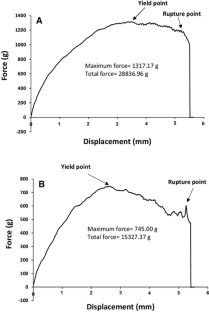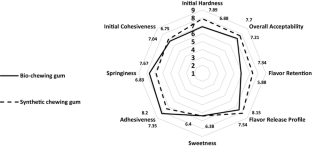 References
1.

Wong SW, Yu B, Curran P, Zhou W (2009) Characterising the release of flavour compounds from chewing gum through HS-SPME analysis and mathematical modelling. Food Chem 114:852–858

2.

Potineni RV (2007) Mechanisms of flavor release and perception in sugar-free chewing gum. The Pennsylvania State University, University Park

3.

Jacobsen J, Christrup LL, Jensen NH (2004) Medicated chewing gum. Am J Drug Deliv 2:75–88

4.

Potineni RV, Peterson DG (2008) Mechanisms of flavor release in chewing gum: cinnamaldehyde. J Agric Food Chem 56:3260–3267

5.

McGowan BA, Padua GW, Lee SY (2005) Formulation of corn zein chewing gum and evaluation of sensory properties by the time-intensity method. J Food Sci 70:475–481

6.

Mehta FF, Trivedi P (2015) Formulation and characterization of biodegradable medicated chewing gum delivery system for motion sickness using corn zein as gum former. Trop J Pharm Res 14:753–760

7.

Rezaie M, Farhoosh R, Iranshahi M, Sharif A, Golmohamadzadeh S (2015) Ultrasonic-assisted extraction of antioxidative compounds from Bene (Pistacia atlantica subsp. mutica) hull using various solvents of different physicochemical properties. Food Chem 173:577–583

8.

Paraskevopoulou A, Kiosseoglou V (2016) Chios mastic gum and its food applications. In: Functional properties of traditional foods. Springer, Boston, MA, pp 271–287

9.

Farhoosh R, Khodaparast MHH, Sharif A (2009) Bene hull oil as a highly stable and antioxidative vegetable oil. Eur J Lipid Sci Technol 111:1259–1265

10.

Rezaei PF, Fouladdel S, Ghaffari SM, Amin G, Azizi E (2012) Induction of G1 cell cycle arrest and cyclin D1 down-regulation in response to pericarp extract of Baneh in human breast cancer T47D cells. DARU J Pharm Sci 20:101

11.

Farhoosh R, Tavassoli-Kafrani MH, Sharif A Antioxidant activity of sesame, rice bran and bene hull oils and their unsaponifiable matters. Eur J Lipid Sci Technol 113:506–512

12.

Takahashi K, Fukazawa M, Motohira H, Ochiai K, Nishikawa H, Miyata T (2003) A pilot study on antiplaque effects of mastic chewing gum in the oral cavity. J Periodontol 74:501–505

13.

Aksoy A, Duran N, Koksal F (2006) In vitro and in vivo antimicrobial effects of mastic chewing gum against Streptococcus mutans and mutans streptococci. Arch Oral Biol 51:476–481

14.

Konar N, Palabiyik I, Toker OS, Sagdic O (2016) Chewing gum: production, quality parameters and opportunities for delivering bioactive compounds. Trends Food Sci Technol 55:29–38

15.

Kaith BS, Jindal R, Kumar V (2015) Biodegradation of Gum tragacanth acrylic acid based hydrogel and its impact on soil fertility. Polym Degrad Stabil 115:24–31

16.

Annan N, Borza A, Hansen LT (2008) Encapsulation in alginate-coated gelatin microspheres improves survival of the probiotic Bifidobacterium adolescentis 15703T during exposure to simulated gastro-intestinal conditions. Food Res Int 41:184–193

17.

Paraschos S, Magiatis P, Mitakou S, Petraki K, Kalliaropoulos A, Maragkoudakis P, Mentis A, Sgouras D, Skaltsounis AL (2007) In vitro and in vivo activities of Chios mastic gum extracts and constituents against Helicobacter pylori. Antimicrob Agents Chemother 51:551–559

18.

Huwez FU, Thirlwell D, Cockayne A, Ala'Aldeen DA (1998) Mastic gum kills Helicobacter pylori. N Engl J Med 339:1946–1946

19.

Kottakis F, Lamari F, Matragkou C, Zachariadis G, Karamanos N, Choli-Papadopoulou T (2008) Arabino-galactan proteins from Pistacia lentiscus var. chia: isolation, characterization and biological function. Amino Acids 34:413–420

20.

Dabos KJ, Sfika E, Vlatta LJ, Frantzi D, Amygdalos GI, Giannikopoulos G (2010) Is Chios mastic gum effective in the treatment of functional dyspepsia? A prospective randomised double-blind placebo controlled trial. J Ethnopharmacol 127:205–209

21.

Steffe JF (1996) Rheological methods in food process engineering. Freeman Press, East Lansing

22.

Ream RL, Ried RD, McHale M (1989) Method for forming a confectionary product into a rolled tape. Google Patents

23.

Cherukuri SR, Marschall-Helman E, Hriscisce FT (1988) A non-adhesive chewing gum base composition, and a non-adhesive chewing gum composition. Google Patents

24.

Andersen L, Wittorff H, Storey R, Isaksen A (2002) Degradable resin substitute for chewing gum. Google Patents

25.

Szczesniak AS (2002) Texture is a sensory property. Food Qual Prefer 13:215–225

26.

Wada T, Takano T, Ueda T, Sakurai K (2016) Comparison of adhesive resistance to chewing gum among denture base acrylic resin, cobalt-chromium alloy, and zirconia. Bull Tokyo Dent Coll 57:1–5
Acknowledgements
This work was financed and supported by the Master Foodeh Co. (Eshtehard, Iran). The authors are thankful to Mr. Mohammad Karimi, CEO of Master Foodeh Co. for all the material and spiritual help.
Ethics declarations
Conflict of interest
The authors have received research grants from Master Foodeh Co. and Islamic Azad University.
About this article
Cite this article
Saberi, F., Naderi, M. & Naeli, M.H. Production of Bio-chewing Gum Based on Saqqez as the Biopolymer: Its Biodegradability and Textural Properties. J Polym Environ 26, 3889–3901 (2018). https://doi.org/10.1007/s10924-018-1244-1
Keywords
Saqqez

Bio-chewing gum

Biodegradability

Textural features

Sensory properties