Abstract
In this study, cellulose fibers were removed from crop by-products using a combination of sodium hydroxide treatment followed by acidified sodium chlorite treatment. The objective was to obtain high recovery of cellulose by optimizing treatment conditions with sodium hydroxide (5–20%, 25–75 °C and 2–10 h) followed by acidified sodium chlorite (1.7%, 75 °C for 2–6 h) to remove maximum lignin and hemicellulose, as well as to investigate the effect of lignin content of the starting materials on the treatment efficiency. Samples were characterized for their chemical composition, crystallinity, thermal behavior and morphology to evaluate the effects of treatments on the fibers' structure. The optimum sodium hydroxide treatment conditions for maximum cellulose recovery was at 15% NaOH concentration, 99 °C and 6 h. Subsequent acidified sodium chlorite treatment at 75 °C was found to be effective in removing both hemicellulose and lignin, resulting in higher recovery of cellulose in lupin hull (~ 95%) and canola straw (~ 93%). The resultant cellulose fibers of both crop by-products had increased crystallinity without changing cellulose I structure (~ 68–73%). Improved thermal stabilities were observed with increased onset of degradation temperatures up to 307–318 °C. Morphological investigations validated the effectiveness of treatments, revealing disrupted cell wall matrix and increased surface area due to the removal of non-cellulosics. The results suggest that the optimized combination of sodium hydroxide and acidified sodium chlorite treatments could be effectively used for the isolation of cellulose fibers from sweet blue lupin hull and canola straw, which find a great number of uses in a wide range of industrial applications.
This is a preview of subscription content, log in to check access.
Access options
Buy single article
Instant access to the full article PDF.
US$ 39.95
Price includes VAT for USA
Subscribe to journal
Immediate online access to all issues from 2019. Subscription will auto renew annually.
US$ 99
This is the net price. Taxes to be calculated in checkout.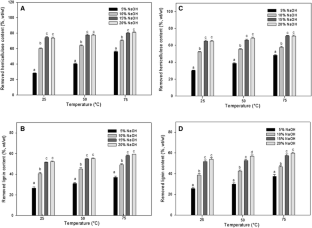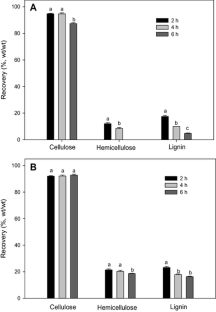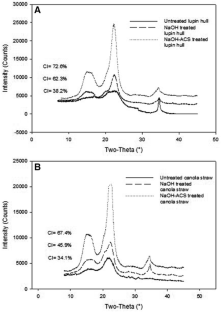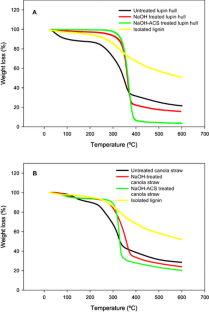 References
1.

Azizi Samir MAS, Alloin F, Dufresne A (2005) Biomacromolecules 6:612–626

2.

Fukuzumi H, Saito T, Iwata T, Kumamoto Y, Isogai A (2009) Biomacromolecules 10:162–165

3.

Kadla JF, Gilbert RD (2000) Cell Chem Technol 34:197–216

4.

Kumar V, Reus-Medina MDL, Yang D (2002) Int J Pharm 235:129–140

5.

Madani A, Kiiskinen H, Olson JA, Martinez MD (2011) Nord Pulp Pap Res J 26:306–311

6.

Osong SH, Norgren S, Engstrand P (2015) Cellulose 23:1–31

7.

Modenbach A (2013) Ph.D. dissertation at the University of Kentucky, pp 147–191

8.

Silverstein RA, Chen Y, Sharma-Shivappa RR, Boyette MD, Osborne J (2007) Bioresour Technol 98:3000–3011

9.

Pedersen M, Meyer AS (2009) Biotechnol Prog 25:399–408

10.

Pan X, Xie D, Kang KY (2007) Appl Biochem Biotechnol 140:367–377

11.

Ciftci D, Saldaña MDA (2015) Bioresour Technol 194:75–82

12.

Carvalheiro F, Duarte LC, Gírio FM (2008) J Sci Ind Res 67:849–864

13.

Kim JS, Lee YY, Kim TH (2016) Bioresour Technol 199:42–48

14.

Kim TH, Lee YY (2007) Appl Biochem Biotechnol 137:81–92

15.

Tajkarimi M, Riemann HP, Hajmeer MN, Gomez EL, Rzazvilar V, Cliver DO (2008) Int J Food Microbiol 122:23–28

16.

Wyman CE, Dale BE, Elander RT, Holzapple M, Ladisch MR, Lee YY (2005) Bioresour Technol 96:1959–1966

17.

Hubbell CA, Ragauskas AJ (2010) Bioresour Technol 101:7410–7415

18.

Deshwal BR, Jo HD, Lee HK (2004) Can J Chem Eng 82(3):619–623

19.

Yue Y, Han J, Han G, Zhang Q, French AD, Wu Q (2015) Carbohydr Polym 133:438–447

20.

Ruangudomsakul W, Ruksakulpiwat C, Ruksakulpiwat Y (2015) Macromol Symp 354:170–176

21.

Sluiter A, Hames B, Ruiz R, Scarlata C, Sluiter J, Templeton D, Crocker D (2008) NREL/TP-510-42618. National Renewable Laboratory, Golden

22.

Segal L, Creely L, Martin AE, Conrad CM (1959) Text Res J 29:786–794

23.

Bailey RW, Mills SE, Hove EL (1974) J Sci Food Agric 25:955–961

24.

Pronyk C, Mazza G (2012) Bioresour Technol 106:117–124

25.

Rambabua N, Panthapulakkalb S, Sain M, Dalai AK (2016) Ind Crop Prod 83:746–754

26.

Lynd LR, Cushman JH, Nichols RJ, Wyman CE (1991) Science 251(4999):1318–1323

27.

Sánchez C (2009) Biotechnol Adv 27:85–194

28.

Grierer J (1986) Wood Sci Technol 20(1):1–33

29.

Nishiyama Y (2009) J Wood Sci 55(4):241–249

30.

Revol J, Dietrich A, Goring D (1987) Can J Chem 65:1724–1725

31.

Alemdar A, Sain M (2008) Bioresour Technol 99(6):1664–1671

32.

Ray D, Sarkar BK, Basak RK, Rana AK (2002) J Appl Polym Sci 85:2594–2599

33.

Mandal A, Chakrabarty D (2011) Carbohydr Polym 86:1291–1299

34.

Manfredi BL, Rodrigue ES, Wladyka PM, Vazquez A (2006) Polym Degrad Stabil 91:255–261

35.

Yang HP, Yan R, Chen HP, Zhen CG, Lee DH, Liang DT (2006) Energy Fuels 20:388–393

36.

Brebu M, Vasile C (2010) Cell Chem Technol 44(9):353–363
Acknowledgements
We are grateful to Natural Sciences and Engineering Research Council of Canada (NSERC, #05356-2014) and the Food Processing Center of University of Nebraska-Lincoln for the financial support to carry out this research.
About this article
Cite this article
Ciftci, D., Flores, R.A. & Saldaña, M.D.A. Cellulose Fiber Isolation and Characterization from Sweet Blue Lupin Hull and Canola Straw. J Polym Environ 26, 2773–2781 (2018). https://doi.org/10.1007/s10924-017-1164-5
Keywords
Acidified sodium chlorite

Canola straw

Cellulose

Lignocellulosic biomass

Lupin hull

Sodium hydroxide