Abstract
Poly(3-hydroxybutyrate-co-3-hydroxyvalerate) (PHBV), a semi-polycrystalline biopolymer from the polyhydroxyalkanonate family has in recent years become a commercial bioplastic with mechanical properties comparable to isotactic polypropylene and enhanced O2, CO2 and H2O barrier properties. However, its brittleness and sensitivity to thermal and hydrolysis degradations restrict its applications. To overcome the problems associated with degradation during processing blending of PHBV and an epoxy-functionalized chain extender (Joncryl® ADR-4368 S) was conducted in a twin screw extruder. The effect of concentration of the chain extender on thermal, crystallization and rheological behaviours of PHBV was investigated. Thermal gravimetric analysis results indicated improvement in the resistance to thermal decomposition of PHBV by introducing the chain extender. This was accompanied with calculation of thermal degradation activation energy (Ea) using the Flyn–Walls–Ozawa method which confirmed increase of Ea with the increase in content of the chain extender. The rheological behaviour and crystallization of modified PHBV was characterized by rotational rheometry and differential scanning calorimetry techniques, respectively. The results show that addition of chain extender enhanced viscosity of PHBV and also reduce the rate of crystallization.
Access options
Buy single article
Instant access to the full article PDF.
USD 39.95
Price includes VAT (USA)
Tax calculation will be finalised during checkout.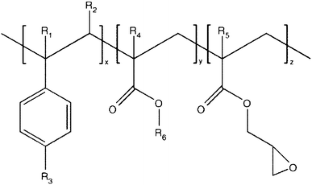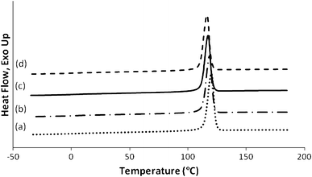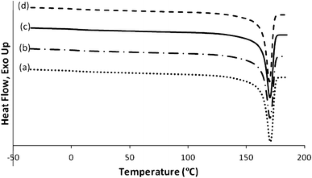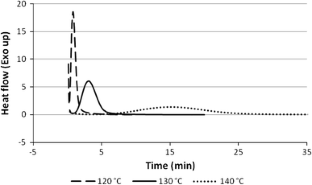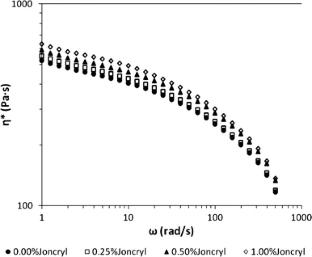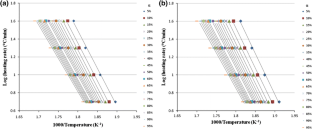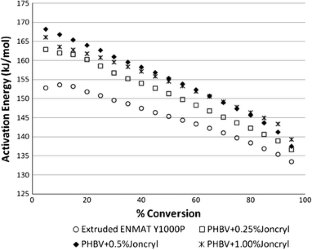 References
1.

Numata K, Yamashita K, Fujita M, Tsuge T, Kasuya K, Iwata T (2007) Biomacromolecules 8:2276

2.

Chen GQ, Wu Q (2005) Biomaterials 26(33):6565

3.

Tanaka T, Yabe T, Teramachi S, Iwata T (2007) Polym Degrad Stab 92:1016

4.

Sheu DS, Chen WM, Yang JY, Chang RC (2009) Enz Microb Technol 44:289

5.

Sato H, Nakamura M, Padermshoke A, Yamaguchi H, Terauchi H, Ekgasit S (2004) Macromolecules 37:3763

6.

Serafim LS, Lemos PC, Torres C, Reis MAM, Ramos AM (2008) Macromol Biosci 8:355

7.

Sudesh K, Loo CY, Goh LK, Iwata T, Maeda M (2007) Macromol Biosci 7:1199

8.

Parra DF, Fusaro J, Gaboardi F, Rosa DS (2006) Polym Degrad Stab 91:1954

9.

Bucci DZ, Tavares LBB, Sell I (2005) Polym Test 24:564

10.

Sanchez-Garcia MD, Gimenez E, Lagaron JM (2008) J Appl Polym Sci 108:2787

11.

Bucci DZ, Tavares LBB, Sell I (2007) Polym Test 26:908

12.

Koning GJM, Lemstra PJ (1993) Polymer 34:4089

13.

Elodie H, Perrine B, Eric P, Luc A (2008) Polym Degrad Stab 93:413

14.

Chee MJK, Ismail J, Kummerlöwe Kammer CHW (2002) Polymer 43:1235

15.

Matko E, Tonka K, Ivka K (2005) Polym Degrad Stab 90:313

16.

Akira K (2006) Polymer 47:3548

17.

Liu QS, Zhu MF, Wu WH, Qin ZY (2009) Polym Degrad Stab 94:18

18.

Zhijiang C, Chengwei H, Guang Y (2011) Polym Degrad Stab 96:1602

19.

Vroman I, Tighzert L (2009) Materials 2:307

20.

Haene PD, Remsen EE, Asrar J (1999) Macromolecules 32:5229

21.

Fei B, Chen C, Chen S, Peng S, Zhuang Y, An Y, Dong L (2004) Polym Int 53:937

22.

Bikiaris DN, Karayannidis GP (1996) Appl Polym Sci Polym Chem 34:1337

23.

Corre YM, Duchet J, Reignier J, Maazouz A (2011) Rheol Acta 50:613

24.

Pilla S, Kim SG, Auer GK, Gong S, Park CB (2009) Polym Eng Sci 49:1653

25.

Villalobos M, Awojulu A, Greeley T, Turco G, Deeter G (2006) Energy 31:3227

26.

Najafi N, Heuzey MC, Carreau PJ, Wood-Adams PM (2012) Polym Degrad Stab 97:554

27.

Kai W, He Y, Inoue Y (2005) Polym Int 54:780

28.

Rao MVS, Dweltz NE (1986) J Appl Polym Sci 31:1239

29.

Bikiaris DN, Karayannidis GP (1998) J Therm Anal 54:721

30.

Avrami MJ (1939) J Chem Phys 7:1103

31.

Avrami MJ (1940) J Chem Phys 8:212

32.

Avrami MJ (1941) J Chem Phys 9:177

33.

Wunderlich B (1977) Macromolecular physics, vol 2. Academic Press, New York

34.

Liu JP, Mo ZS (1991) Chin Polym Bull 4:199

35.

Yuxian A, Lixia L, Lisong D, Zhishen M, Zhiliu F (1999) J Polym Sci Polym Phys Ed 37:443

36.

Wunderlich B (1976) Macromolecular physics. Academic Press, New York

37.

Liu WJ, Yang HL, Wang Z, Dong LS, Liu JJ (2002) J Appl Polym Sci 86:2145

38.

Kai W, He Y, Asakawa N, Inoue Y (2004) J Appl Polym Sci 94:2466

39.

Lorenzo AT, Arnal ML, Albuerne J, Muller AJ (2007) Polym Test 26:222

40.

Zhong W, Ge J, Gu Z, Li W, Chen X, Zang Y, Yang Y (1999) J Appl Polym Sci 74:2546

41.

Mihai M, Huneault MA, Favis BD (2010) Polym Eng Sci 50:629

42.

Flynn JH, Wall LA (1966) J Res Natl Bur Stand 70A:487

43.

Ozawa T (1965) Bull Chem Soc Jpn 38:1881

44.

Schneider HA (1985) Thermochim Acta 83:59

45.

Wendlandt WW (1986) Thermal analysis. Wiley, New York

46.

Kopinke FD, Remmler M, Mackenzie K (1996) Polym Degrad Stab 52:25
About this article
Cite this article
Duangphet, S., Szegda, D., Song, J. et al. The Effect of Chain Extender on Poly(3-hydroxybutyrate-co-3-hydroxyvalerate): Thermal Degradation, Crystallization, and Rheological Behaviours. J Polym Environ 22, 1–8 (2014). https://doi.org/10.1007/s10924-012-0568-5
Keywords
PHBV

Chain extender

Thermal degradation

Crystallization

Rheology