Abstract
A critical review of norms and standards and corresponding tests to determine the biodegradability in soil for biodegradable plastics, possibly applicable also to biodegradable agricultural plastics, is presented. There are only a few norms available at the international level about biodegradable plastics in soil. The criteria, parameters and testing methodologies for the characterization, labelling and validation of the agricultural plastic waste streams with respect to possible biodegradation in soil according to existing international standards are analysed while the relevant controversies are identified. To derive the best suited for agricultural plastics specs and testing methods, the possible developments or adaptation of available specs, is investigated. Considering the existing types of biodegradable plastic products in agriculture and their effective life management at the agricultural field, only a few norms appear to provide suitable tests that could be adapted, following appropriate research work, for testing biodegradability in soil under real field conditions. It is shown that some major revisions are needed, with the support of systematic research work, before a new universal norm and standard testing methods become available for testing agricultural plastics for biodegradation under real, and highly variable, soil conditions. Based on the analysis of the different norms and their content it appears necessary to incorporate provisions for transferability of results to different soils and climates, validation of tests through a positive reference and also, set prerequisites for soil media. Long term biodegradation in soil prediction is another open issue.
Access options
Buy single article
Instant access to the full article PDF.
USD 39.95
Price excludes VAT (USA)
Tax calculation will be finalised during checkout.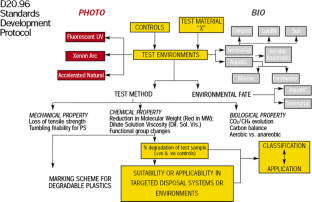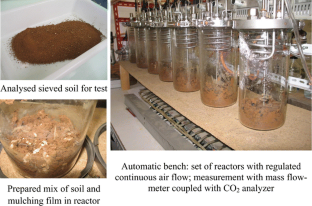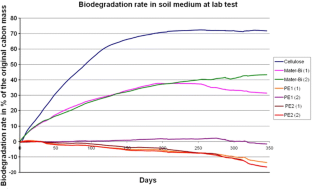 Notes
Biodegradation or biotic degradation is chemical degradation of materials (e.g. polymers) brought about by the action of naturally occurring microorganisms such as bacteria, fungi and algae (chemical degradation that does not involve biological activity is defined as abiotic degradation). As biodegradation proceeds it produces carbon dioxide and/or methane and water. If oxygen is present the biotic degradation that occurs is aerobic degradation and carbon dioxide is produced. If there is no oxygen available, the biotic degradation is anaerobic degradation, and methane is produced instead of carbon dioxide. Under some circumstances both gases are produced.
References
Bos U, Makishi C, Fischer M (2007) Life Cycle Assessment of Common Used Agricultural Plastic Products in the EU, ISHS Acta Horticulturae 801: International Symposium on High Technology for Greenhouse System Management: Greensys2007

LABELAGRIWASTE, Labelling agricultural plastic waste for valorising the waste stream, Sixth Framework Programme, Horizontal Research Activities involving SMEs Collective Research. http://labelagriwaste.aua.gr

European Plastics Converters, Plastics for Agriculture, EuPC, Avenue de Cortenbergh, 66 P.O. Box 4, 1000 Brussels—Belgium, http://www.plasticsconverters.eu/markets/agriculture

Comite International des Plastiques en Agriculture (C.I.P.A.), Paris, France

Briassoulis D, Hiskakis M, Scarascia G, Picuno P, Delgado C, Dejean C (2010) Quality Assurance and Safety of Crops & Foods, in print

Lamont WJ (1996) HortTech 6(3):150–154

González A, Fernández JA, Martín P, Rodríguez R, López J, Bañón S, Franco JA (2003) Behaviour of biodegradable film for mulching in open-air melon cultivation in South-East Spain, KTBL-Schrift, pp 71–77

Briassoulis D, Liantzas K, Hiskakis M (2008) Management of Agricultural Plastic Waste (APW)—A Pilot Test in Greece. In: Proceedings of EurAgEng 2008, Hersonissos, Crete, 23–26 June, 2008

Hiskakis M, Babou E, Briassoulis D, Marseglia A, Godosi Z, Liantzas K (2008) Recycling Specs for Agricultural Plastic Waste (APW)—A Pilot Test In Greece and in Italy. In: Proceedings of EurAgEng 2008, Hersonissos, Crete, 23–26 June, 2008

Hiskakis M, Briassoulis D, Teas C, Babou E, Liantzas K (2008) Using Agricultural Plastic Waste (APW) as Alternative Solid Fuel (ASF) for Energy Recovery in a Cement Industry Kiln—A Pilot Test. In: Proceedings of EurAgEng 2008, Hersonissos, Crete, 23–26 June, 2008

Hiskakis M, Briassoulis D (2006) Design of Agricultural Plastic Waste (APW) Chain for Greece from Generation to Disposal; A Pilot Test for Energy Recovery", World Congress of Agricultural Engineering, 3–7 September 2006, Bonn, Germany

Nayak PL (1999) Rev Macromol Chem Phys 39:481–505

Wang XL, Yang KK, Wang YZ (2003) J Macromol Sci—Pol Rev 43:385–409

Gross RA, Kalra B (2002) Green Chem 297:803–807

Briassoulis D (2004) J Polym Envirom 12(2):65–81

Japan Environment Association (2007) Biodegradable Plastic Products Version 1.0 Certification Criteria. Eco Mark Office. http://www.ecomark.jp/english/pdf/141eC1.pdf. Accessed 16 April 2009

The Technology Roadmap for Plant/Crop-Based Renewable Resources 2020; Research Priorities for Fulfilling a Vision to Enhance U.S. Economic Security Through Renewable Plant/Crop-Based Resource Use, Renewables Vision 2020 Executive Steering Group, DOE/GO-10099-706, February 1999, http://www.oit.doe.gov/agriculture/

European Bioplastics e.V. http://www.european-bioplastics.org/. Accessed 16 April 2009

A Lead Market Initiative for Europe, ANNEX I, Action plan of the lead market initiative in the area of bio-based products, Brussels, 21.12.2007, SEC(2007) 1729

Krzan V, Hemjinda S, Miertus S, Corti A, Chiellini E (2006) Polym Degrad Stabil 91:2819–2833

Grima S, Bellon-Maurel V, Silvestre F, Feuilloley P (2001) J Polym Environ 9(1):39–48

Drımal P, Hoffmann J, Druzbık M (2007) Polym Testing 26:729–741

Briassoulis D, Dejean C, Picuno P. Critical Review of Norms and Standards for Biodegradable Agricultural Plastics; Part II. Composting, submitted for publication

Kyrikou I, Briassoulis D (2007) J Polym Environ 15(2):125–150

Olabisi O, Robinson LM, Show MT (1979) Polymer–polymer miscibility. Academic press, New York

Chandra R, Rustgi R (1998) Program Polym Sci 23:1273–1335

Xiao C, Lu Y, Liu H, Zhang L (2000) J Macromol Sci A 37:1663–1675

Halley P, Rutgers R, Coombs S, Gralton J, Jenkins M, Beh H, Griffin K, Jayasekara R, Lonergan G (2001) Starch 53:362–367

Kaplan DL, Mayer JM, Greenberger M, Gross RA, McCarthy S (1994) Polym Degrad Stabil 45:165–172

APME, Federchimica Assoplast, BPF, Syndicat des producteurs de matieres plastiques, Biodegradable plastics, October 2001

Feuilloley P (2004) La Recherche 374:52–54

Fritz J (2003) Macromol Symp 197:397–409

Scott G, Gilead D (1995) Degradable polymers: Principles and applications, Chapter 13. Chapman & Hall

Thompson RC, Olsen Y, Mitchell RP, Davis A, Rowland SJ, John AWG et al (2004) Science 304:838

Narayan R. Standards for biobased products, MSU Chemical Engineering and Materials Science, USA

Feuilloley P, César G, Benguigui L, Grohens Y, Pillin I, Bewa H, Lefaux S, Jamal M (2005) J Polym Environ 13(4):349–355

Narayan R, Pettigrew (1999) ASTM Standards Help Define and Grow a New Biodegradable Plastics Industry, ASTM Standardization News, December, 1999, p 36; Invited Article

ASTM Technical Committees/Committee D20 on Plastics/Committee D20.96 on Environmentally Degradable Plastics and Biobased Products, ASTM International, 100 Barr Harbor Drive, PO Box C700, West Conshohocken, PA, 19428-2959 USA

ASTM D 5988-03, Standard Test Method for Determining Aerobic Biodegradation in Soil of Plastic Materials or Residual Plastic Materials After Composting, Edition:2003

Modelli M, Calcagno B, Scandola M (1999) J Polym Environ 7(2):109–116

Modelli M, Salib A, Galletti P, Samorì C (2008) Chemosphere 73(8):1322–1327

ISO technical committee TC 61/SC 5 Physical-chemical properties, ISO/TC 061 Plastics, International Organization for Standardization (ISO) 1, ch. de la Voie-Creuse, Case postale 56 CH-1211 Geneva 20, Switzerland

ISO 17556:2003, Plastics—Determination of the ultimate aerobic biodegradability in soil by measuring the oxygen demand in a respirometer or the amount of carbon dioxide evolved, International Organization for Standardization/01-Aug-2003

ISO 8192:2007, Water quality—Test for inhibition of oxygen consumption by activated sludge for carbonaceous and ammonium oxidation, International Organization for Standardization/01-Jan-2007

NF U52-001 February 2005: Biodegradable materials for use in agriculture and horticulture-mulching products-Requirements and test methods

Eubeler JP, Bernhard M, Zok S, Knepper TP (2009) Trends Anal Chem 28:1057

De Wilde B (2002), Standardisation Activities Related to Measuring Biodegradability of Plastics in Soil and Marine Conditions, presentation in International Conference "Industrial Applications of Bioplastics" York, United Kingdom 3, 4 & 5 February 2002

SP Technical Research Institute of Sweden Appendix 4 to SPCR 141 Polymeric waste degradable by abiotic and subsequent biological degradation—requirements and test methods. November 2007 SP Box 857 SE-501 15 Borås SWEDEN

Novamont S.p.A. http://www.materbi.com. Accessed 16 April 2009

Lowenfels J, Lewis W (2006) Teaming with microbes a Gardeners guide to the soil food web Timber Press, 196 pp., ISBN10: 0881927775

Nishide H, Toyota K, Kimura M (1999) Soil Sci Plant Nutr 45(4):936–972

Shin PK, Eun JJ (1999) J Microbiol Biotechnol 9(6):784–788

Hoshino A, Swada H, Yokota M, Tsuji M, Fukuda K, Kimura M (2001) Soil Sci Plant Nutr 47(1):35–43

Vinçotte. http://www.aib-vincotte.com/en/home/. Accessed 3 March 2010

Chiellini E, Corti A, Antone SD, Billingham NC (2007) J Polym Environ 15(3):169–178

Narayan R. Biodegradability principles & concepts, MSU Chemical Engineering and Materials Science, USA

Narayan R (2009) BioPlast Mag 4:28–31

EN 13432: 2000/AC:2005—European Committee for Standardization. EN 13432. Packaging—Requirements for Packaging Recoverable Through Composting And Biodegradation-Test Scheme And Evaluation Criteria For The Final Acceptance Of Packaging, European Standard, European Committee for Standardization, Brussels, Belgium 2005

EN 14995-2006, Plastics—Evaluation of compostability—Test scheme and specifications, Edition: 2006

ISO 11269-2:2005, Soil quality—Determination of the effects of pollutants on soil flora—Part 2: Effects of chemicals on the emergence and growth of higher plants, International Organization for Standardization/01-Nov-2005/

ISO 11268-1:1993, Soil Quality—Effects of pollutants on earthworms (Eisenia Fetida) Part1: Detemination of acute toxicity using artificial soil substrate International Organization for Standardization/1993

AFNOR NF T 90-375. Water quality—determination of water chronic toxicity by growth inhibition of the freshwater algae Pseudokirchneriella subcapitata (Selenastrum capricornutum). Saint Denis: Association Française de Normalisation; 1998 [13 pp.]

UNI EN 14995:2006 (E)-PlasticsEvaluation of compostability—test scheme and specifications. UNI (Italian Unification Agency), Milano, 2007

CEN/TC 249, EN 13206:2002. Covering thermoplastic films for use in agriculture and horticulture
Acknowledgements
The present work has been supported by the European 'Labelling agricultural plastic waste for valorising the waste stream', Collective research, LABELAGRIWASTE, Contract no. 516256-2. Special thanks are due to Novamont S.p.A. staff for the technical support offered on the management in soil media with respect to air flow diffusion and moisture content regulation.
About this article
Cite this article
Briassoulis, D., Dejean, C. Critical Review of Norms and Standards for Biodegradable Agricultural Plastics Part Ι. Biodegradation in Soil. J Polym Environ 18, 384–400 (2010). https://doi.org/10.1007/s10924-010-0168-1
Published:

Issue Date:

DOI: https://doi.org/10.1007/s10924-010-0168-1
Keywords
Biodegradable agricultural plastics

Biodegradability in soil

Testing methods

Norms

Labelling