Abstract
For many people, emotions are frequently expressed in the context of communication with their God. The practice of prayer is clearly embodied and affords the study of full body expressions of emotions in a relevant context. Surprisingly uncharacterized in empirical scientific research, we document full body postures representing prayers in different emotional registers (i.e., prayer, worship, praise, thanksgiving, repentance, confession, anger toward God) and compare them to postures representing specific emotions varying on two basic affective dimensions (valence and dominance), and to specific relevant emotions (gratitude for thanksgiving, guilt for confession and repentance). US community participants with knowledge of Christianity (n = 93) were asked to show how they would express these feelings in the full body by positioning a small mannequin. Postures were analyzed to derive objective measurements of the body's vertical, horizontal, and total space, and subjective perceptions of the same dimensions from a separate sample. An observational coding system was also developed to code for components of the body, such as head and arm positions. Results show distinct differences between postures representing the overarching categories of prayer versus worship. Further, postures representing praise and to a lesser extent those of thanksgiving were found to be expansive and oriented upward, slightly smaller than postures of positive valence but bigger than dominance. Postures representing repentance and confession were found to be constrictive and oriented downward, even smaller than postures of negative valence and similar to submission. These results add to our limited knowledge of postural expressions of emotions and particularly that of positive emotions. Implications for the psychology of religion are also discussed.
Access options
Buy single article
Instant access to the full article PDF.
US$ 39.95
Tax calculation will be finalised during checkout.
Subscribe to journal
Immediate online access to all issues from 2019. Subscription will auto renew annually.
US$ 79
Tax calculation will be finalised during checkout.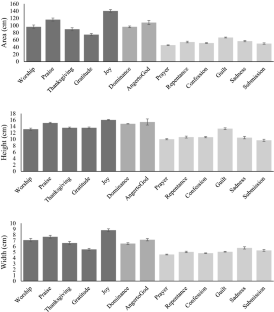 References
Adams, R. B., Jr., Ambady, N., Macrae, C. N., & Kleck, R. E. (2006). Emotional expressions forecast approach-avoidance behavior. Motivation and Emotion, 30(2), 179–188. https://doi.org/10.1007/s11031-006-9020-2

Bänziger, T., Mortillaro, M., & Scherer, K. R. (2012). Introducing the Geneva multimodal expression corpus for experimental research on emotion perception. Emotion, 12(5), 1161.

Barsalou, L. W. (2010). Grounded cognition: Past, present, and future. Topics in Cognitive Science, 2(4), 716–724.

Barsalou, L. W., Barbey, A. K., Simmons, W. K., & Santos, A. (2005). Embodiment in religious knowledge. Journal of Cognition and Culture, 5(1), 14–57.

Burgoon, J. K., & Dunbar, N. E. (2006). Nonverbal expressions of dominance and power in human relationships. In V. Manusov & M. Patterson (Eds.), The Sage handbook of nonverbal communication (pp. 279–297). Sage.

Campos, B., Shiota, M. N., Keltner, D., Gonzaga, G. C., & Goetz, J. L. (2013). What is shared, what is different? Core relational themes and expressive displays of eight positive emotions. Cognition & Emotion, 27(1), 37–52. https://doi.org/10.1080/02699931.2012.683852

Cesario, J., & McDonald, M. M. (2013). Bodies in context: Power poses as a computation of action possibility. Social Cognition, 31(2), 260–274.

Chaves, M., & Anderson, S. L. (2014). Changing American congregations: Findings from the third wave of the National Congregations Study. Journal for the Scientific Study of Religion, 53(4), 676–686.

Cohen, D., & Leung, A.K.-Y. (2009). The hard embodiment of culture. European Journal of Social Psychology, 39(7), 1278–1289. https://doi.org/10.1002/ejsp.671

Corwin, A. I., & Brown, T. W. (2020). Emotion in the language of prayer. In S. E. Pritzker, J. Fenigsen, & J. M. Wilce (Eds.), The Routledge handbook of language and emotion (pp. 325–343). Routledge.

Coulson, M. (2004). Attributing emotion to static body postures: Recognition accuracy, confusions, and viewpoint dependence. Journal of Nonverbal Behavior, 28(2), 117–139. https://doi.org/10.1023/B:JONB.0000023655.25550.be

Cowen, A. S., & Keltner, D. (2020). What the face displays: Mapping 28 emotions conveyed by naturalistic expression. American Psychologist, 75(3), 349.

Dael, N., Mortillaro, M., & Scherer, K. R. (2012). Emotion expression in body action and posture. Emotion, 12(5), 1085–1101. https://doi.org/10.1037/a0025737

Darwin, C. (1872). The expression of emotions in animals and man. Murray.

De Gelder, B. (2016). Emotions and the body. Oxford University Press.

Exline, J. J., Park, C. L., Smyth, J. M., & Carey, M. P. (2011). Anger toward God: Social-cognitive predictors, prevalence, and links with adjustment to bereavement and cancer. Journal of Personality and Social Psychology, 100(1), 129–148. https://doi.org/10.1037/a0021716

Hammond, C. (2015). The sound of the liturgy: How words work in worship. SPCK.

Hareli, S., Shomrat, N., & Hess, U. (2009). Emotional versus neutral expressions and perceptions of social dominance and submissiveness. Emotion, 9(3), 378–384.

Jones, J. (2019). Living religion: Embodiment, theology, and the possibility of a spiritual sense. Oxford University Press.

Keltner, D. (1995). Signs of appeasement: Evidence for the distinct displays of embarrassment, amusement, and shame. Journal of Personality and Social Psychology, 68(3), 441.

Keltner, D., Sauter, D., Tracy, J., & Cowen, A. (2019). Emotional expression: Advances in basic emotion theory. Journal of Nonverbal Behavior, 43(2), 133–160. https://doi.org/10.1007/s10919-019-00293-3

Ladd, K. L., & Spilka, B. (2002). Inward, outward, and upward: Cognitive aspects of prayer. Journal for the Scientific Study of Religion, 41(3), 475–484.

Mehrabian, A. (1972). Nonverbal communication. Aldine Transaction.

Mehrabian, A. (1995). Framework for a comprehensive description and measurement of emotional states. Genetic, Social, and General Psychology Monographs, 121(3), 339–361.

Meier, B. P., Hauser, D. J., Robinson, M. D., Friesen, C. K., & Schjeldahl, K. (2007). What's 'up' with God? Vertical space as a representation of the divine. Journal of Personality and Social Psychology, 93(5), 699.A6-710.A6.

Newman, D. B., & Graham, J. (2018). Religion and well-being. In E. Diener, S. Oishi, & L. Tay (Eds.), Handbook of well-being. DEF Publishers.

Niedenthal, P. M., Rychlowska, M., & Wood, A. (2017). Feelings and contexts: Socioecological influences on the nonverbal expression of emotion. Current Opinion in Psychology, 17, 170–175. https://doi.org/10.1016/j.copsyc.2017.07.025

Park, L. E., Streamer, L., Huang, L., & Galinsky, A. D. (2013). Stand tall, but don't put your feet up: Universal and culturally-specific effects of expansive postures on power. Journal of Experimental Social Psychology, 49(6), 965–971.

Pew Research Center. (2014). Global religious landscape. http://www.pewforum.org/religious-landscape-study/

Pew Research Center. (2018). The age gap in religion around the world. https://www.pewforum.org/2018/06/13/how-religious-commitment-varies-by-country-among-people-of-all-ages/

Reed, L. I., DeScioli, P., & Pinker, S. A. (2014). The commitment function of angry facial expressions. Psychological Science, 25(8), 1511–1517. https://doi.org/10.1177/0956797614531027

Saroglou, V., Corneille, O., & Van Cappellen, P. (2009). Speak, Lord, Your servant is listening: Religious priming activates submissive thoughts and behaviors. International Journal for the Psychology of Religion, 19, 143.C1-154.C1.

Sauter, D. A. (2017). The nonverbal communication of positive emotions: An emotion family approach. Emotion Review, 9(3), 222–234.

Schneider, C. A., Rasband, W. S., & Eliceiri, K. W. (2012). NIH Image to ImageJ: 25 years of image analysis. Nature Methods, 9(7), 671–675.

Soliman, T. M., Johnson, K. A., & Song, H. (2015). It's not "all in your head" understanding religion from an embodied cognition perspective. Perspectives on Psychological Science, 10(6), 852–864.

Spilka, B., & Ladd, K. L. (2013). The psychology of prayer: A scientific approach. Guilford Press.

Tiedens, L. Z., Ellsworth, P. C., & Mesquita, B. (2000). Sentimental stereotypes: Emotional expectations for high-and low-status group members. Personality and Social Psychology Bulletin, 26(5), 560–575.

Tracy, J. L., & Matsumoto, D. (2008). The spontaneous expression of pride and shame: Evidence for biologically innate nonverbal displays. Proceedings of the National Academy of Sciences, 105(33), 11655–11660.

Tracy, J. L., Shariff, A. F., Zhao, W., & Henrich, J. (2013). Cross-cultural evidence that the nonverbal expression of pride is an automatic status signal. Journal of Experimental Psychology: General, 142, 163–180.

Tsakiridis, G. (2013). Guilt and the science of emotion: How does prayer fit? Zygon, 48(4), 890–907.

Van Cappellen, P., Cassidy, S., & Zhang, R. (2021). Religion as an embodied practice: Organizing the various forms and documenting the meanings of Christian prayer postures. Psychology of Religion and Spirituality. https://doi.org/10.1037/rel0000412

Van Cappellen, P., & Edwards, M. E. (2021). The embodiment of worship: Relations among postural, psychological, and physiological aspects of religious practice. Journal for the Cognitive Science of Religion, 6(1–2), 56–79. https://doi.org/10.1558/jcsr.38683

Van Cappellen, P., Edwards, M. E., & Fredrickson, B. L. (2020a). Upward spirals of positive emotions and religious behaviors. Current Opinion in Psychological Science. https://doi.org/10.1016/j.copsyc.2020.09.004

Van Cappellen, P., Edwards, M. E., & Shiota, M. N. (2020b). Shades of expansiveness: Postural expression of dominance, high-arousal positive affect, and warmth. Duke University.

Wallbott, H. G. (1998). Bodily expression of emotion. European Journal of Social Psychology, 28, 879–896.

Witkower, Z., Mercadante, E. J., & Tracy, J. L. (2020). How affect shapes status: Distinct emotional experiences and expressions facilitate social hierarchy navigation. Current Opinion in Psychology, 33, 18–22. https://doi.org/10.1016/j.copsyc.2019.06.006

Witkower, Z., & Tracy, J. L. (2019a). Bodily communication of emotion: Evidence for extrafacial behavioral expressions and available coding systems. Emotion Review, 11(2), 184–193.

Witkower, Z., & Tracy, J. L. (2019b). A facial-action imposter: How head tilt influences perceptions of dominance from a neutral face. Psychological Science, 30(6), 893–906.
Acknowledgements
We would like to thank Lani Shiota for her guidance and help with data coding. We also thank Stephanie Cassidy, Daniel DeVault, Jordan Hepburn, and Camden Nelson for their help with data collection and coding, and Kerry O'Brien for editing. Data collection was facilitated by the Duke Interdisciplinary Behavioral Research Center and Duke Behavioral Participant Pool.
Funding
Preparation of this manuscript and data collection were funded by a John Templeton Foundation grant awarded to the first author (Grant #60836).
Ethics declarations
Conflict of interest
The authors have no conflicts of interest to declare that are relevant to the content of this article.
Additional information
Publisher's Note
Springer Nature remains neutral with regard to jurisdictional claims in published maps and institutional affiliations.
Supplementary Information
Below is the link to the electronic supplementary material.
About this article
Cite this article
Van Cappellen, P., Edwards, M. Emotion Expression in Context: Full Body Postures of Christian Prayer Orientations Compared to Specific Emotions. J Nonverbal Behav (2021). https://doi.org/10.1007/s10919-021-00370-6
Keywords
Religion

Prayer

Embodiment

Gratitude

Positive emotions