Abstract
Past research has demonstrated that children understand distinct emotion concepts and can accurately recognize facial expressions of distinct emotions by a young age, but few studies have assessed the age at which children develop the ability to recognize bodily expressions of distinct emotions. The current pre-registered research is the largest study to date (N = 552) examining the age at which children begin to recognize static bodily expressions of three negative emotions: anger, fear, and sadness. Our findings suggest that bodily expressions of sadness are recognized at rates consistently above chance by the age of 3-years, fear around the age of 4- to 5-years, and anger between the ages of 6- and 8-years. Recognition of all three expressions increased with age. The current research is the first to address this question using an entirely between-subjects design, allowing us to rule out the possibility that accurate recognition occurred as a result of a process of elimination or memory. Together, these findings suggest that children can reliably identify distinct negative emotions from bodily expressions, and this ability varies by age and the specific emotion being identified.
Access options
Buy single article
Instant access to the full article PDF.
US$ 39.95
Tax calculation will be finalised during checkout.
Subscribe to journal
Immediate online access to all issues from 2019. Subscription will auto renew annually.
US$ 79
Tax calculation will be finalised during checkout.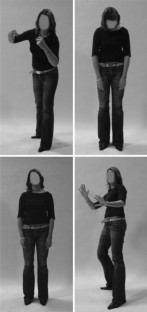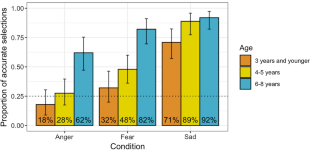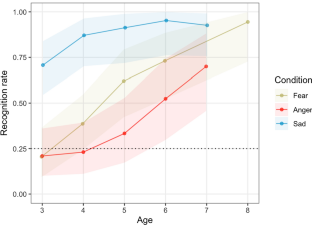 Notes
1.

In the original paper by Harrigan (1984), the authors used the phrase "Mad at someone" for the emotional term "angry". In the current work, we opted to use the term "Mad" instead, to broaden the scope of the emotion beyond an experience directed toward one specific other individual.
References
Abramson, L., Marom, I., Petranker, R., & Aviezer, H. (2016). Is fear in your head? A comparison of instructed and real-life expressions of emotion in the face and body. Emotion, 17(3), 557–565.

Atkinson, A. P., Dittrich, W. H., Gemmell, A. J., & Young, A. W. (2004). Emotion perception from dynamic and static body expressions in point-light and full-light displays. Perception, 33(6), 717–746.

Aviezer, H., Hassin, R. R., Ryan, J., Grady, C., Susskind, J., Anderson, A., Moscovitch, M., & Bentin, S. (2008). Angry, disgusted, or afraid? Studies on the malleability of emotion perception. Psychological Science, 19(7), 724–732.

Aviezer, H., Trope, Y., & Todorov, A. (2012). Body cues, not facial expressions, discriminate between intense positive and negative emotions. Science, 338(6111), 1225–1229.

Birch, S. A., Akmal, N., & Frampton, K. L. (2010). Two-year-olds are vigilant of others' non-verbal cues to credibility. Developmental Science, 13(2), 363–369.

Boone, R. T., & Cunningham, J. G. (1998). Children's decoding of emotion in expressive body movement: The development of cue attunement. Developmental Psychology, 34(5), 1007–1016.

Bretherton, I., & Beeghly, M. (1982). Talking about internal states: The acquisition of an explicit theory of mind. Developmental Psychology, 18(6), 906.

Brosseau-Liard, P. E., & Poulin-Dubois, D. (2014). Sensitivity to confidence cues increases during the second year of life. Infancy, 19(5), 461–475.

Camras, L. A., & Allison, K. (1985). Children's understanding of emotional facial expressions and verbal labels. Journal of Nonverbal Behavior, 9(2), 84–94.

Camras, L. A., Grow, J. G., & Ribordy, S. C. (1983). Recognition of emotional expression by abused children. Journal of Clinical Child & Adolescent Psychology, 12(3), 325–328.

Castro, V. L., Halberstadt, A. G., Lozada, F. T., & Craig, A. B. (2015). Parents' emotion-related beliefs, behaviours, and skills predict children's recognition of emotion. Infant and Child Development, 24(1), 1–22.

Coulson, M. (2004). Attributing emotion to static body postures: Recognition accuracy, confusions, and viewpoint dependence. Journal of Nonverbal Behavior, 28(2), 117–139.

Dael, N., Goudbeek, M., & Scherer, K. R. (2013). Perceived gesture dynamics in nonverbal expression of emotion. Perception, 42(6), 642–657.

de Gelder, B., & Van den Stock, J. (2011). The bodily expressive action stimulus test (BEAST). Construction and validation of a stimulus basis for measuring perception of whole body expression of emotions. Frontiers in Psychology, 2, 181.

Denham, S. A., Bassett, H. H., & Zinsser, K. (2012). Early childhood teachers as socializers of young children's emotional competence. Early Childhood Education Journal, 40(3), 137–143.

DiGirolamo, M. A., & Russell, J. A. (2016). The emotion seen in a face can be a methodological artifact: The process of elimination hypothesis. Emotion, 17(3), 538–546.

Dunn, J., Bretherton, I., & Munn, P. (1987). Conversations about feeling states between mothers and their young children. Developmental Psychology, 23(1), 132.

Ekman, P., & Friesen, W. V. (1971). Constants across cultures in the face and emotion. Journal of Personality and Social Psychology, 17(2), 124–129.

Ekman, P., & Oster, H. (1979). Facial expressions of emotion. Annual review of psychology, 30(1), 527–554.

Felleman, E. (1983). Children's and adults' recognition of spontaneous and posed emotional expressions in young children. Developmental Psychology, 19(3), 405–413.

Garner, P. W., & Waajid, B. (2008). The associations of emotion knowledge and teacher–child relationships to preschool children's school-related developmental competence. Journal of Applied Developmental Psychology, 29(2), 89–100.

Hackenbracht, J., & Tamir, M. (2010). Preferences for sadness when eliciting help: Instrumental motives in sadness regulation. Motivation and Emotion, 34(3), 306–315.

Harrigan, J. A. (1984). The effects of task order on children's identification of facial expressions. Motivation and Emotion, 8(2), 157–169.

Heck, A., Chroust, A., White, H., Jubran, R., & Bhatt, R. S. (2018). Development of body emotion perception in infancy: From discrimination to recognition. Infant Behavior and Development, 50, 42–51.

Izard, C. E. (1971). The face of emotion. Appleton-Century-Crofts.

Lopez, L. D., Reschke, P. J., Knothe, J. M., & Walle, E. A. (2017). Postural communication of emotion: Perception of distinct poses of five discrete emotions. Frontiers in Psychology, 8, 710.

Ma, Y., Chen, X., Ran, G., Ma, H., Zhang, X., & Liu, G. (2017). The processing of body expressions during emotional scenes: The modulation role of attachment styles. Scientific Reports, 7, 44740. Nature Publisher Group.

Mondloch, C. J., Horner, M., & Mian, J. (2013). Wide eyes and drooping arms: Adult-like congruency effects emerge early in the development of sensitivity to emotional faces and body postures. Journal of Experimental Child Psychology, 114(2), 203–216.

Nelson, N. L., & Russell, J. A. (2011a). Preschoolers' use of dynamic facial, bodily, and vocal cues to emotion. Journal of Experimental Child Psychology, 110(1), 52–61.

Nelson, N. L., & Russell, J. A. (2011b). Putting motion in emotion: Do dynamic presentations increase preschooler's recognition of emotion? Cognitive Development, 26(3), 248–259.

Nelson, N. L., & Russell, J. A. (2016). Building emotion categories: Children use a process of elimination when they encounter novel expressions. Journal of Experimental Child Psychology, 151, 120–130.

Nesse, R. M. (1990). Evolutionary explanations of emotions. Human nature, 1(3), 261–289.

Nowicki, S., & Duke, M. P. (1992). The association of children's nonverbal decoding abilities with their popularity, locus of control, and academic achievement. The Journal of Genetic Psychology, 153(4), 385–393.

Parker, A. E., Mathis, E. T., & Kupersmidt, J. B. (2013). How is this child feeling? Preschool-aged children's ability to recognize emotion in faces and body poses. Early Education & Development, 24(2), 188–211.

Raver, C. C., Garner, P. W., & Smith-Donald, R. (2007). The roles of emotion regulation and emotion knowledge for children's academic readiness: Are the links causal? School readiness and the transition to kindergarten in the era of accountability (pp. 121–147). Paul H Brookes Publishing.

Ross, P. D., Polson, L., & Grosbras, M. H. (2012). Developmental changes in emotion recognition from full-light and point-light displays of body movement. PLoS one, 7(9), e44815.

Russell, J. A. (1993). Forced-choice response format in the study of facial expression. Motivation and Emotion, 17(1), 41–51.

Skinner, A. L., Meltzoff, A. N., & Olson, K. R. (2017). "Catching" social bias: Exposure to biased nonverbal signals creates social biases in preschool children. Psychological Science, 28(2), 216–224.

Smiley, P., & Huttenlocher, J. (1991). Young children's acquisition of emotion. Children's Understanding of Emotion.

Sogon, S., & Masutani, M. (1989). Identification of emotion from body movements: A cross-cultural study of Americans and Japanese. Psychological Reports, 65(1), 35-46E.

Székely, E., Tiemeier, H., Arends, L. R., Jaddoe, V. W., Hofman, A., Verhulst, F. C., & Herba, C. M. (2011). Recognition of facial expressions of emotions by 3-year-olds. Emotion, 11(2), 425.

Tracy, J. L., & Robins, R. W. (2004). Show your pride: Evidence for a discrete emotion expression. Psychological science, 15(3), 194–197.

Tracy, J. L., Robins, R. W., & Lagattuta, K. H. (2005). Can children recognize pride? Emotion, 5(3), 251–257.

Trentacosta, C. J., & Fine, S. E. (2010). Emotion knowledge, social competence, and behavior problems in childhood and adolescence: A meta-analytic review. Social Development, 19(1), 1–29.

Trentacosta, C. J., & Izard, C. E. (2007). Kindergarten children's emotion competence as a predictor of their academic competence in first grade. Emotion, 7(1), 77–88.

Van den Stock, J., Righart, R., & de Gelder, B. (2007). Body expressions influence recognition of emotions in the face and voice. Emotion, 7(3), 487–494.

Widen, S. C., & Russell, J. A. (2003). A closer look at preschoolers' freely produced labels for facial expressions. Developmental Psychology, 39(1), 114–128.

Widen, S. C., & Russell, J. A. (2015). Do dynamic facial expressions convey emotions to children better than do static ones? Journal of Cognition and Development, 16(5), 802–811.

Witkower, Z., Hill, A., Koster, J., Pun, A., & Baron, A., & Tracy, J. L. (under review). Nonverbal displays of dominance and prestige: Evidence for cross-cultural and early-emerging recognition.

Witkower, Z., & Tracy, J. L. (2019). Bodily communication of emotion: Evidence for extrafacial behavioral expressions and available coding systems. Emotion Review, 11(2), 184–193.

Witkower, Z., Tracy, J. L., Hill, A., & Koster, J. (in press). Beyond face value: Evidence for the universality of bodily expressions of emotion. Affective Science.

Zieber, N., Kangas, A., Hock, A., & Bhatt, R. S. (2014). Infants' perception of emotion from body movements. Child Development, 85(2), 675–684.
Funding
This study was funded by a Social Sciences and Humanities Research Council of Canada (SSHRC) Insight grant (Grant Number F17-04512).
Ethics declarations
Conflict of interest
No authors have any conflicts of interest.
Ethical Approval
All procedures performed in studies involving human participants were in accordance with the ethical standards of the institutional and national research committee and with the 1964 Helsinki declaration and its later amendments or comparable ethical standards.
Additional information
Publisher's Note
Springer Nature remains neutral with regard to jurisdictional claims in published maps and institutional affiliations.
Supplementary Information
Below is the link to the electronic supplementary material.
About this article
Cite this article
Witkower, Z., Tracy, J.L., Pun, A. et al. Can Children Recognize Bodily Expressions of Emotion?. J Nonverbal Behav (2021). https://doi.org/10.1007/s10919-021-00368-0
Keywords
Emotion recognition

Bodily expression

Emotion