Abstract
In the current study we administered a creative task in which two people collaboratively generated novel strategies to conserve resources. During this task, the nonverbal behavior of 104 participants in 52 pairs was tracked and recorded using the Kinect computer vision algorithm. We created a measure of synchrony by correlating movements between the two dyad members, and showed that synchrony occurred—that is, correlations decreased when we increased delay between the recorded movements of pair members. We also demonstrated a link between nonverbal synchrony and creativity, as operationalized by the number of new, valid ideas produced. Linear correlations demonstrated a significant relationship between synchrony and creativity. Finally, models using synchrony scores as input predicted whether dyads were high or low in creativity with a success rate as high as 86.7 % in the more exclusive subsets. We discuss implications for methodological approaches to measuring nonverbal behavior and synchrony, and suggest practical applications which can leverage the current findings.
This is a preview of subscription content, log in to check access.
Access options
Buy single article
Instant access to the full article PDF.
US$ 39.95
Price includes VAT for USA
Subscribe to journal
Immediate online access to all issues from 2019. Subscription will auto renew annually.
US$ 99
This is the net price. Taxes to be calculated in checkout.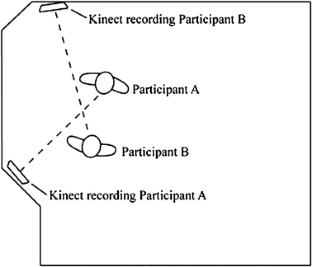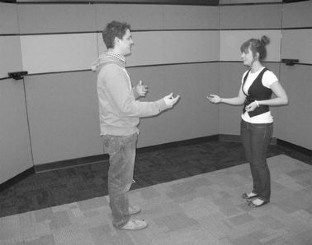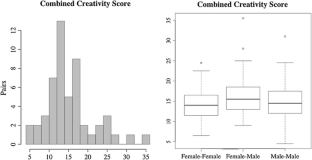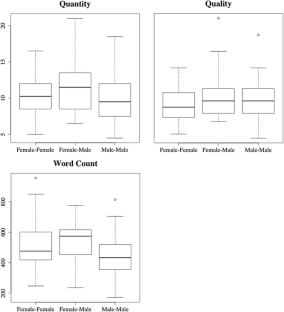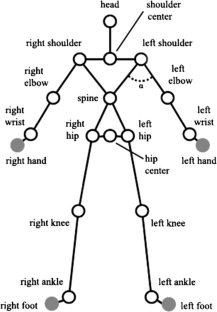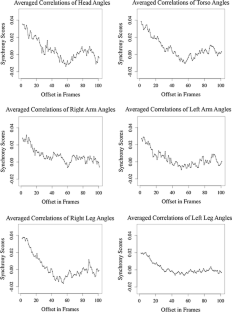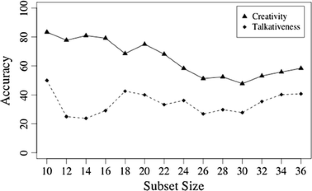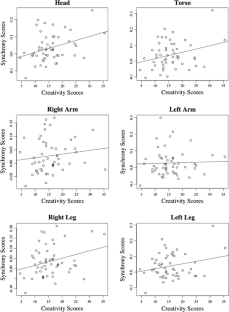 References
Baas, M., De Dreu, C. K., & Nijstad, B. A. (2008). A meta-analysis of 25 years of mood-creativity research: Hedonic tone, activation, or regulatory focus? Psychological Bulletin, 134(6), 779.

Barron, B. (2003). When smart groups fail. The Journal of the Learning Sciences, 12(3), 307–359.

Bernieri, F. J. (1988). Coordinated movement and rapport in teacher student interactions. Journal of Nonverbal Behavior, 12, 120–138.

Bernieri, F. J., Davis, J. M., Rosenthal, R., & Knee, C. R. (1994). Interactional synchrony and rapport: Measuring synchrony in displays devoid of sound and facial affect. Personality and Social Psychology Bulletin, 20(3), 303–311.

Bernieri, F. J., Reznick, J. S., & Rosenthal, R. (1988). Synchrony, pseudosynchrony, and dissynchrony: Measuring the entrainment process in mother-infant interactions. Journal of Personality and Social Psychology, 54(2), 243.

Castellano, G., Villalba, S. D., & Camurri, A. (2007). Recognising human emotions from body movement and gesture dynamics. Affective Computing and Intelligent Interaction, 4738, 71–82.

Condon, W. S., & Ogston, W. D. (1966). Sound film analysis of normal and pathological behavior patterns. Journal of Nervous Mental Disorders, 143, 338–347.

Delaherche, E., Chetouani, M., Mahdhaoui, A., Saint-Georges, C., Viaux, S., & Cohen, D. (2012). Interpersonal synchrony: A survey of evaluation methods across disciplines. Affective Computing, IEEE Transactions on, 3(3), 349–365.

Drolet, A. L., & Morris, M. W. (2000). Rapport in conflict resolution: Accounting for how face-to-face contact fosters mutual cooperation in mixed-motive conflicts. Journal of Experimental Social Psychology, 36(1), 26–50.

Goncalo, J. A., & Staw, B. M. (2006). Individualism–collectivism and group creativity. Organizational Behavior and Human Decision Processes, 100(1), 96–109.

Grahe, J. E., & Bernieri, F. J. (1999). The importance of nonverbal cues in judging rapport. Journal of Nonverbal Behavior, 23(4), 253–269.

Guilford, J. P. (1957). Creative abilities in the arts. Psychological Review, 64(2), 110–118.

Harrigan, J. A., Oxman, T. E., & Rosenthal, R. (1985). Rapport expressed through nonverbal behavior. Journal of Nonverbal Behavior, 9(2), 95–110.

Hoque, M. E., McDuff, D. J., & Picard, R. W. (2012). Exploring temporal patterns in classifying frustrated and delighted smiles. Journal of IEEE Transactions on Affective Computing, 99, 1–13.

Huang, L., Morency, L. P., & Gratch, J. (2011). Virtual rapport 2.0. In Intelligent virtual agents (pp. 68–79). Berlin: Springer.

Jabon, M. E., Ahn, S. J., & Bailenson, J. N. (2011a). Automatically analyzing facial-feature movements to identify human errors. IEEE Journal of Intelligent Systems, 26(2), 54–63.

Jabon, M. E., Bailenson, J. N., Pontikakis, E. D., Takayama, L., & Nass, C. (2011b). Facial expression analysis for predicting unsafe driving behavior. IEEE Pervasive Computing, 10(4), 84–95.

Kapur, A., Kapur, A., Virji-Babul, N., Tzanetakis, G., & Driessen, P. F. (2005). Gesture-based affective computing on motion capture data. In Affective Computing and Intelligent Interaction (pp. 1–7). Berlin, Heidelberg: Springer.

Kendon, A. (1970). Movement coordination in social interaction: Some examples described. Acta Psychologica, 32, 100–125.

Kleinsmith, A., & Bianchi-Berthouze, N. (2007). Recognizing affective dimensions from body posture. In Affective computing and intelligent interaction (pp. 48–58). Berlin: Springer.

Kurtzberg, T. R., & Amabile, T. M. (2001). From Guilford to creative synergy: Opening the black box of team-level creativity. Creativity Research Journal, 13(3–4), 285–294.

La France, M., & Broadbent, M. (1976). Group rapport: Posture sharing as a nonverbal indicator. Group and Organization Studies, 1, 328–333.

Lumsden, J., Miles, L. K., & Macrae, C. N. (2012). Perceptions of synchrony: Different strokes for different folks? Perception, 41(12), 1529.

Martin, C. C., Burkert, D. C., Choi, K. R., Wieczorek, N. B., McGregor, P. M., Herrmann, R. A., et al. (2012, April). A real-time ergonomic monitoring system using the Microsoft Kinect. In IEEE Systems and Information Design Symposium (SIEDS) (pp. 50–55).

McLeod, P. L., Lobel, S. A., & Cox, T. H. (1996). Ethnic diversity and creativity in small groups. Small Group Research, 27(2), 248–264.

Meservy, T. O., Jensen, M. L., Kruse, J., Burgoon, J. K., & Jay, F. (2005). Detecting deception through automatic, unobtrusive analysis of nonverbal behavior. IEEE Intelligent Systems, 20(5), 36–43.

Oppezzo, M., & Schwartz, D. L. (2014). Give your ideas some legs: The positive effect of walking on creative thinking. Journal of Experimental Psychology: Learning, Memory, and Cognition. doi:10.1037/a0036577.

Paxton, A., & Dale, R. (2013). Frame-differencing methods for measuring bodily synchrony in conversation. Behavior Research Methods, 45(2), 329–343.

Pentland, A. S. (2010). Honest signals. Cambridge: MIT press.

Ramseyer, F., & Tschacher, W. (2011). Nonverbal synchrony in psychotherapy: Coordinated body-movement reflects relationship quality and outcome. Journal of Consulting and Clinical Psychology, 79(3), 284–295.

Schmidt, R. C., Morr, S., Fitzpatrick, P., & Richardson, M. J. (2012). Measuring the dynamics of interactional synchrony. Journal of Nonverbal Behavior, 36(4), 263–279.

Sung, J., Ponce, C., Selman, B., & Saxena, A. (2011). Human activity detection from RGBD images. AAAI 2011 workshop: Plan, activity, and intent recognition.

Tickle-Degnen, L., & Rosenthal, R. (1990). The nature of rapport and its nonverbal correlates. Psychological Inquiry, 1(4), 285–293.

Torrance, E. P. (1970). Influence of dyadic interaction on creative functioning. Psychological Reports, 26(2), 391–394.

Vinciarelli, A., Pantic, M., Bourlard, H., & Pentland, A. (2008). Social signal processing: State-of-the-art and future perspectives of an emerging domain. In Proceedings of the 16th ACM international conference on multimedia (pp. 1061–1070). New York: ACM.

Witten, I., Eibe, F., & Hall, M. A. (2011). Data mining: Practical machine learning tools and techniques. Burlington MA: Morgan Kaufman.

Won, A. S., Bailenson, J. N., & Janssen, J. H. (2014). Automatic detection of nonverbal behavior predicts learning in dyadic interactions. Manuscript submitted for publication.

Microsoft Corp. Redmond WA. Kinect for Xbox 360.

Zebrowitz, L. A., & Montepare, J. M. (2006). The ecological approach to person perception: Evolutionary roots and contemporary offshoots. In M. Schaller, J. A. Simpson, & D. T. Kenrick (Eds.) Evolution and social psychology. First Edition (pp. 81–113), New York: Psychology Press.
Acknowledgments
The work presented herein was funded in part by Konica Minolta as part of a Stanford Media-X grant, and we thank them for the valuable insights provided by their visiting researchers, in particular Dr. Haisong Gu. In addition, it was funded in part by grant 108084-5031715-4 from the National Science Foundation. The authors also thank lab manager Cody Karutz for coordinating the administrative aspects of running this study, and Jimmy Lee, Pamela Martinez, Evan Shieh, Alex Zamoshchin, Angel Olvera, Christine Tataru, Mark Diaz and Mark Peng for their help in coding and data analysis, and Dr. Laura Aymerich-Franch, Ketaki Shriram, Michelle Friend, Brian Perone, and Jakki Bailey for helpful comments on an earlier draft of this paper.
About this article
Cite this article
Won, A.S., Bailenson, J.N., Stathatos, S.C. et al. Automatically Detected Nonverbal Behavior Predicts Creativity in Collaborating Dyads. J Nonverbal Behav 38, 389–408 (2014). https://doi.org/10.1007/s10919-014-0186-0
Keywords
Nonverbal behavior

Synchrony

Gesture

Collaboration

Creativity

Kinect

Interpersonal communication

Contingency