Abstract
One of the less-known functional asymmetries in humans is the rightward head-turning bias, in which infants spend more time turning their head to the right, rather than to the left. Observational studies showed that this asymmetry disappears around the age of 3 months. Recently, an intriguing observation found a similar rightward head-turning bias during kissing, apparently indicating that the early head-motor bias persists into adulthood. Here we challenge the theory of the innate head-turning bias in adults during lip kissing, showing by means of behavioral and observational studies that the direction of the bias is culturally dependent. Moreover, we suggest that the head-turning bias during kissing is an acquired behavioral asymmetry, probably shaped by spatial experience within cultural habits (i.e., reading direction), rather than reflecting pre-wired hemispherical lateral asymmetry.
Access options
Buy single article
Instant access to the full article PDF.
USD 39.95
Price excludes VAT (USA)
Tax calculation will be finalised during checkout.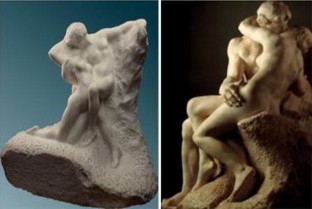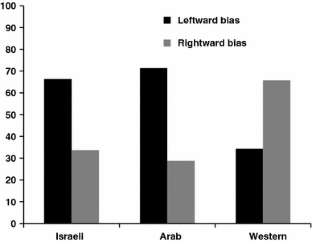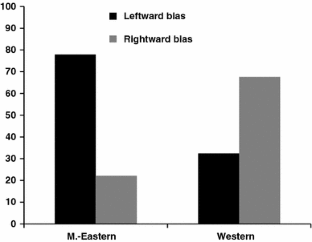 References
Barrett, D., Greenwood, J. G., & McCullagh, J. F. (2006). Kissing laterality and handedness. Laterality, 11, 573–579.

Beaumont, J. G. (1985). Lateral organization and aesthetic preference: The importance of peripheral visual asymmetries. Neuropsychologia, 23, 103–113.

Bennett, K. M., Latto, R., Bertamini, M., Bianchi, I., & Minshull, S. (2010). Does left- right orientation matter in the perceived expressiveness of pictures? A study of Bewick's animals (1753–1828). Perception, 39, 970–981.

Bertamini, M., Bennett, K. M., & Bode, C. (2011). The anterior bias in visual art: The case of images of animals. Laterality, 16, 673–689.

Chokron, S., & De Agostini, M. (2000). Reading habits influence aesthetic preference. Cognitive Brain Research, 10, 45–49.

Christman, S., & Pinger, K. (1997). Lateral biases in Aesthetic Preferences: Pictorial dimensions and neural mechanisms. Laterality, 2, 155–175.

Coryell, J. F., & Michel, G. F. (1978). How supine postural preferences of infants can contribute toward the development of handedness. Infant Behaviour and Development, 1, 245–257.

Costa, M., Menzani, M., & Bitti, P. I. R. (2001). Head canting in paintings: An historical study. Journal of Nonverbal Behavior, 25(1), 63–73.

Elias, L. J., Bryden, M. P., & Bulman-Fleming, M. B. (1998). Footedness is a better predictor than is handedness of emotional lateralisation. Neuropsychologia, 36, 37–43.

Gordon, I. (1974). Left and right in Goya's portraits. Nature, 249, 197–198.

Grusser, O.-J., Selke, T., & Zynda, B. (1988). Cerebral lateralization and some implications for art, aesthetic perception and aristic creativity. In I. Rentschler, B. Herzberger, & D. Epstein (Eds.), Beauty and the brain. Biological aspects of aesthetics (pp. 257–293). Boston: Birkhauser.

Güntürkün, O. (2003). Adult persistence of head-turning asymmetry. Nature, 421, 711.

Harris, L. J., & Fitzgerald, H. E. (1983). Postural orientation in human infants: Changes from birth to three months. In G. Young, S. J. Segalowitz, C. M. Corter, & S. E. Trehub (Eds.), Manual specialization of the developing brain (pp. 305–385). New York: Academic Press.

Heath, R. H., Mahmasanni, O., Rouhana, A., & Nassif, N. (2005). Comparison of aesthetic preferences among Roman and Arabic readers. Laterality, 10, 399–411.

Hopkins, B., Lems, W., Janssen, B., & Butterworth, G. (1987). Postural and motor asymmetries in newlyborns. Human Neurobiology, 6, 153–156.

Kazandjian, S., Dupierrix, E., Gaash, E., Love, I., Zivotofsky, A., De Agostini, M., et al. (2009). Egocentric reference in bidirectional r readers as measured by the straight-ahead pointing task. Brain Research, 1247, 133–141.

Konishi, Y., Mikawa, H., & Suzuki, J. (1986). Asymmetrical head-turning of preterm infants: Some effects on later postural and functional lateralities. Developmental Medicine and Child Neurology, 28, 450–457.

Lindell, A. K., & Savill, N. J. (2010). Time to turn the other cheek? The influence of left and right poses on perceptions of academic specialization. Laterality, 15, 639–650.

McManus, I. C., & Humphrey, N. K. (1973). Turning the left cheek. Nature, 243, 271–272.

Michel, G. F. (1981). Right-handedness: A consequence of infant supine head-orientation preference? Science, 212, 685–687.

Miles, W. R. (1930). Ocular dominance in human adults. Journal of General Psychology, 3, 412–430.

Morikawa, K., & McBeath, M. K. (1992). Lateral motion bias associated with reading direction. Vision Research, 32, 1137–1141.

Nicholls, M. E. R., Clode, D., Wood, S. J., & Wood, A. G. (1999). Laterality of expression in portraiture: Putting your best cheek forward. Proceedings of the Royal Society of London, 266, 1517–1522.

Nicholls, M. E. R., Ellis, B. E., Clement, J. G., & Yoshino, M. (2004). Detecting hemifacial asymmetries in emotional expression with 3D computerised image analysis. Proceedings of the Royal Society Biological Sciences, 271(1540), 663–668.

Nicholls, E. R., & Roberts, G. R. (2002). Can free-viewing perceptual asymmetries be explained by scanning, pre-motor or attentional biases? Cortex, 38, 113–136.

Nicholls, M. E. R., Wolfgang, B. J., Clode, D., & Lindell, A. K. (2002). The effect of left and right poses on the expression of facial emotion. Neuropsychologia, 40, 1662–1665.

Ocklenburg, S., & Güntürkün, O. (2009). Head-turning asymmetries during kissing and their association with lateral preference. Laterality, 14, 79–85.

Oldfield, R. C. (1971). The assessment and analysis of handedness: The Edinburgh Inventory. Neuropsychologia, 9, 97–113.

Palmer, S. E., Gardner, J. S., & Wickens., T. D. (2008). Aesthetic issues in spatial composition: Effect of position and direction on framing single objects. Spatial Vision, 21, 421–449.

Powell, W. R., & Schirillo, J. A. (2009). Asymmetrical facial expressions in portraits and hemispheric laterality: A literature review. Laterality, 14(6), 545–572.

Previc, F. H. (1991). A general theory concerning the prenatal origin of cerebral lateralization in human. Psychological Review, 98(3), 299–334.

Robinson, E. S. (1933). The psychology of public educations. American Journal of Public Health, 23, 123–128.

Roether, C., Omlor, L., & Giese, M. A. (2008). Lateral asymmetry of bodily emotion expression. Current Biology, 18, R329–R330.

Rönnqvist, L., & Hopkins, B. (1998). Head position preference in human newborn: A new look. Child Development, 69, 13–23.

Rönnqvist, L., Hopkins, B., Van Emmerik, R., & de Groot, L. (1998). Lateral biases in spontaneous head turning and the Moro response in the human newborn: Are they both vestibular in origin? Developmental Psychobiology, 33, 339–349.

Schirillo, J. A. (2007). Gender's effect on the hemispheric laterality of Rembrandt's portraits. Spatial Vision, 21, 19–26.

Shaki, S., & Fischer, M. H. (2008). Reading space into numbers – A cross-linguistic comparison of the SNARC effect. Cognition, 108, 590–599.

Shaki, S., Gobel, S., & Fischer, M. (2012). Direction counts: A comparative study of spatially directional counting biases in cultures with different reading directions. Journal of Experimental Child Psychology, 112, 275–281.

Turnbull, O. H., Stein, L., & Lucas, M. D. (1995). Lateral preferences in adult embracing: A test of the "hemispheric asymmetry" theory of infant cradling. Journal of General Psychology, 156(1), 17–21.

Tversky, B., Kugelmass, S., & Winter, A. (1991). Cross-cultural and developmental trends in graphic productions. Cognitive Psychology, 23, 515–557.

Van der Kamp, J., & Canal-Bruland, R. (2011). Kissing right? On the consistency of the head-turning bias in kissing. Laterality, 16, 257–267.

Ververs, I. A. P., De Vries, J. I. P., Van Geijn, H. P., & Hopkins, B. (1994). Prenatal head position from 12–38 weeks: I. Developmental aspects. Early Human Development, 39, 83–91.

Zivotofsky, A. Z. (2004). Choosing sides: lateralization in line trisection and quadrisection as a function of reading direction and handedness. Cognitive Brain Research, 20, 206–211.
About this article
Cite this article
Shaki, S. What's in a Kiss? Spatial Experience Shapes Directional Bias During Kissing. J Nonverbal Behav 37, 43–50 (2013). https://doi.org/10.1007/s10919-012-0141-x
Published:

Issue Date:

DOI: https://doi.org/10.1007/s10919-012-0141-x
Keywords
Head-turning bias

Kissing

Reading direction

Cross-cultural