Abstract
EhcoBUTLER is an Information and Communication Technology (ICT) solution funded by the European Union (H2020; ID: 643566) and intended especially for elderly people with mild cognitive impairment (MCI) to improve their health, independence and quality of life, particularly at the social level. The purpose of this study is to assess the acceptability of ehcoBUTLER based on a survey delivered to potential users and actors involved in their care, exploring their expectations and preferences, while anticipating the system's functional requirements. The survey was delivered online to 313 participants (11% end users, 25% informal caregivers, 48% formal caregivers and 16% administration/management staff) from eight countries. Participants rated the different functionalities of ehcoBUTLER positively, 86.1% perceiving it as an interesting and useful system. Likewise, they assessed it as a commercially attractive product (75.1%). End users expressed a stronger preference for the social module. Nevertheless, they would be ready to pay a low monthly price for ehcoBUTLER. Professionals would be willing to pay choosing its functionalities modularly, but they would also expect it to be funded by the National Health System, centres or businesses. The conclusion is that all participants found ehcoBUTLER interesting, useful and ergonomic. However, to effectively implement it, it is necessary to bridge the digital gap and address the issue of insufficient investment in products aimed at older adults with cognitive impairment. To supplement cognitive training systems with social, emotional or entertainment functionalities could improve adherence to their use.
Access options
Buy single article
Instant access to the full article PDF.
US$ 39.95
Tax calculation will be finalised during checkout.
Subscribe to journal
Immediate online access to all issues from 2019. Subscription will auto renew annually.
US$ 119
Tax calculation will be finalised during checkout.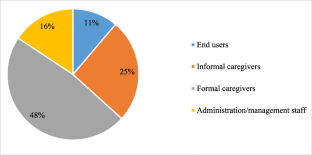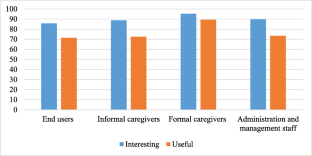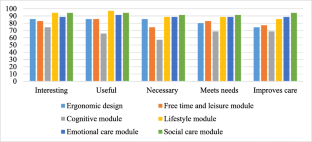 References
1.

United Nations [UN] (2017) World Population Prospects The 2017 Revision Key Findings and Advance Tables. United Nations, New York

2.

Statistical Office of the European Union [Eurostat] (2015) People in the EU: who are we and how do we live? Eurostat, Luxembourg

3.

Boleaga-Durán B, Patiño Iribe F, Vázquez Fernández V, Chuc M (2012) Neuroimagen del deterioro cognitivo. (Spanish). An Radiol Mex 11:191–199

4.

Petersen RC (2011) Mild cognitive impairment. N Engl J Med 364:2227–2234. https://doi.org/10.1056/NEJMcp0910237

5.

Sachdev PS, Lipnicki DM, Kochan NA, et al (2015) The prevalence of mild cognitive impairment in diverse geographical and ethno cultural regions: The COSMIC Collaboration. PLoS One 10:1–19. https://doi.org/10.1371/journal.pone.0142388

6.

Petersen RC, Knopman DS, Boeve BF, et al (2009) Mild cognitive impairment: Ten years later. Arch Neurol 66:1447–1455. https://doi.org/10.1001/archneurol.2009.266.Mild

7.

Petersen R, Smith G, Waring S, et al (1999) Mild cognitive impairment: Clinical characterization and outcome. Arch Neurol 56:303–308. https://doi.org/10.1001/archneur.56.3.303

8.

World Health Organization [WHO] (2017) Demencia. In: WHO. http://www.who.int/mediacentre/factsheets/fs362/es/.

9.

Victor CR, Bowling A (2012) A longitudinal analysis of loneliness among older people in Great Britain. J Psychol 146:313–31. https://doi.org/10.1080/00223980.2011.609572

10.

Wilson RS, Boyle PA, Segawa E, et al (2013) The influence of cognitive decline on well-being in old age. Psychol Aging 28:304–313. https://doi.org/10.1037/a0031196

11.

Campos W, Martinez A, Sanchez W, et al (2016) A Systematic Review of Proposals for the Social Integration of Elderly People Using Ambient Intelligence and Social Networking Sites. Cognit Comput 8:529–542. https://doi.org/10.1007/s12559-016-9382-z

12.

Petersen J, Daniel A, Kaye J, et al (2014) Unobtrusive in-home detection of time spent out-of-home with applications to loneliness and physical activity. IEEE J Biomed Heal Inf 18:1590–1596. https://doi.org/10.1109/JBHI.2013.2294276

13.

Cornwell, E.Y. & Waite LJ (2009) Social Disconnectedness, Perceived Isolation, and Health among Older Ad. Jourrnal Heal Sociol Behav 50:31–48. https://doi.org/10.1177/002214650905000103

14.

World Health Organization [WHO] (2002) Active Ageing. A Policy Framework World. WHO, Madrid

15.

Karr JE, Areshenkoff CN, Rast P, Garcia-Barrera MA (2014) An Empirical Comparison of the Therapeutic Benefits of Physical Exercise and Cognitive Training on the Executive Functions of Older Adults: A Meta- Analysis of Controlled Trials. Neuropsychology 28:829–845. https://doi.org/10.1037/neu0000101

16.

Pinto-Bruno ÁC, García-Casal JA, Csipke E, et al (2017) ICT-based applications to improve social health and social participation in older adults with dementia. A systematic literature review. Aging Ment Health 21:58–65. https://doi.org/10.1080/13607863.2016.1262818

17.

Chen Y-RR, Schulz PJ (2016) The Effect of Information Communication Technology Interventions on Reducing Social Isolation in the Elderly: A Systematic Review. J Med Internet Res 18:e18. https://doi.org/10.2196/jmir.4596

18.

Meiland F, Innes A, Mountain G, et al (2017) Technologies to Support Community-Dwelling Persons With Dementia: A Position Paper on Issues Regarding Development, Usability, Effectiveness and Cost-Effectiveness, Deployment, and Ethics. JMIR Rehabil Assist Technol 4:e1. https://doi.org/10.2196/rehab.6376

19.

Almeida OP, Yeap BB, Alfonso H, et al (2012) Older Men Who Use Computers Have Lower Risk of Dementia. PLoS One 7:1–7. https://doi.org/10.1371/journal.pone.0044239

20.

Davis FD (1985) A Technology Acceptance Model for Empirically Testing New End-User Information Systems. Massachusetts Inst Technol 291

21.

Davis FD (1989) Perceived Ease of Use, and User Acceptance of Information Technology. MIS Q 13:319–340. https://doi.org/10.2307/249008

22.

Dillon A, Morris MG (1996) User acceptance of new information technology: theories and models. In: Annual review of information science and technology. Medford: Information Today, pp 3–32

23.

Granata C, Pino M, Legouverneur G, et al (2013) Robot services for elderly with cognitive impairment: Testing usability of graphical user interfaces. Technol Heal Care 21:217–231. https://doi.org/10.3233/THC-130718

24.

García-Betances RI, Cabrera-Umpiérrez MF, Ottaviano M, et al (2016) Parametric Cognitive Modeling of Information and Computer Technology Usage by People with Aging- and Disability-Derived Functional Impairments. Sensors (Basel) 16:266. https://doi.org/10.3390/s16020266

25.

Groves RM, Fowler FJ, Couper MP, et al (2011) Survey Methodology, (2nd ed.). John Wiley & Sons, Inc., New Jersey

26.

International Organization for Standardization [ISO] (2018) ISO 9241-11:2018(en), Ergonomics of human-system interaction — Part 11: Usability: Definitions and concepts. https://www.iso.org/obp/ui/#iso:std:iso:9241:-11:ed-2:v1:en. Accessed 6 Aug 2018

27.

Folstein MF, Folstein SE, McHugh PR (1975) "Mini-mental state": A practical state method for grading the cognitive state of patients for the clinician. J Psychiatr Res 12:189–198. https://doi.org/10.1016/0022-3956(75)90026-6

28.

Etchemendy E, Baños RM, Botella C, Castilla D, Alcañiz M, Rasal P, Farfallini L (2011) An e-health platform for the elderly population: The butler system. Computers & Education 56 (1):275-279. https://doi.org/10.1016/j.compedu.2010.07.022

29.

Castilla D, Garcia-Palacios A, Miralles I, et al (2016) Effect of Web navigation style in elderly users. Comput Human Behav 55:909–920. https://doi.org/10.1016/j.chb.2015.10.034

30.

Toribio-Guzmán JM, Parra Vidales E, Viñas Rodríguez MJ, et al (2018) Rehabilitación Cognitiva por Ordenador en Personas Mayores: Programa GRADIOR. Aula 24:61–75. https://doi.org/10.14201/aula2018246175

31.

Foscolou A, Magriplis E, Tyrovolas S, et al (2018) Lifestyle determinants of healthy ageing in a Mediterranean population: The multinational MEDIS study. Experimental Gerontology 110:35-41. https://doi.org/10.1016/j.exger.2018.05.008

32.

Greenaway MC, Duncan NL, Smith GE (2013) The memory support system for mild cognitive impairment: randomized trial of a cognitive rehabilitation intervention. International Journal of Geriatric Psychiatry 28 (4):402-409. https://doi.org/10.1002/gps.3838

33.

Jämsä T, Kangas M, Vikman I, Nyberg L, Korpelainen R (2014) Fall detection in the older people: from laboratory to real-life. Proceedings of the Estonian Academy of Sciences 63 (3):253. https://doi.org/10.3176/proc.2014.3.08

34.

Mitzner TL, Rogers WA, Fisk AD, et al (2016) Predicting older adults' perceptions about a computer system designed for seniors. Univers Access Inf Soc 15:271–280. https://doi.org/10.1007/s10209-014-0383-y

35.

Castilla D, Garcia-Palacios A, Bretón-López J, et al (2013) Process of design and usability evaluation of a telepsychology web and virtual reality system for the elderly: Butler. Int J Hum Comput Stud 71:350–362. https://doi.org/10.1016/j.ijhcs.2012.10.017

36.

O'Sullivan JL, Gellert P, Hesse B, et al (2018) Exploring attitudes of healthcare professionals towards ICT-based interventions for nursing home residents with dementia. mixed-methods approach. Contemp Nurse 54:13–25. https://doi.org/10.1080/10376178.2017.1421087

37.

Ben-Sadoun G, Sacco G, Manera V, et al (2016) Physical and Cognitive Stimulation Using an Exergame in Subjects with Normal Aging, Mild and Moderate Cognitive Impairment. J Alzheimer's Dis 53:1299–1314. https://doi.org/10.3233/JAD-160268

38.

Goghari VM, Lawlor-Savage L (2018) Self-perceived benefits of cognitive training in healthy older adults. Front Aging Neurosci 10:1–10. https://doi.org/10.3389/fnagi.2018.00112

39.

Pino M, Boulay M, Jouen F, Rigaud AS (2015) "Are we ready for robots that care for us?" Attitudes and opinions of older adults toward socially assistive robots. Front Aging Neurosci 7:1–15. https://doi.org/10.3389/fnagi.2015.00141

40.

Yuan S, Hussain SA, Hales KD, Cotten SR (2015) What do they like? Communication preferences and patterns of older adults in the U.S.: The role of technology. Educ Gerontol 1277:151002110532002. https://doi.org/10.1080/03601277.2015.1083392

41.

Castilla D, Botella C, Miralles I, et al (2018) Teaching digital literacy skills to the elderly using a social network with linear navigation: A case study in a rural area. Int J Hum Comput Stud 118:24–37. https://doi.org/10.1016/j.ijhcs.2018.05.009

42.

Haesner M, Steinert A, O'Sullivan JL, Steinhagen-Thiessen E (2015) Evaluating an accessible web interface for older adults – the impact of mild cognitive impairment (MCI). J Assist Technol 9:219–232. https://doi.org/10.1108/JAT-11-2014-0032

43.

Garcia-Sanjuan F, Jaen J, Nacher V (2017) Tangibot: A tangible-mediated robot to support cognitive games for ageing people—A usability study. Pervasive Mob Comput 34:91–105. https://doi.org/10.1016/j.pmcj.2016.08.007

44.

Djabelkhir L, Wu Y-H, Vidal J-S, et al (2017) Computerized cognitive stimulation and engagement programs in older adults with mild cognitive impairment: comparing feasibility, acceptability, and cognitive and psychosocial effects. Clin Interv Aging Volume 12:1967–1975. https://doi.org/10.2147/CIA.S145769

45.

Salinas-Rodríguez A, Torres-Pereda MDP, Manrique-Espinoza B, et al (2014) Impact of the non-contributory social pension program 70 y más on older adults' mental well-being. PLoS One 9. https://doi.org/10.1371/journal.pone.0113085

46.

United Nations [UN] (2003) Declaración Política y Plan de Acción Internacional de Madrid sobre el Envejecimiento 2002. United Nations, Nueva York

47.

Pauly T, Lay JC, Scott SB, Hoppmann CA (2018) Social relationship quality buffers negative affective correlates of everyday solitude in an adult lifespan and an older adult sample. Psychol Aging 33:728–738. https://doi.org/10.1037/pag0000278

48.

Navarro E, Calero MD, Calero-García MJ (2014) Diferencias entre hombres y mujeres mayores en funcionamiento cognitivo y calidad de vida. Eur J Investig Heal Psychol Educ 4:267–277. https://doi.org/10.1989/ejihpe.v4i3.74

49.

McCarrey An, Y., Kitner-Triolo, M. H., Ferrucci, L. and Resnick, S. M. AC (2016) Sex differences in cognitive trajectories in clinically normal older adults. Psychol Aging 31:166–175. https://doi.org/10.1037/pag0000070

50.

Franco Martín MÁ, Orihuela T, Bueno Y, Cid T (2000) Programa GRADIOR: programa de evaluación y rehabilitación cognitiva por ordenador. Edintras, Valladolid
Acknowledgements
We would like to give special thanks to the ehcoBUTLER project partners who participate collecting data in the stakeholder survey: EVERIS SPAIN SL (Spain), ASISTEL DOO BEOGRAD (Serbia), CLALIT HEALTH SERVICES (Israel), E-SENIORS: INITIATION DES SENIORS AUX NTIC ASSOCIATION (France), IDEA- INNOVACIÓN Y DESARROLLO ASISTENCIAL SL (Spain), FUNDACIÓN INTRAS (Spain), SENLAB, DRUZBA ZA INFORMACIJSKO TEHNOLOGIJO, DOO (Slovenia), STICHTING NATIONAAL OUDERENFONDS - Nationaal Ouderenfonds (Netherlands), VIDAVO S.A. (Greece), TELEFÓNICA MÓVILES ESPAÑA S.A. (Spain), AIMA NAPOLI ONLUS (Italy), YOUR DATA SRL (Italy), CENTRO DE INVESTIGACIÓN BIOMÉDICA EN RED - CIBER (Spain).
Funding
The ehcoBUTLER project has received funding from the European Union's Horizon 2020 research and innovation programme [Grant Agreement 643566].
Ethics declarations
Conflict of Interest
None.
Additional information
Publisher's Note
Springer Nature remains neutral with regard to jurisdictional claims in published maps and institutional affiliations.
This article is part of the Topical Collection on Patient Facing Systems
Appendix
Appendix
About this article
Cite this article
Contreras-Somoza, L.M., Irazoki, E., Castilla, D. et al. Study on the Acceptability of an ICT Platform for Older Adults with Mild Cognitive Impairment. J Med Syst 44, 120 (2020). https://doi.org/10.1007/s10916-020-01566-x
Received:

Accepted:

Published:
Keywords
Acceptability

ICT

Psychosocial stimulation

Cognitive training

Older adults

MCI