Abstract
The use of mobile phone for medical purposes is rapidly expanding as the number of medical applications rise. Studies show improvement of patient management and communication between medical team members using instant messaging applications. There are currently several smartphone applications routinely used by doctors and nurses. WhatsApp is by far the most common, however, it has several limitations when it comes to medical confidentiality. The aim of this paper is to introduce "Siilo" as an alternative secure messaging application and its advantages in the medical field, specifically in obstetrics. The typical course of consultation for an abnormal fetal finding is very long, cumbersome, frustrating and depends a lot on the patient, whereas, via Siilo the process is fast, efficient, depends more on the medical caregivers and helps ensuring minimum lost to follow-up. This paper demonstrates for the first time the utility of the use of Siilo application in medical management.
Access options
Buy single article
Instant access to the full article PDF.
US$ 39.95
Tax calculation will be finalised during checkout.
Subscribe to journal
Immediate online access to all issues from 2019. Subscription will auto renew annually.
US$ 119
Tax calculation will be finalised during checkout.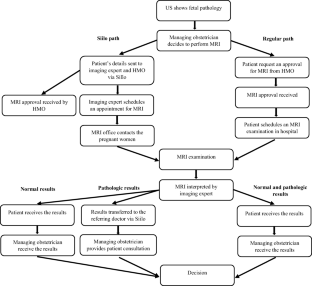 Data availability
The data used for this paper is available from the corresponding author on reasonable request.
References
1.

Ventola, C. L., Mobile devices and apps for health care professionals: Uses and benefits. P T 39(5):356–364, 2014.

2.

Nardo, B., Cannistrà, M., Diaco, V., Naso, A., Novello, M., Zullo, A., Ruggiero, M., Grande, R., and Sacco, R., Optimizing patient surgical management using WhatsApp application in the Italian healthcare system. Telemed. J. E. Health 22(9):718–725, 2016.

3.

Dhiliwal, S. R., and Salins, N., Smartphone applications in palliative homecare. Indian J. Palliat. Care 21(1):88–91, 2015.

4.

Ozdalga, E., Ozdalga, A., and Ahuja, N., The smartphone in medicine: A review of current and potential use among physicians and students. J. Med. Internet Res. 14(5):e128, 2012.

5.

Astarcioglu, M. A., Sen, T., Kilit, C., Durmus, H. I., Gozubuyuk, G., Kalcik, M., Karakoyun, S., Yesin, M., Zencirkiran Agus, H., and Amasyali, B., Time-to-reperfusion in STEMI undergoing interhospital transfer using smartphone and WhatsApp messenger. Am. J. Emerg. Med. 33(10):1382–1384, 2015.

6.

Gulacti, U., Lok, U., Hatipoglu, S., and Polat, H., An analysis of WhatsApp usage for communication between consulting and emergency physicians. J. Med. Syst. 40(6):130, 2016.

7.

Wallace, S., Clark, M., and White, J., 'It's on my iPhone': attitudes to the use of mobile computing devices in medical education, a mixed-methods study. BMJ Open 2(4), 2012.

8.

Nikolic, A., Wickramasinghe, N., Claydon-Platt, D., Balakrishnan, V., and Smart, P., The use of communication apps by medical staff in the Australian health care system: Survey study on prevalence and use. JMIR Med. Inform. 6(1):e9, 2018.

9.

Johnston, M. J., King, D., Arora, S., Behar, N., Athanasiou, T., Sevdalis, N., and Darzi, A., Smartphones let surgeons know WhatsApp: An analysis of communication in emergency surgical teams. Am. J. Surg. 209(1):45–51, 2015.

10.

Carmona, S., Alayed, N., al-Ibrahim, A., and D'Souza, R., Realizing the potential of real-time clinical collaboration in maternal-fetal and obstetric medicine through WhatsApp. Obstet. Med. 11(2):83–89, 2018.

11.

Thomas, K., Wanted: A WhatsApp alternative for clinicians. BMJ 360:k622, 2018.

12.

John, B., Are you ready for general data protection regulation? BMJ 360:k941, 2018.

13.

Yang, Y. T., and Silverman, R. D., Mobile health applications: The patchwork of legal and liability issues suggests strategies to improve oversight. Health Aff. (Millwood) 33(2):222–227, 2014.

14.

Rimmer, A., Doctors' use of Facebook, twitter, and WhatsApp is the focus of 28 GMC investigations. BMJ 358:j4099, 2017.
Ethics declarations
Conflict of interest
The authors declare that they have no conflict of interest.
Additional information
Publisher's Note
Springer Nature remains neutral with regard to jurisdictional claims in published maps and institutional affiliations.
This article is part of the Topical Collection on Mobile & Wireless Health
About this article
Cite this article
Ezra, O., Toren, A., Tadmor, O. et al. Secure Instant Messaging Application in Prenatal Care. J Med Syst 44, 73 (2020). https://doi.org/10.1007/s10916-020-01552-3
Received:

Accepted:

Published:
Keywords
Instant messaging

Application

Smartphone

whatsApp

Communication

Medical information

Siilo