Abstract
In order to analyze the influence of different segmentation techniques on hepatocellular carcinoma (HCC) CT (Computed Tomography) imaging histological feature extraction, Grow Cut method and Graph Cut method are used to segment hepatocellular carcinoma from arterial CT images of HCC patients, and the stability and repeatability of imaging histological features are studied. Meanwhile, hierarchical clustering method is used to reduce the redundancy of features. The results show that the repeatability and redundancy mainly depend on the method of tumor segmentation. Semi-automatic segmentation method can improve the repeatability of image features, and hierarchical clustering can reduce the redundancy of features. Different segmentation techniques have different effects on the extraction of histological features of CT images of HCC.
Access options
Buy single article
Instant access to the full article PDF.
US$ 39.95
Tax calculation will be finalised during checkout.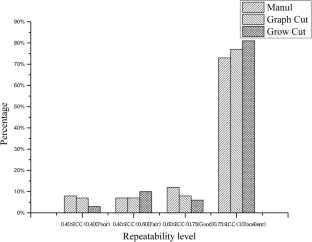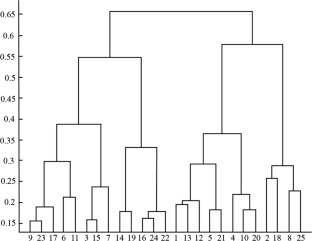 References
1.

Clark, T., Maximin, S., Meier, J., Pokharel, S., and Bhargava, P., Hepatocellular carcinoma: Review of epidemiology, screening, imaging diagnosis, response assessment, and treatment. Curr. Probl. Diagn. Radiol. 44(6):479–486, 2015.

2.

Chen, C. Y., Chen, J., Xia, C. C., Huang, Z. X., and Song, B., T1 mapping combined with Gd-EOB-DTPA-enhanced magnetic resonance imaging in predicting the pathologic grading of hepatocellular carcinoma. J. Biol. Regul. Homeost. Agents 31(4):1029–1036, 2017.

3.

Ferlay, J., Soerjomataram, I., Dikshit, R., Eser, S., Mathers, C., Rebelo, M., Parkin, D. M., Forman, D., and Bray, F., Cancer incidence and mortality worldwide: Sources, methods and major patterns in GLOBOCAN 2012. Int. J. Cancer 136(5):359–386, 2015.

4.

Scholz, M., Konen, W., Tombrock, S., Fricke, B., Adams, L., von Düring, M., Hentsch, A., Heuser, L., and Harders, A. G., Development of an endoscopic navigation system based on digital image processing. Computer Aided Surgery 3(3):134–143, 2015.

5.

Sayed, G. I., Hassanien, A. E., and Schaefer, G., An automated computer-aided diagnosis system for abdominal CT liver images. Procedia Computer Science 90:68–73, 2016.

6.

Kadoury, S., Vorontsov, E., and Tang, A., Metastatic liver tumour segmentation from discriminant Grassmannian manifolds. Phys. Med. Biol. 60(16):6459–6478, 2015.

7.

Lee, D. H., and Lee, J., Primary malignant tumours in the non-cirrhotic liver. Eur. J. Radiol. 95:349, 2017.

8.

Petré, C., Ni, Y., Marcha, G., Yu, J., Wevers, M., Lauffer, R. B., and Baert, A. L., Detection and characterization of primary liver cancer in rats by MS-264-enhanced MRI. Magnetic Resonance in Medicine Official Journal of the Society of Magnetic Resonance in Medicine 35(4):532–539, 2015.

9.

Choi, J. Y., Lee, J. M., and Sirlin, C. B., CT and MR imaging diagnosis and staging of hepatocellular carcinoma: Part II. Extracellular agents, hepatobiliary agents, and ancillary imaging features[J]. Radiology 273(1):30–50, 2014.

10.

Fujita, N., Asayama, Y., Nishie, A., Ishigami, K., Ushijima, Y., Takayama, Y., Okamoto, D., Moirta, K., Shirabe, K., Aishima, S., Wang, H., Oda, Y., and Honda, H., Mass-forming intrahepatic cholangiocarcinoma: Enhancement patterns in the arterial phase of dynamic hepatic CT - correlation with clinicopathological findings. Eur. Radiol. 27(2):1–9, 2016.

11.

Brown, K. T., Do, R. K., Gonen, M. et al., Randomized trial of hepatic artery embolization for hepatocellular carcinoma using doxorubicin-eluting microspheres compared with embolization with microspheres alone[J]. J. Clin. Oncol. 34(17):2046, 2016.
Ethics declarations
Conflict of interest
Author Sen Zhao declares that he has no conflict of interest. Author Wenyan Ren declares that he has no conflict of interest. Author Yan Zhuang declares that he has no conflict of interest. Author Zhixue Wang declares that he has no conflict of interest.
Ethical approval
All procedures performed in studies involving human participants were in accordance with the ethical standards of the institutional and/or national research committee and with the 1964 Helsinki declaration and its later amendments or comparable ethical standards.
This article does not contain any studies with animals performed by any of the authors.
Informed consent
Informed consent was obtained from all individual participants included in the study.
Additional information
Publisher's Note
Springer Nature remains neutral with regard to jurisdictional claims in published maps and institutional affiliations.
This article is part of the Topical Collection on Image & Signal Processing
About this article
Cite this article
Zhao, S., Ren, W., Zhuang, Y. et al. The Influence of Different Segmentation Methods on the Extraction of Imaging Histological Features of Hepatocellular Carcinoma CT. J Med Syst 43, 101 (2019). https://doi.org/10.1007/s10916-019-1207-7
Received:

Accepted:

Published:
Keywords
Segmentation

HCC

Imaging histological features

Repeatability