Abstract
Measuring drug-drug similarity is important but challenging. Significant progresses have been made in drugs whose labeled training data is sufficient and available. However, handling data skewness and incompleteness with domain-specific knowledge graph, is still a relatively new territory and an under-explored prospect. In this paper, we present a system KGDDS for node-link-based bio-medical Knowledge Graph curation and visualization, aiding Drug-Drug Similarity measure. Specifically, we reuse existing knowledge bases to alleviate the difficulties in building a high-quality knowledge graph, ranging in size up to 7 million edges. Then we design a prediction model to explore the pharmacology features and knowledge graph features. Finally, we propose a user interaction model to allow the user to better understand the drug properties from a drug similarity perspective and gain insights that are not easily observable in individual drugs. Visual result demonstration and experimental results indicate that KGDDS can bridge the user/caregiver gap by facilitating antibiotics prescription knowledge, and has remarkable applicability, outperforming existing state-of-the-art drug similarity measures.
Access options
Buy single article
Instant access to the full article PDF.
USD 39.95
Price includes VAT (USA)
Tax calculation will be finalised during checkout.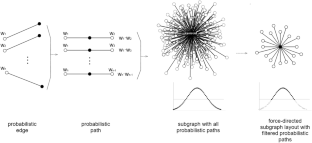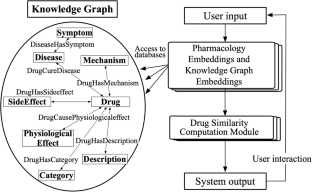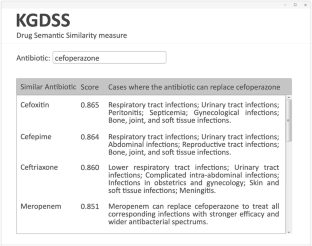 References
1.

Hliaoutakis, A., Varelas, G., Petrakis, E. G. M., Milios, E., MedSearch: A Retrieval System for Medical Information Based on Semantic Similarity. In Proceeding of the International Conference on Theory and Practice of Digital Libraries. Springer, Berlin, 512–515, 2006.

2.

Pedersen, T., Pakhomov, S. V., Patwardhan, S., and Chute, C. G., Measures of semantic similarity and relatedness in the biomedical domain. J. Biomed. Inform. 40(3):288–299, 2007.

3.

Nguyen, H. A., Al-Mubaid, H., New ontology-based semantic similarity measure for the biomedical domain. In: Proceeding of the 2006 IEEE International Conference on Granular Computing. IEEE, 623–628, 2006.

4.

Batet, M., Sánchez, D., and Valls, A., An ontology-based measure to compute semantic similarity in biomedicine. J. Biomed. Inform. 44(1):118–125, 2011.

5.

Li, Y., Bandar, Z., and McLean, D., An approach for measuring semantic similarity between words using multiple information sources. IEEE Trans. Knowl. Data Eng. 15(4):871–882, 2003.

6.

Resnik, P., Using information content to evaluate semantic similarity in a taxonomy. In Proceeding of IJCAI. 448–453, 2005.

7.

Al-Mubaid, H., Nguyen, H. A., A cluster-based approach for semantic similarity in the biomedical domain. In Proceeding of the 28th Annual International Conference of the IEEE EMBS'06. IEEE, 2713–2717, 2006.

8.

Traverso, I., Vidal, M. E., Kämpgen, B., Sure-Vetter, Y., GADES: A Graph-based Semantic Similarity Measure. In Proceeding of the 12th International Conference on Semantic Systems. ACM, 101–104, 2016.

9.

Shiralkar, P., Flammini, A., Menczer, F., Ciampaglia, G. L., Finding streams in knowledge graphs to support fact checking. In Proceeding of the 2017 IEEE International Conference on Data Mining (ICDM 2017). IEEE, 859–864, 2017.

10.

Jovic, A., Prcela, M., Gamberger, D., Ontologies in medical knowledge representation. In Proceeding of the 29th International Conference on Information Technology Interfaces (ITI 2007). IEEE, 535–540, 2007.

11.

Ge, T., Wang, Y., De Melo, G., Li, H., Chen, B., Visualizing and curating knowledge graphs over time and space. In Proceeding of ACL-2016 System Demonstrations (ACL-2016). 25–30, 2016.

12.

Monika, L., Sampson, J., and Rester, M., Ontology Visualization: Tools and Techniques for Visual Representation of Semi-Structured Meta-Data. J. Univ. Comput. Sci. 16(7):1036–1054, 2010.

13.

Katifori, A., Halatsis, C., Lepouras, G., Vassilakis, C., and Giannopoulou, E., Ontology visualization methods-a survey. ACM Computing Surveys (CSUR) 39(4):10, 2007.

14.

Abello, J., Van Ham, F., and Krishnan, N., Ask-graphview: A large scale graph visualization system. IEEE Trans. Vis. Comput. Graph. 12(5):669–676, 2006.

15.

Auber, D., Tulip-a huge graph visualization framework. Graph Drawing Software:105–126, 2004.

16.

Fu, B., Noy, N. F., Storey, M.A., Indented tree or graph? A usability study of ontology visualization techniques in the context of class mapping evaluation. In Proceeding of the International Semantic Web Conference: 117–134, 2013.

17.

Zhang, P., Wang, F., Hu, J., Sorrentino, R., Towards personalized medicine: Leveraging patient similarity and drug similarity analytics. In Proceeding of the AMIA Summits on Translational Science Proceedings: 132, 2014.

18.

Vilar, S., Uriarte, E., Santana, L., Tatonetti, N. P., and Friedman, C., Detection of drug-drug interactions by modeling interaction profile fingerprints. PLoS One 8(3):1–11, 2013.

19.

Zhang, P., Agarwal, P., and Obradovic, Z., Computational drug repositioning by ranking and integrating multiple data sources. Machine Learning and Knowledge Discovery in Databases:579–594, 2013.

20.

Baig, M. M., and Gholamhosseini, H., Smart health monitoring systems: an overview of design and modeling. J. Med. Syst. 37(2):9898, 2013.

21.

Luo, H., Zhang, P., Huang, H., Huang, J., Kao, E., Shi, L., He, L., and Yang, L., Ddi-cpi, a server that predicts drug-drug interactions through implementing the chemical-protein interactome. Nucleic Acids Res. 42:W46–W52.

22.

Zhang, P., Wang, F., Hu, J., and Sorrentino, R., Label propagation prediction of drug-drug interactions based on clinical side effects. Sci. Rep. 5:12339, 2015.

23.

Abdelaziz, I., Fokoue, A., Hassanzadeh, O., Zhang, P., and Sadoghi, M., Large-scale structural and textual similarity-based mining of knowledge graph to predict drug–drug interactions. Web Semant. Sci. Serv. Agents World Wide Web 44:104–117, 2017.

24.

Holten, D., Hierarchical edge bundles: Visualization of adjacency relations in hierarchical data. IEEE Trans. Vis. Comput. Graph. 12(5):741–748, 2006.

25.

Tang, J., Qu, M., Wang, M., Zhang, M., Yan, J., Mei, Q., Line: Large-scale information network embedding. In Proceedings of the 24th International Conference on WWW. International World Wide Web Conferences Steering Committee: 1067–1077.

26.

Robertson, S., and Zaragoza, H., The probabilistic relevance framework: BM25 and beyond. Foundations and Trends in Information Retrieval 3(4):333–389, 2009.

27.

Ho, I. W., Lee, C. T., Chen, P. W., and Lo, Y. C., Impact of cumulative antibiograms sub-categorized by origins of infection acquisition on the selection of empirical antimicrobial Therapy. Journal of Biomedical & Laboratory Sciences 27(1):10–18, 2015.

28.

Zhu, G., and Iglesias, C., Computing Semantic Similarity of Concepts in Knowledge Graphs. IEEE Trans. Knowl. Data Eng. 29(1):72–85, 2017.

29.

Hliaoutakis, A., Varelas, G., Voutsakis, E., Petrakis, E. G., and Milios, E., Information retrieval by semantic similarity. International Journal on Semantic Web and Information Systems (IJSWIS) 2(3):55–73, 2006.

30.

Lei, K., Yuan, K., Zhang, Q., Shen, Y., MedSim: A Novel Semantic Similarity Measure in Bio-medical Knowledge Graphs. In International Conference on Knowledge Science, Engineering and Management. Springer, Cham 479–490, 2018.

31.

Vilar, S., Uriarte, E., Santana, L., Lorberbaum, T., Hripcsak, G., Friedman, C., and Tatonetti, N. P., Similarity-based modeling in large-scale prediction of drug-drug interactions. Nat. Protoc. 9(9):2147–2163, 2014.

32.

Sintek, M. (2003) Ontoviz tab: Visualizing protégé ontologies.

33.

Ho, P. L., Wong, S.S.Y. Reducing bacterial resistance with IMPACT-Interhospital Multi-disciplinary Programme on Antimicrobial ChemoTherapy. Centre for Health Protection, 2012.
Acknowledgements
This work was financially supported by the National Natural Science Foundation of China (No.61602013), and the Shenzhen Fundamental Research Project (No. JCYJ20170818091546869, JCYJ20160330095313861). Min Yang was sponsored by CCF-Tencent Open Research Fund.
Additional information
Publisher's Note
Springer Nature remains neutral with regard to jurisdictional claims in published maps and institutional affiliations.
This article is part of the Topical Collection on Systems-Level Quality Improvement
About this article
Cite this article
Shen, Y., Yuan, K., Dai, J. et al. KGDDS: A System for Drug-Drug Similarity Measure in Therapeutic Substitution based on Knowledge Graph Curation. J Med Syst 43, 92 (2019). https://doi.org/10.1007/s10916-019-1182-z
Received:

Accepted:

Published:
Keywords
Drug-drug similarity

Knowledge graph

Therapeutic substitution

Medical knowledge curation

Visualization