Abstract
The primary purpose of this study is to determine if the implementation of an actionable findings communication system (PeerVue) with explicitly defined criteria for the classification of critical results, leads to an increase in the number of actionable findings reported by radiologists. Secondary goals are to 1) analyze the adoption rate of PeerVue and 2) assess the accuracy of the classification of actionable findings within this system. Over a two-year period, 890,204 radiology reports were analyzed retrospectively in order to identify the number of actionable findings communicated before (Year 1) and after the implementation of PeerVue (Year 2) at a tertiary care academic medical center. A sub-sample of 145 actionable findings over a two-month period in Year 2 was further analyzed to assess the degree of concordance with our reporting policy. Before PeerVue, 4623/423,070 (1.09%) of radiology reports contained an actionable finding. After its implementation, this number increased to 6825/467,134 (1.46%) (p < 0.0001). PeerVue was used in 3886/6825 (56.9%) cases with actionable findings. The remaining 2939/6825 (43.1%) were reported using the legacy tagging system. From the sub-sample taken from PeerVue, 104/145 (71.7%) were consistent with the updated reporting policy. A software program (PeerVue) utilized for the communication of actionable findings contributed to a 34% (p < 0.0001) increase in the reporting rate of actionable findings. A sub-analysis within the new system indicated a 56.9% adoption rate and a 71.7% accuracy rate in reporting of actionable findings.
Access options
Buy single article
Instant access to the full article PDF.
US$ 39.95
Tax calculation will be finalised during checkout.
Subscribe to journal
Immediate online access to all issues from 2019. Subscription will auto renew annually.
US$ 119
Tax calculation will be finalised during checkout.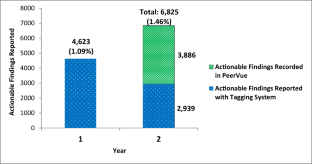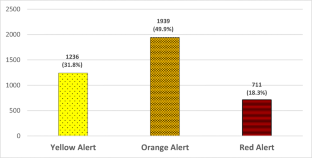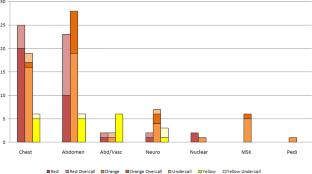 References
1.

American College of Radiology, ACR practice guideline for communication of diagnostic imaging findings. Revised 2014 (Res. 11). Reston: American College of Radiology, 2014.

2.

Poon, E. G., Gandhi, T. K., Sequist, T. D., Murff, H. J., Karson, A. S., and Bates, D. W., "I wish I had seen this test result earlier!": Dissatisfaction with test result management systems in primary care. Arch. Intern. Med. 164:2223–2228, 2004.

3.

Berlin, L., Communicating findings of radiologic examinations: Whither goest the radiologist's duty? AJR 178:809–815, 2002.

4.

Gandhi, T. K., Fumbled handoffs: One dropped ball after another. Ann. Intern. Med. 142:352–358, 2005.

5.

Towbin, A. J., Hall, S., Moskovitz, J., Johnson, N. D., and Donnelly, L. F., Creating a comprehensive customer service program to help convey critical and acute results of radiology studies. AJR 196:W48–W51, 2011.

6.

Lacson, R., Prevedello, L. M., Andriole, K. P. et al., Four-year impact of an alert notification system on closed-loop communication of critical test result. AJR 203:933–938, 2014.

7.

Lacson, R., O'Connor, S. D., Andriole, K. P. et al., Automated critical test result notification system: Architecture, design, and assessment of provider satisfaction. AJR 203:W491–W496, 2014.

8.

Prevedello, L., and Khorasani, R., Alert Notification of Critical Radiology Results (ANCR): using IT tools to enhance monitoring and management of actionable findings in radiology. Partners Radiology Research and Education Retreat. 2010.

9.

Larson, P. A., Berland, L. L., Griffith, B., Kahn, Jr., C. E., and Liebscher, L. A., Actionable findings and the role of IT support: Report of the ACR actionable reporting work group. J. Am. Coll. Radiol. 11(6):552–558, 2014.

10.

Larson, D. B., Froehle, C. M., Johnson, N. D., and Towbin, A. J., Communication in diagnostic radiology meeting the challenges of complexity. AJR 203:957–964, 2014.

11.

Fitzgerald, R., Error in radiology. Clin. Radiol. 56:938–946, 2001.

12.

Whang, J. S., Baker, S. R., Patel, R., Luk, L., and Castro, III, A., The causes of medical malpractice suits against radiologists in the United States. Radiology 266:548–554, 2013.

13.

Brenner, R. J., Lucey, L., Smith, J. J., and Saunders, R., Radiology and medical malpractice claims: A report on the practice claims survey of the Physician Insurers Association of America and the American College of Radiology. AJR Am. J. Roentgenol. 171:19–22, 1998.

14.

Hanks, J.D. Jr., Radiology liability update. Presented at: Georgia & South Carolina Radiological Societies Meeting; Hilton Head Island, SC; June 19, 2011.

15.

Thomson, N. B. I. I. I., and Patel, M., Radiology liability update: Review of claims, trends, high-risk conditions and practices, and tort reform alternatives. J. Am. Coll. Radiol. 9:729–733, 2012.

16.

Parl, F. F., O'Leary, M. F., Kaiser, A. B., Paulett, J. M., Statnikova, K., and Shultz, E. K., Implementation of a closed loop reporting system for critical values and clinical communication in compliance with goals of the joint commission. Clin. Chem. 56:417–423, 2010.
Additional information
Publisher's Note Springer Nature remains neutral with regard to jurisdictional claims in published maps and institutional affiliations.
This article is part of the Topical Collection on Systems-Level Quality Improvement
About this article
Cite this article
Baccei, S.J., DiRoberto, C., Greene, J. et al. Improving Communication of Actionable Findings in Radiology Imaging Studies and Procedures Using an EMR-Independent System. J Med Syst 43, 30 (2019). https://doi.org/10.1007/s10916-018-1150-z
Received:

Accepted:

Published:
Keywords
Communication

Actionable findings

Critical results

Improve

Radiology