Abstract
The Psoriasis Area and Severity Index (PASI) is the most accepted method for psoriasis severity scoring. However, a prominent level of subjectivity and a low intra- and inter-rater reproducibility was reported. Therefore, an accurate and reproducible measure of psoriasis severity is needed, especially in the setting of registration studies for systemic anti-psoriatic drugs. Herein we describe a robust, user-friendly, computer-guided technology that allows for automated PASI measurements after total body imaging and digital image analysis. For this purpose, a novel image processing software for PASI calculations was developed, which was combined with a commercially available, automated image capturing system. Our data shows, that the software was able to accurately calculate the proportion of psoriatic skin surface as well as the severity of erythema, induration, and desquamation by anatomic region. In a pilot clinical validation the time-efficient technology showed a high reproducibility and high levels of agreement to results attained by PASI-trained physicians. Therefore, automated computer-guided PASI measurements hold the promise of significantly reducing the physicians' workload while ensuring a high level of reproducibility and standardization.
Access options
Buy single article
Instant access to the full article PDF.
USD 39.95
Price includes VAT (USA)
Tax calculation will be finalised during checkout.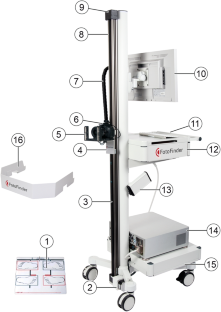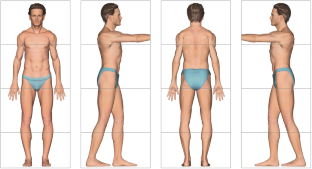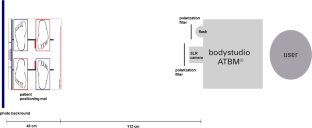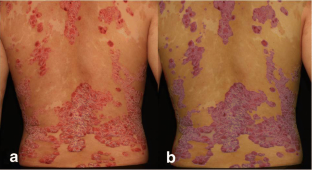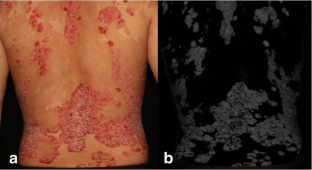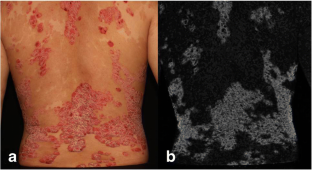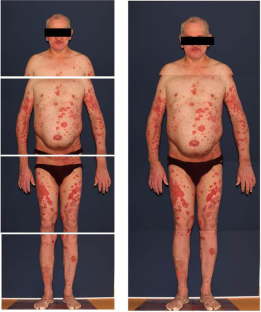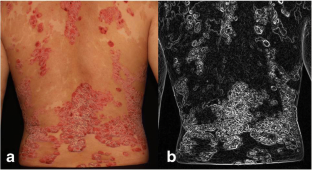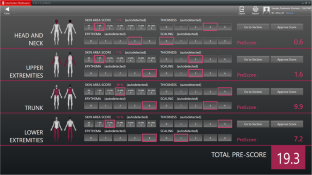 References
1.

Nast, A., Boehncke, W. H., Mrowietz, U. et al., S3 – Guidelines on the treatment of psoriasis vulgaris (English version). Update. JDDG: Journal der Deutschen Dermatologischen Gesellschaft 10:S1–s95, 2012. https://doi.org/10.1111/j.1610-0387.2012.07919.x.

2.

Mrowietz, U., and Reich, K., Psoriasis—New insights into pathogenesis and treatment. Deutsches Ärzteblatt International. 106(1–2):11–19, 2009. https://doi.org/10.3238/arztebl.2009.0011.

3.

Fredriksson, T., and Pettersson, U., Severe psoriasis – Oral therapy with a new retinoid. Dermatologica 157:238–244, 1978.

4.

Naldi, L., Svensson, A., Zenoni, D., Diepgen, T., Elsner, P., Grob, J. J., Coenraads, P. J., Bouwes Bavinck, J. N., Maccagni, A., Linder, D., Williams, H., and on behalf of the European Dermato-Epidemiology Network (EDEN), Comparators, study duration, outcome measures and sponsorship in therapeutic trials of psoriasis: Update of the EDEN psoriasis survey 2001–2006. British Journal of Dermatology 162:384–389, 2010. https://doi.org/10.1111/j.1365-2133.2009.09515.x.

5.

Ramsay, B., and Lawrence, C. M., Measurement of involved surface area in patients with psoriasis. British Journal of Dermatology 124:565–570, 1991.

6.

Langley, R. G., and Ellis, C. N., Evaluating psoriasis with psoriasis area and severity index, psoriasis global assessment, and lattice system Physician's global assessment. Journal of the American Academy of Dermatology 51(4):563–569, 2004.

7.

Berth-Jones, J., Grotzinger, K., Rainville, C. et al., A study examining inter- and intrarrater reliability of three scales for measuring severity of psoriasis: Psoriasis area and severity index, Physician's global assessment and lattice system Physician's global assessment. Br J Dermatol. 155:707–713, 2006.

8.

Kreft, S., Kreft, M., Resman, A. et al., Computer-aided measurement of psoriatic lesion area in a multicenter clinical trial—Comparison to physician's estimations. In Journal of Dermatological Science 44(1):21–27, ISSN 0923-1811, 2006. https://doi.org/10.1016/j.jdermsci.2006.05.006.

9.

Lu, J., Kazmierczak, E., Manton, J. H., and Sinclair, R., A quantitative technique for assessing the change in severity over time in psoriatic lesions using computer aided image analysis. Conf Proc IEEE Eng Med Biol Soc. 2013:2380–2383, 2013. https://doi.org/10.1109/EMBC.2013.6610017.

10.

Yune, Y. M., Park, S. Y., Oh, H. S., Kim, D. J., Yoo, D. S., Kim, I. H., Moon, J. S., Kim, M. K., and Oh, C. H., Objective assessment of involved surface area in patients with psoriasis. Skin Research and Technology 9:339–342, 2003.

11.

Esteva, A., Kuprel, B., Novoa, R. A. et al., Dermatologist-level classification of skin cancer with deep neural networks. Nature 542:115–118, 2017.

12.

Argenziano, M., Katz, M., Bonatti, J., Srivastava, S., Murphy, D., Poirier, R., Loulmet, D., Siwek, L., Kreaden, U., and Ligon, D., Results of the prospective multicenter trial of robotically assisted totally endoscopic coronary artery bypass grafting. In The Annals of Thoracic Surgery 81(5):1666–1675, ISSN 0003-4975, 2006. https://doi.org/10.1016/j.athoracsur.2005.11.007.

13.

Götz, T. I., Lahmer, G., Strnad, V. et al., A tool to automatically analyze electromagnetic tracking data from high dose rate brachytherapy of breast cancer patients. Mankin R, ed. PLoS ONE 12(9):e0183608, 2017. https://doi.org/10.1371/journal.pone.0183608.

14.

Haenssle, H. A., Fink, C., Schneiderbauer, R., Toberer, F., Buhl, T., Blum, A., Kalloo, A., ABH, H., Thomas, L., Enk, A., Uhlmann, L., and Reader study level-I and level-II Groups, Man against machine: Diagnostic performance of a deep learning convolutional neural network for dermoscopic melanoma recognition in comparison to 58 dermatologists. Ann Oncol. 29(8):1836–1842, 2018. https://doi.org/10.1093/annonc/mdy166.

15.

Salerni, G., Carrera, C., Lovatto, L. et al., Benefits of total body photography and digital dermoscopy ("two-step method of digital follow-up") in the early diagnosis of melanoma in high-risk patients. Journal of the American Academy of Dermatology. 67(1):e17–e27, 2012. https://doi.org/10.1016/j.jaad.2011.04.008.

16.

Fink, C., and Haenssle, H. A., Non-invasive tools for the diagnosis of cutaneous melanoma. Skin Res Technol 23:261, 2017.

17.

Korotkov, K., Quintana, J., Puig, S., and Malvehy, J., Garcia R. a new total body scanning system for automatic change detection in multiple pigmented skin lesions. IEEE Trans Med Imaging. 34(1):317–338, 2015. https://doi.org/10.1109/TMI.2014.2357715 Epub 2014 Sep 12.

18.

CIE, Commission internationale de l'Eclairage proceedings, 1931. Cambridge: Cambridge University Press; Smith, Thomas; Guild, John (1931–32). "The C.I.E. colorimetric standards and their use". Transactions of the Optical Society 33(3):73–134, 1932.

19.

McLaren, K., XIII—The development of the CIE 1976 (L* a* b*) uniform colour space and colour-difference formula. Journal of the Society of Dyers and Colourists 92:338–341, 1976.

20.

Hani A (2014) Surface imaging for biomedical applications, CRC Press (Taylor & Francis Group, FL). Version Date: 20140114. ISBN 978-1-54822-1578-6.

21.

Zhang, Q., Xu, P., Li, W., Wu, Z., Zhou, M., Efficient edge matching using improved hierarchical chamfer matching. In: IEEE International Symposium on Circuits and Systems, pp. 1645–1648 2009.

22.

Dubois, D., and Dubois, E. F., A formula to estimate the approximate surface area if height and weight be known. Arch Intern Med. 17:863–871, 1916.

23.

Puzenat, E., Bronsard, V., Prey, S. et al., What are the best outcome measures for assessing plaque psoriasis severity? A systematic review of the literature. Journal of the European Academy of Dermatology and Venereology 24:10–16, 2010. https://doi.org/10.1111/j.1468-3083.2009.03562.x.
Ethics declarations
Conflict of interest
T.F. is an employee of FotoFinder Systems GmbH.
Ethical approval
All procedures performed in studies involving human participants were in accordance with the ethical standards of the institutional and/or national research committee and with the 1964 Helsinki declaration and its later amendments or comparable ethical standards. A separate ethical approval was not required for this study.
Additional information
This article is part of the Topical Collection on Image & Signal Processing
About this article
Cite this article
Fink, C., Fuchs, T., Enk, A. et al. Design of an Algorithm for Automated, Computer-Guided PASI Measurements by Digital Image Analysis. J Med Syst 42, 248 (2018). https://doi.org/10.1007/s10916-018-1110-7
Received:

Accepted:

Published:
Keywords
Computer-aided image analysis

Computer-guided calculation

Objective PASI measurement

PASIvision

Psoriasis